Ken Jeong's Height
5ft 4 (162.6 cm)
American actor best known for appearing in the Hangover films. He once described himself as being
"Five Four"
in a standup show.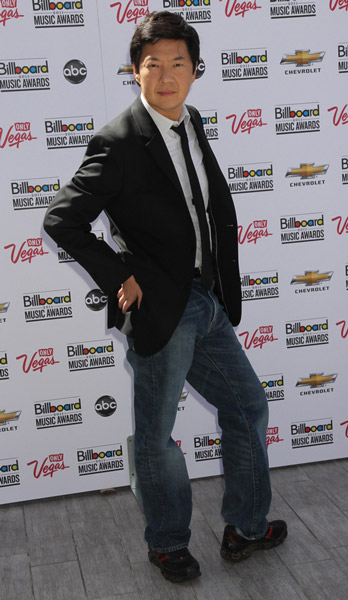 Photos by PR Photos
Add a Comment
32 comments
Average Guess (19 Votes)
5ft 4.32in (163.4cm)
CuriousPeachie
said on 21/Feb/21
He has 5'2 Kevin Hart by a deuce. 5'4.
Aj06
said on 14/Dec/20
Not a tall male defently not but not short but not super short male like me 5'1 or a dwarf. He is a pretty honest guy about his height not someone who will claim 3-4 inches above. At most I would give him a 5'4 3/8. honest guy cool to.
Monkey knees
said on 3/Aug/20
Just binged Community again. 5ft 4in is perfect. Spot on.
Nik
said on 3/Jul/20
@ Hansen - He is short but he ain't very short.
Tucson
said on 30/Jun/20
A perfect example of a guy who is short and OWNS IT. Props to my man.
Miss Sandy Cowell
said on 30/May/20
I'm watching Ken Jeong on the Ellen de Generes show, being interviewed from her home to his.
Ken is chatting about the Pandemic and has mentioned that he used to be a doctor years ago. Also, he has recently adopted a brown dog (Moga? 🐕) for his family. Ellen, of course, thinks it's a great idea, adding how necessary it is for children to grow up in the company of animals.
Now, as a medical man, Ken is answering viewers' questions regarding good health and immunity during this worrying time.
5ft4 for this enterprising guy. 😁👍
GhostDwarf
said on 15/Jan/20
As a 5'4 male, I can confirm that he is indeed 5'4. Standing next to Kevin there isn't a lot of difference there but his leg is visually taller than Kevin harts. Just like someone who is 5'6 standing next to a 5'4 guy, You can't see the difference but the 5'6 guy is visually taller.
Junior Hernandez 1990
said on 13/Jul/18
Google and IMDB recently had change his height to 5'5. One fact i should point out. Ken Jeong claim 5'4 but strange that he apear 5'4.75"-5'5 with all his Hangover co stars. 5'4.5" claimed Kevin Hart put down a 5'2 on CNN show but he often look 5'3-5'3 1/4 with The Rock, Boris Kodjoe and many more actors. Jamie Foxx say he was like 5'9 but 6'2 claim Cannavale look like a weak 6'1.
Khaled Taban
said on 15/May/18
5'4" sounds good
berta
said on 11/May/18
Click Here
in this new video with kevin hart he doesnt look that mutch taller than kevin. they look very very close actually. there is not 2 inches beetween them. this guy could be half inch under this and kevin half inch over his listing.
scotsheights
said on 2/Jul/17
bobby lee please
eee
said on 6/Aug/16
He can look 5'5 at times, 164 is more likely
Nev
said on 3/Apr/16
5'4" sounds about right. It also looks like he is wearing a 'cup' in the above picture. Since he has already shown the world his junk, he must be just having a laugh.
Sammy Derrick
said on 4/Mar/16
In Ride Along 2,his character is listed as,
NAME:A.J.JENKINS ALIAS:Bone Machine
SEX:Male
Date Of Birth:1/11/1974
HEIGHT:5'5
WEIGHT:165
RACE:Korean
HAIR COLOR:Black
EYE COLOR:Brown
5'4 it is.
Dr Scott
said on 3/Feb/15
Ken himself says he is 5'4 in this video which I believe is his max. Rob, definitely downgrade Dr Ken, what more evidence do you need? https://www.youtube.com/watch?v=1oGTgyhPuUw .... skip to 7.05

Editor Rob
well I was half inch out ;)
Lo sgozzatore
said on 1/Oct/13
Rob, could he be 5'4? There's a movie with Ian Somerhalder and he looks between 5 and 6 inches shorter than him...

Editor Rob
he could be nearer it, maybe 4.5 is the max he could be
SchlammHase
said on 26/Jul/13
A bit shorter than this listing...I have a pic of my 172-174cm friend kind of leaning in on a straight as pole Jeong. The top of Jeong's head would come to the same level as my friend's eyes if he were to straighten up. So about 5'4 flat? 5'4.25 tops. My friend usually wears sneakers or some type of flats...never anything thick.
Trizzy
said on 6/Jul/13
Brilliant actor/doctor, and very funny. Paul rudd seemed to have had him by at least 5 inches in role models. This is the absolute maximum he could be.
Hansen
said on 22/Aug/11
very short guy. indeed he could be only 5ft4 or abit more
Frogger
said on 16/Aug/11
Rob.. you are being wayy too generous here. com'on. 5'3.5.
end of story. looks about the same height as kristen Chenoweth(4'10-4'11max) in her average heels. very sad.
jake
said on 11/Jul/11
Hilarious in Transformers 3. Looked 5ft4 or 5ft4.5 in it.
®
said on 25/Jun/11
Great actor 5'4ish
Jack
said on 22/Jun/11
I worked with Ken a few years ago when he was doing stand-up in LA by night (and a doctor by day). He is no more than 5-4. Probably closer to 5-3.
micheal
said on 17/Jun/11
too be honest I am surprised he is this tall seems 5'3ish
RICHARD
said on 13/Jun/11
If Jeremy Piven has many inches on you,then you know you must be short!!!lol
K
said on 12/Jun/11
Ken is a joke. 5'4 MAX. but most likely in the 5'3.
d wade
said on 11/Jun/11
with 6,2 derrick rose
Click Here
he look no more than 5,4 even 5,3 is possible.
RP
said on 6/Jun/11
Most every guy has Ken by several inches ; ) ; )
linke
said on 3/Jun/11
zach is 5'6
Waiting for this guy
said on 2/Jun/11
He looked slightly shorter then Zach (Alan) in The Hangover Part II. I'd say 5'6" if Zach is 5'7".
Drew
said on 1/Jun/11
Very funny in Hangover Part II, and 5'5" looks about right.
Vegas
said on 1/Jun/11
looked tiny on wwe raw 2 years back, jeremy piven had many inches on him