Kevin Peter Hall's Height
7ft 2 (218.4 cm)
American actor best remembered for playing the title character in The Predator and it's sequel. He also played Harry in the television series Harry and the Hendersons. In an edition of The Washington Times (9/1/91), he mentioned
"I wavered between 7-foot-2 and 7 inches throughout the show [Misfits of Science]."
Arnold is only 6-foot-2. When the hero has an opponent a foot taller than he is, it makes him a much bigger protagonist when he comes out on top. I think my size has been an asset. Several roles have come my way because of my height...My height helps me because I don't compete for roles against stars like Danny Glover.
-- 1987
My father's 6-6 and my mother's 6-2 and the rest are pretty much up there, too. By the time I was a sophomore in high school, I was 6-5 and the next year 6-6 - and so I grew.
You May Be Interested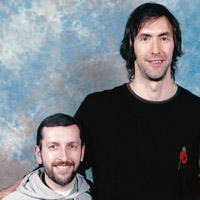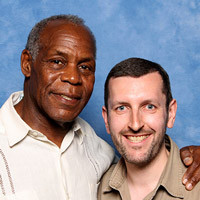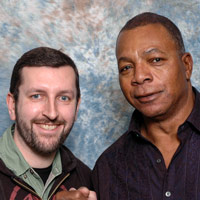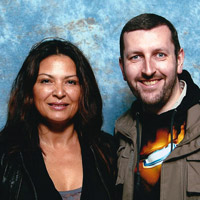 Add a Comment
64 comments
Average Guess (28 Votes)
7ft 1.79in (217.9cm)
Vincent Caleb
said on 15/Nov/20
@DayCringeAthon:
So true lol. My 6'2" friend that claims 6'3.5" gets so insecure when I round down 3/4 and say I am 6'4". I am nearly 3 inches taller, but according to the claims it would be 1/2 an inch. Most of the time I don't bother saying 6'4 3/4" so I say nearly "6'5", so that I am being truthful about not being a full 6'5" and so that I don't have to say the 3/4. People who challenge height claims in public are so annoying. If I know someone is lying about their height, I don't call them out about it in public.
Halen 5'8
said on 22/Oct/20
My vote is 7'1.5
Halen 5'8
said on 22/Oct/20
@Rob
I believed he was 7'1.5"
jron
said on 4/Oct/19
KPH was a really tall guy. rob could you do a celebweights.

Editor Rob
a lot more actresses are sensitive regarding the subject compared to height. I think it's best I just stick to height.
Chris Junior Hernandez 1990
said on 15/Aug/19
We wouldn't know if his 7'2 claim was with shoes or not. Only with comparison to someone met by Rob then we could tell it because he was so tall. So 7'1 1/2 round up 7'2 doesn't sound bad. Besides he don't look over 7'2 with the Aliens crews.
Daycringeothon
said on 7/Jul/19
Johan 185 cm
Or maybe he just went with his claim? Do you think a guy who is over 7 foot actually knows the difference between a 6'5-6'6" guy let alone a 6'1-6'2"?
I had a debate with my father. If you had a group of legit 6'8"-7' guys in a room. Let's say you were the 'shortest' in the room claiming 6'1"+ they would just agree with you. Sense they honestly couldn't tell your actual height because of them being so much taller than you anyways. On the flip side you get put in a room with sub 5'10" guys and they would challenge your claim right away.
Johan 185 cm
said on 14/Jun/19
Junior Hernandez 1990 said on 13/Jun/19
Arnold peak is not 6'2. KPH obviously rounding Arnie's peak height so he might be round up his height of 7'1 1/2 to 7'2 its easier to say it this way.
----------
Or maybe he just went with his claim? Do you think a guy who is over 7 foot actually knows the difference between a 6'5-6'6" guy let alone a 6'1-6'2"?
Junior Hernandez 1990
said on 13/Jun/19
Arnold peak is not 6'2. KPH obviously rounding Arnie's peak height so he might be round up his height of 7'1 1/2 to 7'2 its easier to say it this way.
Tall Sam
said on 12/Oct/18
Watched Harry & the Hendersons again for the first time in a while with the kids and was struck by how large his hands and head (of course both could've been enhanced somewhat by the bulky sasquatch makeup) appeared when compared to Lithgow's regular tall guy sized features. I don't think Kevin's extremities looked particularly large on his frame (his head wasn't weirdly big, acromegaly-style like Andre the Giant's) but did compared to "normal" size-range folks.
jasperwazup
said on 14/Feb/18
that episode had some funny dialog between Bull' Richard Moll and Wendell Martin (Kevin Peter Hall). Hall calls Moll 'the little fella'. Than later when Hall bumps into Moll he replys 'you known I used to be taller when I had hair'. The difference between them was 3'' but hall wasn't standing at his tallest so 4'' minus his hair.
Hall was 7 foot tall.
Firefightersfla
said on 2/Feb/18
There is an old episode of Night Court that Hall was on. He is standing next to Richard Moll who is listed at 6'8" and he towers over him. Hall is a legit 7'. Please stop with the silliness!
Alfred
said on 22/Jul/17
Hall's embellishment is so glaring, just Google Predator promo photos of him and Arnold. Hall is underwhelming, no more than 6'10" maybe 6'9". Andre the Giant should have played Predator, he played "Dagoth" in 'Conan the Destroyer'
even
said on 20/Jul/17
218 cm flat
Alfred
said on 8/Jul/17
That is a gag photo with Arnie and Hall; Arnie is bending to accentuate Hall's height. Kevin would have to be around 7'7" to have that much on Schwarzenegger. Kevin Peter Hall was no more than 6'10-11", Robert Wadlow had crutches taller than Kevin!
Most people boost UP a very tall person's height, Kevin was 6'10" but could play 7'2". That 'Nightcourt' episode, Kevin refers to Richard Moll as "the little guy" when KPH was only microns taller LOL!!
jasperwazup
said on 6/Jul/17
The concensus here has Hall's height at 7'1.5''-7'1.75'' best time of the day. Having a very long spine shrinking down to 6'11.5" at the worst possible. Even at his shortest measurement he still was 7 foot or just over. Below 6'11" is impossible.
The picture with Hall and Schwarzenegger smiling beside one another. If anything Arnie's height is very underwhelming looks easily 5'' below Hall's chin. Even with Hall slightly holding his head out to he side he has got what looks 14" on Arnie. If Arnie did it to give Hall more of an advantage then he accomplished just that. Hall is no less then 7'1'' with Arnie.
jasperwazup
said on 15/Jun/17
Alfred I take your word on the estimated height. I too was shocked at the sense of his size in One Dark Night. Seemed only 6'9''-6'10'' in 0.4-0.5'' shoes. Makes sense for his acting portfolio to list his height at 7'-7'2'' for promotional advantage. The Predator director John McTiernan said he was 7 foot 6 in full costume. in reality 7'3'' in the Predator mask and suit.
Still his talent at puppeteering those cumbersome monster suits from inside is legendary.
Alfred
said on 29/May/17
KPH was 6'11" on a good day, he seemed underwhelming in 'One Dark Night' and 'Predator' documentary. I've heard wild claims of 7'7", Hall was nowhere near that. Check out 'Predator 2', KPH is only marginally taller than Danny Glover!
Alfred
said on 28/May/17
Kevin Peter Hall was approximately 6'11" (on a good day!) saw him on 'Night Court' next to 6'8" Richard Moll; Kevin was only marginally taller.
In the Predator special features, Kevin is seen with crew and does not look like a 7'3" man; he is taller but only by a little. In 'One Dark Night', he is maybe 5" taller than a 6'4", actor playing basketball.
I have a preternatural ability to accurately discern heights and Kevin aggrandized his height for business reasons.
Sam
said on 19/Aug/15
Would be interesting to see how Hall would fair in a mid-1980s comparison with Chimberlain and Kareem.
lou
said on 27/Mar/15
how long has Kevin Peter Hall Been Harry in the Movie Harry And The Hendersons
jasperwasup
said on 15/Jul/14
Wilt Chamberlain another famous giant always said he was 216.25cm conversion to imperial = 7'1.13385''. he got listed as 7'2''-7'2.5'' on most other sites. Hall was no taller than Wilt. Kareem Abdul-Jabbar edged both of them by a centimeter I think he is listed at 7'1.625''.
Concerned 181 cm
said on 19/Jun/14
How much do you figure he weighed?
Sam
said on 19/Sep/13
Like Ian Whyte, Kevin Peter Hall played basketball up into what you could call the minor league and Hall always maintain that athleticism, strength and dexterity. Although not a massive beast like Andre the Giant or The Big Show, Hall was a cool-looking dude, like a normal fit, lanky guy that happened to be a gigantic height.
jasperwazup
said on 8/Aug/13
That Night Court Episode 'Nuts for Harry' had actors who would be on the low end of tall i.e Mac 6'2'', Harry 6'3'' then you had actors who are very tall like Larroquette 6'5'',Cromwell 6'6'' Moll 6'7.5'' and Hall the tallest of them all at 7'1''
jasperwazup
said on 7/Aug/13
A very powerful,agile and dextrous man. I believe the Predator suit weighed 100+ pounds. He has been mentioned as being anywhere from 7'-7'6''. He was closer to 7'1'' fully straight but looked taller most of the time.
Sixseven
said on 27/Jul/13
Kevin Peter Hall was 206 cm tall(6'9.1"))
jimmy
said on 1/Apr/13
KPH's head looks massive.It must be at least 11" long.So it's about 1.5"-2" longer than an average head.His eyeline must be at least 5.5" under the top of his head.Considering this I would say that Richard Moll is about 5 inches shorter(5.5" considering their footwear) and Cromwell is about 7"-7.5" shorter than KPH.So my estimations are:
KPH: 7'1.5"
Cromwell: 6'6.5"
Richard Moll: 6'8"
Larroquette: 6'4"(one of the few legit 6'4" in Hollywood)
I can't believe that Larroquette was only 2.5" taller than Arlond(Arnold claimed he had been measured 6'1.5" w/o shoes at 80's).
Sam
said on 1/Apr/13
Some nice comparison shots there. If I'm not mistaken that's 6'6" James Cromwell between Larquette and Hall. Richard Moll holds his own even considering his footwear advantage (only about 4-5 inches shorter than Hall I think) and this is the only time I've seen Cromwell look short!
jimmy
said on 29/Mar/13
Click Here
Click Here
Click Here
Click Here
These are some great photos I extracted from bs player watching Night Court(Kevin wears converse so he has a good 0.5" disadvantage from Richard Moll).Laroquette looks pretty tall too.
jimmy
said on 24/Mar/13
Click Here
Lol.This guy is a true giant.Arnold was a strong 6'1" guy back then.Look how short he looks next to this guy.
LAN Jiao
said on 28/Oct/11
KPH is about Kareem height 7'1.75
yosokvic
said on 18/May/11
who cares 1 or 2 cm of diference, he is anormaly tall, eww
sidewalk
said on 11/Feb/11
JustBrowsing says on 3/Dec/10
Chris, you hit the nail on the head. Height is height, and your estimation from a movie or a picture, or even seeing someone have little to do with it. Unless you ACTUALLY measured this person(preferably in a clinical setting), nothing you say can change it. 'Nuff said.
Chris says on 27/Nov/10
Dude, he can't be 7'2 1/5 in your opinion because height is a matter of fact, he can be stupid or idiotic or cool in your opinion, but height is a matter of fact ;)
Actually, you're both wrong. The phrase "in my opinion" in this case means he looks a certain height to the poster. In his opinion he looks 7'2 1/5. This is not a hard concept to understand.
Jake T.
said on 25/Jan/11
On Night Court he looks 7'1 next to 6'8 Richard Moll and as the predator a little taller. Maybe 7'2 is correct.
JustBrowsing
said on 3/Dec/10
Chris, you hit the nail on the head. Height is height, and your estimation from a movie or a picture, or even seeing someone have little to do with it. Unless you ACTUALLY measured this person(preferably in a clinical setting), nothing you say can change it. 'Nuff said.
Chris
said on 27/Nov/10
Dude, he can't be 7'2 1/5 in your opinion because height is a matter of fact, he can be stupid or idiotic or cool in your opinion, but height is a matter of fact ;)
Anonymous
said on 1/Jul/09
I change my mind. Hall in the Dukes of Hazzard ep. looks easily 9-10'' taller than John Schneider who is in boots and solid 6'3'' as well as Hall must have an 11'' head compared to normal 9.5'' normal guy (5'9'',5'10'')if your a 7 footer its within proportion to his frame and height he must be in the ultra athelitic category he looks only 2 percent body fat and must have weighed 240-245. 7'.5'' at his shortest 7'1.75'' out of bed
jordan
said on 31/May/09
I also like you, Willie shorter, never got a chance to meet him. But I knew he was more than 7'1".He was really a good actor when he was alive.He was really a gentle giant.. And since he was died, he is always be my lagend!
willie shorter
said on 21/May/09
I never got the chance to know or meet kevin peter hall but I think he was a wonderful actor and I look up to him. He was definately tall. I also saw nuts about harry on youtube and he looks at least 5 to 6 inches over moll maybe 7 to moll's 6'8'' or 9 inches. Both are big guys. That one episode of dukes of Hazzard when he stood next to either bo or luke. The taller blond haired guy who is 6'4.5'' and only comes up to hall's shoulder. That's really tall, hall was definately well over 7 foot. I would say 7'2''. What a big man.
machiell
said on 8/Apr/09
He was definitely more than 7 feet. Maybe was 7 feat 2 or 3 in.
Sam jefferson
said on 1/Apr/09
i thought he was 7 feet tall,In high school he was 6 ft 5.
Helen Brodnos
said on 24/Mar/09
Dear Cody: I beg to differ with you, but Kevin WAS 7'2. I went to high school with him and also saw him on the set of Misfits of Science. I could stand at my 5'2" and he could rest his elbow on my head. He was one of the sweetest guys you'd ever want to meet.
Big Show
said on 23/Mar/09
Click Here
Click Here
Click Here
Here's that episode 'Nuts about Harry' from Night Court. Next to Richard Moll I don't see a 7'3" Hall.
Click Here
If Hall would raise his head a bit I think Moll would come up to his eyebrow. That would be a 4 to 4.5" difference. I think Moll would have a 0.75" footwear advantage aswell because he's in dressing shoes and Hall in slippers. That puts Hall at 7'1.25 at the most, but probably a little less.
Mattiew_-
said on 22/Feb/09
7'2.5"/219cm
Anonymous
said on 23/Dec/08
I use to have Big Top Peewee on tape but skip that on to Kevin Hall's height.
In that movie Hall plays Big John in one scene he is in with Pee Wee and Kris Kristoffersen when the circus performers have a meeting. There Pee wee is on a slight mound and wearing a 5'' top hat at least and is listed at 5'10'' but may be shorter and was listed at 5'11'' then. Hall is a few feet away in that shot who is wearing normal footwear maybe and a 2'' farm hat he looks at least 7-8'' taller taking Peewee's height advantage from the hat and unlevel ground a few inches or more. without the hat Peewee has on he is significantly shorter 13'' at least even if Hall is not quite on level ground so Hall's height would be around 6'11''-7' minus the shoes or boots and if Peewee really is 5'10''.
cody
said on 21/Nov/08
He actually really was 6 foot 5. He looked much taller in the predator movies and Harry and the Hendersons because of the animatronic head pieces and the elevated foot prosthetics.
adam
said on 13/Sep/08
Yes, freakishly tall man. Of course it doesnt matter a goddamn thing whether he was 7-2 or 7-3 but I`ve read that he was more closer to 7-2... but what the heck!
JesseD
said on 8/May/08
He was 7 foot 2.
RICHARD
said on 8/May/08
I wish he could have been the predator in those two awful AVp films.
D-lurker
said on 11/Apr/08
Love predator!!..Yup agreed that "predator is all his"..He really didn't look restricted at all..Watched teh movie last night..Fantastic
kbibb954
said on 17/Jan/08
check out the misfits of science on youtube hes def over 7 feet maybe 7 "2
Lazaro
said on 21/Aug/07
Its hard to tell because I didn't see him in person. But he was more than 7'2 according to people who worked with him. But his height doesn't matter, what matters is that he was great at what he did, and no one will ever get close. !Hey Predator is all his, the upcoming guys will be learning from him. Hw was a master at suit work. Its a shame he died, he would have done som many movies> But well that's life, at least he's is alive in my house whenever i put his movies to honor his work, and to talk to everyone about him its my pleasure, and to make them see who was behind the mask.
Anthony
said on 12/Jun/06
Interseting fact about KPH: He came from a very tall family. He was the tallest of his brothers, all of whom were over 6'5. His dad was 6'5, and even his mother was 6'2. Some genes in that family. Shame he isn't with us anymore, he was great.
Joe22
said on 26/May/06
How big must hall have been in that predator outfit. He would have been at least 7'6-8" with the added head gear and feet padding, remember when arnie was pinned against that tree by hall as the predator with his feet dangling about a foot off the ground, thats when i realised that that guy must have been like 7'2-3" given arnies a solid 6'1"
supes78
said on 23/Feb/06
In that Night Court episode with Hall, he was surrounded by what has got to be the tallest cast ever assembled for a sitcom. Hall shared scenes with 6'4" Harry Anderson, 6'5" John Larroquette, 6'7" James Cromwell, and 6'8" Richard Moll! Of course he was not going to appear as tall as if he were sharing the scenes with people of average height. While they did tout Hall as being 7'4" in the episode, I'd give him around 7'2" with the potential for an extra inch since he did spend the entire episode slouching and ducking under door frames.
Alex
said on 12/Feb/06
I think hes 7'2. He looked it with ease in Harry and the Hendersons. Wouldn't suprise me if he were close to 7'3 though.
Ralph
said on 9/Feb/06
I grew up with Kevin, and went to school with him from first grade on. I still have many pictures of him in my elementary school class. we were very close, but grew apart after high school. I watched grow from childhood, and still remember his head touching the clock in the school hallway. He was definitely about 7'2" or so.
bob
said on 2/Feb/06
I had seen the night court episode again tonight and Hall can only be 7' at the most in the episode with the shoes he had one either half inch or inch shoes.
Just look at him next to Mac who is 6'2" with shoes and he is a good 9 to 10 inches taller putting him at 7'.
They even said he's 7'4" in the episode but there is no way that can be true. Yes he did slouch but that put him around 6'10"-6'11".
John Larroquette is a true 6'4" and 6'5" in shoes. Hall is 6-7 inches taller than him. Moll might be listed at 6'9" but no way is he that tall.
Moll is anywhere between 6'7" and 6'8" with shoes, putting him at 6'7.5" in shoes. He's only a few inches taller than John Larroquette. which is funny how Dan always seemed so scared of him considering he's almost as big as him.
Mary
said on 31/Dec/05
I went to high school with Peter. I remember that he was nice to everyone, even those that were unpopular. Whenever I think of him, I remember him walking down the hall and his head was as high as the clock. I thought he was at least 7 feet tall.
Makanofuji
said on 28/Sep/05
I had the privilege to meet KPH during a sneak preview of Predator, which seems like a million years ago! He was wearing sandals with hardly any sole to them. I'm 5'-10" and have played basketball against a lot of guys around seven feet tall. I've also been within a few feet from Shaquille O'Neal; another seven- footer. KPH was as tall as Shaq.
supes78
said on 23/Sep/05
That Night Court episode had Kevin stooping and slouching a lot. He played a meek and timid character so you never got to see him stand straight at his full height.
sam
said on 23/Sep/05
I just find it really hard to believe he was 7 feet even or anything under. He just always looked so huge. He looked just under a solid foot taller than John Lithgow, who has always listed as 6'4". Are you absolutely sure, bob, that the 4 inch difference you saw wasn't closer to a 6 inch difference. I'd stick by 7'2"-7'3".
TNTinCA
said on 6/Sep/05
Its funny that bob mentioned that Night Court episode. I just happened to catch that exact re-run on the Night Court marathon on Nicket-Night. Sure enough, it had James Cromwell in there as well. I am not sure if bob's memory is hazy of the episode, but Kevin towered over everyone in that show. In the one scene, where he exits the judge's quarters, he stands next to Richard Mole who I believe they list at 6'9". Seems right since Mole's head just scrapes the top of most doors. Kevin is clearly several inches taller and had to stoop to get through the door. I can't say for certain how much of a height disparity existed between Mole and Hall but it was at least 2-3 inches. He is definately over 7' tall. I would say no less than 7'1".
sean t
said on 24/Jul/05
i dated a girl who was best friends with his daughter.. he was definitely at least 7 feet tall...