Kieron Moore's Height
6ft 0 (182.9 cm)
Irish actor best remembered for roles in Anna Karenina, David and Bathsheba , Ten Tall Men, The League of Gentleman, Recoil, The Day They Robbed The Bank of England, The Thin Red Line (1964), The Key, The Day of the Triffids and TV series like Randall and Hopkirk (Deceased). The Director, Alexander Korda, once described him as being
"Six feet two of brawn"
, although in Warner Brothers publicity, he was described as "Height: 6', Weight: 185 [pounds]"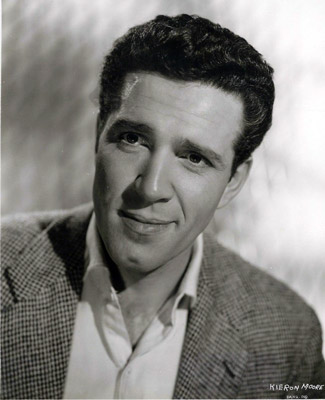 1956 Photo - Warner Brothers Publicity
Add a Comment
13 comments
Average Guess (3 Votes)
6ft 1.33in (186.3cm)
Rampage(-_-_-)Clover
said on 25/Oct/19
Definitely would not have believed anything shorter than 6ft1 for this guy. There's no way Peck and Connery were two inches taller. In fact I thought Moore looked to have the edge on Connery!
Arch Stanton
said on 9/Oct/19
If he was 6ft, Mike Pratt was nearer 5'10, Peck nearer 6'1, and Connery no more than 6ft. Ridiculous.
Rampage(-_-_-)Clover
said on 28/Oct/17
I cannot accept this! 2in below Connery?
No way...
Arch Stanton
said on 26/Apr/17
Well he didn't look 6'2 with William Holden...
Rampage(-_-_-)Clover
said on 13/Nov/16
187-188cm zone.
Ian C.
said on 28/May/16
I thought he looked bigger and stronger than Sean Connery in Darby O'Gill. I would have put him a six foot three, If I'd had to guess, based on that movie. The character he played was supposed to be a giant bruiser whom no sane man would fight, so he might have worn lifts in that movie to make him taller than Connery.
Adriano
said on 5/Mar/16
He looked taller than 6'2'' Sean Connery in "Darby O'Gill and the Little People". Could he be at least the same height?
Rampage(-_-_-)Clover
said on 18/Mar/15
Rob, is 188cm possible?
[Editor Rob: based on what I've seen, I thin 187 range suits him.]
Greg
said on 12/Mar/15
As a kid I really liked the movie Dr Blood (or named something similar) where he reanimates some woman's husband. Certainly looked like a big guy, would have thought a tad taller than 6'1". He was a devout Catholic and I remember reading articles that he had written in the Catholic Herald.
Rampage(-_-_-)Clover
said on 28/Feb/15
He was also in Darby O'Gill & The Little People. I wonder how he faired beside a young pre-Bond Sean Connery
Arch Stanton
said on 28/Feb/15
Rob can you add the Alexander Korda quote "He has a brilliant acting talent. Then he has six-feet-two of brawn, a mobile photogenic face, rich expressive eyes, and ability to adapt himself to any type of role-ultra romantic or the last word in villainy. Very soon he will be one of the big names on the world's screens." or say that Director Alexander Korda referred to him as "six feet two of brawn".
Arch Stanton
said on 28/Feb/15
Rob can you squeeze in Recoil? A John Gilling film. He was in quite a few decent crime films, some I've still to see!
Arch Stanton
said on 28/Feb/15
Cheers, much appreciated, you might want to correct to Anna Karenina though. Yes I think 187 is probably the best shout, wasn't much shorter than Peck in D&B and had Mike Pratt (who I've long though was 6' flat rather than 6'1) by about 1.5 inches.