Kourtney Kardashian's Height
5ft 0 (152.4 cm)
American reality Celebrity. She commented on her height in US Weekly, saying
"I'm 5 feet tall"
. In 2018 she mentioned her weight, saying
"I'm 98 [lbs]"
.
So...@khloekardashian measured me and I'm actually 5'1" guys, I grew an inch. Update Wikipedia.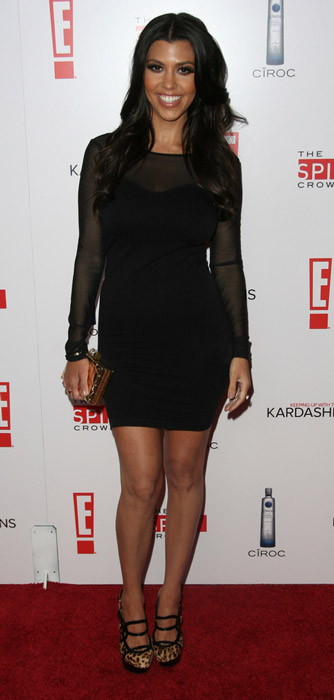 Photos by PR Photos
You May Be Interested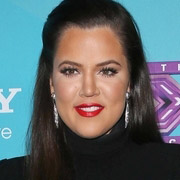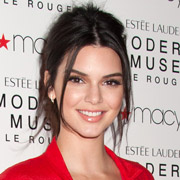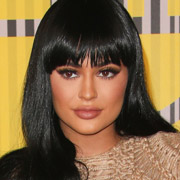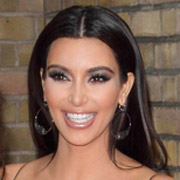 Add a Comment
60 comments
Average Guess (60 Votes)
4ft 11.81in (151.9cm)
Infalible
said on 23/May/20
152 cm
Tyson
said on 22/Mar/20
I'm still wondering how both younger sisters ended up taller than her. Anyone know at what age did Kim and Khloe overtake her?
The hamburger
said on 12/Mar/20
She is really shortm 5ft 0 at most.
Click Here
how tall she can measure with those? They look sooo big.
berta
said on 11/Jan/20
keep in mind that kevin hart was more than 2 inches taller than her. it looked like it could have been legit 2,5, maybe even 3. now, i Think hart could be 5´2 1/2 and kourtney could be maybe this or even 1/4 under it
NikAshton
said on 19/Nov/19
@ Carter - Bruno Mars!
Mheotaip
said on 21/Oct/19
She now claims "almost 5ft2" on Instagram after a fan guessed her height at 5ft5.
Jerrod Bridgeforth
said on 20/Oct/19
All the sisters are naturally beautiful and talented tho;I like all the sisters the same but Kourtney seems the coolest tho Lol
Sharie Zuluaga
said on 20/Dec/18
There's no way she would be 5'0 or 5'1. So I'm guessing 4'10
Michael 5'10", 178 cm
said on 16/Dec/18
She's 5'0", Kourtney looks so petite and short next to her other sisters, Kylie and Kim. Kourtney is a flat 5 feet tall.
Sharie Zuluaga
said on 12/Nov/18
Kourtney looks a little more than 5'0
Mynameme
said on 2/Nov/18
She said yesterday on ig that she's the first 5"1 angel
Peter175
said on 5/Jul/18
Rob can we please get a page for Scott Disick? I think he's 179
6'2_inshallah
said on 23/Jun/18
Rob what do you think for her boyfriend Younds Bendjima listed 6'2 everyhwere but seems more 6'0.25 next to kourtney ?

Editor Rob
Might be 6ft 1
berta
said on 2/Apr/18
i think she looked atleast 5 foot in the video when measured? it was hard to see but the odds of littel over 5 foot seemed bigger. Not a good angle to see but to measure 1 inch wrong is really hard, 1/2 inch is easier i think i give her a little over 5 foot. I dont think she was measured a full inch wrong.
Ghost
said on 16/Aug/17
I personally think Scott's a strong 5'10 guy. But I've seen him on his real estate show trailer without shoes and he looked shorter than 5'10 what do you think rob?
Click Here
Ghost
said on 9/Aug/17
What about Scott disick, rob? He deserves a page
Marquis
said on 26/Jun/17
Like the police, she's five-oh.
Height Girl
said on 25/Jun/17
Lovatic, how could she be 5' when her sister is 5'1 and clearly taller than her?
Lovatic
said on 24/Jun/17
She looks really short, probably 5'0.
Height Girl
said on 24/Jun/17
Ok Rob lol :) Seriously she looks at least 2 inches shorter than her sister Kim who claimed that she herself was only 5f1 on her Myspace account years ago so 4f11 is the max I would give Kourtney.
Height Girl
said on 23/Jun/17
Yes, I noticed that too Rob. It also looked like Khloe wasn't even holding the measuring tape straight either and the shot was so tight I couldn't see if it was touching the floor all the way too. Kourtney looks a maximum 4f11 to me? Plus did you hear Kim say "No You Aren't" when they announced 5f1. LOL Kim herself listed on her Myspace that she was 5f1 so that's why she probably questioned it and Kourtney is at least 2 inches smaller than Kim it seems.
Editor Rob: if you want a proper measurement, Just Call Rob Paul, guaranteed to within 1/8th of an inch or your money back!
cristian
said on 24/May/17
Click Here
rob sh'es 5'1 check the video !
Editor Rob: her thumb is near the black part which is 5ft...to be honest, it's not the best measurement, but at least they tried!
steph
said on 4/Apr/17
Rob Kardashian ans Scott guy should never have a site her before Every athlethe and actor has one.
Dud
said on 12/Jul/16
I thin she is more like 1,48 1,49
Truth
said on 8/Jul/16
Scott disick and rob kardashian should have pages on this site. They are more famous than a lot of people on this site.
Aaron Zamora
said on 10/Apr/16
How tall are Scott disik and Rob kardashian?
loswinter chipweti
said on 1/Mar/16
I luv kourt's height...cause I'm almost her height..4"11in(150cm).we short girls,we forever young!!!
Not saying
said on 15/Nov/15
Kourt looks like she's 1 inch taller than Adrienne bailon, as I have seen in pics, and I'm 4'11 and kourt was my height when I met her(in flats) so I think 4'11- 5'0 is pretty accurate.
Not saying
said on 7/Nov/15
Kourt looks like she's 1 inch taller than Adrienne bailon, as I have seen in pics, and I'm 4'11 and kourt was my height when I met her(in flats) so I think 4'11- 5'0 is pretty accurate.
pj
said on 19/Aug/15
She's tiny! i never understood the Kardashian's physical attractiveness. I guess they simply aren't my type, especially Kourtney.
Fray
said on 1/Aug/15
@tiny - Agreed. Perfectly proportioned
Carter
said on 10/Jun/15
Super, super, super attractive and sexy... more even than her taller (and very attractive) sisters. Just shows how height does NOT really matter for women...it is never a deal-breaker the way it is with men who are short. You can be hot and tall or hot and short as a girl. But...not if you're a man. What a tragedy (for all the guys under 5'8, like me). And don't say Tom Cruise...he's over 5'8, I'm sure.
Jewel
said on 9/Jun/15
Everyone on here keeps saying "she is short BUT........" Look, you just have to work what your given, and just because your not a 5.10 Model doesn't mean you are less. The 5.10 models believe me also have days where they wished they could just wear heels and blend in with their boyfriend on a day out touring a town or two. They wished they were short and not drawing constant attention. I guess I get what it feels to be ignored or invisible too - but you gotta be happy as you are - whatever that is
James101
said on 6/Mar/15
Please do Scott disick!!!!!!!!!
FlameBoy
said on 19/Nov/14
shortest and the hottest by far
Juan
said on 18/Aug/14
Even if she's short she's still pretty and awesome
tiny
said on 6/Aug/14
Kourtney seems to be a favorite of her younger siblings to lift and carry. There are pics of Khloe effortlessly cradle carrying and giving a piggy back ride to Kourtney. There are also pics of Kendall carrying Kourtney on her shoulders.
tiny
said on 21/Jul/14
Kourtney (5'0, 95 lbs)along with Eva Longoria (4'11", 90 lbs) are 2 tiny women who are just about perfectly proportioned. They both look very cute when they stand next to girls who are more than 5'10".
aa
said on 12/Jul/14
I had watched kourtney, but I thought that her height was less than 5 feet.
She is not extremely thin, but her arm and leg are very thin.
meow
said on 7/Jun/14
Kourtney looks completely perfect despite of being short heighted.u rock kourtney.
tiny
said on 7/Apr/14
Kourtney - 4'10" & 95 lbs, Kim - 5'0" & 130 lbs, Khloe - 5'9" & 170 lbs, Kendall - 5'10" & 130 lbs, Kylie - 5'7" & 135 lbs
sk
said on 25/Dec/13
I personally think she looks great. Sometimes short girls like ellen page and Hayden Panettiere look stumpy and awkwardly short but she doesn't.I think it is because she is skinny but in a womanly way. Eva longoria is the same way she pulls of her short stature.
ice
said on 18/Jul/13
Hey Rob, look at the photos K posted on June 7th. Khloe can't be 9 inches taller than Kourtney, if a woman's head is only 8.5 inches long. They are wearing the same outfit, so everything cancels out. Kourtney comes to the top of khloe's lips. They aren't standing perfectly straight, but comparing their postures, i doubt it's giving Kourtney too much of an advantage.
K
said on 7/Jun/13
Click Here
Click Here
Kourtney Kardadian and Adrienne Bailon are the same height and Adrienne Bailon is listed on this site as 4'11". Kourtney herself has even said she rounds up to 5 feet.
:-)
said on 6/Jun/13
I'm 5'11 and she came upto my shoulder when I met her,
We were both in complete flats,
She's 4'11" definitely
TheVerve180cm
said on 26/May/13
about 5ft sounds correct, the shortest Kardashian.
marla singer
said on 10/Apr/13
She's good looking, even if quite short she's got great proportions which make her look 'normal' sized (from the picture above I'd have guessed 5'3). Anyway she doesn't look much shorter than Kim so I think she might 5 ft as listed or a little taller
Heightgirl
said on 28/Mar/13
I have to take back my 4f11 guestimate for Kourtney because sources said her sister Kim is about 5f1 and she looks 3 or 4 inches taller than her. I think she is more like 4f10 or a bit under.
Click Here
Shortie
said on 4/Dec/12
I don't understand the comments "she is short BUT still very pretty" etc etc. This is implying that short stature is somehow related to a lack of physical beauty... Since when is shortness an obstacle to beauty?
Ali
said on 18/Nov/12
Yeah her sisters said she was 4'10 and she said she was 4'11 which would probably seem about right a lot of girls who are under 5' like 4'10 or 11 say they are 5' anyway because i suppose they aren't very far off. I still think Kourtney is a very beautiful girl despite the fact that she is short and kim is a low average i think around 5'3 but i still think she is very pretty as well even though she isn't tall and Khloe is very tall but she is gorgeous even if other people say she is the less pretty sister i think she has something special about her and she is very pretty :)
Jay
said on 11/Nov/12
May be very short, but perfect proportions.. She's hot!
Claire
said on 26/Oct/12
She's 4'11 for sure . Her and Adrenne Bailon are the same height. I think Kim also needs a downgrade to 5'1"
Tilg
said on 20/Oct/12
I think she is 4'10 and Kim 5'1.5.
Heightgirl
said on 13/Oct/12
I always thought that Kourtney was under 5 foot and after seeing pictures of her and 4f11 Adrienne Bailon, I feel that she is 4f11 too.
Shaun
said on 5/Oct/12
Tough to tell, Scott doesn't look more than 5 ft 9 in the first photo and 5'2" Kim Kardashian comes up to the Hogan's nose in that photo!! She must be in at least 6 inch heels.
Shaun
said on 5/Oct/12
Click Here
Scott Disick with Hulk Hogan. 5 ft 11 range maybe as I'd thought, maybe 5 ft 10. Somebody said the tallest Kardashian girl who is 5 ft 11 edges him out.
leonari
said on 1/Sep/12
Below that. She is what zu call tiny.
little sue
said on 24/Aug/12
I'd say more 4ft 11
Josh B
said on 24/Aug/12
Loosest possible definition of celebrity :D
Shaun
said on 23/Aug/12
Click Here
Scott Dissick looks 5'11"-6' to me although some claim he is only 5'9"-5'10". Proportionally he does look minimum 1.80 m. She can look a little lower than 5'.