Kristanna Loken's Height
5ft 11 (180.3 cm)
American Actress best known for movies like Terminator 3: Rise of the Machines, BloodRayne and TV series Mortal Kombat: Conquest and Painkiller Jane. She said in USAToday regarding her stature,
"I'm 5-11"
. Her modelling agency listed her vital statistics as bra size 36, waist 25 and hips 35. In the double shot I had 0.4-0.5 inch more sneaker than her sandal and in the 2013 shot we had about similar sneakers.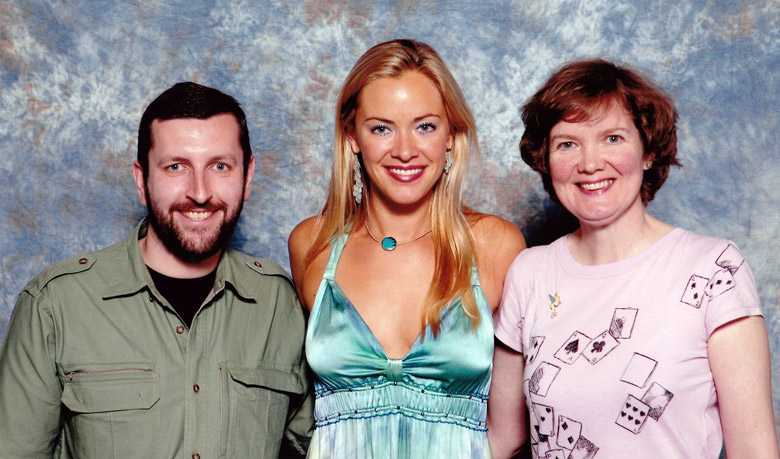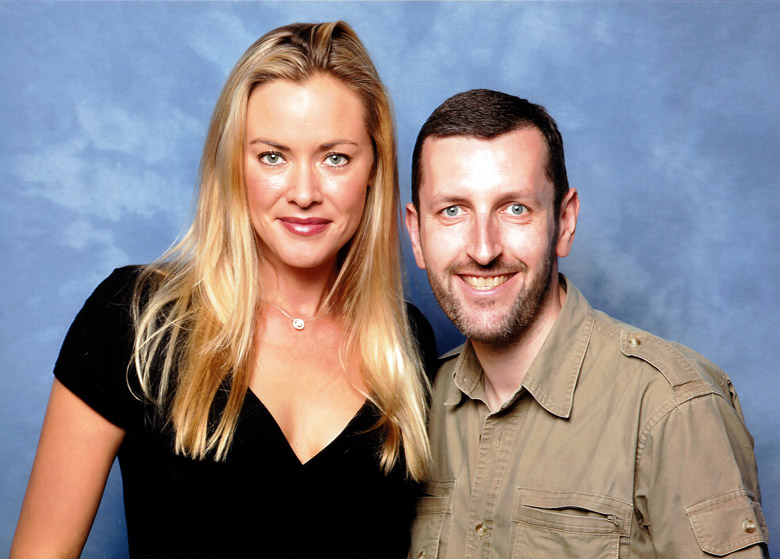 5ft 8 Rob and Kristanna @ LFCC 2013
You May Be Interested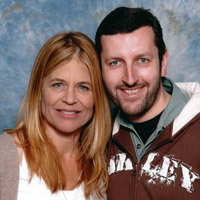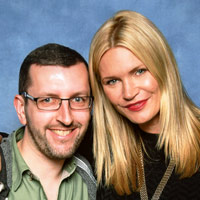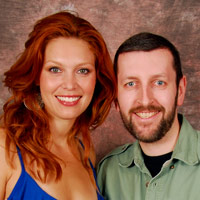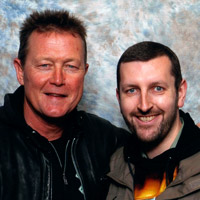 Add a Comment
172 comments
Average Guess (59 Votes)
5ft 10.79in (179.8cm)
Mimi
said on 10/Nov/20
She's Michelle Obama height to me. Not quite 5ft11
the name's Sam
said on 3/Aug/20
A gorgeous woman the fact that I like tall girls even makes me get more attracted to her I would say she's about 181 cm on a good day
Christian 6'5 3/8"
said on 23/Apr/20
Weak 5'11", not solid.
Kourosh
said on 20/Apr/20
shes a rare beauty
Nik
said on 8/Apr/20
@ Jester - That's a good fence to sit on!
It's great to give Kristanna her 170th comment!
Nik
said on 8/Apr/20
She does look very close to 5'11" in the single shot!
Adam Connolly
said on 19/Mar/20
Rob Patrick was and still is one of the best terminator
VitoCheng
said on 23/Feb/20
Loken she is 5 feet 11 inches! In 2003, Arnold was 56 years old. Although Arnold may have lost a lot of height today, Arnold was at least 6ft 2 in height in 2003 !!
Click Here
Importer
said on 24/Sep/19
She has a son named Thor :))
Zampo
said on 27/Nov/18
I could see how if measured (standing at her tallest) she would be near 5'11.
2000 B
said on 27/Jun/18
Hey rob you were shorter than jenny in this picture i think you were 172 in this picture

Editor Rob
In this case Jenny's head is a few inches closer to the camera, so it certainly can help add height.
Sandy Cowell
said on 26/Jun/18
Kristanna is all lovely and golden!
I can agree with the average of 5ft10.75, but I do believe that she can reach 5ft11 fresh out if bed. 🌻🌞
Nik
said on 20/Jun/18
After much thought she can have 5'10.75" - 5'11"!
Jester
said on 26/Dec/17
5ft 10 7/8
Nik
said on 29/Oct/17
She is very pretty!
Subwoof
said on 28/Oct/17
Looks 5'10 tbh
Sandy Cowell
said on 23/Sep/17
Kristanna caught my attention via the random celeb route! So she was on the film 'Rise of the Machines', was she? Good film, and now it's joined my 'must watch again soon' list!
Actually, she does bear an uncanny resemblance to Clare Danes, not in the height department so much (there are about 3 inches or so difference between the two girls, and Clare is right at the top of my library-worker friend's Hate List for being married to Hugh Dancy!) but they have the same long blonde hair and could pass for cousins, if not sisters, on those grounds alone! Although I have the same sort of hair, being around 8 or 9 inches shorter than the smaller of the girls, my chances of passing for a relative of theirs is very slight indeed!
I shall plump for 5ft11 for Kristanna this afternoon. When I have viewed the film and taken in her appearance to the full, I might decide to change my opinion, but until then, that is my decision!
Ted
said on 19/Sep/17
Definitely less than three inches on both photos.
5' 10.5'' in the morning.
Mimi
said on 18/Aug/17
Rob s'there a chance she's weak 180cm? Like 5ft10.75

Editor Rob
I think she will measure very close to 5ft 11, but a 1/4 under it?

I'm not as sure she would fall that low
even
said on 27/Jul/17
she can't be under 180 cm , it's impossible . shes at least 60 kg .
Mimi
said on 11/Jul/17
Maybe she is 5ft10.75
even
said on 7/Jul/17
1,800 millimiters
Becky
said on 16/May/17
She absolutely dwarfs Arnold Schwarzenegger.
S.J.H
said on 25/Jan/17
5'10.75 is weak 180cm
5'11 is strong 180cm with few mm more
I would say she is weak 180cm
Johan
said on 11/Jan/17
Well 0.5 inch is more when noticeable begins for most people. So she could be 5'10.75" - 180cm.

Editor Rob
I remember the first time i seen Loken (double shot), I would say she really looked taller than Mike Tyson that day up close and looking at her with Malcolm the photographer...and she had less footwear of course.

josh b
said on 8/Jan/17
Sorry for the late reply I didn't realise I had some questions lol. Csimpson ft is right, i'm 5ft 10.25. I have other photos on the site, some with rob also ont he user height page. I have a youtube slideshow linked as well on that page.
I think she was a little taller than myself but it was close, our footwear was the same, 1in.
Csimpson 6ft
said on 29/Dec/16
Josh B youre 5ft 10.25 right? If she was a bit taller than you then she could be 5ft 10.5 or possibly 5ft 11, its hard to judge where robs and jennys eyelevels and yours meet at when standing next to her though because youre all not standing tall and Kristanna isnt standing tall either, what was her footwear when you met her? That will help aswell
Jordan87
said on 27/Dec/16
Josh B,
How tall are you? That would help Buddy.
josh b
said on 24/Nov/16
Not sure if I forgot to post my photo with her
Click Here
A little taller than myself I thought.
Jordan87
said on 31/Oct/16
5'10 Tops More I look at it. No Way her Head is at 5'11.
Johno
said on 11/Sep/16
5'10.5 at her average.
Jordan87
said on 12/Jul/16
Peter 179cm,
I am Glad I am not the only one who notices that she isnt even 5'11 in the Top pic ( Including her Hair). Not sure but its common sense. I go by the picture, not by what people say when they have met her. She is closer to 5'10 than 5'11. 5'10.5 is even doubtful since in reality her hairline starts at 5'9.
And for the folks that will doubt me, I am referencing to the Top picture which Rob states they have EQUAL Footwear. She is not 5'11.
Joe
said on 12/Jul/16
Hey Rob, I know this an odd comparison. But does she look similar in height to Mike Tyson?

Editor Rob
in the double photo she was in the same area as Mike Tyson that day...so I seen them both standing near the photographer - She actually gave a taller impression than Mike did, and as I mention, she also had less footwear.
Peter 179cm
said on 6/Jul/16
~178cm on bottom pic with less footwear
~179cm with similar shoes,at worst maybe 178.5cm.
I think she needs a 0.5 inch downgrade Rob,she only reaches 5'11 with her fluffy hairstyle.
Johan
said on 6/Jun/16
6cm approx difference in the pic at top. Rob is a solid 173 cm guy so she is at least a solid 179 er. Thats 5 ft 10.5 but im sure Rob giving her 5'11" means she is 5'10.75" at worst.
Jordan87
said on 3/Jun/16
Rob,
I was talking about the top pic where she doesn't break 5'10. Looks like her Hair is around 5'11, not her actual head. Her hair is raised a good deal more than Yours.
Jordan87
said on 1/Jun/16
Rob,
Isn't the top of her head only 5'9.5 ? Even in the pic where you have the same footwear on top her actual head does not pass over 5'10.

Editor Rob
in the bottom double photo is the one she had less footwear, nearly 0.5 inch less.
TJE
said on 14/May/16
Looks a weak 5'11 at most.
Mark
said on 16/Feb/16
Great looking woman-one of the best in natural beauty, style, and above all accurate in her height assessment. She could easily pull off stating 6ft due to her statuesque and healthy non-skeletal physique.
John
said on 13/Nov/15
Like how the earlier comment mentioned about her and Mike Tyson liking similar, could this mean he could be 5'10.5 after all?
Thomas6ft1
said on 29/Sep/15
What would legit 6'1" look like next to her? (both barefoot)

Editor Rob
she'd be looking at the end of his nose, I couldn't find an example.
Judd ISR
said on 27/Sep/15
TNT, Famke Janssen sometimes claims less than what she actually is: she claimed to be both 5'11" and 5'11.5"...Dmeyer met her and said she was an almost 6' and I think it too.
The best listing for her would be 5'11.75" in my opinion!
Judd ISR
said on 27/Sep/15
SJH the eye level doesn't mean anything! In that picture she is 5,0-5,5 cms taller than Rob and Jenny and she has a shoes advantage of 0.5"...
The picture above is more reliable and she has 7 strong cms on Rob...
She's an hones 5'11"/180cms girl!
S.J.H
said on 31/Aug/15
@Judd says on 1/Mar/15
Check on the picture with jenny rob both and her hair is tall. Rob eye level were about 4cm shorter than her. At very best she could be 5'10
dboe123
said on 18/Jun/15
looks more 5'10 to me
T.N.T.
said on 12/Jun/15
Kristianna Loken, Natasha Henstridge, and Famke Janssen are those very few people who are not only telling the truth about their height but they may even be modest about it by stating that they are less than 1,80m tall. No, these beautiful women are 1,80m min-1,83m max barefoot. Ironic how the shorter ones desperately try to fool everyone by making ridiculous height claims (i.e. Taylor Swift's claim that she's 1,94m in heels..). Just remove the stilt-type heels from the feet of these delusional claimers and have them stand right next to the truly tall 1,80m women. Reality speaks for itself and it cannot be refuted by neither wishful thinking nor thick wedge heels.
NBAer
said on 14/Mar/15
she looks more 5'10.5 in the top picture with you Rob...maybe she is really a weak 5'11,who just rounds up about 0.5" for modeling reasons.
Judd
said on 1/Mar/15
5'9.75"...maybe you need glasses! She's a legit 5'11" woman!
She has strongly 3" on rob in the top picture!
S.J.H
said on 6/Feb/15
5ft11 no way. She could be 5ft9.75 at most
Judd
said on 28/Jan/15
[Editor Rob: if she drops under 5ft 11 at low it might not be more than a small fraction.]
so you think she might be (with the best posture) a 180,0 cms girl, who could be 182 cms just woke up (after 8-9 hours of sleep)?

Editor Rob
she might measure somewhere in the 182 range out of bed yeah.
Judd
said on 27/Jan/15
Rob you think for her is likelier 179,5 cms, 180,0 cms or 180,5 cms as common low height?

Editor Rob
if she drops under 5ft 11 at low it might not be more than a small fraction.
John
said on 15/Jan/15
She's almost as tall as Chris Eubank
MrTBlack
said on 28/Dec/14
Can't see her less than 5'11". I even thought she was 6'0" in T3.
Dmeyer
said on 3/Nov/14
I think 5'10.75 is fairer
184.3cm
said on 9/Oct/14
Looks an easy 180cm to me and as listed more likely the full 5'11 or a little more no less than 180.5cm. Beautiful girl.
miko
said on 9/Oct/14
She certainly has an impressive figure on her 5'11 frame.
Do you reckon she could she touch 6'0 straight out of bed Rob?

Editor Rob
if it wasn't for Jenny I would happily find that out for you.
GP
said on 8/Oct/14
She was in my acting class a while back and I will bet that she is 181cm or 5'11.25". And she clearly looks that in above photos. What do you think Rob? And remember that in acting tall women are made to not to look taller than male actors and she probably has a habit of dropping height in photos.

Editor Rob
I didn't think she was as high as 181cm, while not impossible I think around 5ft 11 on the nose is what she may measure.
Judd
said on 8/Oct/14
5'11" is spot on! i can't see her below that height!
Chris
said on 9/Sep/14
Definitely close to 6ft..Also she looks exactly like my mom lol
Hud
said on 6/Aug/14
She was amazing in T3. I have to say that she dominates arnie in every department.It's like when you watch the film her dominance is palpable. She looked taller than him for sure or equal but definitely not shorter.
Click Here
Moreover Arnie was in bad shape. He looked pale and definitely weaker than her physically. I'm sure that she'd beat the **** out of Arnie if they met in a parking lot.
tiny
said on 21/Jul/14
What a gorgeous and well built tall lady!!! Would put her at 5'11" & about 150 lbs
Crash
said on 15/Jul/14
That's a stereotype Alex. My 5'11" sister says that she's 6'0" to people all the time lol.
I think that's very common even at her height. And in many cases women seem to round up more than men in fact.
Alex 6'0
said on 2/Jul/14
Looks legit 5'11. At worst 5'10.75. Tall girls don't inflate their height. If anything they try to round down some.
Damon
said on 15/May/14
Holy cow! She's gorgeous Rob! and definitely not under 5'11
miko
said on 9/Apr/14
I bet Arnie is hoping they don't cast her in Terminator 5, he'd be in big trouble.
shortie
said on 8/Apr/14
Rob must really like that shirt =)

Editor Rob
it's a different colour, but I like those shirts, good pockets for holding photo tickets/passports/notepad, phones etc.
176,2Tunman
said on 21/Mar/14
Looks around 179-80,Rob when you say about 5'11,does this mean somewhere between 5'10.5-11?

Editor Rob
I think she would measure near enough 5ft 11
joy
said on 16/Mar/14
What was her footwear?

Editor Rob
in the dress a sandal which was less than ours, and in black top a sneaker about same as mine.
Adraino
said on 4/Mar/14
Well I don't see footwear,probably wearing heels in those pics.Looked about 5'9 in the Panic.

Editor Rob
read the description, in the double shot she had a bit less and the newer shot very similar footwear.
Blaze
said on 15/Jan/14
More like 181cm
tiny
said on 13/Jan/14
Easily 5'11" and a gorgeous, strong and well built woman at about 160 lbs.
am
said on 22/Dec/13
Would she edge out tom sizemore?

Editor Rob
she's taller in person than Sizemore is.
Vibram
said on 14/Dec/13
Funny, but she looked 5ft8 in the T3 nude scene. Maybe its because she has broad hips?
Arch Stanton
said on 1/Dec/13
She's like the alpha female, I bet most women would feel really intimidated around here. I get a tremendous sense of power and strength from her and it's not just that she's a tall girl. Looks a solid 5'11" to me in the top photo.
dmeyer
said on 30/Nov/13
Legit 179-179.3cm in the pics
Jack
said on 28/Nov/13
Damn she is gorgeous and tall a real stunner knockout beauty
Dmeyer
said on 9/Nov/13
I see solid 179cm but i bélieve rob
SHORTY
said on 16/Oct/13
Hey Rob, would a 5'11" girl like Kristanna be about equivalent to a guy who is 6'5"?

Editor Rob
6ft 4-5 I think
Matt 185cm
said on 29/Sep/13
Wow Rob you look noticeably thinner in the 2013 pic
Soupman
said on 30/Aug/13
Clear 1.80 cm. Not shorter
Emil
said on 26/Aug/13
Very hard to judge this one. I believe she's the 5'11 she claims to be, but 5'10.5 wouldnt surprise me
Connor 184cm
said on 31/Jul/13
She is 5ft 10.5 not quite 5ft 11 unless she is slouching but then again i think 5ft 10 range is more likely perhaps 5ft 11 in the morning?
Arch Stanton
said on 14/Jul/13
Is she as attractive in person Rob? There's some very attractive about her and I don't just mean her figure and features, she seems to have some sort of sexual magnetism.

Editor Rob
yeah I'd hold hands with her and stuff.
truth179cm
said on 12/Jul/13
Yeah she could dip a little below 180cm.

Editor Rob
I saw her again last week and thought (in very similar footwear) she was about 5ft 11
Dean 5ft 9.25
said on 1/Jul/13
She looks around 178cm in the pic. add the 1.2cm footware Its impossible that shes lower than 179cm.
Id say 179-180 range at night but at worst shes in the 178cm range barefoot.
Silent d
said on 23/Jun/13
She was really tall in burn notice. Nearly the same height as bruce campbell and jeffrey donovan. I thought she was same height as yvvone strahovski but 180cm seems right on. She does look like yvvonne strahovski.
Bard
said on 5/May/13
Accounting for footwear, I'd say pushing 5'11
Morgan
said on 10/Feb/13
She looks around the same height as Mike Tyson when he stood next to Rob.

Editor Rob
she was taller in person than tyson (and with about 0.4 inch less footwear)
Mikey T
said on 28/Jan/13
5'10". My cousin is 5'10" and I'm 5'8" and this photo looks exactly alike to how I stand up next to him.
Joey
said on 14/Jan/13
hmm doesnt look like a full 5'11 to me...more like solid 5'10
Sasha
said on 5/Jan/13
J.Lee says on 5/Dec/12
6' morning height?
The variance between morning and evening height is very individual. Usually it is in the 0.5-0.75 inch range. In this case Kristanna's morning height is at most 5'11.75". But if she is very flexible, 6' at the morning is barely possible. :)
J.Lee
said on 5/Dec/12
6' morning height?
thorterr
said on 28/Sep/12
i dont know, 5ft 11 seems spot on ,,for some reason id love to see her in 4inch heels
Mathew
said on 3/Aug/12
Gives a strong 5'10" range impression at a slight foot ware disadvantage, so 5'11" is believable.
J.lee
said on 28/Jan/12
Rob i want to know how tall super model alexandra ambrossio is
J.lee
said on 27/Jan/12
Rob, can i ask you a favor? There are certain girls that i want heights of. You may not know, but if we paid you a small fee for a certain celeb, would you be willing to post their heights and estimate based on your research?

Editor Rob
I don't think I could do such a thing
maio
said on 17/Jan/12
5 ft 10.25-5 in/178-9 cm in the pic, barefeet she's 5 ft 10.75 in/180 cm!
Gary Kawate
said on 6/Jan/12
she's at least find feet 11 inches..
John
said on 6/Jan/12
She looks 6'. Female celebrities usually downgrade themselves.
maio
said on 16/Dec/11
she's a strong 5 ft 10.75 in/180 cm!
Isabella
said on 1/Dec/11
How you people are seeing only a 2 inch difference, I'll never know. I don't get why everyone on this site has to make pointless downgrades when they haven't even met the celebrity or seen them in person. There is at LEAST a three inch difference here. Her footwear was also thinner than theirs, as you can see if you bothered to read.
Physics Enemy
said on 17/Nov/11
5' 10.75", very close to a full 5' 11", she hits it earlier in the day. She looks tall here DESPITE having 0.5" less footwear. Add 0.5" and she's nearly there.
franklinaliasTHEDOCTOR
said on 15/Nov/11
Rob, she's 5|10.5 or 179 cm in the pic, considering her shoes!
Physics Enemy
said on 2/Nov/11
DMeyer, I'd say Rob is 5' 8.2", not 5' 8.1". She's pushing 5' 10.75". She'd hit 5' 11" early in the day, so you can say that height is fair enough.
Legend - You see 5' 10.25" because you're not considering her 0.5" footwear disadvantage. She's close to 5' 10.75". Possibly a solid 5' 10.5" though.
johno
said on 2/Nov/11
5'11 is a bit of a stretch, unless we're talking about average or morning heights but i doubt average height would be 5'11, rather a weak 5'11 ie 5'10.75.
I tend to notice that is close shots, any height difference they maybe between a taller and a shorter person is more pronounced and inches are stretched. Kind of an illusion.
Her eyeline beats yours rob by 2 inches but with jenny's, a bit less. Although jenny has a flatter head then yours rob, it seems that you have had one of those days where you have lost more height and appear shorter then the standard around you.

Editor Rob
her head was about 3cm further forward than mine.

johno
said on 2/Nov/11
Her eyeline is just about 2 inches above jenny's. With the 0.5 inch advantage shes about 2.5 - 2.75 inches taller then jenny. Somewhere between 5'10.5 - 5'11. More towards 5'11.
Rob/jenny 5'8
Kristanna 5'10.75 (Weak 5'11 by evening)
Lynn
said on 16/Oct/11
Rob,
but with that dress, what kind of shoes did she wear?

Editor Rob
a sandal that was nearly 0.5 inch thinner than our sneakers.
Chameleon
said on 15/Oct/11
42? Darn, thats bigger than my sisters who is a 175/176cm. O.o
Cranberries (18m, 193cm)
said on 25/Sep/11
@Diddolo: Wow, really? That means her feet are close to mine in size. That is... yucky.
Didn't she say her feet were a size l1 though? That would make them a size 42 European.
diddolo
said on 22/Sep/11
she wears shoe size 45 (italian size)!
LAN Jiao
said on 19/Sep/11
rob, does kristanna loken apear same height impression as virginia hey?

Editor Rob
they are very close
lorne
said on 15/Sep/11
xyz.reg(6 ft 0.5er) says on 15/Jul/11
Hi rob..i don't see a full 3in difference between u n her..its more like 2.5in...and due to jenny's hair thickness she is looking taller than she actually is..i think because of her hair she looks taller than u in most of the pics with other celebrities..here she is looking 1-1.5in shorter than loken..do u agree!!!
No, there is 2 inches between them.Not to sound insulting but a lot of people don't know how to judge height.
Alex
said on 12/Sep/11
Physics, yea when I had met Rob it was 2pm and he had measured 5'8.25. Thats the same time I measured at 6'0 1/8.
Alex
said on 12/Sep/11
5'11 considering her footwear is less than Robs
Physics Enemy
said on 21/Aug/11
She has 0.5" less footwear than 5' 8.25" Rob and still looks noteably taller. She's 5' 11" for sure. Read the caption folks, move your height complex out of the way first. People love to ignore the captions on this site.
Sasha
said on 18/Jul/11
As for me, discussing whether Kristanna is 179cm or 180cm is quite funny. The people on the photo don't stand perfectly straight - it means, they stand not in such style, as they would stand during height measuring. And in such posture they are 1-3cm lower than their true height (you may make a little experiment to check it). So, deducing the height from such photos may have a variance of 1-2cm.
By the way, if you count the pixels, you may deduce, that Kristanna has 7cm on Rob (including the 1cm footwear handicap). Hence she is 180cm according to this picture.
xyz.reg(6 ft 0.5er)
said on 15/Jul/11
Hi rob..i don't see a full 3in difference between u n her..its more like 2.5in...and due to jenny's hair thickness she is looking taller than she actually is..i think because of her hair she looks taller than u in most of the pics with other celebrities..here she is looking 1-1.5in shorter than loken..do u agree!!!

Editor Rob
loken had .4 inch less sandal than our sneaker.
dmeyer
said on 14/Jun/11
you are 5 ft 8.1 173cm she looks 5cm taller so 5 ft 10.1 plus 0.5 in footwear she is 5 ft 10.6 she could be 5 ft 10.75 range , 5 ft 10.75 for more possible than 5 ft 11
Dean
said on 9/May/11
she looks 178cm with the half inch Id peg her 179.5 at most(nightime) 180 is probably fair but I reckon she does go under then 180 mark before bed every day..5'11 is definetly fair though as shes 0.8cm away from 5'11 and I always think less than 1cm away is definetly fair enough! weak 5'11
Physics Enemy
said on 5/May/11
Rob is pushing 5' 9" in reality so yes 5' 11" is more than fair for her.

Editor Rob
30 seconds out of bed I can push 5ft 9. If you counted morning height then that'd be ok.

But as 2 people in New York saw, on the stadiometer at 1pm (and the same height 5 hours later at 6pm) I was 5ft 8.25 (which is really 5ft 8 and 1/8th because the stadiometer has an error of nearly 1/8th an inch).

in 95% of photos of me on this site people are seeing me 5ft 8 and 1/8th or 5ft 8 and 1/4. The other 5% might be the 9.30-11am photos where I would be standing 5ft 8.3-8.4
Cranberries
said on 30/Apr/11
There's a Dutch (American born to Dutch parents) girl who goes to my school named Anneke... She's been over 6 feet tall since she was 13. She's also one of the few Dutch girls I've ever met. She kind of resembles Loken, actually; overtanned as well. I don't think her type would be too rare in Skando countries.
Going even more off-topic, it would be a blast to have a tall, regal, Scandinavian blond as a girlfriend. omnomnomnomnomnom...
Chameleon
said on 16/Apr/11
yea I agree with Johan Cruyff.
Johan Cruyff
said on 15/Apr/11
She's 1.81 m out of bed and 1.79 m at night! She's 5 cm over rob in the picture, so 6 cm including the shoes! She's 1.79 m in the picture, no more! This is the truth!
Johntk
said on 15/Apr/11
I saw 6cm not include 0.4 inch which 1cm. Kristanna taller than Rob 7cm
5'11 (180cm) the right spot to put her height
Chameleon
said on 13/Apr/11
And where do you live?!
Chameleon
said on 12/Apr/11
Johan Cruyff I live in Holland. Many 1.80+ women its really not that rare -_-
Legend
said on 10/Apr/11
5'10.25, thats what she looks like
Johan Cruyff
said on 8/Apr/11
Simply where you live?! In Sweden?! Norway?! Because in these countries can be, but that in the USA and in many nations of Europe you can find in every places women taller than 1.80 m, i doubt...
Perhaps you live in a women model agency...In this case i would like changing house with you!
Chameleon
said on 7/Apr/11
Lol no, I know their heights when I see it, but if you think its diffucult to find woman that height I wonder where you live, because I see them every day.
But this girl is tall none the less, and I agree with 178/179 max in pic.
Johan Cruyff
said on 5/Apr/11
maybe you don't have understood what i said: her real height (out of bed) is 1.81 m, not over, infact in this picture she's about 1.78,5-1.79 m.
However many actors and actresses (and also many others) declared heights over their real height! Trust my, i know a lot of people who said to be taller than they're! Women's heights show more than man! If you meet a woman tall 6 feet she seems to you taller than one man tall 6 feet! Perhaps you met in you life diffrent girls who seem taller than they are!
Chameleon
said on 5/Apr/11
Diffucult to find women taller than 180? Where do you live?
And she looks 5'10 here.
Johan Cruyff
said on 4/Apr/11
Ok but i don't think her real height (out of bed) is around 181,5-182 cm! It's very difficult find women taller than 180-181 cm! This is my idea...I belive she's around 181 out of bed and 179 in the afternoon, not over!
Johan Cruyff
said on 3/Apr/11
No, i think she's how i said. In the photo she's not 1.80 m...i think there're around 5 cm between you...And yes, she said to be 5'11" but she said not when: i'm not saying she's not 1.80 m, i'm saying only she's 1.80 m in the morning, out of bed...Infact i don't think she's 1.80 m in the afternoon and about 1.81,5-1.82 m out of bed...it's too much!

Editor Rob
as I always mention, if there's a footwear difference I mention it, she has 0.4 inch less footwear!
Johan Cruyff
said on 29/Mar/11
Rob, it's possible 180 cm in the morning and 178 in the evening for her? I think so from this photo

Editor Rob
I think she is around what she claims to be.
Larc 6 ft 1.5 in
said on 22/Mar/11
Schwarzenegger (in boots) was taller than her in T3 and she was in 3-4inch heels, so she is around 5'11 max.
Aaron
said on 9/Mar/11
I love Scandinavian women... they're tall, slender, friendly and intelligent... but Loken would look better untanned and with her natural hair rather than bottle blonde. Looks 5'10.5".
Triplescrew
said on 7/Mar/11
Tall girl, definitely not 5'11" though. I'd say 5'10", as I look about an inch taller than her with a 5'8" person and I am 5'11".
Girls wear bigger heels than guys usually so maybe she says 5'11"/6' because of that.
linke
said on 12/Feb/11
Rob,she has also claimed as being almost 6 feet tall
Click Here
horacle
said on 1/Feb/11
beautiful and 5'11
Jake T.
said on 25/Jan/11
Kristanna looks 5'10 there, but I don't think she is fully straight so 5'11 is possible.
Dean
said on 24/Jan/11
Yeh 5'11 or 5'10.75..179-180cm for sure min. She looks about 5-6cm taller so thats 178-179 but then she has half inch shoe disadvantage so MIN 179 but 180 more likely.
Legend
said on 5/Jan/11
she's 5'10 rob
krazy krippled!
said on 1/Jan/11
That gal is tall, and unlike Kidman she has some junk in the trunk!
Clive
said on 1/Jan/11
looks 178.5 CM
Danimal
said on 31/Dec/10
Wow, how are people seeing 5'10"????? She's easily 5'11"-5'11.5"...
sean89
said on 1/Nov/10
i think 5,10 is more accurate she doesnt look 5'11 and shes also has thinner footwear thats 2 inch differnce between her and rob not 3 downgrade for her.
jessica
said on 18/May/09
Kristanna Loken is of Norwegian descent and definitely fits 5' 11".
Brad
said on 15/May/09
Was 6 feet 2 1 foot from me a few weeks ago in heels. Easy 5' 11". Yes, she's better looking in person believe it or not.
Joseph
said on 4/May/09
Eastern European? The Netherlands?
Comets
said on 18/Mar/09
wow, 180, unbelievable, someone should get it checked, unless she is off eastern european descent (romanian, dutch, finnish) then its fine, those girls are generally taller
Anshelm
said on 28/Feb/09
Seen 179 cm/5'10
Anonymous
said on 21/Nov/08
lol rob... i agree with you regarding uwe boll.. i watched house of the dead (only reason was cus i was young at the time and handt the faintest clue as to who uwe boll is) and the experience was surreal. dont think id ever be able to forget it... plus that man is an obnoxious $$$ which makes it even more pleasing to rag on his god awful films
Minimum
said on 20/Nov/08
I think she's an inch shorter, five ten. Need a downgrade.
Sashank
said on 16/Nov/08
Well,in T3,arnie was quite dominated by kristanna loken,i don't see a single scene where he does'nt seem to be at the same height as loken.
There were a few scenes,especially the fight scenes, where kristanna loken was taller than him.To prove that,I also had a look at some red carpet launch photos and loken was easily taller than arnie.So I should say she is between 5'11 and 5'11.5 and taller than arnie.
Alex
said on 7/Feb/08
When Arnold did T3 he wasn't at his peak so likely 6'0 tops during that movie. Also he only did look a bit taller anyway.
Dmeyer, a lot of girls will round down their height or downgrade a few inches. I've seen some girls 5'11-6'0 claim to be as low as 5'9-5'10.
dmeyer
said on 15/Jan/08
if she says that arnie is a bit taller it means he is no less than 6 foot
dmeyer
said on 15/Jan/08
i agree my female neighbor claims 5'11 and i told her she looks 6 ft and then she admits she was mesured 5'11.5
Infijar Ken
said on 28/Dec/07
On her My Space page she is down as Bi. Hope for us all. I like that she puts herself down as 5'11" (6'3" in heels). Good enough for me since I am 6'6"
michael
said on 18/Oct/07
she look so dam good in ring of nibelung movie,she good actor+pretty+tall lol perfect hahah,o damn im shorter than her im 5'10 eeww she preety big for girl to
Height Tracker
said on 14/Aug/07
Pretty sure she's married to a guy Greylock
Cobra
said on 13/Aug/07
In T3 she is described as "about 6ft", women tend to make themselves shorter... I would go for 5f11,25 or 5ft11,5 for her.
Kristanna is a lesbian? Really? Wow, because I enjoy girl on girl in fiction, but the realitiy check ist that real lesbians aren`t a turn on on me.
Did she said that in an interview or what?
Greylock
said on 2/Jun/07
My wife is 6'-1/2"", older daughter 6'-3" and younger 5'-10" or so (goes by "Shorty"). I like tall women. As I'm 6'-2" - it works out fine. As Kristanna Loken is a professed lesbian, I guess she is kinda out of the running as far as guys are concerned. Too bad............ Arnold was supposed to be 6'-2", but it's kinda hard to tell. I think, based on his apparent height in non-Hollywood shots, that he may actually be somewhat shorter than advertised.
Marcus
said on 14/Mar/07
Just saw BloodRayne...why didn't anyone warn me that it was a Uwe Boll film :)...Anyway, she appeared quite tall (and she walked like a guy), I'd say 6 foot with boots, so def. strong 5'11''.
ADO
said on 13/Feb/07
It figures I knew she was tall but I thought that she was taller than that because on the movie BloodRayne she was tall as the men or taller an so I figured that she was at least 6ft 1inches but she did have the boots on and that did give her an advantige.
Alex
said on 20/Jan/07
Rob, did you see the movie BloodRayne with Loken? If so by just looking at her in that movie she is easily 5'11, can appear 6'0-6'1 in some scenes though. Tall woman and hot too.

Editor Rob
I've seen 2 Uwe Bohl movies (alone in the dark and house of the dead). This is enough for one lifetime...
Alex
said on 8/Jan/07
Terminator 3 was just one today and she looked like a 5'11 girl for sure.
Editor Rob
said on 12/Sep/06

"I'm 5 feet 11 inches but, when I met him, Arnold is just a bit taller."
Tall-PD
said on 11/Jul/06
In the extra scenes in the T3 DVD. One of the directors or SFX guys said that they had to bulid a platform for the actor who played "Katherine Brewsters" or Connors future wife's fiance. Because Kristanna was about 6ft and he was 5'8". This was for the scene in the cementary where the T-X turns from the guy to the evil sexy woman terminator.
Angelica
said on 20/Jun/06
Yeah that's true, guys understandably like to give themselves credit for more inches than they've got. While a lot of tall women want to just about hack off their feet to make themselves a few inches shorter. I don't understand it, because height has a lot of benefits. Taller women are often stronger and more atheletic, with solid bone structures, great genes, endurance, and all around good health. The taller they are, the more weight that they can carry, a lot of tall ladies look trim when they actually have quite a bit of poundage on them. Clothes usually hang on them exquisitely as well (why do you think the fashion industries are recruiting models that look like statues?). Height can also give the illusion of elegance, poise and grace.
Alex
said on 9/Jun/06
Maybe she said slightly under, not taller than 6'0. Well she says 5'11 but she could pass for a solid 6'0 girl. And some girls who are 6'0-6'1 will say they are 5'11 just to stay under that 6'0 to people. And some girls 5'10-5'11 will say 5'9. With guys its the opposite as they upgrade.
J-Dog
said on 9/May/06
I heard she was quoted saying she stands slightly taller than 6'?
The Horse of FUNK
said on 5/May/06
This woman is almost as tall as me. Kristanna and Stacy Keibler... *sigh* Damn they have some leeeeegggs on them. Shame they're just so damn tall though.