Kristin Davis Height
5ft 4 (162.6 cm)
American actress best known for her role as Charlotte on tv series Sex and the City.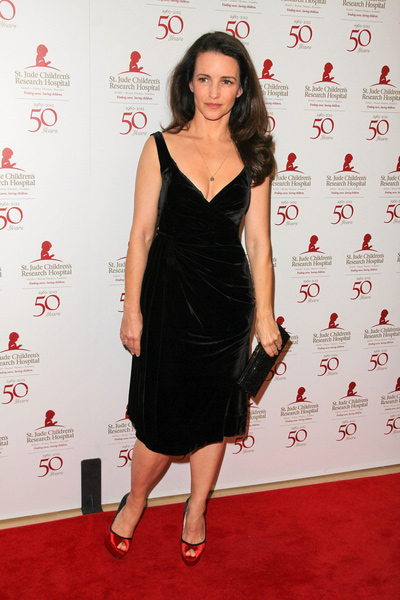 Photo by PR Photos
Add a Comment
32 comments
Average Guess (5 Votes)
5ft 3.85in (162.2cm)
Colin
said on 15/Feb/18
5 feet 4 or 5feet 6 who cares comes acrossed as loverly person and Avery pretty Lady
pj
said on 1/Sep/15
i recall seeing her always being listed as 5'5 or 5'6. she didnt seem very short next to cynthia nixon or kim catrell, so I figured she was around that listed height. She comes off looking a tad bit above average on screen. Either that or it is the actors she's on with. Anyways, i usually trust the listings here.
Kam
said on 28/May/13
I don't think she's 5'6", she must be about 5'4" because she's only slightly taller than Sarah Jessica Parker who is 5'3"..definitely not 3 inches taller than Sarah Jessica.
minime
said on 28/Mar/09
I met SJP in NYC and we were looking eye to eye, both of us were in uggs. I am 5`0.. I like to lie and say I am 5`1, I almost just did, but for the sake of the site, I am barely scraping 5`0 and so is she. These pictures of Kristin Davis so close to SJP's height make her look to be only around 5`2.. maybe 5`3.
glenn
said on 30/Oct/08
blair-not sure.i would imagine so.
glenn
said on 30/Oct/08
good eye.yes,it is indeed photo shop.as with the 1000 pics i sent during the 3 years i was on the site.and i lied about my height.im 5-6.5.its all a scam.
Blair
said on 30/Oct/08
Glenn was she wearing heels??
Lego
said on 30/Oct/08
i'm sorry for what i'm about to say but this image looks suspect to me, as if the road is not real but just a background image and Glenn + Davis are cut and pasted on it (photoshopping). i'm analizing this image as we speak.
regardless i think she's in the 5'4ish range, maybe 5'4.5 even.
thx
[Editor Rob: maybe the flash can effect sometimes how an image looks...]
runt
said on 29/Oct/08
glenn says on 29/Oct/08
"im 5-6.5.plus lifts in most the pics.shania twain i was liftless and caught out there."
LMAO!!!!!!!!!!!!!
glenn
said on 29/Oct/08
im 5-6.5.plus lifts in most the pics.shania twain i was liftless and caught out there.
Brad
said on 28/Oct/08
We don't know either of their footwear.
runt
said on 28/Oct/08
And another thing. Blair Underwood is 5-10 and I was surprised how much he towered Cynthia Nixon (before I knew her height) on SATC. If Kim catrell were 5-10, then in heels she would outdo Blair Underwood in lifts.
runt
said on 28/Oct/08
If kim cattral is 5-10, then I'll make the same point again. She would tower the girls in her heels almost the same way that a barefoot Chris Noth would. 5-10+ 3" heels= 6-1. Chris Noth barefoot= 6-1.5 self-admitted.
glenn
said on 28/Oct/08
kim cattrall is 5-10 to my eyes.i could be wrong. anonymous-good point.im confused.not sure.
Anonymous
said on 27/Oct/08
btw, glenn, shouldn't this stand for even more proof that SJP is even less than 5'2.5, considering davis has a few inches on her???
Anonymous
said on 27/Oct/08
why does kim cattrall look so much taller than all the women, including nixon, if she's only around 5'6? thought she was around 5'9, w/o heels.
glenn
said on 27/Oct/08
very sweet.
sven
said on 27/Oct/08
funny chris noth is called big at 6-1.5 i always tought he was 6-3 or 6-4...
in the pic she looks 5-3 look at the glenn's shoulders and he is bending big time.
glenn what kind of shoes she was wearing?
runt
said on 27/Oct/08
Kristen Davis is 5-4, Cynthia Nixon is 5-7 and Kim Catrell is 5-6. Chris Noth "Big" is the measuring rod. He's a self-admitted 6-1.5 and those women make him look like an NBA power forward. Nixon in heels can't even come within 5" of the guy.
The Horse of FUNK
said on 27/Oct/08
By the way the photo is tilted to the right...
glenn
said on 27/Oct/08
that was the fastest i saw a pic disappear! crappy pose,but hey rob arent we running out? my place where i scan hasnt had their computer working for 2 months.hopefully i can get some new ones up soon.try borrowing anything from my myspace if you can.probably not much though.judas priest and a unlikely will smith is possibly there.
Anna
said on 7/Oct/08
She wears platforms but she still looks very similar in height to SJP. I would have to say 5f2 max
Click Here
Davey
said on 26/May/08
she looks 5'4 max to me,She is so attractive.
anonymous
said on 23/May/08
There was an article where Kim Cattrall admitted that she was 5'7", but also commented that most articles, etc. show her to be much taller. Cynthia is clearly the tallest of the bunch, but Kristen doesn't look that much taller that Sarah J., maybe by about 3". SJ is clearly embellishing her height -- she's very tiny. I would say she's closer to 5' -- maybe 5'1". Why not just accept it; she wears it well. Yes, please get over yourself.
anonymous
said on 31/Mar/07
hey rob, just met her little bit ago. its so much fun to just see al these celebs on my block, ten run over to my computer and go on this site. Shhee told me she was "pushing 5`6".
anonymous
said on 27/Dec/06
kristin is around 5'5, cynthia 5'8, kim 5'8-ish, and sarah is def. 5'2-saw some filming of the show in production
lola
said on 20/Jul/06
I think Kristin can be between 5'4" and 5'5", probably closer to 5'4".....I worked in a store in NY back when S & T C was on, they were filming an episode there and she was standing next to me talking to us girls for a few minutes....I'm just about 5'6" and I had flat heals on maybe 1" at most, she had cute mule pumps on that had maybe a 3" heal ( which may give her 2" of additional height at most), I felt a little more than eye to eye with her, she even had a hat on and in the mirror across from us I looked up and noticed I could see the top of my head over her hat. She was very sweet and beautiful in person!
Haylie
said on 25/Apr/06
I read she's on Jonathon Ross in 2 weeks, so Jonathon if you read this ask her, what her height is. She looks in the 5'4-5'5 range to me but we shall see lol
cicilolo
said on 2/Apr/06
I think shes about 5'6.5, I've always read 5'6 to 5'6.5. Plus shes defintley taller than Sarah Jessica Parker even when their both wearing flats.
liz
said on 14/Feb/06
I don't think Kim Cattrall is as tall as 5'6.5" cos Cynthia Nixon always looks a good 1-2 inches taller and Nixon wears quite low heels in comparison to Cattrall, also Kristin is actually very close to Sarah Jessica Parker's height which I would say is 5'3"- I would give Kristin 5'4" exactly. It is really hard to tell with them because on the show they always have various heights of heels on.
hello
said on 22/Jan/06
i think sarah jessica os 5'4 and kristin looks taller when they stand together so kristin is probably 5'5.5
rose
said on 14/Jan/06
I honestly think all of the SATC actresses have inflated their heights especially Sarah Jessica Parker who is more like 5'2-3" so I think Kristin does look in the 5'4" range maybe 5'4.5"