American actor best known for roles in films such as A Nightmare on Elm Street (2010), American Sniper, The Haunting in Connecticut, Dear White People, Jennifer's Body and TV series Veronica Mars.
Guys! I can't take it anymore...I have been living a lie. I need to come clean. My IMDb says I'm 5'8 1/2" but I'm only 5'8" there I said it.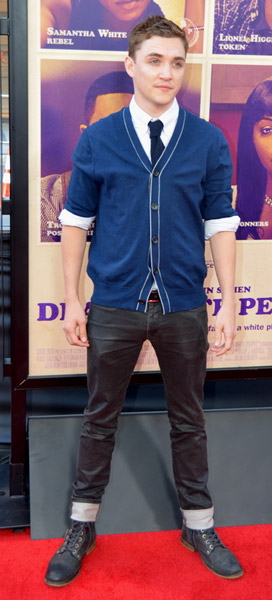 Photos by PR Photos
Sandy Cowell
said on 27/Jan/23
I'm so excited to see that Kyle has a page here! He was the only youngster who had the decency to apologise to Brian Cox for being part of the gang of three who picked on him. His brother did the actual shooting.
I recognised his face immediately, having seen him in other things.
Kyle is definitely taller than the piece of nastiness, brother Danny, played by Noel Fisher, who shot Red the dog in the head. Therefore, I am giving him 5ft7.5.
He played a GOOD guy! 😀👍🏼
Jae
said on 8/May/20
Hasn't this li'le fellow grown up? I was just about to request him, having been watching him in 'Third Watch and Touched by an Angel'. I read he was 174cm tall, but I think (I think I know!) that Rob knows otherwise....
5ft7 1/2" - quite tall for a child actor!
Dan Trojan
said on 25/Mar/20
I don't know if it's just me but he sure didn't look this height in smallville next to tom welling i'd say 5'7" at the very most and i still think that's pushing it
Nik Ashton
said on 9/Feb/20
He looks no less than his listed height!
Paul Wood
said on 29/Aug/19
I agree he's 5ft 7.5in at most, not the 5ft 8in he claims.
Junior Hernandez 1990
said on 12/Jun/19
I believe what Rob given to him if he claim 5'8 then at most he could be 5'7.75".
Sammy Derrick
said on 11/Jul/17
I've just re watched Smallville Season 4 Episode 5,where he's id cards are pulled out...it reads
NAME:Garrick Jay
RACE: C
SEX: M
HEIGHT:5-07
He is pretty short compared to Tom Welling,but one hardly notices it cause he's extremely lively plus he's playing fan favorite The Flash.
World Citizen
said on 24/May/17
I'm glad, because on this site I can find much celebs who are the same height as me. But unfortunately in the country where I live it's a little bit difficult.
Nicholas D.
said on 9/Jan/16
Look at him on screen with Rooney Mara, he looks much shorter than stated. 169cm sounds right.
Or look at him with 166cm Jackie Earle Haley, so I highly doubt he is anywhere over 169.
Andrea
said on 6/Nov/15
Great, i didn't know you added Kyle... Are you sure he's 5'7.5 though?
Tom Welling dwarfs him, he's almost a head taller than him (and Kyle didn't wear thin shoes at all in Smallville)... He looks 5'7 at most with him!
I also saw some photos with Ryan Hansen and he does look under 5'7.5 too!