Kylian Mbappé's Height
5ft 10 ¼ (178.4 cm)
French professional footballer, who has played for Monaco and Paris Saint Germain. He is currently described as 178cm by PSG.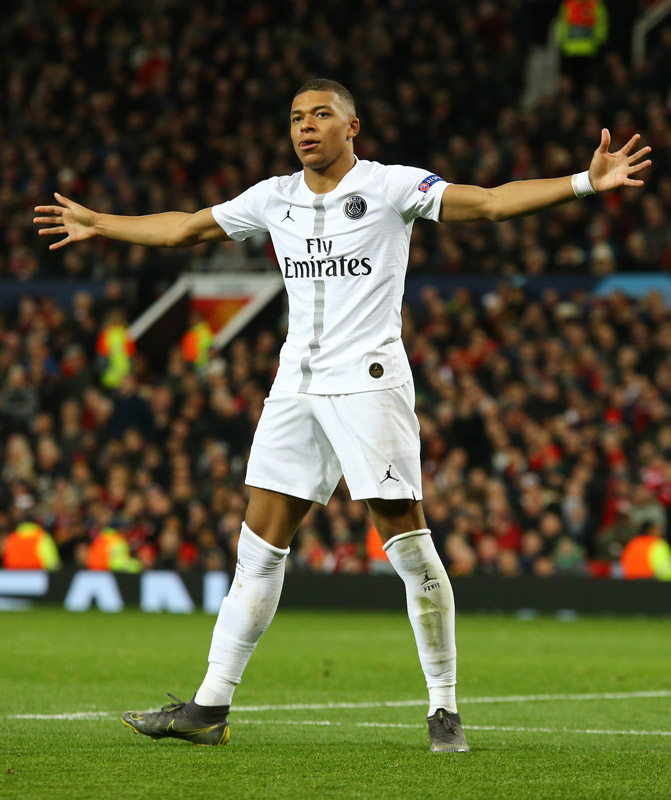 Photo by sportsphotographer.eu/BigStock.com
You May Be Interested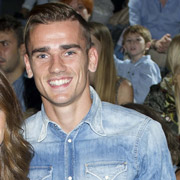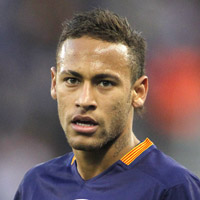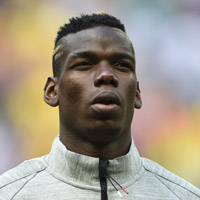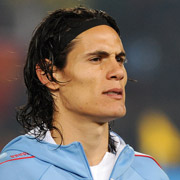 Add a Comment
56 comments
Average Guess (62 Votes)
5ft 10.41in (178.8cm)
John Moore-162cm
said on 6/Apr/21
He seems very weak 179 to me. He could measure 179 earlier in the day, but he probably will drop 4-5 millimeters below 179 by night.
@Rob- Great listing!
Soetan
said on 23/Mar/21
He looks a weak 5'10 to me, at most a flat 5'10
Scandinavian178
said on 16/Feb/21
He looks big on the pitch from birds eye perspective, not so much from normal view. I still have hard time believing he is this low (178,4cm).
Johnny 181-182 cm
said on 2/Nov/20
I would have never guessed him as tall. If you look at his instagram he appears very average. But he is certainly slightly taller than 5ft 8-9 guys like Neymar and Griezmann.
Mike Sui
said on 6/Oct/20
He has long legs which makes us think he's taller then he actually is.
Ronaldo 185.5cm
said on 9/Sep/20
@ouloulou but he looked only 1 cm shorter than 5'11 Beckham despite not even having any hair unlike Beckham so 176cm is a joke he is atleast 5'10 1/4 for me.
@Joseph177 The host was standing on a higher part of the floor, when Mbappe got there, then he looked taller, and when they took a picture together, Mbappe looked taller than him.
danile
said on 27/Aug/20
hes a clear 179 close to 5'11
ouloulou
said on 21/Aug/20
mbappé 1m76 cm on icardi - 5 cm real height mbappé is 1m76-1m77
Johnny 181-182 cm
said on 1/Aug/20
I think this guy can be the best footballer in the world in a few years. As for his height I cannot see 5ft 11 for him. Looks at least an inch shy of Icardi.
Click Here
,
Click Here
.
Joseph177
said on 1/Jun/20
If you guys watch that video sneaker shopping with complex. Mbappe and the host is about the same height. Mbappe might even be shorter. That host is 178-178.5 at most because he is shorter than the 5'11 guests. Mbappe is fine at 5'10.25. This site lists afternoon heights or close to night heights. He might only hit 179 a hour or two after waking up.
Ronaldo 185.5cm
said on 22/May/20
@Rowan Never looked 6'2" but usually 5'11 due to his proportions.
@Joseph177 He is easily above 5'10, closer to 179cm, i would say 180,3-5cm out of bed. And, he might have grown from 2018 to 2020, this listing was done in 2018 when he was 19yo and his 178 listing came from which year? i dont know. if 178cm listing came from his teenager years he might be 179-80 now. It depends on whether he is a late bloomer or not. And genes are a factor as well.
Joseph177
said on 21/May/20
He looks so tall due to long legs, small head, and lean frame. Probably 179.5 cm right out of bed. He generally does look a flat 5'10 with other athletes. By himself he can look taller.
Rowan
said on 8/May/20
If you're looking at Mbappe when he's playing he looks more like 6'2. The size of his legs and his strides seem massive. Obviously he's not that tall though, he just had the perception of it.
Jonny Clewett
said on 3/May/20
179cm in my opinion
Nonm56
said on 24/Apr/20
Long legs for his body? What would you guess his inseam is, Big Rob?
my guess is 86-87 cm

Editor Rob
Hadn't really looked at his legs, but at a glance I wouldn't have said very long for his height, but a bit longer than average maybe.
yuh25
said on 26/Oct/19
cmon rob, it's evident he's 5 11 at the very least at this point. Time for an upgrade?
Andy Shi
said on 13/Sep/19
Doesn't look that much shorter than 6'1 steve nash
Click Here
:
JMX178
said on 5/Sep/19
Come on Rob. Mbappe is 180cm (Solid 5'11) now.
Josue
said on 5/Sep/19
@Water Is Life, Mbappe is wearing some thick shoes in the complex video, I wouldn't be surprised if he's only 5'9.5.
Josue
said on 5/Sep/19
Looking at best 5'9 3/4 next to 5'8" Neymar, @Rob.
Click Here
185
said on 23/Jul/19
He look this height probably 5'10 flat next to lebron
Water is Life
said on 15/Jul/19
In this video:
Click Here
, the host Joe is 5'11 I believe, making Mbappe 5'10 1/4. This listing is fine.
Druce Lee
said on 14/Jul/19
Look at pictures with David Beckham and Odell Beckham junior at his Instagram.....at least weak 5'11.... ugrade is neccessary....you to much downgrade People here...
Joseph178
said on 5/Jul/19
Rob he defo deserves an upgrade. In recent games for club and country he is the same height as players who are 5'11/6ft. He is AT LEAST 1.80m now
juan manuel Santandreu
said on 15/Jun/19
Rob, i see 179 for him. Weak 5'11". What do you think?

Editor Rob
Still not as convinced on a weak 5ft 11, but I can at times see how he passes for 179cm.
Makks
said on 31/May/19
Click Here
Mbappe doesn't look short next to Federer he might grew to 5 ft 11 or a weak 6
MD
said on 28/May/19
This is yet another picture where Mike Tyson is looking short. He's just not 5'10".
rocketman23
said on 26/May/19
Yes I think you are right Rob. Di Maria and Mbappe do seem equal. What about Higuain? Seems as tall as Ramos from his pics back at real

Editor Rob
Higuain never struck me as a tallish guy...but he does seem like he's near ramos height
khaled taban
said on 23/May/19
Zutkil, Nemyar is not 174cm but more like 173cm. He gives a short impression
rocketman23
said on 20/May/19
Rob, what would be your estimation for his teammate at PSG, Angel Di Maria?

Editor Rob
Doesn't seem any shorter
hridoy
said on 23/Feb/19
I saw him with neymar who is 5'8".and mbappe was 1 inch taller than neymar.So he is clearly 5'9" no doubt
Zutkil
said on 22/Jan/19
181 cm, looks so tall close to 174 cm Neymar. 178 cm is too low for him.
rico
said on 31/Dec/18
Rob in this article in french it is said that Mbappé will achieve his "adult body and height" at 21. He would still have 1 cm to gain. What do you think ?
Click Here

Editor Rob
I'm not sure if he's grown at 19
Nik
said on 24/Dec/18
He is described as 178 cm by PSG and Mr Rob Paul!
World Citizen
said on 24/Dec/18
He looks a fraction taller than 5 ft 10 listed Mike Tyson.
Edet Inuikim
said on 20/Dec/18
Mbappe looks quite tall standing next to lebron
strawberrii
said on 18/Nov/18
Rob, here he's with Kevin Rimane who is listed at 181cm and Kylian looks the same height as Kevin so I think either Kevin has inflated his height or Kylian needs an upgrade
Link:
Click Here

Editor Rob
At times Mbappe has pulled off 179, but other players listings may not always be accurate.
Mazhar
said on 14/Nov/18
Hey Rob, would you say he's still 178cm?

Editor Rob
He still seems a guy who is solid 178 range.
Akay
said on 25/Oct/18
Ha!
Time to upgrade my boy. He grown now. 5ft 11 should do the trick
Asdo
said on 18/Oct/18
Come on let's make the football legend happy. Let's make him 5ft11..Amazing footballer.
khaled taban
said on 24/Sep/18
Rob , Any idea why this guy looks tall at only 5'10" ? , even with 6' teammates he doesn't look short next to them !

Editor Rob
Good proportions.
Frost
said on 17/Sep/18
@Charlie what exactly are you basing that on?
Rick1
said on 20/Aug/18
Hi Rob, if Mbappe is a tad over 5'10 how tall is his father (right) 5'9?
Click Here

Editor Rob
I'm not sure if Mbappe would gain any height (like a fraction) because sometimes people do bend their knee in a manner to push themselves up...but his Father might be 2-3 inches shorter.
Ven
said on 13/Aug/18
Rob, could he have grown to 5'11+ by now? He looks like a really tall dude for some reason

Editor Rob
Still seems a solid enough 5ft 10 range
Charlie
said on 15/Jul/18
Black guys usually grow early so extremly small chance he will grow any moore.
187.5 cm
said on 2/Jul/18
Out of bed : 180 - 180.5 cm
Julien Piselli
said on 29/Jun/18
Rob, Kylian is 19 years old
A man can grow until 21 years old
Do you think that he could gain 1 inch before he is 21 years old?

Editor Rob
The percentage who grow noticeably from 19.5 to 22 is small.
Ezy
said on 21/Jun/18
What would his inseam be?
khaled taban
said on 20/Jun/18
I don't know why Mbappe looks tall especially with 6 feet men , I doubt that he is 5'10" only !
Boob
said on 20/Jun/18
Same height as Tyson, but theres like an 80 pounds difference lol.
Crypto139
said on 17/Jun/18
Tyson looks monstrous here wow! Yeah this guy is a very strong 5'10" in my opinion. Between 178 to 179 cm tall.
Kyuss101
said on 17/Jun/18
Tyson around 5-9 ish now then
Tunman
said on 17/Jun/18
Are you sure he's over 2" taller than Neymar?I don't really have such impression tbh.The.25"is useless imo,and I wouldn't rule out 177,if anything he looks generally lower average among the players,plus he was listed at 178 which is really the very best he could be
@3for2 I wouldn't rely much on this pic,Mbappé seems even further from the camera when in reality he probably isn't.

Editor Rob
I'd still give him a solid 5ft 10 range.
khaled taban
said on 17/Jun/18
178cm exactly !!
3for2
said on 17/Jun/18
Appears like he is taller than Tyson there, but Tyson could have shrunk under 5'10" now.
Mbappe also looked about 5 inches smaller than Paul Pogba.
Mel
said on 16/Jun/18
Can he be 181cm morning height?

Editor Rob
I suppose there's a chance of that.