Lakeith Stanfield's Height
5ft 11 ½ (181.6 cm)
American actor, best known for films such as Straight Outta Compton, Selma, Short Term 12, Snowden, Get Out and TV series Atlanta.
I'm 6ft on a good day, but Snoop is 6ft 4in at least, so they had to boost me up in these high-heeled Chucks. I was, to all intents and purposes, high, which is pretty appropriate when you're playing Snoop.
-- MrPorter.com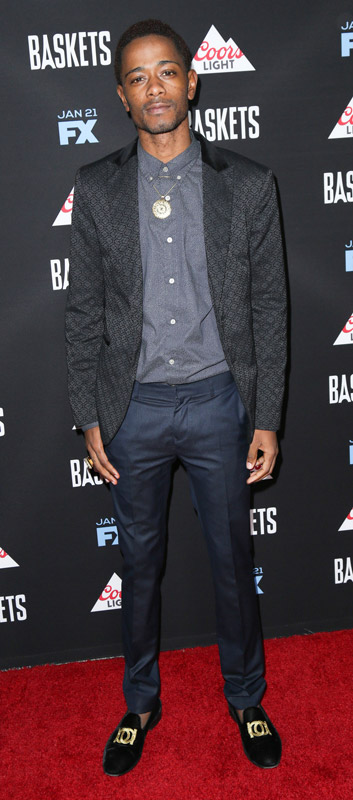 Photos by PR Photos
Add a Comment
16 comments
Average Guess (20 Votes)
5ft 11.63in (181.9cm)
Vexacus
said on 22/Apr/20
He's skinny , it makes him look about 6 ft. He was also in the Death Note movie of Netflix.
DPH1995
said on 7/Jun/19
He's skinny and appears to have good proportions, definitely helps to make you look tall.
Anonymous
said on 6/Jan/18
Sort of pointless to mention because he deleted it but on instagram he posted a video of him rapping and the camera is looking at his drivers licence which he listed himself 5'11".
Anonymous
said on 2/Jan/18
So will you upgrade him rob? Not to be pushy but I really think he is a weak six footer
Editor Rob: I'm happy with listing him on the 11.5 just now, though of course there is a chance 11.75, don't rule it out yet.
Anonymous
said on 1/Jan/18
Rob is 5ft113/4 a better listing he always looked to have 3 inches on Donald Glover in Atlanta (great show btw) when standing tall.
Editor Rob: it's arguable, I think he falls under 6ft but it may well be only a 1/4 and he is being honest enough saying on a good day he will measure 6ft.
Slim
said on 29/Sep/17
5'11.5" would suit this man.
181
Mark(5'9.5
said on 8/Sep/17
He's not lying. He's only rounding off by half an inch. at least he said 'on a good day.'
I do despise the Death Note netflix movie, but Lakeith Stanfield and Dafoe are the only things I cared about in that film.
Rampage(-_-_-)Clover
said on 7/Sep/17
Rob, is 5ft11¾ possible?
Editor Rob: 5ft 11.5 or 11.75, you could argue either I think.

He seems - when standing tall - comfortably over the 5ft 11 mark.
Leandro
said on 6/Sep/17
yeah 6 foot was a morning measurement, "on a good day" means morning height.
CT
said on 6/Sep/17
He has a much shorter look to him because of his frame. When I saw him in 'Get Out' I thought he was around 5'8". But then I saw him in that netflix movie with the 6 foot actress and knew he was close to her in height.
Anonymous
said on 6/Sep/17
I talked to him on instagram and got a screen shot of him saying he is 6 foot. But he looks about 5'11 flat standing next to 6'2 Nnamdi Asomugha. He gives off a tall lanky vibe though.
Realist
said on 6/Sep/17
He looked tall in Get Out was he in lifts. I am aware that nobody in Get Out was really above 6 ft though.
Tonyx
said on 6/Sep/17
Wow. I thought he was 5ft8in....
He really is close to 6ft tall.
:)
said on 5/Sep/17
i swear he looked like 6 ft
travis
said on 5/Sep/17
he doesn't seem to far from six foot
Jacob
said on 5/Sep/17
I think he also started on the most recent death note movie definitely can look 6 foot but odd enough in the manga series both light and L are both barely or .75 not much off from 6 foot