Leon Robinson's Height
6ft 3 (190.5 cm)
American actor, best known for roles in films such as The Five Heartbeats, Cliffhanger, Above the Rim and Cool Runnings.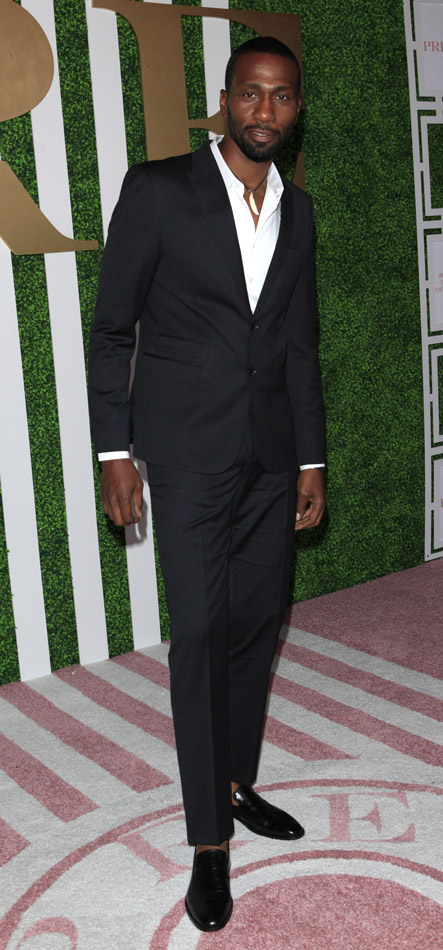 Photo by kathclick/BigStock.com
Add a Comment
34 comments
Average Guess (6 Votes)
6ft 3in (190.5cm)
MrTBlack
said on 10/May/19
I think strong 6'3" is likelier than solid 6'3".
Jordan87
said on 7/Feb/18
Def Taller than John Candy
Click Here
Rampage(-_-_-)Clover
said on 29/Apr/17
191-192cm range
Timmy
said on 8/Apr/17
He,s about 6'2.5
Timmy
said on 16/Mar/17
He should be about 6,2.5 image half because their no way she 6,3 he,s an inch shorter
Timmy
said on 16/Mar/17
He should be about 6,2.5 image half
Some Guy
said on 14/Oct/16
In OZ, he towers over at least a head his in-universe little brother Billie (the latter being 1.73 m btw). Could he actually pass as a 6ft 4in tall (the same height as Stephen Gevedon, who played Scott Ross)?
Bri Coleman
said on 2/Aug/16
Leon is a client and yes, he can seem taller than 6'3" cause of his slim body type but he measures (at the doctor) 6'3" on the dot!!
Sam
said on 1/Jun/15
I would say this guy does look in the 6'3"-6'4", a bit tall for just 6'3" IMO.
Andrea
said on 9/Dec/14
Rob, i've seen him in Oz and he looked very tall there! At least 2.5 inches taller than Adewale Akinnuoye-Agbaje, easily 4+ inches taller than Eamonn Walker (who i'm not sure is a big 6'0.5 guy, though)... I actually thought he was something like 6'4-6'5 when i saw him but i've also noticed he wears timbs shoes in many scenes... Still 6'3 seems to undercut him, maybe 6'4 is possible?
[Editor Rob: 6ft 3.5 might be possible]
some guy
said on 10/Jun/09
I thought he was supposedly billed as being 6'6". He TOWERS over everyone on Oz
Candyman
said on 5/Apr/09
He looks over 6'3" to me. It always puzzled me why he is always listed lower than that. I know plenty of guys that are 6'3" and have seen some on film and he always looks taller. Take the film Buffalo Soldier for example. I could accept 6'3.5" as a minimum though.
Anonymous
said on 11/Feb/09
This guy is at least 6'4.
spence
said on 6/Dec/08
Leon looks 6ft4.5 to me.. 6ft3 maybe 10 years later he were drop down this range..
Matt
said on 21/Aug/08
In Oz, while standing next to Adebisi (Adewale Akinnuoye-agbaje) Leon appears a good 3-4 inches taller than the 6'1ft Adewale. Infact, he towers convincingly over everyone in the show.
Episode 3 of the first season, about halfway through I suppose (watching it)
berta
said on 26/Jun/08
i this a joke he must be 195.he is not under 194
Anonymous
said on 17/May/08
hes 6ft5 watch him in above the rim a basketball movie he towers over everyone na what i mean
MotownCrystal
said on 23/Feb/08
I would say that he is about 6'4 tops. I am 5'7 and my ex is 6'3 and that is how we looked standing next to eachother. Even when we're hugged up. So I don't think Leon's slight lean to the side makes a big difference.
balegirl
said on 19/Nov/07
one of the few actors i have met in life. sat at a table with him at a fundraiser in washington dc a few years back. also got to chat with him whike we were both standing. i'm 5'4 and felt small beside him, even in 3.5 inche heels. he's definiately taller than my brother who is 6'2" but not by much. Pretty lean dude. I'd say 6'3 is spot on. one of those guys who is easily the tallest or close to tallest in a room.
Mark
said on 13/Oct/07
yeah but look at leon he leans to the side so that makes him look smaller id say he is 6.6 or 6.7
glenn
said on 4/Jul/07
no.seemed 6-4ish actually.
Mr. T
said on 3/Jul/07
Whoa! Heels, Glenn?
Viper
said on 5/Jun/07
Ehh, Ive seen guys who sweared on their life that a certain 6-3 person was closer to 6-5, in person no less.
Macgyver
said on 4/Jun/07
Another botched height listing. I wonder if lmdbs is following celebheights now. I could have swore that they had 6'5 for Leon before, but now it is 6'3 there too. If you remember the scene where Leon, Don Cheadle, and another actor are riding sitting down in the back of a conversion van in the movie Colors, than you will notice that there is no way Leon is South of 6'5. My dad is 6'3 so I am used to seeing what tall people look like in awkward situations and there is no way that he was only 6'3 at the time.
Rachel
said on 23/Apr/07
On 'Oz' he looked about 190-192, no more i think
Derek
said on 12/Mar/07
He looks 6'5" here, but looked the same as John Candy in Cool Runnings.
Viper652
said on 1/Dec/06
Well, he doesnt look any taller than Boris Kodjoe who is 6-3 at best as well. Pretty weird.
Glenn
said on 14/Nov/06
Yeah,6-4,6-5.
Viper652
said on 13/Nov/06
You are correct Cantstop. If he stood up straight he would have a ton of height on Glenn. I thought was around 6-5? Glenn, how tall did he look in person.
Derek
said on 13/Sep/06
The picture is pretty deceiving. Leon could pass for 6'5".
J.
said on 23/May/06
How tall is the American Gothic guy supposed to be?
[Editor Rob: I had given him 5ft 11...although you know, that might be a snitch on the positive...he looked on Crusade near the bald guy woodward's height...]
XxX
said on 11/Apr/06
They probably took a guess that is why. Imdb members do that often.
J-Dog
said on 6/Apr/06
I don't that is much out of the question either, if you watch the 2Pac film "Above the Rim" he plays a promising ex-basketball player, and he looks pretty big in it to say the least. Not sure why IMDB only has him at 6'2" but that is to be expected there at times. Looked big in Oz, anyone have a better estimation?
CoolJ
said on 6/Apr/06
Standing straight he'd AT LEAST look 6'3. I saw him listed at 6'4 before.. and i dont think thats out of the question.
[Editor Rob: could be taller, haven't seen much of this guy to compare with, although his college did call him 6ft 3]