Liza Koshy's Height
5ft ¾ in (154.3 cm)
American Internet personality, who has amassed 10 million followers on Youtube. She said in one of her videos
"I'm 5 feet tall...5 feet actually and .75 inches, 3/4 of an inch"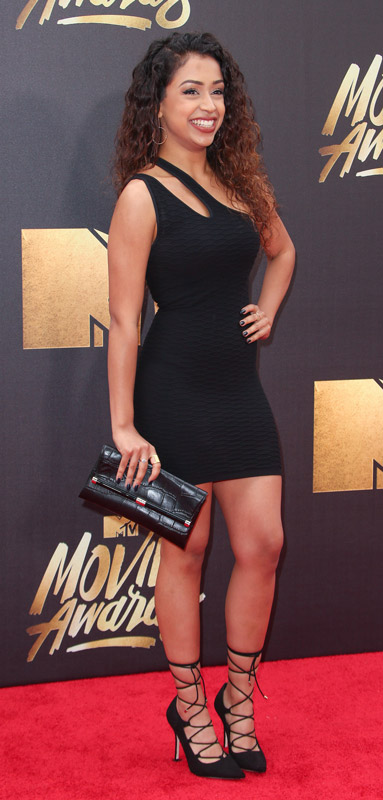 Photos by PR Photos
Add a Comment
12 comments
Average Guess (24 Votes)
5ft 0.9in (154.7cm)
Black Fish 123
said on 23/Jul/20
@Nik
Wouldn't be surprised if she knows celebheights ;)
Nik
said on 7/Jul/19
She's very height aware and honest too!
Laura Bogart
said on 9/May/18
Only five and said it again!
Sandy Cowell
said on 31/Jul/17
Liza looks as happy as a sandboy, and if shorties can all look as contented and pretty as Liza here, what a smashing little advert she is for the smaller among us!
Let's see what she is famous for.....
Ah! Liza's a YouTuber (what ever that is! I'm still naive where that is concerned I'm afraid!)
I'm going for a sparkling 5ft0.75 for Liza here! Good luck to her - perhaps she could think of passing on her hair care tips to her YouTube fans, and many people who appreciate lovely hair like here can benefit as well! It certainly gives her confidence and maybe that is what so adds to the sparkle that made me think that she might even be as 'tall' as 5ft3! In all honesty, I would have swallowed that no trouble at all!
Canson
said on 31/Jul/17
@Jacob: shoes play a huge role. Without seeing footwear it is hard to tell. I've had people when I'm in Jordans or even a thickly padded casual shoe (adding around 1.5" with an insole I. Then) assess me as being 6'5" or a little over 6'5" and these are people who didn't appear to be lying about their height by very much maybe a 1/2" roundup. In reality in no shoes I can stand anywhere from 6'4.25-.5 for the majority of the day. So very possible the guy who you thought strong 6'6 could be more like Christian's height or maybe slightly taller 6'5.5 or a full 197cm and have been 6'7ish in shoes
Christian-6'5 3/8
said on 27/Jul/17
@Jacob
I've seen a few that will round down, but it's very rare to see someone lowering their height by over an inch, tall or short regardless.
Jacob
said on 26/Jul/17
Yes Christian even tall men like yourself are really honest I even met one guy who was probably a strong 6'6" was down playing his height at 6'5" @christian-6'5 3/8 @Lol I do believe it's very easy to see through it a half a inch claim is ridiculous I understand a 2 cm claim or even 1 but not a half a inch or 2 inche claim
Christian-6'5 3/8
said on 26/Jul/17
@Jacob
Yeah, it's short women around 5 feet tall that tend to be the most honest, from what I see. Many of them still round up, but don't exaggerate an inch or two unlike taller women.
Lol
said on 25/Jul/17
You know it, @Jacob
I find it really pathetic when celebrities claim to be way taller than they actually are.
Good on Liza for being honest
Jacob
said on 24/Jul/17
Probably one of the more honest YouTubers most the men either say there close to six foot but like 5'9" and half in reality. She mentioned in a video which you mentioned she does look her height great listing!