Louis Armstrong's Height
5ft 5 ¾ (167 cm)
American Jazz trumpeter and singer known for "What a Wonderful World", "Hello Dolly!", "When You're Smiling", "Stardust", "Heebie Jeebies" and "We Have All The Time In The World". He has been described in the past as anywhere from 5ft 5 to 8.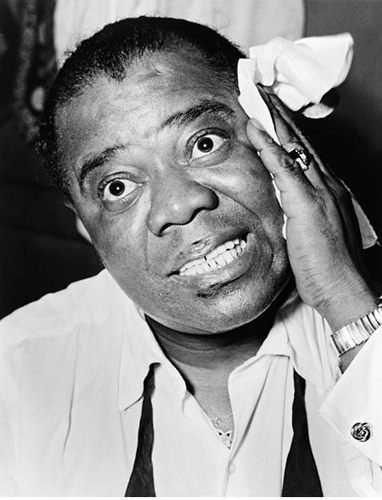 Photos by PR Photos
Add a Comment
10 comments
Average Guess (2 Votes)
5ft 6.25in (168.3cm)
Arch Stanton
said on 23/Jun/17
Yes he looked this, 5'5.5-75 with Bing Crosby given that Crosby was wearing his usual highbacks in Pennies From Heaven, a good 3 inches between them.
mande2013
said on 18/Jul/15
As far as jazz greats are concerned Rob, have you thought about adding John Coltrane and Miles Davis to the database?
[Editor Rob: I've not consider them.]
Arch Stanton
said on 1/Mar/15
There's a scene in A Man Called Adam where you can briefly see him with Sammy Davis and even though he was leaning a bit I think you were right to go on around 5 ft 6 rather than 5 ft 5. He didn't look as low as 5'5 with Sammy but whether Sammy was in lifts is questionable. A lot of guys Louis appeared in films with are not exactly the types you can really be sure of footwear!!
Arch Stanton
said on 26/Dec/14
Ha, I suppose he might have measured just under 5'6 as a younger man perhaps. 167 seems OK.
Bishop
said on 26/Dec/14
Here he is next to 5'6.5" Grace Kelly:
Click Here
But we can't see footwear and he appears to be leaning in.
Rob, in this photo, the guy on the left is Henry "Red" Allen and the one on the right is Zutty Singleton. How tall do they look next to Louis?:
Click Here
[Editor Rob: with him a bit further away they might look a bit more than they actually are.]
Arch Stanton
said on 26/Dec/14
In some roles Sinatra could have worn the very expensive customs perhaps which are made to look normal and could have had a lift inside. I could imagine him being height conscious next to some of the big 6 ft ers but in fairness he didn't refuse to stand next to Sterling in Suddenly or Dan Blocker in Tony Rome!!
Arch Stanton
said on 26/Dec/14
I think a lot of people see Sinatra as one of the big lift wearers but I've seen a good number of his 40s-60s films and generally his footwear seemed normal. A lot of the time he wore pretty tight trousers which were a bit short on him so you could see his feet and shoes. Bing on the otherhand literally every film he was in his highbacks. I think it was more later on Sinatra wore lifts, in some of his stage performances his footwear did look suspicious. Still, there's some roles like Some Came Running where I think he wore lifts.
Arch Stanton
said on 26/Dec/14
In High Society Bing was in lifts but Frank's shoes looked normal. As a result Bing appeared about 1.5 inches taller than Sinatra in the film.
Arch Stanton
said on 26/Dec/14
Can you also mention the songs Stardust and We Have All the Time in the World ?
Arch Stanton
said on 26/Dec/14
Thanks Rob, can you tweak though to 5'5.5" though, I got a good look at him with Sinatra and Crosby and he was inches shorter, I remember thinking 5 ft 6 would be a bit much.
Click Here
Click Here
with Sinatra A 5 ft 5 gentleman IMO. 5'5-5'5.5 I think is more realistic.
[Editor Rob: the question would be whether someone like frank would be in lifts, it's always tricky with a guy like Sinatra. 5ft 5.5 is possible for louis though, maybe will have a look with other people again.]