American actor best remembered for roles in Notorious, The Asphalt Jungle, Julius Caesar, Duck Soup, Annie Get Your Gun, High Society, Executive Suite, Blackboard Jungle and The Magnificent Yankee. He was described both 6ft 1 and 2 during his career.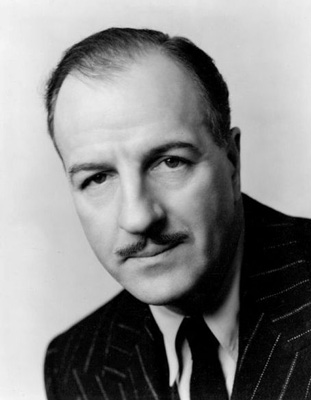 Photo by Vandamm, via Wikimedia Commons
Arch Stanton
said on 28/Mar/23
In Julius Caesar I see 5 inches between Brando and Calhern. There is a scene in which they're walking side by side at about 15 minutes in, I'd assume both in sandals. He has to be minimum 6'1.5 if Brando was 5'8.75.
Rampage(-_-_-)Clover
said on 11/Jan/17
You can't rule out 6ft2.
Sam
said on 30/Mar/15
I did think he was at least 6'2" though, he could look that range with Sterling Hayden and similar range to 6'2" listed Stewart Granger.
Sam
said on 30/Mar/15
Here they claim Calhern is a "towering 6'5""!
Click Here
Rampage(-_-_-)Clover
said on 3/Mar/15
He could look either 6ft1 or 6ft2, really
Shadow2
said on 28/Feb/15
I agree that 6' 1.5" is about right for Calhern, having seen him in movies with 6' 2" Walter Pidgeon and 6' 1" Van Johnson. In "The Prisoner of Zenda" he slightly edges out Granger when they are both on level ground and side by side. But as I've mentioned on Granger's page, his own height is often inconsistent during a movie for certain "reasons".
Arch Stanton
said on 27/Feb/15
Actually in some scenes Calhern could look in 6'-6'1 range with Howard Keel!!! I think we can rule out 6 ft 2 and anything higher!!
Arch Stanton
said on 27/Feb/15
6'1.5-6'2" looks his range with Howard Keel in Annie Get Your Gun.
Gonzalo
said on 23/Feb/15
Stewart Granger was slightly taller than him in The prisoner of Zenda. He was as tall as Cary Grant in Notorious probably a tad taller. He was between 1´85-87
Rampage(-_-_-)Clover
said on 21/Feb/15
He could have been a weak 6ft2
Arch Stanton
said on 21/Feb/15
You know I think that film database is problematic in many ways. I see a listing there and often it convinces me it's legit. I just assumed Calhern really was 6'2.5 like I assumed Rennie was 6'4". I thought he could pull of looking 6'2" range with Hayden. I can't say I've really studied his height in every film, he's just one of those faces who keep popping up and I knew he was pretty tall.I think it's a good thing to get listings on here to often set the record straight, particularly on the older actresses where there's often a 2 inch inflation. I often get a good look at them before requesting so on ones where I say "looked shorter" there's usually something to that though.
Rampage(-_-_-)Clover
said on 20/Feb/15
Rob, he claimed 6ft4. You may want to add it to the top.
Click Here

Editor Rob
it's hard to tell if he claimed that exactly because the quote is basically Jimmy Cagney saying 'Louis said this'...seeing as Cagney was claiming himself to be 5ft 8, I'm not sure about this one!
Arch Stanton
said on 20/Feb/15
That him there with Brando? Didn't notice him in the film when I watched it but it was at a time when I didn't really know who he was
Click Here
Looks 6'1" range there, you're probably right.

Editor Rob
yeah that's him.
Arch Stanton
said on 20/Feb/15
Have you got Notorious on DVD Rob? I saw it about 18 months ago, all I can remember is him standing on the stairs looking down at Cary Grant, can't remember how they looked together. Notorious and The Asphalt Jungle are real classics worth watching again sometime.

Editor Rob
my house is in a perpetual state of needing 'tidying up', I have movies in boxes all over the place...I actually would like to watch that again and the one he's in with stewart granger!
Arch Stanton
said on 20/Feb/15
Rob can you add Executive Suite and Blackboard Jungle?
Actually I think in Rhapsody Gassman edged him out and he was supposed to have been 6'1.5-6'2". Probably a good shout then, just one of those guys with a big presence who could seem a bit taller at times.
Arch Stanton
said on 20/Feb/15
Typo on "bother" :-) I was think he was more 6'2" range. Sterling Hayden had him by no more than 3 inches I thought. Wasn't he taller than Cary Grant in Notorious? I'm trying to remember them together in that house but can't!

Editor Rob
I watched a few clips of this guy and wouldn't have thought he was a solid 6ft 2er