Louis Theroux's Height
6ft 2 (188 cm)
English TV Presenter. He said once in his program, well 'rapped'
"I'm six foot two in a compact, but luckily the seats go back"
and in another documentary on Swinging, he described himself as standing
"Six-Feet Two Inches"
with a weight of
"160 pounds."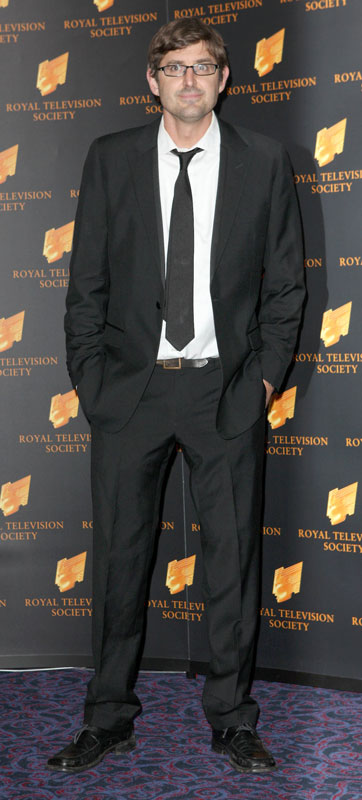 Photos by PR Photos
Add a Comment
74 comments
Average Guess (19 Votes)
6ft 2.42in (189cm)
Rampage(-_-_-)Clover
said on 12/Jul/20
Rob, are you considering giving him a fraction more?

Editor Rob
I don't know, but I understand why you'd give him the 1/4 as he can pull off strong 6ft 2 range most of the time.
Rampage(-_-_-)Clover
said on 31/Mar/20
Proportionally looks like a 6ft2+ guy. No one would bat an eyeline if he claimed 6ft3
Ferdinand
said on 14/Jul/19
6ft 2 and change without question. Towers over just about everyone he's filmed with.
Junior Hernandez 1990
said on 30/May/19
Rob, don't you think he easily look 6'2 when having loose posture? I mean he maybe close to 6'2 1/2 and downplay 6'2.

Editor Rob
It's arguable he could be a fraction over and not bother with the extra bit.
Terry
said on 11/May/19
I would of guessed 6'3 minimum. He is a tall guy. Nice guy as well.
Lafferty
said on 3/May/19
This listing is ridiculous, Rob, he looks 190cm.
Rampage(-_-_-)Clover
said on 1/May/18
Well Rob, he certainly can look that quite often
Rampage(-_-_-)Clover
said on 13/Feb/18
Christian, I'm not basing it off just that one photo...I've seen enough of him beside others and if you look at older posts someone found a quote where he said 6ft2½.
I think it's possible

Editor Rob

The article described louis at that, but he was never directly quoted.

"Despite the stubble and the crumpled shirt and his general air of distraction, he strikes a handsome figure – dark, big brown eyes, 6ft 2 1/2in tall"
Christian-6'5 3/8
said on 3/Jan/18
@Rampage
He shouldn't get an upgrade just because he has tall proportions in one pic.
Rampage(-_-_-)Clover
said on 2/Jan/18
Could easily pass for a 6ft4 guy in the above photo...
Definitely one of the few "for certain" guys who should get a slight upgrade
Blake
said on 28/Dec/17
Rob, I noticed he claimed 6 ft 2 while he was putting out an advert to a local newspaper, in his documentary on swingers. I see you have a height claim already, but your current one sounds a tad wishy washy. Here is a screengrab of his height claim subtitled I uploaded to imgur
Click Here
Editor Rob: yes, I'll mention that as well, since he gave a weight too!
sean5
said on 26/Aug/17
Seen his documentaries again, still think he looks at least 6'2.5
Aza
said on 22/Jul/17
I do think he's a bit over 6'2 so am voting 6'2.5
slothee
said on 20/Jul/17
At first I thought he was 6'3-4"! Looking more closely...probably more 6'2.5"-.75" range. 6'2" seems too low.
Gwynbleidd
said on 12/Jul/17
Minimum 6' 2.5". No way he's 'just' 6' 2". I think he's just being humble like usual.
Adam
said on 23/May/17
In all his documentaries, literally no one seems to be taller than him. Seems maybe even more like 6'2.5 to 6'3.
delancey
said on 24/Feb/17
Love Louie! Also agree he needs an upgrade, 6'3 to my eyes.
Rampage(-_-_-)Clover
said on 8/Jan/17
Been down here way too long....needs an upgrade Rob!
"Louis Theroux's Height: 6ft 2½in (189.23cm)"
Pip
said on 1/Nov/16
He says 6ft 2" on the Louis Theroux rap episode - "I'm 6ft 2" in a compact, no slack, but luckily the seats go back" ;)
Rampage(-_-_-)Clover
said on 12/Nov/15
A clear 6ft2-3 range guy. Definitely one of the few underlisted.
MaskDeMasque
said on 25/Oct/15
After binge watching his doucmentaries on netflix, i'd say he's a solid 6'2. Surely he's at least 6'2.25 rob?
Rampage(-_-_-)Clover
said on 3/May/15
Rob, I think 189cm might be closer.
tom
said on 21/Apr/15
Been watching some of his shows and I wouldn't be surprised if he was taller than this - seems like he's got at least three inches on almost everybody. Very few people seem to meet his eyes.
sean5
said on 10/Jan/15
He has claimed 6'2 more than once but seen his documentaries and looks more 6'2.5-6'3 I'm not sure if it's his footwear or a small chance he undermeasured himself by having your back and head against the wall?
JohnGB
said on 11/Oct/14
It does help his tall appearance though that his shoulders are very high and square compared to most people.
JohnGB
said on 7/Oct/14
In the Weird Weekends series, swinging episode, he dictates an advert for the paper and says 6'2, 160lbs. Thin guy back then! I still think he's slightly more though but, hey, who knows.
JohnGB
said on 4/Oct/14
I don't think he's over 190cm, but I'd guess either at or very close to it. I agree about the jeff Goldlbum handsome idea, he is definitely handsome, but will appeal to the nerd fanatics more. Always looks tall, it's quite rare to see someone taller than him in his programs and if so it's typically by an inch at most.
Rampage(-_-_-)Clover
said on 29/Sep/14
Rob, do you think a fraction over 6ft2 might be closer?
Judy
said on 16/May/14
Tall and hot. Someone get a tape measure.
Arch Stanton
said on 14/May/14
He's not exactly "handsome" as in Rob Lowe handsome, but he's what I call a "handsome geek" much like Jeff Goldblum, a tall, dark, slim guy who looks a bit of a nerd but will find that quite a few women find him attractive and sophisticated. They're always the types to watch out for, kinky as hell LOL.
Ulysses
said on 13/May/14
No Surprises says on 5/Apr/14
"Tall & dark = handsome"
True that. If Theroux was 5'7 he'd be considered average looking, but put his face on a 6'2 frame and he instantly becomes "handsome". Such is life.
MD
said on 7/Apr/14
It does? I always thought the line was "Tall, dark AND handsome." Anyway, not a big deal, it just seems like strange wording, to me.
No Surprises
said on 5/Apr/14
Tall & dark = handsome.
MD
said on 4/Apr/14
Is "handsome" used differently in the UK? I mean, he's not ugly, but handsome?
[Editor Rob: I don't think so. Maybe some people are generous with the word at times.]
Fire
said on 3/Apr/14
"he strikes a handsome figure – dark, big brown eyes, 6ft 2 1/2in tall"
Click Here
Rampage(-_-_-)Clover
said on 2/Mar/14
"Louis Theroux's height is 6ft 2.5in (189cm)"
I've seen a bit of Weird Weekends and this guy honestly looks closer to 6ft3. The very least you could give him is 189cm. But I think 190cm might even be on the cards. He's a tall bloke.
lelman
said on 10/Nov/13
Looks tall as hell on Weird Weekends, I would have guessed 6'4" or more. It's rare that anybody on that show comes even close to him in terms of height. I guess his skinny frame must add to that idea, and he must not meet many tall people.
Kyuss
said on 15/Apr/13
6-2" as a minimum imo,possible close to 6-3" perhaps.
Trent
said on 31/Jan/13
I remember Ainsley Harriott being on his "Paul and Debbie" documentary, although I can't remember how they appeared together height-wise.
Theroux has claimed 6'2.5 as well, though I do think 6'2 is closer, for instance with Chris Eubank and Uri Gellar.
I think he can look 6'3 because of his lanky build, yes, and maybe a footwear advantage. I noticed he seems to prefer chunkier Nike Shox style trainers to flat canvas types. This could give him an extra half inch over a lot of people.
Arch Stanton
said on 19/Jan/13
anon says on 10/Jan/13
Ainsley Harriott looked taller in one episode. Harriott claims 6'3'' but always looks under, same with James Martin who also claims 6'3'' I think but definitely not. Marco Pierre White taller than both.
Really? Ainsley Harriott I thought has always looked around 6'3" and Marco Pierre White, yeah he's a strong 6'3" I think. James Martin looks more 6'2". Thereoux can look 6'3" but I think its his lanky build.
anon
said on 10/Jan/13
Ainsley Harriott looked taller in one episode. Harriott claims 6'3'' but always looks under, same with James Martin who also claims 6'3'' I think but definitely not. Marco Pierre White taller than both.
Arch Stanton
said on 16/Dec/12
Na, he looks nothing less than 189cm. He does have a thin build which makes him look lanky, but he just looks too tall to be anything under 189cm. He gives off a 6'3" impression much more than 6'2" in my opinion.
Trent
said on 1/Nov/12
Rob, I really don't think she would have given such a specific height if it was just her estimate. She probably asked him and then described him as such. So I see it as a claim.
Maybe that could just be what he is a bit earlier in the day, though. It's hard to tell. I think he is close to his listing or claim though.
Shaun
said on 10/Oct/12
See "When Louis Met:Jimmy Savile 16:45
Click Here
Saville I thought was around 5'7" but Theroux looks an easy 6'3" iun comparison.
Shaun
said on 10/Oct/12
Rob he needs an upgrade he's claimed 6'2.5" which he looks bare minimum. He often looks near 6'4".
[Editor Rob: that was the article author describing theroux, I never saw him claim it directly, although it's possible he is.]
Shaun
said on 30/Aug/12
He's got the Goldblum factor alright, tall and quite handsome Jewish-looking geek and I think a lot of women would fancy him who don't normally go for the studious types. My sister finds him repulsive though. He reminds me of somebody I was in uni with who looked pretty similar and quite quiet and a bit of a nerd but was actually a right kinky devil and managed to pull lots of chicks, but they came to him, not vice versa! You know what they say about the quiet types! 6'2.5" looks about right but he can look taller as he's skinny.
Phil
said on 14/Jun/12
Mask, he actually claimed '6ft 2 1/2in tall'. Look at this article:
Click Here
MaskDeMasque
said on 10/Jun/12
i think he's a strong 6'2. .5 maybe even .75 but seems a modest guy who would round down.
Tommy
said on 11/Feb/12
I think 6'2 is just right. He looked around 4 inches above Eubank, who was listed at 5'10. He also looked a bit over Uri Gellar, who described himself as 6'1, but is listed at 6' on this site. I think he's an example of what a true 6'2 looks like. People often underestimate such heights because many 6' and 6'1 people will say they're 6'2.
Shaun
said on 26/Nov/11
He can look 6'3" at times granted.
G-MANN
said on 20/Aug/11
When he says he's 6'2" during his rap song, he think he's being modest. He could be well 6 foot 2 and a half or even pushing 6'3". He seems so tall in his programs. In When Louis Met Chris Eubank, he meets Jeremy Clarkson (who claims 6'5") at the BBC and seems almost the same heigt as him, although Clarkson probably isn't standing up totally straight.
Ricky Alo
said on 29/Jun/11
He is atleast 6'4 ;)
Rampage(-_-_-)Clover
said on 10/Apr/11
Looks 189cm...
Shaun
said on 4/Mar/11
6'4" is laughing gas. He's be 6 ft 5 in shoes if that was the case!! He looks the way a legit 6'2"-6'3" looks. i'd say 189-190 barefoot. He doesn't look 6'4".
Viper
said on 23/Feb/11
"Chaz says on 7/Jan/10
He's one of the tallest 6'2''ive seen to.in one of he's shows he was talking to Bill Goldberg,and he was taller by a good 1.5''."
I think Goldberg is 6-1 range. This guy is probably 6-2 and maybe some change.
Viper
said on 23/Feb/11
LOL, you know hes a legit 6-2 when some think a hillarious 6-4 on here
l0ck n l0ad
said on 23/Feb/11
This guy is still the tallest 6'2"er I've ever seen.
Anonymous
said on 4/Feb/11
I always got 6'4 from looking at him.
alan west
said on 20/Apr/09
i met him the other day on portobello road - im 6ft 2 and he was about 2 or 3 inches taller than me. take my word for it, he's at least 6ft 3, if not its likely to be more like 6ft 4, 6ft 5...
Doug
said on 8/Apr/09
He definately has that tall geeky thin guy look going, I also thought he was like a Jeff Goldblum initially and was 6'4" ish but he is between 6'2" and 6'3" by the looks of it. I'd say 189cm
stephen
said on 1/Apr/09
he appears taller than 6'2. he dwarfs many people. he's also the sort of modest/not so bothered guy, who doesn't really care how tall he is and 160lbs? he would be thinner if that was the case, though he has put weight on with age. i personally think 6'3 or 4.
M.o.r.g
said on 13/Mar/09
I Thought he was about 6'4-5
Halb
said on 13/Mar/09
There doesn't seem to be any real impetus for him to lie. he may just be 6'2 and people cannot gauge height.
Jake
said on 7/Mar/09
Louis has stated himself on his show many times he's 6'2.
Mike
said on 8/Feb/09
On all his coumentaries I've seen, I've seen him very close to the top of door frames... Most western door frames are 6'6" and to me, whenever I see him go through doors, he looks 6'4" minimum.
Dan
said on 18/Dec/08
On the "Porn Stars" episode of his "Weird Weekends" series he describes himself in a personals ad as "6'2", 160 lbs"
Nathan Hedge
said on 2/Dec/08
I doubt it...met him at an event in London. Barefoot I'm 6"2 exactly, maybe 6"3 with shoes.... and he was at least 3 inches taller than me...
Lawrence
said on 30/Jul/08
he looks taller than 6'2''to me,or he's got a very short camara man,may be 190cm and rownded it down,
morning-6ft
said on 28/Apr/08
i think he's 6-3 minimum
Greg
said on 19/Oct/07
I've met a coupla people who are over 6ft2 and claim 6ft2.This is rather anecdotal but I guess when people are tall they don't give a damn.
Scott
said on 17/Aug/07
Yep, agree with this. I walked right past him on Tottenham Court Rd last year and in trainers he absolutely towered over me [179 and a bit] & I was in Timberlands. I desperately wanted to have a chat with him!
He looked a solid 6'4+ and had gigantic, flapping arms. He was literally head and shoulders above all others on the street. People who are 6'2 never seem wildly tall to me [just over 3 inch difference], so this was odd ... but why would he claim this height when he's clearly not??
Only thoughts would be that his whole style is about humility and understatement ... reducing his height might possibly help him in interviews, in terms of getting people on side if they comment on his height and ask how tall he was? I remember one show where he met Ainsley Harriot by chance in the BBC and looked to have an 1 or 2 inches on this guy, who I have always perceived to be pretty big too. If someone know his height this might help nail Louis'.
On a side note, I was absolutely shocked recently to discover his rival Jon Ronson is only about 5'4!!!
trueheight
said on 23/May/07
I actually think this is off. I've seen all his shows and docs and he just seems like a 6'4 guy. He towers over almost every single person he stands next too and has a large frame as well. seems 6'4
Elio
said on 13/Apr/06
I suppose being skinny makes him look even taller. Plus, a lot of the people he's made programmes with ( Paul Daniels, Jimmy Saville ) are considerably shorter than him.
Bud
said on 13/Apr/06
He looks much taller in his series. More like 6ft 5 but I suppose he must be 6ft 2 - why would he make himself out to be shorter.