Luke Bracey's Height
5ft 10 ¾ (179.7 cm)
Australian actor best known for playing Trey Palmer on TV soap Home & Away. In film he has appeared in Hacksaw Ridge, Monte Carlo, The November Men, G.I. Joe: Retaliation, The Best of Me and Point Break (2015). On the Australian casting database he lists
himself 180cm
.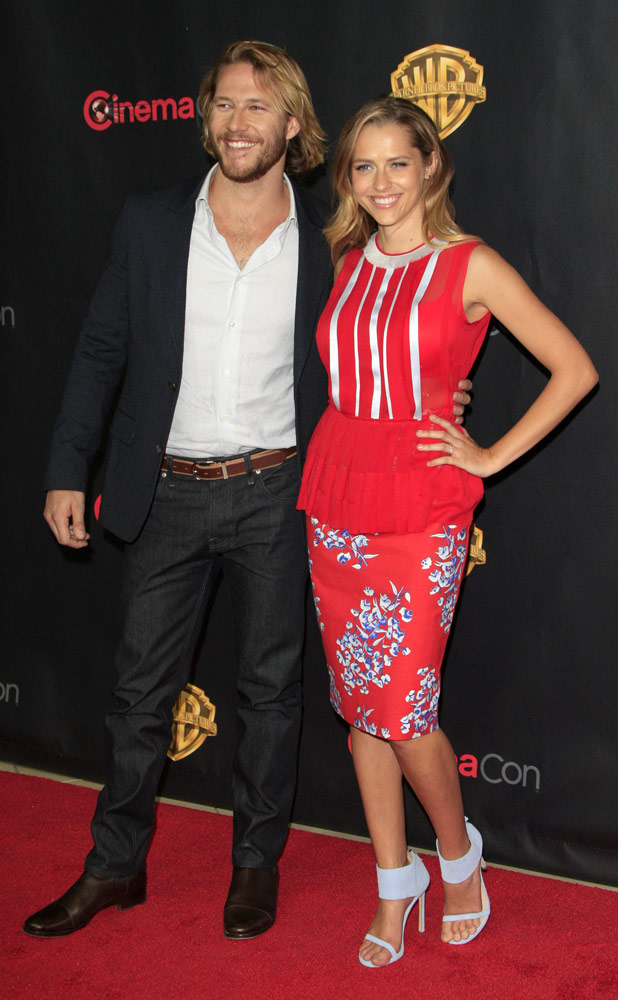 Photos by PR Photos
Add a Comment
20 comments
Average Guess (19 Votes)
5ft 11.14in (180.7cm)
Animus
said on 9/Nov/18
He's one of those 5'11 guys that have very long torsos and shorter legs. There seems to be quite a few of them.
Animus
said on 18/Jan/18
He can appear nearly 6'0, but he is markedly shorter than Drew Brees.

Editor Rob
I know there were a few comments saying Luke seems shorter in some photos compared to Andrew Garfield...but surprisingly in Hacksaw Ridge, in one scene that they are talking to each other, Bracey seems to have an edge.
Don Julio
said on 12/Jan/18
Wow saw him in Point Break and he really gives the impression of a solid 6 foot man. I do think he is 5'11" flat though
MM
said on 18/Nov/17
@FE
I guess we will have to agree to disagree. There was no need to fix the tilt with Avan Jogia, the tilt was fine, but even after you supposedly did they still were the same height. Again, Luke Bracey had camera advantage, he looks every bit of flat 5'10 in that photo. With 5'9.5 Edgar Ramirez, he only looks 1 inch taller, definitely not more than that, so the most that can be argued would be 5'10.5 for Luke. Luke also seems to have military posture in that photo. Also keep in mind Rob has said Edgar Ramirez looks 5'9-5'9.5 most of the time. I still think a flat 5'10 can be argued, even Rob said so. (That was a good photo by the way)
As for the pics with James Marsden, that's the only instance where Luke looks a weak 5'11 ( considering Marsden really is 5'9.5 and not just a 5'9 guy, cause he always looks short to me), but they are not standing side by side, and Marsden is hunching. Certainly never a flat 5'11 guy.
FE
said on 16/Nov/17
No MM, In that photo it was in Jogia's favour since the photo was a bit rotated to the left.
So i fixed the angle a bit and drawn the lines between them….
Click Here
Luke is at least a solid 2cm taller than him, so I'm saying he might look a weak 5'11" with him.
But with other guys…..
Click Here
Click Here
Click Here
Click Here
He does look at least a solid 5'11"! No way is he as low as 5'10"!!
MM
said on 15/Nov/17
@FE
You just proved the opposite with that photo
Click Here
He looks EXACTLY the same as 5'10 Avan Jogia and has a slight camera advantage.
Rob, doesn't he look 5'10 flat with Avan Jogia?
Plus, about the Drew Brees photo, I thought you have said in the past that grass can throw off estimations, unlike a solid floor.
FE
said on 15/Nov/17
@Editor Rob,
I think the original 5'11" listing was better…..
Click Here
Click Here
Click Here
Click Here
Click Here
Click Here
He could look a weak 5'11" sometimes, but can look a strong 5'11" also!
I think he's more of a legit 5'11" tbh…
Whats your thought on this?
Editor Rob: I think near 180 is still ok
MM
said on 14/Nov/17
So you think he looks nearer 5'11 than 5'10 here?
Click Here
I can't see him that high, he looks somewhere between Mel Gibson and Andrew Garfield in my opinion
Editor Rob: look at Mel's left foot, it is bulgin because he is rising up for an extra bit of height. At times Luke certainly can seem near 5ft 10 flat though!
MM
said on 13/Nov/17
Rob, I am afraid you (and it seems like everyone else on this page) are a whole inch (or more) wrong on this guy. He is clearly shorter than Andrew Garfield and he actually looks around the same as Mel Gibson.
Click Here
Click Here
Click Here
Click Here
LMAO I bet he is not even 5'11 in shoes. Major mislisting. Just the fact he listed himself as 5'11 and not 6 feet is a dead giveaway of lying since 90% of actors who are true 5'11ers list themselves at least 6'0 if not 6'1.
5'9.5 is all he gets.
Editor Rob:
179 isn't impossible, though it's easy to drop 2cm and not spot it.
Drew Brees
seems about 3cm taller as someone mentioned before.
Balrog
said on 12/Apr/17
He looked taller in Hacksaw Ridge but probably it was because of his character. He looks near 6in shorter than Vaughn, 3in shorter than Weaving and pretty close in height to Andrew Garfield. So, nothing over for him, could be even nearer 179cm...
Smitty Ryker
said on 5/Jan/17
Hey Rob, can you add Hacksaw Ridge to his list of credits? Also, he did look a decent 6 footer in that film until I saw a promotional picture with him standing next to 6ft Drew Brees, who looked like he had a solid inch on him.
Tom
said on 11/Dec/16
Would have guessed him at very close to 6ft after seeing Hacksaw Ridge.
Aaron Zamora
said on 1/Jun/16
Have you ever seen him in person? Or met anyone who has pictures with him? I wonder if he's my height. I'm 5'10.75 or how I would look next to a 5'11 person.
Editor Rob: don't know anybody who met him that I know.
Aaron zamora
said on 23/Dec/15
Could he be 5'10 3/4? Since on your website 180 cm can also be that height?
Editor Rob: you could argue for that listing, but I think around 5ft 11 is ok for him.
AG
said on 11/Jul/15
He was 2 inches taller than James Marsden (5'9.5) at the premiere of The best of me. Maybe he is giving his late night height.
Rampage(-_-_-)Clover
said on 13/Jun/15
About 2in below Brosnan in The November Man.
Could be a strong 5ft11.
xaoxio
said on 11/Jun/15
he rounds down?
Vlad
said on 11/Jun/15
He looks 6'1.Maybe has great posture,Rob?
xaoxio
said on 10/Jun/15
hes taller. my guess is 5'11.25"
[Editor Rob: I'd guess him as tall as he claims,
180cm
.]
Arch Stanton
said on 10/Jun/15
Haha when you see a guy with a blonde mullet you just know he was in Home and Away LOL!! Add the Joe Scully check shirt and the yute!!