Luke Eisner's Height
6ft 2 (188 cm)
American actor and model, best known for appearing in Netflix film Tall Girl. His agency listed him as
"Height: 6' 2" (1.88m)"
and
"Weight: 160 lbs"
on his online resume, although he once claimed in an interview to be
"Six-Three"
.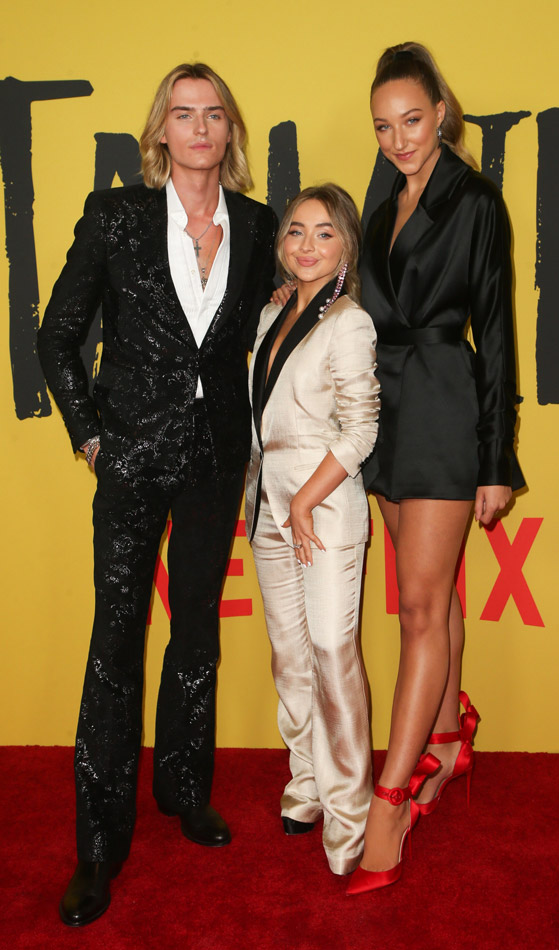 Add a Comment
31 comments
Average Guess (31 Votes)
6ft 1.98in (187.9cm)
Chris Junior Hernandez 1990
said on 18/May/20
@6'4 and a half leperchaun
One of my cousin is a former male model listed 6'1, 6'2 and other time 6'1 1/2 by his agency modeling card yet he isn't lower than 6'2 1/2 in real. Luke Eisner proportionally look exactly my cousin frame could be as tall as 6'2 1/2 worst to think of 6'2 is accurate.
6'4 and a half leperchaun
said on 30/Apr/20
He's listed at 6'1''on his modeling website, so 6'3'' is bogus. It's more evidence Ava is shorter than 6'1'' in high heels. Sabrina is 4'9''. Ladies and gentlemen it's a tall tale in Hollywood.
Ate
said on 13/Mar/20
Since when is 5 foot 3 inches normal height wth I feel like a giant...
Richard ojo
said on 5/Feb/20
He's 6"2 even if she is 6"1 that heels is about 3inchs that makes her 6"4 and he's shoes add like an inch(if not more) then he's 6"3, ava isn't standing up straight if she did she would have like 1½ inch on him so he is a legit 6"2!!!
Chris Junior Hernandez 1990
said on 5/Dec/19
Ava Michelle Cota should get 1/2 inch downgrade and Luke gets a 1/2 upgrade. I don't think Luke is a flat 6'2 or weak 6'2 the more i see him look as tall as Brandon Routh.
Emil
said on 13/Oct/19
@Young Man
No way Eisner is above 6'2. Michelle is 6'0 tops and that's it
Young Man
said on 12/Oct/19
Either Eisner is over 6'2 or Michelle is under 6'1. She's not standing up straight, but it looks like she's pretty much the same height as him with heels on, which add 3-4 inches.
So if a girl who is 6'1 wears heels like that next to a 6'2 guy with probably 1 inch boost in dress shoes... He'd be 6'3 and she'd be at least 6'5 looking.
That's not the case.
Either Michelle is 6 feet at most of Eisner is taller.
Chris Junior Hernandez 1990
said on 10/Oct/19
@Iman Ahmad Lol 😂
Greg
said on 5/Oct/19
@Lord123Gob yeah I think she's 5'11.5-5'11.75" no way 6'1
Iman Ahmad
said on 4/Oct/19
I Guess He Is 188,4 cm Barefoot , He Has 188,4 cm Body , A Pretty Guy , I Am Very Straight Man Who Only Love to Women , Bravo Big Rob ,
Lord123gOb
said on 4/Oct/19
If he's 6'2, Ava is not 6'1.
al001
said on 4/Oct/19
@Chris Junior Hernandez 1990
I know I said 160 on a legit 6'2 would look more lanky but honestly you're probably right. I've known a few 160 lb 6'0 guys and they were a little on the thin side but overall were muscular and fairly filled out. I personally know a 6'1.5-6'2 dude who's probably 155-160 and doesn't look as skinny. He just looks so tall that its a bit deceiving.
Andrea
said on 27/Sep/19
Here he claims 6'3:
Click Here
Chris Junior Hernandez 1990
said on 27/Sep/19
Some website still listed him as 187cm, when he didn't apear under 6'2. I'm having little doubt on his weight. He look 150 to me maybe hit 155 at best, i knew someone 6'2.25" and 162 lbs didn't look this skinny like him.
Emil
said on 26/Sep/19
Luke is 6'2.75 in those dress shoes if he's a legit 6'2, and Ava might measure 6'3.5 in those heels that seem to add 3.5-4 inches.
There's no way Ava Michelle is a millimeter above 6'0
Rampage(-_-_-)Clover
said on 24/Sep/19
No way under 6ft2.
al001
said on 24/Sep/19
He's what a legit 6'2 should look like in terms of proportions. He's made even lankier with a weight of 160 lbs at that height.
Emil
said on 23/Sep/19
@Jonas Henriksen
Yes, and there's no way Luke is above 6'2. Wouldn't even be surprised if he is fact were 6'1.25. Any shorter than that is unlikely though.
185
said on 21/Sep/19
About 6'2 and i think the girl is under 6'1 could be just 6'.
About this guy i think he look like Dylan Brosnan, probably because of his long hair and lanky body. Not really impressed me much. New gen model look kinda gay for me, just my opinion.
Miss Sandy Cowell
said on 20/Sep/19
@ K.A 188 and Chris Junior Hernandez - Why shouldn't a guy compliment another chap about his looks? It's a great thing to do and you're just stating facts. It's the 21st Century and men as well as women should be able to speak their minds when they see a good-looking specimen of manhood, just the same as women relish looking at beautiful women!
Good on you for that! 😁
Jonas Henrikssen,
said on 20/Sep/19
If she is 6"1 then he is 6"3.5. But she is 6 fot max
BBZ8800
said on 19/Sep/19
Same body type but taller version of Nureyev with star sprinkles of Claude François. He can't be more than 184.5cm though as he appeared shorter than Federer at the last US Open. And the FED is not one to wear pumpers. Pump up the money supply with the printing presses yes, but elevators, noooooo
Luke is naturally long and willowy but it's very visible he is enhanced on that pic.His rectus femoris is suspiciously minuscule relative to his tibialis anterior.
Chris Junior Hernandez 1990
said on 19/Sep/19
@K.A 188 !
Me too. Damn agree he is strikingly good looking, had to say he is handsome than many new gen male model. Honestly i can't see him 6'2 flat, probably 6'2 1/2 at worst and Ava might be only 6'0 1/2.
Emil
said on 19/Sep/19
6'1.5 for Luke and 5'11.5-.75 for Ava Michelle. She's still shorter than Luke even when wearing 3-4 inch heels
Importer
said on 18/Sep/19
I would of thought 34"
Importer
said on 18/Sep/19
@Editor Rob In all honesty it looks more than 33 inseam in the photo above,
Rampage(-_-_-)Clover
said on 18/Sep/19
186cm is too low. This guy looks a solid 6ft2 I wouldn't dismiss 189cm as possible
K.A 188 !
said on 18/Sep/19
I am NOT gay, but am Not blind either. .He is a handsome dude..
@ROB honestly he might be a hair over 6ft2 because he looks easily full 3 cm taller than Ava
Click Here
Maybe 6ft2 1/4 or 188.4 just like myself. Probably similar to me
Chris Junior Hernandez 1990
said on 18/Sep/19
Rob, Luke had Ava at least 2" so chances that Ava could be only 6'0?

Editor Rob
You can argue they seem 1.5-2 inches apart at times. Whether he is 6ft 2.5 or she sub 6ft 1 is the question.
Miss Sandy Cowell
said on 17/Sep/19
Ooh, nice hair and tall too! 😋
6ft2!
Tunman
said on 17/Sep/19
He looks definitely every bit of 6'2 if Ava is the full 6'1.Actually I think she's maybe more 6'0 or 6'0.5" seeing her heels.

Editor Rob
He could be a 6ft 2 in the same way Welling was 6ft 2 on his modelling page. I can see how 6ft 2.5 is arguable range for him. He has a 33 inch inseam according to his agency.