Luke Hemsworth's Height
5ft 9 ¼ (175.9 cm)
Australian actor best known for playing Nathan Tyson on Aussie TV soap Neighbours and Ashley Stubbs in Westworld.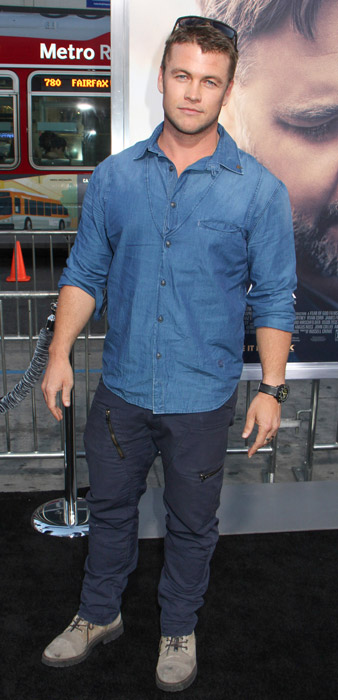 Photos by PR Photos
You May Be Interested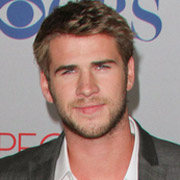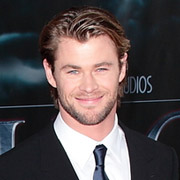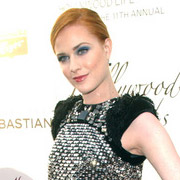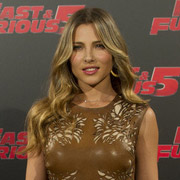 Add a Comment
75 comments
Average Guess (53 Votes)
5ft 8.92in (175cm)
Thomas sx
said on 12/Oct/20
Well, that sure makes me feel better about being 1.25" shorter than my brother lol
5'9 range is still a decent height in absolute terms, even if eclipsed by a whopping half a foot by his brothers.
Alex 5'10"
said on 11/Sep/20
It's really not that strange a case. Every single man on my father's side of the family is somewhere between 6'1" and 6'4" at their peak height. My grandfather is still almost 6'0" at 82, and my father ended up 5'8". Genes just go sideways like that sometimes. I'm rather disappointed I didn't get my great-grandfather's 6'5" height, but hey, happens.
Ann McGillicuddy
said on 8/Aug/20
It's not unusual at all. My best friends father is barely 5feet 7 inches. 3 sons are 6 feet 4 inches and one is 5 feet 8 inches tall. I'm an RN. I've seen this hundreds of times over the years. He has what's called "farmers hands" as they're small and short. Still a very good looking Australian as they All are!
gets
said on 7/Jul/20
Luke might be the shortest looking 5'8" guy ever
JohnMoore-162cm
said on 29/May/20
5ft9 guy
Obbie Messakh
said on 4/Apr/20
I think luke had a grow problem, because his hand look short, and his body look compressed (sorry for my bad English🙏)
Miss Sandy Cowell
said on 29/Mar/20
Well, fancy that? Luke is the shortest of the three Hemsworth boys by a full 6"! Brother Liam is 6" taller and Chris is 5.75" taller than Luke, who at 5ft9.25 is a perfectly average height.
The chaps look amazingly similar, don't you agree?
📽️🎬👨👨👨📸
Joseph175
said on 18/Jan/20
He cannot control it but yeah this is a very rare case. Yes younger brothers tends to be taller than older ones but very rarely 5-6 inches taller. Also he does not have short parents. It's bizarre that he didn't end up at least over 5'11. Some of my cousins are taller than me but at most 2-3 inches. We are all taller than the father. In some cases the son might be shorter than the dad if the mom is short, but in Luke's case his mom is very tall as well. Crazy how genetics works.
Peter175
said on 2/Jan/20
He's not at all in the 5'8 range. He is at least a strong 5'9". I don't think Rob should go any lower than this listing
Equal
said on 23/Dec/19
I see a lot of comments on here that say he's either a weak 5'9, 5'8 or even as low as 5'7, which I find completely ridiculous. In most pictures I see, Luke seldom wears any height-enhancing footwear, and when he does it's mostly just boots that add no more than an inch.
On top of that, he always stands incredibly close to his brothers and I'm pretty sure when they dress formally, they wear similar footwear. As such, the heights for those pictures are more or less the same as barefoot. Because of this, we can see that Luke's head (typically standing opposite to Liam) reaches above either brother's shoulders. A 5'7 or 5'8 person's head would struggle to reach past it much.
This picture (
Click Here
) is a good example, as they are wearing shoes of similar thickness and standing pretty close to each other, no other brother standing closer to the camera than the next.
As for the Westworld argument, I have reason to believe that most aren't accounting for footwear, as the other 5'9 actors for the most part claim 5'10 (5'11 for Leonardo Nam) and wear bigger shoes accordingly.
In regards to Thor Ragnarok, Matt looking bigger than Luke during the play scene is a matter of Matt's footwear, as he typically wears lifts regardless.
Equal
said on 22/Dec/19
The guys got Josh Brolin-level proportions. Otherwise, he's a strong 5'9".
Nik Ashton
said on 2/Nov/19
@ Sandy Cowell - My Mum gave birth to me 6 1/2 years after Mark was born and he arrived 3 1/4 years after Steve! As I was born a long time after my brothers my Mum's body had maybe recovered a tad! She sure was saving the best till last, as true champions do! 😂😂😂
Miss Sandy Cowell
said on 2/Nov/19
@ Nik - That's because your Mum's body had fully recovered! 😁 She was saving the best until last! 😝
Luke gets 5ft9.25.
Nik Ashton
said on 1/Nov/19
I am taller than both my older brothers!
Nik Ashton
said on 31/Oct/19
@ The Ash dog - I couldn't have put that better! 🎁🐩!
Jonas Henrikssen,
said on 30/Oct/19
I am 6"4.5 amd my Younger Brother is 6"1
Talha2004
said on 30/Jul/19
Hey Rob, I was just wondering how is Luke Hemsworth 5'9" if his other 2 brothers are 6'3" aren't siblings usually suppose to be around the same height, please answer Rob

Editor Rob
You can probably find a fair few examples of siblings with quite varying differences like that.
cmillzz
said on 21/Jul/19
@K.A 188
Lol? Nothing went wrong... he's a perfectly average height. It's just genetics, not something he can control.
cmillzz
said on 21/Jul/19
I'm four years younger than my brother and I'm taller than him by 2-3 inches.
Christian 6'5 3/8"
said on 19/Jul/19
@Johan
I've noticed too that the younger brother is taller than the older more times than not, but obviously it's not always the case. One of my cousins is 6'3.5-6'4" but his younger brother's around 6'0".
Johan 185 cm
said on 17/Jul/19
Yeah its true I am 9 years older than my brother and he is 6'5" while I am 6'1".
My uncle's kids are different, his eldest is 6'4" and the youngest is 5'10". It is kind of weird that the youngest tends to be taller though.
Alex 6'3.25
said on 16/Jul/19
He's the typical shorter guy in the litter, quite normal, it happens all the time to have 2 or 3 brothers a lot taller, even the father sometimes he's taller. It's like a genetic law.
Yang (5 footer 8, 172-173)
said on 14/Jul/19
Unlike his two tall brothers, he is much shorter than them just like cheat Genes. All three Hemsworth brothers Chris, Liam and Luke share same DNA, Genes from their parents... just like an example of Casey and Ben Affleck... 5ft 9 range men has brother taller than 6 footer I would say.
Hans Meiser
said on 2/Jul/19
@pov
That doesn't apply to my case since my older brother is a little over an Inch taller than me. My best friend is 6'7 though and his older brother is barely 6'2 and there are some more People I know with the same Story so I guess you could have a Point.
pov
said on 1/Jul/19
I don't know why but from my experience younger brothers tend to be taller than their other brothers. I'm 187cm at 23, and I have two younger brothers one is 193cm at 21 and one is 183cm but only 15. Even my dad is shorter than his younger brother. And I have friends who have younger brothers taller than them. It's weird.
vandasov
said on 12/Apr/19
Did Luke said in one interview as a joke, that when he was a child he was tall of his age and then he fell of a tree or a brick fell on his head or something and maybe that decreased his growth? Joke aside is it possible?
K.A 188
said on 10/Apr/19
@Dandab honestly I somewhat feel bad for him to, really don't know what went wrong, he even struggles to look taller than their mum in heals, he should have made it atleast to a solid 6ft2 even if he was genetically meant to be shorter. Yes women might still see him as goodlooking bcause facially he looks like his brothers or rather his brothers look like him. And I assume he his rich so he can't complain
Danbab
said on 16/Mar/19
I feel bad for him. Yes he is average. Yes he is hot. However when your brothers are younger than you and 6 inches taller than you it for to be upsetting. Also there are pictures out there of him slyly attempting to go on his tip toes when with his brothers.
Yuval
said on 15/Dec/18
Lol he is a good looking guy. Great body, nice face, and 176 cm is a fine height. Without his brothers he is very atractive, but next to them he just seems normal, I mean mortal.
Logan Barringer
said on 13/Dec/18
Matt Damon had 3 or 4 inches on him in Thor Ragnarok. Dude is shorter than 5'9". All the 5'9" actors look clearly taller than him in Westworld.
Nik
said on 12/Nov/18
It's incredible that he is by far the shortest of the three Hemsworth brothers as well as being the oldest brother!
TheBat
said on 11/Nov/18
It's strange how Luke is the oldest and yet he's a lot shorter than Chris and Liam, he has the face of someone who'd be 6'4" or 6'5". As for my guess, I'd also give Luke 5'9.25".
The Ash dog
said on 20/Sep/18
Don Julio said on 12/Jan/18
Kinda sucks being this short when your brothers and parents are both above average, the only person who is short than Luke is his mother and she looks about 5'8.5"/ 174 cm area.
-----------------------
Maybe he's not bothered and knows that while it a point of interest it's not actually important?
Redwing
said on 18/Sep/18
Rob how tall do you think the hemsworth brothers Dad is? And what could be his peak height?

Editor Rob
Could been near 6ft
AJ
said on 11/Aug/18
I'd go 5'9" flat. He can look over and under 5'9"
Logan L Barringer
said on 18/Jul/18
@Rob is it his frame that can make him seem 5'7" at times? He looks shorter than a few of the 5'9" actors on Westworld. I'll meet in the middle and say 5'8".

Editor Rob
He can seem 5ft 8-9 range at times, actually maybe he is at most 5ft 9, looks about 3 inches at least shorter than his Father.
MAD SAM
said on 19/Jun/18
In Ragnarok he's about 7-8 cm shorter to Matt Damon, so Luke is 170 cm tops
Cameron Wright
said on 2/Jun/18
I really do feel bad for him. I see him as 5' 9" flat. It sucks that the older siblings is always the shortest, it's pretty common. My older brother is 5' 7.5", and I'm 5' 9.5", Maybe close to 5' 9.7". But, we might have different heights as well because we have different dads, mine was 6' 3" and his was close to 6', we have a short mom (4' 10") so we could have been taller if only our mom was a little taller. But he's average so it could be worse.
John Doe
said on 18/Apr/18
5'8" tops with lifts probably bumping him to 5'9.5"
berta
said on 10/Apr/18
i do think this listing is to high. maybe its his frame that can make him look shorter than he is byt i dont believe he is half inch taller than peak stallone.
mhmm
said on 5/Apr/18
looks similar to 5'8 Daniel Macpherson
Click Here
Myself
said on 3/Apr/18
What do you think, Rob, could it be that there is a real(positive) correlation between age of the parents during conception and the child's genetic height potential? I remember reading it somewhere. If taking the Hemsworth brothers as an example, Luke is the oldest (conceived when the parents were younger), the second is Chris (3 years later) and the last is Liam (10 years after the oldest brother), and they are listed 176,5, 190,5 and 191,1 respectively.
My parents were very old too when they conceived me, my mother was 39 and father a few years older, they are about 168/169 (measured my mother at about 167,5 at 59 years old at night, recently) and 183 (+/-2cm) cm tall respectively, while i am 192 cm.

Editor Rob
I really couldn't say as I've never looked for any papers about the topic.
Wipeout
said on 13/Mar/18
Liam and Chris can easily see 2-3 inches clear over his head. I'm pegging Luke at 5'8 flat on a good day, and 180 lbs. No way is he 5'9.5 which is bordering on 5'10. Google has him 5'11 which is probably not even true in high-heeled boots.
James Bond
said on 16/Feb/18
He looks 15-20 cm shorter than his brothers, so no way he is almost 5'10...I'd say 5'7-5'8, short legs, short arms in the picture above his proportion looks exactly as one my friend's who is 5'7
Greg
said on 31/Jan/18
@Don Julio agreed, you can either end up really tall or short or even in between at least he ended up average. I think his listing seems fair but he could be 5'9, I would be mad if I was 5'9 and had 6'3 brothers. I wish I was like 6'0 but oh well genetics gon be genetics
Don Julio
said on 12/Jan/18
Kinda sucks being this short when your brothers and parents are both above average, the only person who is short than Luke is his mother and she looks about 5'8.5"/ 174 cm area. Luke is definitely 177 cm, not 174 or 175 cm. Luke really looks 5'9.75"-10" a lot but I really think people think he is so short because of his 190-191 cm brothers, but he is really 177, 178 max, easily 179 in mornings.
Click Here
having a 185-186 dad and 174-175 definitely makes you seem on the shorter side, he should've ended up at least 185 cm, height genetics bother me because it can never give you the full prediction of how tall you will be.
Anonymous
said on 22/Nov/17
He looks 5'8.5 max in most photos I've seen of him with his 6'3 brothers
aida
said on 1/Aug/17
why google list him as 5' 11" ?
Peter175
said on 16/Jun/17
I think he's near 5'9 but not above it. Looks near 7 inches with Liam
Namor
said on 15/May/17
Holy sh*t compared to his brothers he looks 175 cm tall could he be that tall?
Clive
said on 8/May/17
Consistently looks a full 6 inches shorter than his brothers. 5'9 flat.
oliver
said on 8/May/17
Looks more like 175-6 range next to his brothers. I see good 6 inches.
Steve
said on 29/Mar/17
Struggle to see him being anything over 5'9 really. If we say Chris and Liam Hemsworth are both circa 6'3 then I'd say 5'9 is his absolute limit.
Click Here
Click Here
Click Here
In that last photo, if you compare him with Liam (on the left) it does look like there's just over 6inch difference which would put Luke at 5'9. Chris not standing with such good posture there but Liam and Luke are standing pretty similarly.
Alex
said on 6/Dec/16
Damn, it must suck having your 2 younger brothers tower you.
Levi
said on 2/Nov/16
Click Here
5'9.5 is too much.
TK
said on 25/Oct/16
Recently said on Kimmel that a brick fell on his head and stunted growth
184.3cm (Night)
said on 2/Apr/16
You're right he is a decent enough height. However he has two brothers who tower over him which leads to comments.
He could have been 6'2" and with two 6'6" brothers he would still have got comments.
I know its not fair but women in particular in some parts of the world put height at the top of their requirements.
Its far lower than most would suspect as most women will be quoted as saying 5'10" or 6'0". What they really mean is anything between 5'8"-5'11".
As long as you are over 5'6" most women will forget about your height if you have some personality. Under that though and they can be cruel even the small guys who are looking them in the eye.
MarcusTheSwede
said on 31/Mar/16
Agree with Bill, and im pretty sure 99.9% agree with his way of viewing it, so MD snd everyone else that makes such big deal over it well youre really the ones who are not like most people lol :) bye Thanks!
MD
said on 3/Nov/15
@Bill, good for you, then. I'm sure you know that you're not like most people, however.
Bill
said on 1/Nov/15
@MD If I was almost 5'10", healthy and attractive. Then no I honestly wouldn't feel that much "resentment". In the real world, people really don't care if you're average height or extremely tall, It honestly doesn't matter. And there are a lot of male leading men of average height who surpass Chris, and Liam in talent, career and legacy. So even in Hollywood i'd say that height is a lesser issue then the people on this board seem to make it. Just live and enjoy life. And don't concern yourself with something so trivial.
MD
said on 30/Oct/15
@Bill, you don't get the comments? Standalone, that's a perfectly good height. But are you seriously going to say he at least didn't feel in the past a bit of regret and resentment of how short he is relative to his brothers? That would be unusual.
Bill
said on 27/Oct/15
He's a handsome healthy dude who stands at a perfectly normal height. I don't get all of these comments about how angry he must be. There's a lot more to life then being freakishly tall.
Ron
said on 8/Mar/15
I do feel very sorry for Luke, I remember as I was growing up I'd always been tall and then at about 16 I just seemed to level off and my brother started chasing me very quickly. I'd always wanted to be tall because I wanted to be an actor, he didn't but that didn't stop him teasing me about it. As it happens he levelled out at about 177cm compared to my 179cm, so I had the last laugh! And I think I may have gained another cm recently at 19, so hopefully I may get to 180cm still!
That said I find Luke's height difficult to determine, he does look small next to his brothers, but of course he does because they're both bulky 6'3ers, David Tennant and even Stephen Amell would be dwarfed by that. 177cm could easily be on the money, a decent 5'11 in good shoes.
He's also helped and hindered by his build though - he's so heavily built he looks shorter. I bet if he were slimmer in those photos with his brothers no one would ever think him short, in the same way that when you see Renner and Hemsworth together in the Avengers you don't think "average guy and tall guy" but rather you think "two guys of different builds, but both look formidable in their own way". So whilst that's an issue for him, even with Chris's bulk Luke still looks like he could crush his brothers between his fingers without breaking a sweat. His brothers may be big muscled guys, but Luke actually looks naturally strong and durable, which I think is what sets him apart
Jess
said on 4/Jan/15
Yeah, Luke is indeed much shorter than his little brothers. And he might also have been upset about it, but I think they don't mind it at all anymore. Besides that it's way easier to be average than to be very tall in the daily life, so Luke must have had some good laughs at his brothers complaining about small spaces in airplanes or anything. ;)
Matilda
said on 4/Nov/14
You may think that Luke is short but he's average, it's just cause he has so tall brothers that he seems so short
Steve (5'10)
said on 29/Aug/14
KJ, I just read those comments on the DM website:
Click Here
Click Here
... and I really wasn't that surprised. Luke's not even short, he's about my height (which is very average), but people's perceptions are skewed because in a lot of the photos he's standing next to his 6 ft + bros. People tend not to take things like that into account when commenting on height.
184.9 on a bad day
said on 28/Aug/14
I have a 6ft 2.5 Dad and 6ft 1.5 uncle( they are brothers) and I'm ''only'' 6 ft 0.75.
and I know a girl who have a 6 foot mother ,6 ft 2 dad and 6ft 0.5 cousin and a tall family (they are german descendants) and she's only 5 ft 7.
Arch Stanton
said on 30/Jul/14
@ Amaze. His dad's above average, tallish
Click Here
(on lower beach level) looks near 6 ft and his mother I think looks solid tall range
Click Here
with 5'3" Elsa with footwear disadvantage looks close to 5 ft 9 I think. 5'9 is the equivalent to 6'2"-6'3" for a male. So it isn't surprising two of their sons are 6'3 range. More surprising though that Luke is only 5'9 range!
Arch Stanton
said on 30/Jul/14
Jake says on 29/Jul/14
Rob, how did Chris and Liam end up so tall and Luke just average? This seems strange.
[Editor Rob: not really that strange, he maybe just ended up with less of the tall genes and more of the average.]
Remember genes are hugely complex Jake. It's pot luck what comes out of any gene pool and the more kids somebody has the more chance of variation you'll see. That's why you often major differences in height between siblings. One family I know the older brothers are 6'6 and 6'4" and the young brother 5'9" range!! I saw a photo once of a council house family who had like 11 kids or something and almost all of them looked different to one another and mostly all at different heights. Maybe that says something about the fathers though :-)
Amaze
said on 28/Jul/14
Lol omg kj i read all of those comments
"Lukes short stocky"
"So he ended up with the short straw"
Omg man thats ridiculous hes not even short i understand if he was 5'7.5 but hes 5'9.5 thats a strong average wow. Anyone 5'9.5 would look short next to 6'3 and a 6'3.5 man.
His fathers 5'11/6' and his mother 5'8/9'. Now i understand why the other two are 6'3-.5 but luke idk.. If i was him id be very upset imo.
Arch Stanton
said on 28/Jul/14
@KJ, they've Hollywooderized him, see how he used to look back in 2011!! I don't see much resemblance to his brothers..
Realist
said on 27/Jul/14
Rob u r awesome cause u are bang on, but I could have believed a flat 5'9 as well. He is the older brother, he must be indulgent.
KJ
said on 27/Jul/14
Look at the comment section of these 2 articles, both scrutinizing his height:
Click Here
Click Here
The listed height seems about right. I'm about the same height and I don't feel paticularly small, just average. Also facially Luke is very similar to his brother Chris, which just goes to show how big a part height has to play in who is considered 'handsome'.
Arch Stanton
said on 26/Jul/14
Must be very tough being 6 inches shorter than his brothers and average looking when they look like they do!! Seems a good shout from what I've seen. Doesn't look 5 ft 11. Don't know how he ended up so short as the father is 5'11-6' and mother 5'8-5'9" I'd guess so he's hard done by under 5 ft 11!.
Amaze
said on 26/Jul/14
i'd say this is right. he claims 180 but is obviously shorter than that. some say 174 which is so low. I wonder why he is 14cm/5.5 inches shorter than his brothers ? his brothers got lucky aha but luke ended up just average I guess :)