Lysette Anthony's Height
5ft 5 ½ (166.4 cm)
English Actress best known for films such as Krull, Without a Clue, Look Who's Talking Now and Dracula: Dead and Loving It. She was listed 5ft 6 on her resume/cv. In this convention photo Lysette had a good 2 inches more footwear than me.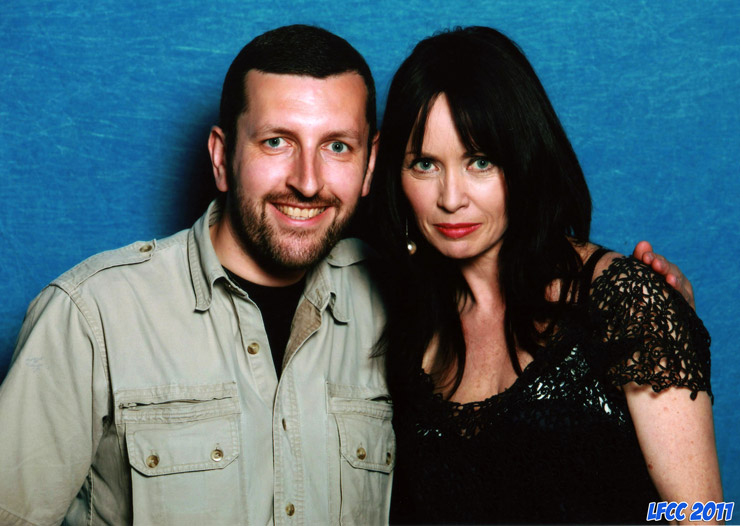 5ft 8 Rob and Lysette @ LFCC 2011
You'd go into a model agency and they'd say "You're looking fat". And I weighed just seven stone something then. I'm 5ft 7in. It was ludicrous!
--The Mirror, 2001
You May Be Interested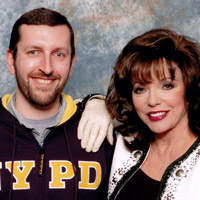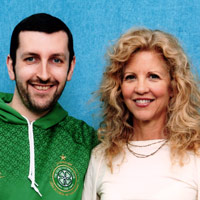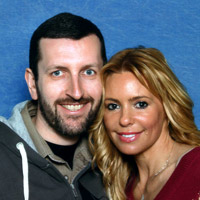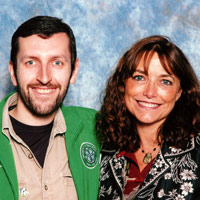 Add a Comment
20 comments
Average Guess (8 Votes)
5ft 5.53in (166.4cm)
JstBrd
said on 29/Jul/20
People lose about a quarter inch to half inch every decade, starting at the age of 30. Women tend to lose twice as much as men. So she might have started at 67 inches at the age of 30, but would have lost about an inch by 2011. I understand that she hasn't been doing well financially, so she would be less likely to take care of herself and more likely to suffer greater effects from spinal compression.
Nik
said on 9/Feb/20
@ Rob - How long is her forehead compared to yours?

Editor Rob
I'm not sure in that photo because my hair is at most 1/4 inch, hers is almost 1 inch.
Nik
said on 17/Oct/19
It's interesting that she claimed to be 5'7"!
Miss Sandy Cowell
said on 26/Sep/19
⭐ One thing's for sure, Rob: you'll never have a pageful of Lysettes, pretty name though it is! 😄

Editor Rob
That is extremely likely, there are not many famous Lysette's around!
Miss Sandy Cowell
said on 26/Sep/19
💐🎈🎂 Happy Birthday Lysette! 🎂🎈💐
I'd like to wish Lysette a Very Happy 56th Birthday. 😁🎁
My Birthday guess is 5ft5.75.
🎁💐🎈🎂🎁💐🎈🎂🎁💐🎈🎂🎁💐🎈🎂
khaled taban
said on 2/Jul/19
5'5.5" , def not 5'7".
Paul Wood
said on 15/Mar/19
She was never 5ft 7in.
Nik
said on 4/Jul/18
This is a nice picture of Rob and Lysette!
Nik
said on 2/Jul/18
I have no problem with her listing! She is convincingly 5'5.5"!
lee168cm
said on 14/Jun/18
She should be added to the hollyoaks page as marnie she is brilliantly evil in that
Adey P
said on 13/Jan/18
She's definitely not in the 5ft 7/8 region, I've heard moaning on tv that she wanted to be a model but wasn't tall enough.
Charlie
said on 24/Jun/17
Copnovelist i doubt very much she is 5'9 lol. She is shorter than Rob here and she had on 2 inch heels i say the listing is correct for her. Now way is she 5'9 lol. 5'5 is good listing for her.
Editor Rob: "2 inches more", so in a 3-inch style heel and me in 1-inch sneaker, a 2-inch advantage in footwear over me.
J.Lee
said on 27/Sep/14
Rob do you think camera angle and head tilt can alter pics of height comparison?
[Editor Rob: there are a number of things like that, tilt eyes up/down, camera person can tilt their camera or stand on one side (not in middle). Then you have shoes differences, hair differences and if any posture differences to consider.]
J.lee
said on 21/Jul/13
Rob is her forehead longer than yours?
[Editor Rob: it can appear a bit longer, although maybe with a slight down tilt + hair it can appear more than it is?]
Mike
said on 12/Feb/13
Agreed Will. Lysette is very beautiful, yeah. You know, I have never even heard of this actress.
Will
said on 18/Jan/13
Lysette is tall enough for her time. Rob, a beautiful woman BTW.
J.Lee
said on 13/Dec/12
Rob, you are saying that hair counts as height?
[Editor Rob: of course not :)]
J.Lee
said on 21/Nov/12
Rob, are you two the same height in this photo? Because this is such an odd photo. Your nose is higher than hers, gut her chin is higher than yours. Your eyes are higher than hers, but the head level is about the same. What is going on with that? Who's taller in the photo? Im confused why this is.
[Editor Rob: she does have a hair advantage]
Copnovelist195
said on 9/Nov/12
Where did anyone get this height? I once saw her in Covent Garden. She walked past close to me in a crowded walkway and I have to admit I wasn't exactly looking at her boots at that moment, but I was impressed at how tall she was. I would put her at 5ft9 to 5ft11 depending on a her footwear and I'm well over 6ft myself.
[Editor Rob: I met her and she had 3 inch heels and wasn't taller than me in 1 inch sneakers... ]
Editor Rob
said on 7/Sep/06
Was quoted in Mirror 2001 "I'm 5ft 7"