Mackenzie Rosman's Height
5ft 0 (152.4 cm)
American Actress from Seventh Heaven.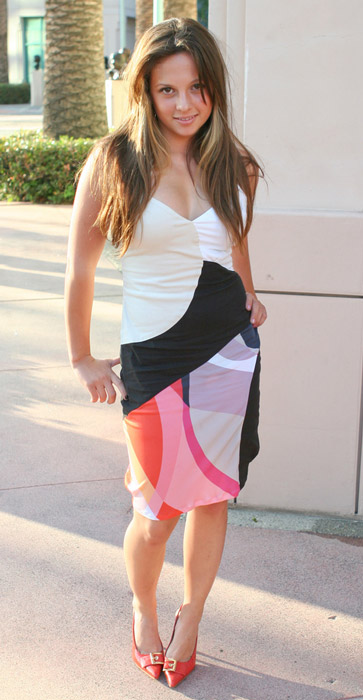 Photo by PR Photos
Add a Comment
41 comments
Average Guess (4 Votes)
5ft 0.06in (152.6cm)
Junior Hernandez 1990
said on 4/Dec/18
Rob, Perhaps Barry Watson deserved a page for a long time?
Bobby
said on 26/Jun/17
I guessd her about 5ft when I saw her in Ghost Shark, she's small but really cute though.
Lucas
said on 31/Aug/15
1.52-1.53 cm.
Sam
said on 9/Jan/15
She looks prepared to pounce on the photographer!
grace
said on 24/Dec/10
What's the big deal. Who's shorter who's taller. Height doesn't make you neither a good nor bad actress. So what if she's 5ft or 4ft11?
Anonymous
said on 19/Oct/08
Are there any photos of Mackenzie and Beverley standing next to each other at Bev's wedding? Then we may be able to see who's taller.
aly
said on 29/Sep/07
i doubt bev is only 5ft1. mack is probably around 5ft2
Adrianna
said on 9/Jun/07
She is most likley 5'1 max. She is not 5'2, Bev Mitchell has said before that she was 5'1.5?
Anonymous
said on 15/May/07
Definitely time for an upgrade...
Look at this picture from the series finale:
Click Here
In this, Beverly is, what, an inch or so taller than Mackenzie? But if you look at their shoes, you see that Beverly is wearing heeled boots, and Mackenzie (the blue shirt in the background) is wearing flat sneakers...
Click Here
Again, Mackenzie has gotta be at least the same height, not a 1.5" shorter...
aly
said on 4/May/07
she looks 5ft2 in season 11
X
said on 7/Mar/07
Perhaps it will take some sort of proof.
Anonymous
said on 1/Mar/07
So what's it going to take for this girl to get an upgrade already?
X
said on 1/Mar/07
Mackenzie does appear to have grown using the current episodes of "7th Heaven" as a reference. It's true that most girls don't grow too much after 14/15 but a gain of only an inch or two isn't uncommon.
Bev and Mack do now look about the same height yet have different builds because they are really 2 unrelated different individuals.
Pictures though can be deceiving and thus cannot always be used as a reference.
Observer
said on 19/Jan/07
Or perhaps Bev should be downgraded in height? But something needs to be done.
Anonymous
said on 25/Dec/06
No upgrade? Those photos look pretty convincing...
Anonymous
said on 13/Dec/06
More photos of Mackenzie and Beverly standing next to each other, BOTH in heels:
Notice the footwear:
Click Here
Click Here
Standing side-by-side:
Click Here
Click Here
Click Here
They look about the same height....in fact, in some shots, Mackenzie looks taller. I think she needs to be upgraded from 5', especially if Beverly is marked as 5'2"....
Anonymous
said on 7/Dec/06
I disagree that there is a noticeable height difference between Mackenzie and Beverly Mitchell. In the episode that Ruthie returned home, she was wearing cowboy boots with very slight heels....and when she was standing next to Beverly (not sure what she was wearing, but she is often in heels or platforms of some sort) they were either eye to eye, or even at times Mack looked taller:
Click Here
Click Here
Click Here
Click Here
Click Here
And, again, this is with Mackenzie wearing practically no heels.
VAVAVOOM
said on 6/Dec/06
I like the way everyone keeps thinking Mackenzie will still grow a bit more!She hasn't grown in almost 2 years! The % of girls who are even still growing when they turn 16 is miniscule and Mackenzie is about to turn 17! Mackenzie is certainly not 5.0, but she's 4ft10.5 - 4ft11. There's always a noticeable height difference between her and Bev Mitchell who's barely even 5ft2, even when Mackenzie wears really high heals and Bev doesn't. Bev is only 5ft1.75. There's nothing bad about being small in itself, but you certainly get taken less seriously in life. It's just lucky Mackenzie isn't any smaller for her own quality of life
X
said on 5/Oct/06
Frame size & shoe size has nothing to do with height. Some shorter people have fuller builds and sometimes taller people do. Lucy (Bev) sometimes wears heels while Ruthie (Mac) almost always wears platforms.
Bev is 5 ft. 2 and as of 7th Heaven's last show of the previous season, Mack is 5 ft. even.
Anonymous
said on 6/Sep/06
In recent pics Beverly Mitchell has been wearing sandals and her feet look pretty small (tough to tell, of course). My bet is that Mackenzie probably wears a half size bigger.
Sydney
said on 30/Aug/06
I have seen Mack in person recently! yay like 6 months ago, my Uncle owns a resturant in so cal that Mack was at with 2 girls, one looked like her. Well anyway, I am 13 and 5' even, and I was wearing a 1" heel and she was wearing sandles and she was not even as tall as me. My guesstamate for Mack is about 4'10 to 4'11. People are like oh shes like 5'2, well yeah, when she wears heels. On 7th Heaven Bev Mitchell is 5'2 and no way is Mack that height yet without shoes...I'd say full grown, she'll be like 5' or 5'01. You can tell because shes not like a string bean like shes going to shoot up. Oh and to answer the person before me...my guess a 6 or 6.5 shoe. Her feet arnt big, but they are not real small either.
Anonymous
said on 10/Jul/06
Overall Mackenzie Rosman appears to have a bigger frame than Beverly Mitchell, which leads me to believe that before she stops growing, she will outgrow her. A lot of the time you can tell by who has a bigger shoe size....does anybody know either of their shoe sizes?
Anonymous
said on 24/May/06
Mackenzie looked about eye-to-eye with Beverly Mitchell in the final few episodes of 7th Heaven, and Beverly is ALWAYS seen wearing stilts. I think it may be time to upgrade her at least an inch or so.
Krista
said on 7/Jan/06
Mackenzie is 5' tall.
Stephenie
said on 15/Dec/05
A girl who knows Katelyn Salmont, Mackenzie's stepsister, said Mackenzie is 4' 11"-5' even, most likely 5' on the nose. From recent pics, Mackenzie looks 5'. She's not 4' 10", though (nice exaggerating, exaggeratey!). Remember, Beverley wears heels! Subtract the height of the heels, though and Bev is 2" taller than Mackie.
Belle
said on 22/Nov/05
I think she's shorter than 5 ft. 0.5 inches because Beverly Mitchelle is pretty short and she's shorter than her. She's the shortest girl in highschool on the show. I saw her once and she was just a little taller than me. I'm guessing she's no taller than 4' 10", not that that's a big difference.
Anonymous
said on 20/Nov/05
FINALLY a full sized version of the photo below:
http://www.angelfire.com/blues2/mmr/10p/9.jpg
Okay, we know can see that both Beverly and Mackenzie are standing on the same level (as in, no stairs involved). Bev is wearing flat slipper-like shoes, while Mackenzie appears to have some slightly taller platforms on her shoes. Also, Bev is standing closer, and her posture is not as good.
However, I STILL don't quite believe that Beverly is a full inch and a half taller than Mack. Based on recent episodes of the show, I'd say Mackenzie has probably grown to be about the same height.
[Editor Rob: yes, she could have grown, I've never seen the show so can't say, but at the time that photo was taken...and now seeing that Stults is in a slightly further forward plane...I still don't think she looks over 5ft 1...could have grown though. And Mack herself might not be fully 5ft 2, who knows]
from someone who knows
said on 11/Nov/05
Listed below is a link to a recent photoshoot in which you can see that she's wearing heels and how her small curvy frame doesn't 'appear' to be 5 ft. 2 or over.
http://mackenzierosman74.free.fr/photo_shoot.php
from someone who knows
said on 11/Nov/05
You can't see their shoes in that pic. Bev does wear heels on and off the show but mackenzie also wears heels and platforms on and off the show. Mackenzie seems taller than last season yet still not as tall as Bev.
Bev has a leaner build and Mack is curvier which may help to alter the perception.
Anonymous
said on 31/Oct/05
In an episode of 7th Heaven this past season, Beverly Mitchell was wearing heels, while Mackenzie was wearing regular shoes. The two were standing next to each other, and if Beverly is naturally an inch and a half taller, with heels she'd be practically five or six inches taller. However, she seemed may 4 inches taller tops....which would indicate that, barefoot, they're about the same height.
Anonymous
said on 29/Oct/05
Okay, well Beverly Mitchell is clearly NOT an inch and a half taller than Mackenzie Rosman.....I daresay she may not even be taller at all. So why downgrade Mackenzie to 5' and keep Beverly at 5'2"???
[Editor Rob: of course she doesn't appear taller. Try standing straight then holding a big lump of a baby...you're posture will be effected by some cm, although it's hard to say exactly ;)

Anyway, The Picture blown up a bit.

Looking at it closely Rosman might in fact be on a slightly further back plane than Stults, and Mitchell looks on the closest plane to the camera. Stults says himself as being 182cm. Let's say he's got a typical skull of 23.5cm. If rosman/stults are on the same horizontal plane (and there is minimal barrel distortion with the camera) then the difference appears around 29cm. That would place rosman on 153cm. Since the camera position is fairly low you need to consider how that effects those further away. It's hard to be exact, but it appear she could be on a very slightly further plane than stults, so 154cm is feasible...155cm is reasonable if stults has 1cm more in footwear...it's hard to tell just how much mitchell is losing in posture though...2cm, 3?...

That's only my view though...
]
Anonymous
said on 28/Oct/05
Here is a slightly bigger cast photo for season 10, where you can see more of their bodies to give a better idea of posture and what level they're standing on. Here, Mackenzie and Beverly are standing on an even level, with similar footwear, and you can see that they're the same height, or Mackenzie is a twinge taller:
http://photobucket.com/albums/b246/7HW/Season%2010%20Ads/?action=view&current=5345.jpg
[Editor Rob: I guess if you're holding a baby you are going to lose some posture...but that photo is *very* revealing...

If anybody confirms that the guy on the left is George Stults and he isn't standing on anything (why would he be ;) ) then Rosman is not a mm above 5ft 2 even if ;)

I will offer an explanation, as long as the guy on left is george stults...actually she'll be getting downgraded to 5ft if that is george and a recent pic... ;)]
Anonymous
said on 16/Oct/05
I really have to believe that Mackenzie is at least the same height as Beverly Mitchell. In the season 10 promo below, Mackenzie is either the same height or slightly taller than Beverly, wearing similar sized shoes.
from someone who knows
said on 14/Oct/05
Jessica was made to be the older sister because she looked older not because she was taller; the mom was shorter than Jessica.
Catherine is only about 5 ft. 3 to 5 ft. 4 herself and during this past week's episode when she & Mackenzie were in the Camden kitchen together while both were wearing the same soled shoes, Catherine appeared approx. 3 or 4 inches taller than Mackenzie.
David Gallagher doesn't look 6 ft. tall to me; esp. judging him by some of the other women now on the show.
anonymous
said on 12/Oct/05
does anyone know how much mackenzie rosman weighs?
Anonymous
said on 9/Oct/05
Actually, Beverly Mitchell is older than Jessica Biel in real life, but they made Jessica's character older because of the fact that Jessica is so much taller. On Buffy the Vampire Slayer, tedious measures were taken to make it appear as if Sarah Michelle Gellar was taller than Michelle Trachtenberg (her younger sister) until their height difference was so noticable that it was unavoidable (at which point it almost became a running joke).
In last week's episode we saw that Mackenzie was wearing regular sneakers/shoes, while Beverly was wearing heels. When the two stood next to each other in the kitchen, Beverly was in no way four inches (or however big the heels were) taller. I'd say that, barefoot, Mackenzie is slightly taller.
from someone who knows
said on 9/Oct/05
Older sisters are often shorter than younger sisters and therefore they wouldn't make Bev appear taller if she wasn't just because she's older. Jessica Biel is older than Bev in reality and even as a teen Jessica's character Mary was taller than the mother.
On the Cosby show, they didn't put Lisa "Denise" Bonet in heels and Tampestt "Vanessa" Bledsoe in flats just because Denise is the older sister; they allowed nature to be & Vanessa was shown taller.
On the opeaning episode of the season, Mackenzie "Ruthie's" shoes were shown and she was wearing 2-3 inched platform flip-flops before she was in a scene with Beverley.
Anonymous
said on 8/Oct/05
This is admittedly not the best picture (due to its small size), but it's one of the few shots we have of Mack and Beverly standing next to each other, where we know their footwear. Everybody is wearing the outfit they wore in the premiere, and everybody's height seems accurate (for the record, both girls were wearing flats). Here, you can see that Mackenzie is ever-so-slightly taller than Beverly (who, now that I think of it, may have been wearing small heels):
http://www.paramount.com/television/7th-heaven/_content/7th-subhead_05.jpg
Does anybody have a bigger image of this picture?
Anonymous
said on 18/Sep/05
My biggest problem with the argument that camera angles making Mackenzie appear taller than Beverly is that there is no probable reason why they would actively want Mackenzie to be taller than somebody who is supposed to be playing her big sister by many years.
If anything, they would do the opposite: Use camera angles to make it appear as if Beverly is still taller than Mackenzie. I believe that at the very least, the two are the same height....and the real indicator will be the season finale, to see if Mackenzie grew at all over the summer.
from someone who knows
said on 14/Sep/05
Camera angles sometimes make a person appear taller/shorter than someone else. Bev & Mack both wear thick soled shoes on the show.
Bev is 5 ft. 2 and Mack if 5 ft. 0 (EVEN).
Anonymous
said on 22/Aug/05
In the episode "First Date" where we actually get a footshot of Mackenzie, and she is not wearing heels, the two look at least the same height:
http://www.angelfire.com/ia3/mpa/11.jpg
Then, in the season finale, at the airport scene Mackenzie was undoubtedly taller. We didn't get foot shots of either, so I don't know if one or both of them were wearing heels:
http://www.angelfire.com/mac2/ruthie/199/52.jpg
It should be noted, though, that Beverly almost always wears heels as well.