American Actress known for roles in Californication, The Nanny and A Cinderella Story. When she was 14 she said she was "5ft 6". From Zima sisters official page, it lists the zima sisters as: Madeline Zima 5ft 8, Vanessa Zima 5ft 9, Yvonne Zima 5ft 7.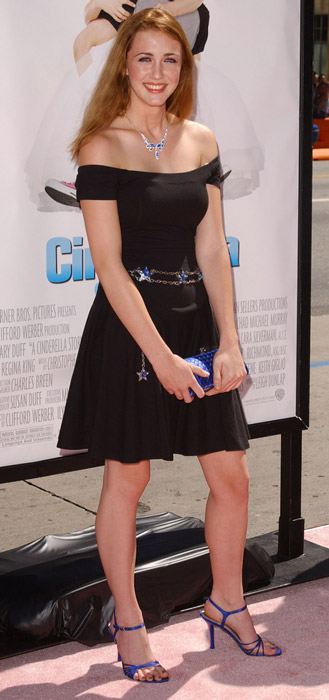 Photo PR Photos
I'm tall to begin with and most of the cast members are on the shorter side to begin with. And then they put me in gigantic heels. I had a picture taken the other night, where I'm not that much taller than all the other people in the picture, but I look like a linebacker. It's terrible! I'm only 5'8". I mean, I'm not like crazy, crazy tall.
Tv.com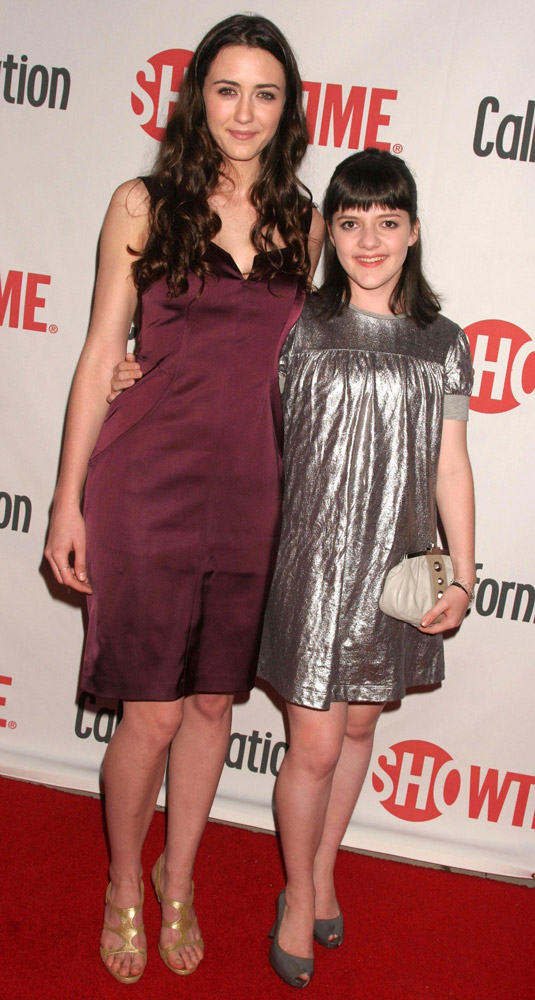 Rhianna Barr-Beaumont
said on 28/Aug/22
Love her as "Emma Bartel" in "The Hand That Rocks The Cradle" - 5 ft 8
Nik
said on 1/Dec/19
She comes from a tall family!
Nik
said on 5/Oct/19
There's nowt wrong with looking like a linebacker!
Miss Sandy Cowell
said on 29/Aug/19
I think I might have been getting her mixed up with her sister Yvonne! Still, I missed Mischa Barton (different hair colour?), so I will go with the 5ft8.
👱‍♀️👱‍♀️❓
Miss Sandy Cowell
said on 29/Aug/19
I'm watching Madeline in a film called 'Painkillers'. Her poor husband has had a car accident in which he killed their son. Left with unexplainable trembling and pain, he finds that nothing stops it except for the drinking of human blood. I have a feeling that this is heading in the direction of vampirism....
Somehow, I recognize Madeline, but from where I don't know as I've never watched 'Californication'.
I'm not familiar with the rest of the cast but there is going to be a guest appearance by Mischa Barton, who at 5ft9, should look taller than Madeline. I'll have to wait and see! I'll be back when I've had a chance to compare the two.
Nik
said on 17/Aug/18
It is amazing that Yvonne Zima is listed as being "only" 5'7"!
Nik
said on 21/Jun/18
Solid 5'8"!
Tunman
said on 20/Jun/18
I love those half moon eyes,there's something attracting in them.5'8.The 3 sisters seem very close in height.
Khaled Taban
said on 5/May/18
She is 173cm exactly
Junior Hernandez 1990
said on 3/May/18
Yvonne 172cm
Madeline 172.7cm
Sandy Cowell
said on 27/Feb/18
The gorgeous Madeline looks the full 5ft8!
...and now for something I can't resist about her surname:
although spelt differently, Zima doesn't half remind me of those walking frames, the pleasure of which was all mine recently to try one out! Cantankerous and awkward, they don't half serve a purpose when you need them! (I'm using crutches now, of course! 😠 Much more of a effort!)
Tall Sam
said on 26/Feb/18
@jeb077, agreed and she looks close to this mark at least. That scene in Twin Peaks: The Return was so unsettling because you go in seconds from admiring how fine she is with that lucky kid to horrified at the carnage with her and that very unlucky kid lol. I guess if you're going to go, having your head torturously severed by a blurry black lodge demon that's rudely interrupting a dalliance with Ms. Zima is pretty bad.
jeb077
said on 12/Jun/17
5'8". Amazing body
Hypado
said on 18/Feb/15
Madeline Zima is 173 cm even / 5 ft 8in
Givve
said on 24/Dec/10
She looks taller than she is, 5'7 sounds about right for her.
Sally
said on 16/Dec/07
Madeline seems taller but her sister Vanessa is taller then her. Yvonne is going to catch them up too. Maddie is 5ft 8iches, Vanessa is 5ft 9 and Yvonne is catching them up who is now 5ft 8+
sam
said on 15/Nov/07
There are two listings of Madeline on the site, Rob.

Editor Rob
thanks for pointing out some duplicates!
mf
said on 29/Oct/07
I agree that she appears taller
grl
said on 26/Sep/07
noo way is she 5'8. in cinderella story she was almost as tall as 6' chad michael murray.
zima fan
said on 15/Dec/06
I think she may be taller than this now and I was curious how tall her sisters are, The youngest may now be the tallest