Mads Mikkelsen's Height
5ft 11 ¾ (182.2 cm)
Danish Actor, best known for roles in Doctor Strange, Casino Royale (Le Chiffre), Rogue One, King Arthur, The Hunt, Clash of the Titans and The Three Musketeers. On TV he starred in Hannibal.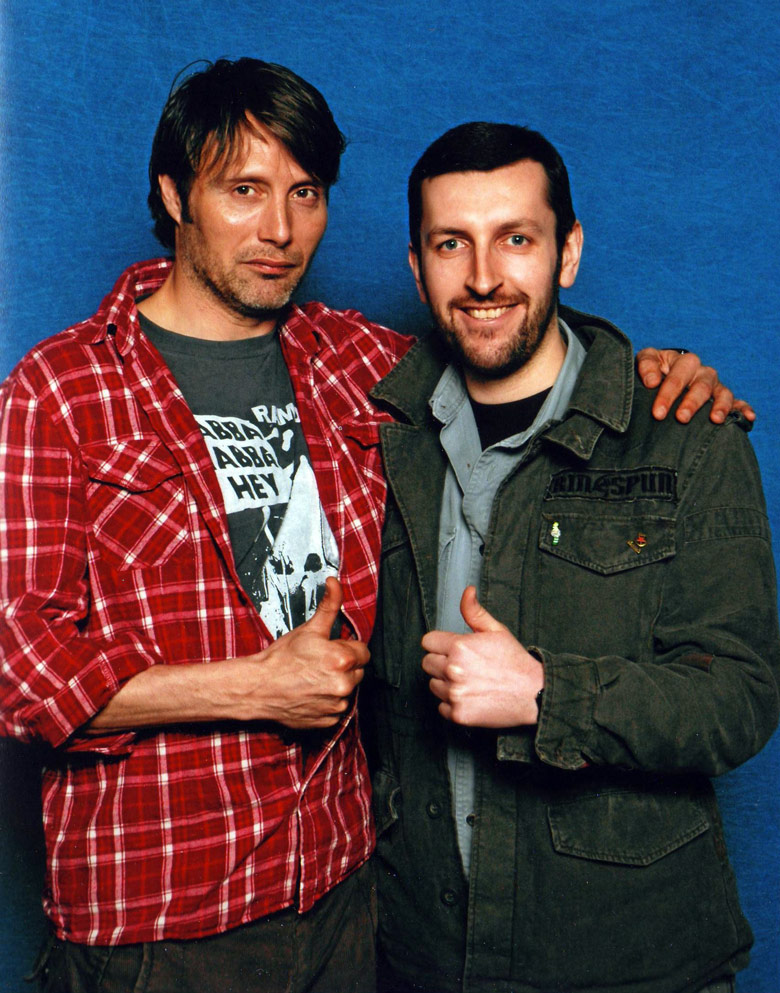 5ft 8 Rob and Mads @ Collectormania Manchester 2008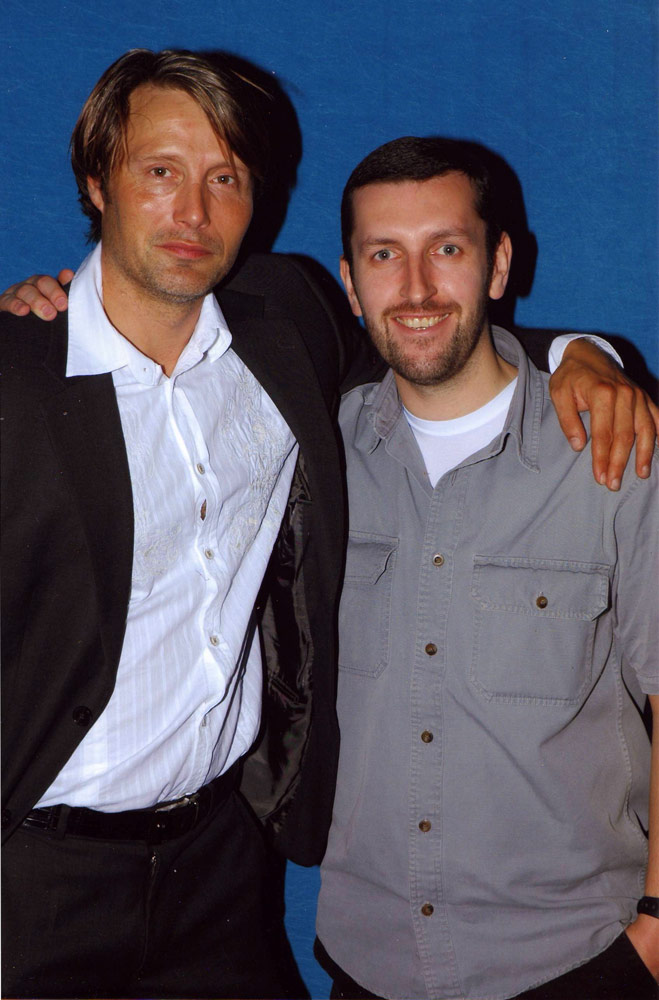 5ft 8 Rob and Mads @ LFCC 2007
You May Be Interested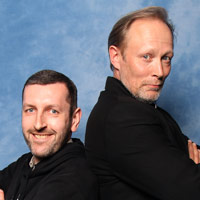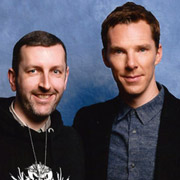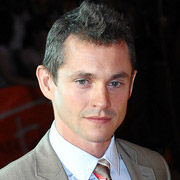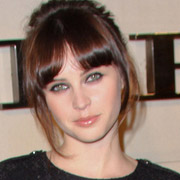 Add a Comment
238 comments
Average Guess (119 Votes)
5ft 11.79in (182.3cm)
Slim 6'1"
said on 20/Sep/20
Perfect
Slim 6'1"
said on 8/Aug/20
spot on no need for a listing change, just missed out on the mighty 6' mark
Slim 6'1"
said on 6/Aug/20
Mikkelsen is 182-182.5
Kan
said on 5/Aug/20
Rob
Have you a big chin area than mads ? By the way your chin doesn't seem small for your height, probably you have not a longer nose-mouth area

Editor Rob
Looking at the photo, I'd have thought my mouth-chin was slightly bigger.
Miss Sandy Cowell
said on 30/Jul/20
You can really notice how tall Mads is when he walks slowly and menacingly towards Gillian Anderson; I was quaking in my slippers!
5ft11.75 before bedtime. When he gets up, he'll be over 6ft, without a doubt.
🍌🍒😀👍🍖😣😝 I don't like meat at the best of times, and would definitely decline an invitation to one of Hannibal's meat-based dinner parties - YUCK!
berta
said on 26/Jul/20
i think 182-183 is what he measures
BT
said on 6/Jun/20
He's always looked like a 182 cm guy, still does in mid 50's - though maybe nearer 5'11.5 than 11.75 today.
OriginalAnon
said on 4/Apr/20
Looks 181cm.
Nik
said on 28/Mar/20
@ Egg - I like your name!
He looks tallest in the top picture and the third picture down!
VitoCheng
said on 21/Mar/20
5 ft 11 7/8
It seems possible to see this value
Miss Sandy Cowell
said on 17/Mar/20
Phwoar! We have a nice, shiny new Mads Mikkelsen beer advert!
The guy with him shows Mads to be the tall and handsome nobleman that he is! AND he's got stubble! 😋
6ft.
Philip S
said on 3/Mar/20
DEFINITELY near my range - I'd safely put his height here or directly at 6'. Not to put you on the spot but I have a genuine question, Rob - do you consider later 5'11" and above as "tall" (as in Mads' case)? Do you believe it starts earlier - or much later? I've been curious to know your opinion in this regard.
Miss Sandy Cowell
said on 22/Nov/19
🎁🎂🎀🍻 Happy Birthday Mads! 🍻🎀🎂🎁
Wishing Mads a very happy 54th Birthday today.
6ft 😁👍
🎁🎂🎀🍻🎁🎂🎀🍻🎁🎂🎀🍻🎁🎂🎀🍻
Nik
said on 3/Nov/19
Mads is a towering random celeb! The average height of a Danish man is 5'11"!
Miss Sandy Cowell
said on 26/Oct/19
I've just read that it's in the pipeline that Mads makes another 'Hannibal', in which he eats the rich* and the rude!
Ooh, I do hope so!
* 'Eat the Rich' reminds me of an Aerosmith song! 📀🎶 No, it IS an Aerosmith song!
6ft.
Nik Ashton
said on 31/Jul/19
At least 5'11.75"!
Peter
said on 19/Jun/19
If he made an effort to stand tall, he would surely hit above 6ft all day. Even at 11pm.
Well, that's just my view though. He should be listed @6ft.
I genuinely don't see actors such as Jensen Ackles or Nicolas Cage taller than Mads.
John wilson s.
said on 1/Jun/19
gotta be the tallest 1.82 I've seen in my life.
To be honest, I thought he were 1.84
Oneiroi
said on 25/Mar/19
Mads is clearly a strong 5ft11.75 in his good days like in the pictures with Rob.
Rampage(-_-_-)Clover
said on 20/Jan/19
Looks shorter than the 5ft10¼ dude!
Animus
said on 19/Nov/18
Mikkelsen isn't standing as well as he used to. In almost every photo I see of him today he is either bending his knee, bending his neck, relaxing his back, etc. People need to take that into account.
This postural shift is why he can look a lot more like a 5'11 guy these days. However, I'm fairly confident that'd measure no lower than 5'11⅝.
Back in the day his agency listed him at 182cm. I think that's a very honest figure for Mads. A lot of guys his height claim 184-185cm, even taller heights at times.
Thinking back to the time when he used to stand with more erect posture, I still 5'11¾ is an entirely appropriate listing for Mads Mikkelsen.
QM6'1QM
said on 28/Sep/18
Zampo said on 16/Sep/18
I think he would measure somewhere in the 5'11.5-5'11.75 zone.
I absolutley agree, Zampo.
He will measure 181.7-182 cm as his height, no more. Mads a little bit taller than Peter Capaldi.
My opinion: 5'11.6" (181.8 cm).
Arthur!
said on 16/Sep/18
He looks like a flat 5'11 guy
Zampo
said on 16/Sep/18
I think he would measure somewhere in the 5'11.5-5'11.75 zone. If someone measures within this range at a low and has decent posture(so stands/walks near the measured height). It becomes quite difficult to distinguish such from flat 6'0. You can tell though that he is not quite in 5'11.75-6'0 range. 182 cm on the nose suits him well, I feel.
Animus
said on 4/Sep/18
Rob, what do you think his inseam is? 32 inches?

Editor Rob
I'd expect 32-32.5 range
MAD SAM
said on 18/Jun/18
This makes me happy, my height is 182 cm with same body frame and if I can look as tall as Mads I am pretty happy about it 😃 I do consider 182 cm to be rounded off as 6 footer
Nik
said on 28/May/18
For me Mads Mikkelsen is as listed! Anywhere around the 5'11.75" mark is apt for him!
Sandy Cowell
said on 27/May/18
Ha ha! It IS called 'The Hunt'! I've just noticed in the notes up top! 🙈
Sandy Cowell
said on 27/May/18
I'm so fond of this Danish Knight and his ability to act as the chilling Hannibal Lector in the TV series 'Hannibal' and portray a victim in another production. The name of this I can't 100% remember, but it might be called 'The Hunt' or something similar. I bought it because Mads is in it, even though it is subtitled, but I still enjoyed it. Mads plays a teacher who is wrongly accused of untoward behaviour with a youngster. He is then victimised, a sharp, sharp contrast to the part we see him play in 'Hannibal'! He also has blue eyes in this, so must be wearing dark, brooding contact lenses for 'Hannibal'!
I wasn't too impressed watching him play an idiot in 'Casino Royale', and anyone who gets outwitted by James Bond is an idiot IMHO! Hannibal Lector wouldn't be! He'd turn Bond into a stew! However, in that film, which I bought to see Mads, Mads and only Mads, I'm sure LeChiffre's height is mentioned to be 6ft and an eighth of an inch! I wouldn't be at all surprised if Mr Mikkelsen is this height when he gets out of bed in the morning, going down to just under come the end of the day's events! I think I will go for a realistic 5ft11.75 as I can't give him 5ft11 and seven eighths!
Bobby
said on 9/May/18
He looks a solid 6ft on the top photo but a weak 6ft on the others. Was there a footwear disadvantage on your end?

Editor Rob
I don't think there was much differences, certainly within a few mm's.
John (180 cm)
said on 2/May/18
Weak 6 footer. Rob a legit 5'8 guy holds up very well with him.
Zampo
said on 30/Apr/18
I think 182 is a good listing. There looks to be a 3.5 inches height difference here. Add that to a 173 cm Rob and we get 182 cm. The fact Rob's eye-level (161.3 cm) aligns with his mouth tells me he ain't the full 6ft. My mouth height level is about (163.7 cm), this is roughly how I look with someone in the 174-175 cm range and I measure in the 183 cm range (5'11 7/8 at a evening low).
Animus
said on 22/Feb/18
175lbs might be right for 52-year-old Mads Mikkelsen; he is bulkier than he was as a young man. When he started out I think his weight could look in the 155lb range.
Josh Jeffords
said on 13/Feb/18
Yep 170 is believable at just a bit under 6 foot.
Hes thin but not scrawny could actually be 180 seems to be fit.
Animus
said on 12/Feb/18
What do you think he weighs, Rob? I once saw a figure of 150lbs but that might be a bit low for him now.

Editor Rob
150 seems too low, though when I met him I'd have thought closer to 175 range.
Animus
said on 19/Jan/18
On his own and sometimes at premieres he stands with immaculate, Henry Cavill-level posture. At other times, for example with friends, his posture is much more relaxed. With Joel Edgerton (listed at 5'10¾) I can't see an inch of difference, although he does edge him out. Mikkelsen, like many other actors, is lanky and can thus appear taller than he is, but 182cm seems fine.
With the new listing system I wouldn't categorically rule out 5'11⅝ at this point, but 5'11¾ is good for now.
Psychedelic Earth 187
said on 15/Jan/18
182.5 before bed.
184.5 out of bed.
He probably doesn't even dip below 182 after being up on his feet all day.
Redwing
said on 12/Jan/18
Rob, your eyes are above his mouth by quite abit so therefore i reckon he's 180 cm tall. Yet with his brother he looks 6 ft?

Editor Rob
Mads does overall look above 5ft 11 in person, but not a big solid 6 footer.
Klapperschlangensindgeil21
said on 30/Dec/17
Madds Micleson is the tallest actor to portray the character of Hannibal Lector so far.
Egg
said on 28/Dec/17
Just under the 6 feet mark - 182cm.
Ullrich
said on 19/Dec/17
The average in this day is 5'8"-5'9.25", maybe a 5'10" not enter in the "tallish" like a 5'10.5"-5'11.25" man, but 6'0 is definitely tall, at least in America.
Psychedelic Earth 187
said on 18/Dec/17
@Paul, both 5'11" and 6' are very lovely heights(see Stephen Amell and Finn jones), but they are very close to 5'10" which is average height these days, that is why we call 5'11" and 6' "tallish", rather than "tall".
Starlo
said on 11/Dec/17
At least 6'0 in prime.
Slim 186
said on 7/Dec/17
Rampage(-_-_-)Clover said on 6/Dec/17
The full 6ft is arguable
***********
Agreed.
ArnieDan
said on 7/Dec/17
Looks like a solid 5'11 with Rob.
Daniel
said on 7/Dec/17
Definitely 6ft in my opinion
Rampage(-_-_-)Clover
said on 6/Dec/17
The full 6ft is arguable
Paul NS (6ft0.5)
said on 6/Dec/17
Funny that Slim thinks the 5'7 Robin Williams is a very short man but says Mads is merely above average...
Redwing
said on 6/Dec/17
If he's 182 cm shouldn't your eyes be under his lips rob? That looks like a 8 cm difference.
Editor Rob: I think Mads typically looks nearly 6ft, on screen and in person.
Raj
said on 1/Dec/17
I'm pretty sure he's a solid 6'
Anonymous
said on 29/Nov/17
Rob do you think that maybe on a good day he could be a full six footer?
Editor Rob: he might be.
Christian-6'5 3/8
said on 22/Nov/17
@MarcosZ
You're absolutely right. A true 6'0" is diminished because plenty of 5'10" and 5'11" guys claim it. And I agree with your average as well, it's between 5'8.5"-5'9" I feel.
MarcosZ
said on 20/Nov/17
Every 6 footer is tall in America, so he is tall of curse. The "it's just above average" is in the 5'10.5" cases. The average around in the 5'7.75"-5'9.75" area.
Slim 185
said on 18/Nov/17
Nah canson. He's a solid 6 footer. This is proof that 6' isn't actually tall, it's just above average, just like 5'8" is below average but not short.
Canson
said on 12/Nov/17
Doesn't appear to have 4" on rob it's closer to 3"
Slim 185
said on 12/Nov/17
I'd 6' him, he likely holds 182.50 CM/ 5'11 7/8 (rounded up to 6') at 6 pm.
Slim 184
said on 3/Nov/17
THE full 6' for sure.
Peter
said on 30/Oct/17
He is a solid 6', easily
Slim 6'
said on 22/Oct/17
Rob, I throw my old estimates out the window, give mads the full 6' upgrade.
Slim 6'
said on 18/Oct/17
Pierre, mads has 9.5 CM on Rob Paul.
He's actually 5'11.75"-6'. in America he is tall, but in Europe he's just "above average".
Pierre
said on 17/Oct/17
imo take in consideration Rob slouch always a little in all the pictures=look at his neck=always relaxed,in the picture number three when Mads posture is a little more relaxed than Rob he look more 5"11' range than 6"0' imo,in the picture number two i think he could have advantageous heels.
My guess for him is around 181(~5"11.25')
Tom
said on 16/Oct/17
Hey rob back on the slouching thing. I just went to my doctor and showed him that I have a bit of a curved neck from the back. Due to slouching over the years. But I don't think that I have lost any height though. Is that possible at the age of 21. He said going to the gym and working on my back muscles an correcting postures can fix my curved neck. So I just wanted your thought on that, at 21 years of age? Like I always thought because I'm growing still at 21 body matureity wise, so I thought that it wouldn't be a problem.
Editor Rob: certain types of prolonged work or habits may well cause earlier spine curvature. I know Jenny has suffered this in her 40's, she dropped half inch in height, mainly confined to upper back/neck due to 5-6 years of intense craft-related work. Before that, her upper back was relatively normal.

I would definitely try to help posture by doing simply exercise, or decompression techniques (like hanging loose on a pull-up bar).
McLovin
said on 14/Oct/17
Looks tall here and in Hannibal, 182.7-1.83 is good for him.
Slim 6'
said on 14/Oct/17
If he is the full 6', I'll be damned, it just goes to show that 6'0 isn't actually solid tall like 6'1"-6'2" is.
Slim 6'
said on 6/Oct/17
Nothing above 181/.25-.50 in the bottom left photo.
Chicago Mason
said on 6/Oct/17
Looks in the 1.82-1.83 range, tall handsome man. Amazing posture in Hannibal.
Slim
said on 3/Oct/17
181 area. He just isn't the proper 6' like Norton and Christian Bale.
Animus
said on 24/Sep/17
Beside Danish table tennis player Michael Maze, listed at 185cm, he looks 2-3cm shorter. Once again a strong 182cm seems like the mark he hits. Generally has excellent posture, possibly coming from his days as a professional dancer, and that can delude one into thinking Mikkelsen is a solid six-footer. In reality he is very close to but not quite 6'0.
Animus
said on 13/Sep/17
A strong 182cm is the perfect listing for him, in my opinion. He stands up well to 6'1-6'2 guys, but he doesn't look hugely taller than a guy like Hugh Dancy, who is supposedly 5'9½. Incidentally, next to Rob he looks a lot like I look next to my strong 5'8 friend and I'm within a few milimeters of 183cm in the afternoon.
Slim
said on 1/Sep/17
A 5'11.5" downgrade is necessary.
John
said on 28/Aug/17
He looks exactly the same height as Laurence Fishburne in Hannibal
Ben
said on 9/Aug/17
Would be perfect for Victor Doom a.k.a Dr. Doom in Fox's Dr. Doom solo movie which has recently been announced. Luckily everyone including himself wants to play the character.
Tom
said on 7/Aug/17
He easily wakes up at 183
Rampage(-_-_-)Clover
said on 4/Aug/17
He can pull off a solid 6ft. I wouldn't argue less than this mark
Stassy
said on 2/Aug/17
The listing seems about right. Met him recently, he is a lovely guy, quite laid back but friendly. As a former dancer he has good posture to start with and being slim he looks taller but I think around 182cm is what he is.
Tom
said on 15/Jul/17
K thanks rob I better start correcting my self and probably stretch every day like touching my toes or something
Editor Rob: no harm in developing a simple 5 minute daily routine to help your back as you grow older.

Slim 181 cm
said on 14/Jul/17
181 or 181.6
Tom
said on 11/Jul/17
I'm 21 and I really have a bad habit of slouching all the time. My question is, bad habits like slouching isn't particular bad at a young age because your still growing, or do you think it has a major effect still. Because it makes sense if your older and slouch, you can lose height but I would imagine that's not the case when your still young? Also what happened to your YouTube channel rob you stoped making videos.
Editor Rob: bad posture habits when young, can mean over time our body adapts to it...we forget our youthful posture. Many of us aren't standing at our potential, our spines are out of alignment and our core/back muscles weak.

My time is better spent working on this site than on youtube just now, but I haven't totally dismissed doing any more.

Tom
said on 11/Jul/17
Hey rob, it's been a while. I just wanted to ask you a question about one of your comments on another page. Is it true that if you have bad posture and slouch a lot, that you can kind of get a hunchback around the neck area and loss height. I saw you right a comment about that where you said jenny has bad posture and has a curved neck or something. The question also is could t that just be genetics?
Editor Rob: Jenny has a bit upper spine curvature due to excessive craft work.

The nature of her work is spending hours at a desk in an unnatural position, mostly curved forward and this over times has contributed to her loss. Even though she's really only being doing it full time for about 4 years.

She has a sister a year younger who has barely lost anything.

as for Mads, his brother Lars is definitely a big 3 inches taller, I think his brother has lost a little height by his 50's.

Pierre
said on 8/Jul/17
I think he's in 181 range,he seem to have an advantage of shoes in the picture number two(with the withe jacket).
Animus
said on 16/Jun/17
How tall would you say Thure Lindhardt is? He is opposite Mikkelsen in 'Flame and Citron' and they seem to be about the same height. Lindhardt is listed as 182cm by his agency and it seems believeable - certainly no shorter than 181cm.
Editor Rob: I think he is probably similar range to Mads, worth an entry as he has popped up in films over the years.
Sandy Cowell
said on 12/Jun/17
Mads has just come up on 'Random Celebs'... which was nice! (as Mark Williams used to say in 'The Fast Show!)
Did you know that Mads is a Danish knight? He looks extremely amiable and easy to get along with here, Rob!
I have seen him in a truly sensitive film, which is in Danish. He is wrongly accused of something and his life is made into a living hell.
It had me in tears, and showed me that Mads is capable of playing far more than just the best Hannibal ever!
I give this fantastic noble actor 6ft!
justbringit
said on 5/Jun/17
182,5 might be a good call if you were to guess what he measures to the nearest cm i feel
World Citizen
said on 24/May/17
He looks 5 ft 11 flat.
King of the hill 91
said on 10/Apr/17
Nearly or is six foot
Neilsberg
said on 25/Mar/17
Hello Rob!
Is it possible that Mads mikkelsen is 6ftOin?
Editor Rob: not impossible, I think he's close to it...but I would say that I have measured people bang on 6ft who seemed taller...
RVD
said on 24/Mar/17
@Editor Rob,
How tall do u think Mathis Landwehr is or looks in these pics?
with Mads Mikkelsen
Click Here
with Tom Wlaschiha
Click Here
Click Here
with Marc Dacascos
Click Here
Click Here
with Eskindir Tesfay (who also has 180cm in his agency)
Click Here
Click Here
Click Here
Click Here
Click Here
with Stephan Luca (listed 6'0.5" on other sites, but might b around 6' range)
Click Here
He's a popular Martial Arts German Actor who does stunts for Hollywood films. He's listed 180cm on his own website profile, while he's listed 181cm on other sites. He's quite Tall, i'd say he's a tad taller than his own listed height, so i believe he's more 181 range. He's a bit taller than his co-worker Eskindir.
What's ur estimation on him based on those pics?
Editor Rob: it's very unlikely if he has 180cm on his own site, he'd be any taller.
josh jeffords
said on 10/Mar/17
Looks taller in photo than onscreen could have poor posture but Im guessing footwear.
From the various movies ive seen him in he looks 5 11 maybe 5 11 .5 his hair makes the photos a bit suspect.
He is a bit thin so that and an average posture gives a flat 5 11 appearance.
He is a good but underused actor seems to favor cheesy villains and the occasional hero support.
Sandy Cowell
said on 9/Mar/17
@ justbringit - Hello! It was in one of his films, 'Casino Royale' perhaps, though not definitely, that he was 6ft and an eighth of an inch! I found it totally believable.
justbringit
said on 7/Mar/17
rob do you think that there is any chance he is just 6ft? to me he looks closer to 6'0 than 5'11.5" for sure.
Editor Rob: justbringit, I still see him as almost 6ft rather than a legit 183.
justbringit
said on 2/Mar/17
tbh he gives me a 6ft impression at least a weak 6ft
DetroitMichigan
said on 22/Feb/17
Click Here
it is possible Veruschka ever was 6'3 as listed by Google ?
Editor Rob: seems an optimistic listing.
Headman
said on 12/Feb/17
What would you say his head length is rob? Looks to be just under 9 inches to me.
Editor Rob: headman, I wouldn't have said any less than a good 9 inches.
Felix
said on 6/Feb/17
I would risk to said that he is a solid 6'0", if he takes care his good posture.
Donald Mc
said on 3/Feb/17
No more than 6'0" but no less, in mi opinion. In the second picture he have a better posture and looks like a strong 1.83, however he is a guy with perfect proportions so he appear to be more tall than he is.
sumdude
said on 19/Jan/17
Quite tall man. Amazing proportions. I'd argue 5ft 11.75in is close to perfect height, you can wear almost anything and look good. And you won't really be towered in 98% of the world. Average height in Denmark is 5'11", 181.4cm, according to a 100 year study recently released, and 180.4cm according to the military recruitment in Denmark as of 2016.
Victor Surratt
said on 29/Dec/16
He looks like a solid 6'0", 1.83.
Giorgi
said on 27/Dec/16
He looks kinda taller. Did he have a shoe advantage, Rob?
Editor Rob: no, I think within a small fraction each time.
Shredder
said on 22/Dec/16
Rob , did he look taller than Biehn?
Editor Rob: shredder, hard to tell really, both comfortably over 5ft 11, but I'm not sure full six foot guys.
Animus
said on 12/Dec/16
He was visibly taller than Jimmy Kimmel when he appeared with the
Star Wars
-cast the other night. He is definitely in the 6ft range.
Cherry
said on 7/Dec/16
He looks tall in movies/pictures.. im like 4'7" (148cm) 😅 So im barely tall as his lower chest? Hahaha .. #sinceimasian
theonewiththecontacts
said on 6/Dec/16
Walked past him and his son in a shopping centre in Denmark recently - this was from around a 10 feet distance, but Mads and I seemed quite close in height, but he was probably a bit shorter than me.. This was around lunchtime, which would put me at approximately 6' 0.75 - my estimate on his height was 182-183 cm range, this seems like a good listing!
Rampage(-_-_-)Clover
said on 10/Nov/16
Looks 6ft1-2 w/h his brother but barely 5ft11 w/h Rob
Knyte
said on 10/Nov/16
Looks 182-183cm.
Marquis
said on 10/Nov/16
Not really seeing more than 3" of height difference between Mads and Rob in the photos... looks like Mads is 5'11", flat.
Rampage(-_-_-)Clover
said on 6/Nov/16
Rob, could he be an occasional lift wearer?
Click Here
Click Here
Click Here
Click Here
Not much shorter than his brother
Editor Rob: I doubt he's a lift wearer, but in person I wouldn't have said a big 6 foot guy. There's a solid 3-3.5 inches between them in person.
Animus
said on 30/Oct/16
He has a tall presence on screen. He is definitely evidence that a slim six footer with an athletic frame looks tall.
easy e
said on 19/Oct/16
He looks like a solid 6
Redwing
said on 12/Oct/16
Hey rob, was he tilting his head down on the third picture?
Editor Rob: thumbs picture, yes maybe a cm
Aza
said on 11/Oct/16
It a good listing
Sandy Cowell
said on 6/Oct/16
The reply written by Animus on 2nd October'16 is not only interesting but incredibly good English was used throughout; I often feel this to be a dying art. Good on you Animus!
Sandy Cowell
said on 5/Oct/16
I thought he was 6ft exactly! I couldn't help but find his seering intelligence in the series 'Hannibal' incredibly sexy! In comparison, his roll in Casino Royale was disappointing when you know he's capable of so much more!
Animus
said on 2/Oct/16
Willes189
Essentially, yes. The average height of 18-year-old Danish males as measured by the military is 5'11" (varying by at most 1/8th of an inch annually). However, second-generation immigrants are included and they average a lower height than natives. I don't know if they are a large enough proportion to drag down the overall average by a quarter of an inch or more.
The average *self-reported height* of Danish males is 6', so the real average must be somewhat below that.
I'd say the average Danish male is in the 5'11"-5'11.5" range (5'11.25" might be the single best estimate), so Mikkelsen has a rather common height in Denmark.
Willes189
said on 16/Sep/16
This is average in Scandinavia
Rampage(-_-_-)Clover
said on 27/Apr/16
Out of bed: 184-185cm
Before bed: 182-183cm
Johno
said on 15/Apr/16
Looks around his listing here.
Jedi Master 5'11
said on 19/Mar/16
I thought he was like 6'2" in Casino Royale, then I remembered Daniel Craig is only like 5'8"
NBAer
said on 8/Mar/16
181 in my opinion, eye level difference looks around 7-8cm and Rob's atleast 1cm above Mikkelsen's eyebrows,so i see a solid 181 for Hannibal.
Tom
said on 8/Jan/16
Hey rob if you lose 25 pounds or more weight, could you possibly measure taller then you original where when you where overweight. Or it does have any affect in height increase. If so how much u reckon???
Editor Rob: I think larger amounts that have effected the alignment of the spine, which is then able to recover through some simple exercise, could result in measuring a bit taller. 25 pounds isn't a huge amount, a couple of stone...
hal
said on 1/Jan/16
@Emil 183 cm
Actually, last I checked, the average height in Denmark is 181 cm (5'11.5").
Emil 183 cm
said on 26/Dec/15
Rampage(-_-_-)Clover said on 3/Nov/15
He's just above average height in Denmark
True. Average is 178-179 cm
teatea
said on 14/Dec/15
always think this man is over 6'1
S.J.H
said on 12/Nov/15
Look 181ish to me. Maybe 182cm in reality
Rampage(-_-_-)Clover
said on 3/Nov/15
He's just above average height in Denmark
Tom
said on 26/Oct/15
Rob u said mads is rough around 6 foo1 out of bed, does that make people that are 6 feet tall roughly around 6 foot1 or 2 out of bed ??
[Editor Rob: shrinking 3/4 or 1 inch when you are near 6ft - 6ft 2 is quite common, so being nearly 6ft 1 and shrinking to just under 6ft wouldn't be abnormal.]
Tom
said on 24/Oct/15
So rob mads height at 5 foot 11.75 would be his low height right, that's what u list celebrities heights at, there low height at the end of the day.
[Editor Rob: it could be afternoon/evening, I'm thinking of nearer their low than nearer their out of bed.]
Tom
said on 18/Oct/15
K thanks rob, I also was walking outside for an hour or 2 and came home sat on chair than about 15 mins later my friend measured my height, also it was around 4 or 5 pm is it safe to to say I'm 6 feet tall or no.
[Editor Rob: that's good activity to get near your low]
Tom
said on 16/Oct/15
Hey rob what's the best way to measure your height in your opinion, tape measure, stadimoeter, etc. also is it always wise to walk around for at least 20 mins before u measure your height. So it's more accurerate to your height. Also I'm half a mm under 6feet, do I just say I'm 6 feet or no. Or I'm over I don't know.
[Editor Rob: anybody a couple mm under a mark is perfectly fine to round up...when it's 15mm, maybe not so much.

a tape measure is quite cheap. A dollar and most people have an object and some type of hard floor in their house to get a rough idea (within 1/4 inch) of their true height.]
Jaime
said on 28/Sep/15
Oh and just one more thing Rob did you get to talk to him, if so what was he like in person.
[Editor Rob: didn't get to say much really to him.]
Jaime
said on 26/Sep/15
Hey Rob at what height would you say he wakes up and at what height would you say he goes to bed, just wondering
[Editor Rob: he might be nearly 185cm out of bed and somewhere aroudn 182 range at night.]
Sam
said on 23/Sep/15
Funnily enough Mikkelsen doesn't look taller in The Hunt than Danish character actor Thomas Bo Larsen but in stills can look nearly 2 inches taller than the guy at Cannes, although in those Larsen is slouching.
Tom
said on 25/Aug/15
Hey rob a question, do you think it's possible that the average heights in the uk and u.s. And rest of the world are actually lower than it is because a lot of people tend to lie about their height and give them selfs a couple inches????
[Editor Rob: just from casual observation, in the UK I do feel the average really is in the 5ft 9 range, I can believe the statistics for it, at 5ft 8 it feels that range is average.]
184.3cm (Night)
said on 21/Aug/15
@Tom
Dont take this the wrong way but we are a very healthy nation, i get the impression Canada is not. Cycling is preferred over taking the car places and we eat a diet high in vegetables and fruit. You dont see many fat people here in The Netherlands.
WAF
said on 19/Aug/15
@Emil 182-183 cm
I'm from Denmark myself and I think 5'10.5" is too low. I think 5'11" or 5'11.25" is more like it, at least among the younger generation. In fact, the average height of enlisted full grown men is usually 5'11" on the money.
However, hal is not wrong to say that 6'0" is a very common height in Denmark and that you are considered of rather average height at 6'0". At 6'1" or 6'1.5" people will start to call you tall in Denmark, in my experience.
Emil 182-183 cm
said on 5/Aug/15
@hal
Average height in Denmark is 5'10.5 so no
Tom
said on 3/Aug/15
Hey rob a question, why are Dutch and Iceland people so tall. I thought food and stuff was a reason. But if so why aren't Canadian people as tall.
[Editor Rob: better Cows...

I think a lot of elements can account for it, the diet, the environment and maybe even a slightly greater preference for taller partners through the last generation?]
Sam
said on 28/Jul/15
I doubt he's lost height at his age but yeah the listing is accurate IMO and he is near average for his country.
I admire his version of Hannibal but for two reason, he's too superhuman, I know they want him to be like a fallen angel but I've grown tired of him always having the upper-hand (they didn't even let Will Graham catch him, he just turns himself in to toy with the other characters) and makes wish at times for Hopkins (only in Silence of the Lambs) and Cox in Manhunter who were savage, brilliant monsters but still human. The other is that sometimes I have trouble understanding his lines through his accent.
hal
said on 12/Jun/15
5'11.75" sounds right. He was probably a 6'0" in his prime. Which, unfortunately, is only average height in his home country. Love him in Hannibal.
Tom
said on 5/Jun/15
So do you lose a lot of amount doing so, or just a very little amount?
[Editor Rob: some people are genetically suspectible to more height loss. Look at a guy like Dolph Lundgren who has done a lot of action roles and stunts, he's actually quite a fit man but it seems he's lost over an inch by 50's.]
Tom
said on 4/Jun/15
Rob this is a follow up question, if so how much height can be lost. It just doesn't make sense??
[Editor Rob: look at some wrestlers who in 50's and 60's lose more than normal.
Exercise and impact on a smaller scale isn't that bad, loading with weight on limbs is fine, it's excessive weight bearing and loads that can do long term damage. Also some people might be more genetically susceptible to losing bone density and their discs degenerate faster than others.]
Tom
said on 4/Jun/15
Hey Rob I wanted to ask you this question, I see you writing on coments saying how actors lose height when they do action flims etc. How can you lose height by being active. It doesn't make sense at all. I thought you said the more active and healthy life style you have the better it is. To keep height. Like moving your back muscles etc??????
[Editor Rob: being active is good, being supple is great.
Overdoing it may cause problems. If you do something long-term, involving physical impacts (like stunts or like wrestlers who are involved in a sport with impacts) then your discs over time may degenerate faster.]
Sam
said on 2/Jun/15
Pictured above, the Danish version of a wide, beaming smile.
Tom
said on 27/Apr/15
So 1.9cm is straight out of bed.
[Editor Rob: around that, from straight out till teatime/evening range.]
Tom
said on 23/Apr/15
Hey rob, also how much does a person gain in height straight out of bed usually. And how long does it take threw out the day to get a good measurement of your height without any extra gaining, from laying around.
[Editor Rob: from the research, reading this site and what I know other people shrink, I think nearly 1.9cm is close to the average.]
Tom
said on 23/Apr/15
Hey rob, I Also wanted to ask what is the common age when a man stops growing, and also is it still possible on growing when your past 19. Or do you still grow in frame but not actually height. I'm just curious. Wanted to know from the height master big rob.
[Editor Rob: there is potential to still grow till about 21, and in a very small minority even in 21-4 range...but you are talking tiny amount. Most will be done at 18, with a minority still gaining between 18 and 21.]
delvin
said on 11/Apr/15
He like looks 179 cm in here
Judd
said on 29/Mar/15
Honest 182 cms guy! 5'11.75" is fair!
Tom
said on 26/Nov/14
Rob why do you think people slough is it because my back is weak or something or is it just a habit. Also I'm 19 if I slough when I walk it's okay right. But if I was I was like 30 it would be bad for height loss right.
[Editor Rob: it can be a bad habit, but also weak back muscles or pain/spine problems can lead to it.

Just gentle exercise/stretching every few days can help.]
Tom
said on 25/Nov/14
Rob thanks for the help man. So my habit of sloughing is okay if I stop now right.
[Editor Rob: I'd try to correct yourself if you find that you are stooping. As I say, maybe do some very simple stretching, like touching toes, rotating, just to help your back muscles and maybe improving your stance a little.]
Tom
said on 24/Nov/14
And rob I'm 19 and I have a bad habit of sloughing over when I walk is that bad for my back or no. I don't think it will effect my back because I'm only 19. If I fix that habit now I should be good hey. And when you mean healthy life style, what do you exactly mean. Like eat healthy and excerise a lot.
[Editor Rob: I'd try to maybe do some simple stretches just to help your back muscles and try to maintain an upright posture as much as possible. These bad habits can cause problems as you age and might contribute to more loss of height.]
Tom
said on 24/Nov/14
Thanks rob. Also can't it be a genetics thing as well or no. Is just based on a healthy living style. Also there are people that think stretching helps you to grow, I don't believe that's what's your opinion on that.
[Editor Rob: I think if you are young and want to try to maximise or even say beat what your potential might be, then get active, get your body producing as much GH. Of course as I always say, a combination of exercise/sleeping well/eating and destressing yourself might all be little factors to gaining as much as possible. Stretching could help a bit (how much exactly is always debatable and unknown really), but in all things, be careful and don't overdo things.]
Tom
said on 24/Nov/14
Hey rob is there a possibility that mads has shrink because he is 49 now. Also is it possible that some people don't shrink or do you think every one does????
[Editor Rob: some people will make it to 70 and only lose a small fraction. It's a small percentage though and it helps if you maintain a healthy lifestyle and keep your back muscles working and avoid injuries and too much wear and tear. I don't think mads will have lost anything.]
Tom
said on 12/Nov/14
Hey rob do people appear to look taller if they are lean and skinny, then being more full and chubby?
[Editor Rob: I think it can help a bit at times, but also a smaller head size always helps aswell.]
Sam
said on 31/Oct/14
When standing upright, he looks about 1.5 inches taller than Daniel Craig.
Click Here
Chris
said on 17/Oct/14
His cheekbones are 6ft tall
InLA
said on 9/Oct/14
I watch Valhalla Rising monthly just so I can stare at this guy. He's beautiful. I would have thought a bit taller, but maybe because he's so perfectly proportioned. He looks like someone half his age.
Tom
said on 8/Sep/14
Rob can you tell the difference between a person that is 5'11".75 to 6' feet. Isn't it hard to tell because it's so close to one another??????????
[Editor Rob: the 182cm is a height fromover 10 years ago from his agency, it's about what he looked in person aswell, near enough to 6ft.]
cole
said on 22/Aug/14
@Editor Rob: Was your listing 6ft before you met him?
[Editor Rob: I think it was on the almost 6ft mark since being added]
Sam
said on 24/Jul/14
I guess he was in good shape but you must like a man w/ a missing eyeball...something about his face, there's no way this guy could be anything but European...at any rate, a helluva actor.
LAnative
said on 24/Jul/14
He was beautiful in Valhalla Rising. I'd believe 6' from the pics above.
Sam
said on 21/Jul/14
He's pretty close to six feet IMO. If he's a sub-six footer as listed, I'd guess Laurence Fishburne is as much as a quarter-inch under that, Fishburne never looked taller IMO and sometimes Mikkelsen seemed to edge him out.
Balrog
said on 9/Feb/13
Rob, he looks the full 6'0'' on these pics.
Hew
said on 14/Jan/13
I thought he looked near 10 cm taller than you in that top photo Rob? Did he have a slight footwear-advantage perhaps? 182,5 cm at least for Mads Mikkelsen, good height.
Stephen
said on 8/Jan/13
classic 182 cm guy...weak tall...good height to be, girls love 181-185cm range.
Elijah
said on 30/Dec/12
@Dolkite: that is just you. Maybe you don't consider him tall but it is definitely tall to the vast majority of people, being around 85th percentile.
Original
said on 23/Dec/12
Looks 6' in pics.
Rampage(-_-_-)Clover
said on 27/Oct/12
Looks 5ft11.25(181cm) in the pics
Connor
said on 29/Aug/12
Rob what about 181cm, maybe that is around just above coming into the start of the tall range perhaps?
[Editor Rob: I think 182 is still a good enough fit for him]
Connor
said on 26/Aug/12
Yeah Rob Mads definatley does look a weak 6ft especially with Daniel Craig in Casino royale who is a strong 5ft 10, fine example of an 182cm man that would appear like with a 5ft 8 man, 182cm seems dead on accurate for him he has pretty good posture in the left picture, what do you think Rob, maybe 5ft11.75 is classed as tall?
[Editor Rob: yes he's getting into start of tall range]
Hob
said on 27/Jul/12
look 8cm max taller than rob
Rikashiku
said on 13/Jun/12
Most girls aren't exactly tall Dolkite ;).
He looks like a weak 6'0" which is surprising because in the movies he always looks like the tall mean fighter. Does this guy ever smile?
Dolkite
said on 31/Jan/12
Just under six feet tall isn't what I'd call "tall."
Daniel
said on 6/Jan/12
Same height as my dad 182,5cm and my mother is 157,5cm
my mother at this point in Rob's nose and
and compared to my father, this chin-length, where the head begins.
this guy is really 182cm, depending on the shoe that he uses can be 181cm
only fanatics say he's under 180cm
Shaun
said on 26/Dec/11
Ivana Milicevic was the Croatian actress I was thinking of, not Czech. She's listed at 5'9" and did look about an inch taller than him in big heels.
Shaun
said on 26/Dec/11
I watched Casino Royale yesterday on DVD and I must admit I thought he looked 6'1" range I'd probably have guessed 185cm. He definitely looked tall compared to the bald weird looking bodyguard in it and the other cast except the blond girl in it, Czech I think she is who looks very tall range probably near 5'10" legit and was wearing heels. So on film I'd say generally people can look taller than they really are. But I was also looking at Daniel Craig in the film and in the whipping naked scene he looked bang on average in size. I'd guessed he was 5'9.5"-5'10" barefoot. Somebody said they though Craig looked six foot as Bond, couldn't see it myself. I think he did look taller in Quantum of Solace though as I think he was wearing lifts and Gemma Anderton is near his height so might have looked like a legit 5'11" in that film.
jake, 1.82-1.83 m
said on 11/Dec/11
Actually he does look a solid 3-3.5 inches taller than Rob here. 1.82 m could be right on the mark.
Henrik
said on 26/Nov/11
@Shaun
No, far from all Scandinavians look like Dolph Lundgren. I'd say we are mostly brown/ash blond-haired. A Spaniard once got chocked over how Swedes actually looked, and remarked that "we looked like the French". LOL.
Emilia-Italy
said on 21/Nov/11
He's a very handsome man regardless of his height.
Shaun
said on 20/Nov/11
Average height for a Danish guy. But he doesn't exactly look Nordic now does he. Looks more like he is from Greece or the Balkans like Croatia/Bulgaria/Montenegro than Denmark. Although I guess not all Danish men look like the Aryan stereotype like Peter Schmeicel.
Josh B
said on 17/Nov/11
Looked above average/weak tall in King Arthur.
anonim
said on 15/Nov/11
It seems to be very flat 180 cm
Joe257
said on 4/Nov/11
I like his hair!
ANDREA[ITA]
said on 29/Oct/11
Rob, how can he be so close to Stellan Skarsgard that you listed at 6'3? :O Stellan is probably 6'1?
[Editor Rob: stellan looks a guy who has poorer posture these days]
Balthier
said on 20/Oct/11
Re: thorterr
No, but he is not american so he would give his height in centimeters...
Voiceless Dental Fricative
said on 11/Oct/11
Looks 181 in the left photo. He may to have been standing too well.
Tobie
said on 6/Oct/11
apparently, his brother Lars is 6'4", and you can really tell when they're standing side by side.
jake, 1.82 m
said on 4/Oct/11
Looks 3 inches taller than Rob, he's 5ft 11.25in (181 cm)
carnegie
said on 20/Sep/11
5ft11 looks cool for the guy
taiwan
said on 19/Aug/11
180cm is right 3~4cm taller than daniel craig
Alex
said on 9/Aug/11
5'11.5 max.
5'8.56784
said on 27/Jul/11
He's 181cm Rob, your head is considerably over his eye level by more than half an inch, he can look tall for sure, but he's not 182cm
Hansen
said on 19/Jul/11
he atually look 5ft11 here with rob. despite he have good posture. 5ft11.25 to 6ft in real. he can also look the tallest at 6ft1 in a film which i could't remember the movie title.
Martin
said on 16/Jul/11
Re Gerry: Uhm, no. 182 is actually one or two centimeters over average height for danish males which is pretty much the same average height as in Sweden and Norway.
thorterr
said on 21/Jun/11
a guy at 5ft 11.75 will never say hes that height,,,go on rob make him a 6FOOTER!!!
Lenad
said on 11/Jun/11
the top of Robs head is just a wee bit over Mads eyes. 3.5-4 inches taller. solid 182cm i think
James
said on 10/Jun/11
LOL how in the hell is 182-183cm short for a danish man?
In the Denmark 6ft is considered too be the start of 'tall'
MD
said on 31/May/11
Huh?
He's average height (maybe a tiny bit more, in fact) for a Danish male. I don't know what you're talking about.
littlesue
said on 31/May/11
I'm surprised you thought he had 5 inches on Craig, when they square up to each other at the poker table they are almost identical, obviously Craig may have had lifts on which would have lifted him to Mads height
Gerry
said on 31/May/11
A bit under 6 feet tall? Wow for a Dane he is short, I really thought he had 5 inches on 5 10ish Daniel Craig in Casino Royal, thought he was 6'3".
James
said on 29/Apr/11
For a Danish guy he's around average height.
SAK
said on 2/Apr/11
Menace 195cm says on 25/Mar/11
In the photo with Rob, he looks more like 180cm than 182cm. Maybe he is 180cm.
------------------------------------------------------------------------
I would say he looks 181cm in the photo. But overall i have seen other photos of him where he does usually look 182cm,
Rampage(-_-_-)Clover
said on 2/Apr/11
Height fluctuates between 180cm-181cm
He's 182cm in the morning most likely...
Menace 195cm
said on 25/Mar/11
In the photo with Rob, he looks more like 180cm than 182cm. Maybe he is 180cm.
Observant
said on 11/Mar/11
Has anyone looked at the height chart? hes 181cm end of story.
DrJJ
said on 20/Feb/11
Never realised this guy was tall. But hey, he's Danish. 6'0".
James
said on 14/Feb/11
For some reason in the pic there really does not look to me as much as 3.5 inches? An illusion perhaps? But anyway i think 5'11.75 is just a few mmm too much so maybe just 5'11.5 (182cm) for this guy. his hairstlye is prorbably also adding a just tiny fraction to his height.
This is how tall i think he measures during the day
6ft (183cm) morning.
5'11.75 (182cm) lunchtime
5'11.5 (182cm) afternoon
possibly 5'11.25 (181cm) before bed after a long day on his feet????????
I think at night he could fluctuate between 181-182cm?
5'8
said on 29/Jan/11
He's a solid 6', Rob.
ArjunaKorale
said on 24/Jan/11
Without a doubt one of my fav actors - but could he be a cm taller at 183cm (exactly 6ft)? Perhaps so. Mads is the real star of "Clash of the Titans", i have no doubt! And i cant wait to see him as Count Rochfort in new version of the Three Musketeers.
Rampage(-_-_-)Clover
said on 21/Jan/11
5"11.25(181cm)
Shantal
said on 28/Nov/10
182cm seems to be his real height
linke
said on 26/Nov/10
His brother lars looks around 6'4.Infact his resume says 6'4 too.
E
said on 19/Nov/10
Great actor... looks an inch or two taller then daniel craig but craig wears lifts in the movie and admits to it... probably 5'11" or 6'
DF
said on 6/Nov/10
179cm , with shoe may 182cm
James
said on 23/Jun/09
If Mads had footware advantage then I think he is struggling with 5'11 in the pic.
[Editor Rob: he didn't have footwear advantage.]
Hugh 190cm
said on 6/Jun/09
5ft11 flat.
Haze
said on 5/Jun/09
looks like hes got good posture and standing tall. 5'11.5 max imo. but .75 is possible
Caro
said on 2/Jun/09
wow! It's Mads!
Mads du styrer for vildt! GO DANMARK!
well of course he is tall, come on, everybody from Scandinavia is tall :D
James
said on 2/Jun/09
Did you downgrade this guy a fraction rob? I swear he was listed at a full 6ft before.
[Editor Rob: not that I remember.]
Yaspaa
said on 2/Jun/09
Thanks. Brain restoration...
Click Here
James
said on 29/May/09
Well Rob is a strong 5'8 but in my opinion if Rob stood as straight as Mads there would be around 3-2.5 inches between them. I'd say Mads is probably 181cm/5'11.25.
It depends though did rob have footware advantage?
Hugh 190cm
said on 28/May/09
Yeah I don't see anything over 5ft11.
James
said on 27/May/09
Don't see 6ft sorry. I see 5'10.75-5'11.
Doug
said on 4/Mar/09
Surpised he was 6 ft? Really??? I thought he looked quite tall in Casino Royale, above average anyway. If you;d said he was 6'1" I'd have agreed. I think he is a solid 6 foot.
GUK
said on 20/Dec/08
I still think he's over 6ft out of bed, 182 minumum height.
Jordan
said on 12/Oct/08
5'11.75 looks about right. Again this amazes me though, I never thought he was over 5'10 but this is the proof, especially since Rob says he had the same footware.
Jordan
said on 9/Oct/08
Looks solid 6'0 to be honest. Always thought he was 5'9 or 5'10 but he cleary has rob by 3.5 inches.
The Horse of FUNK
said on 9/Oct/08
I don't know where you see 6'1", Lego. Look, if he was anything over 6' then his eyebrows would be over Rob's head. He looks like how I would look if I stood next to Rob. Solid 5'11.5"-5'11.75" guy.
Lego
said on 7/Oct/08
the guy looks 6'1 in that image, good posture too.
i think he's 6'0 flat.
Jay
said on 7/Oct/08
from what i remember he was a few inches over Daniel Craig, it's hard for me to believe but this height for Mads would make Daniel around 5'9 (nothing less)
i actually just watched casino royale last night for the hell of it and not knowing Mads height i guessed him at 6 maybe 6'1 but nothing less than that, again its a movie and anything is possible so he could be less.
GUK
said on 7/Oct/08
Must be over 6ft first thing
mikec
said on 7/Oct/08
he's the exact same height as me! and he seems to be around 5'11.75-6'0 he just has the build of someone of that height.
The Horse of FUNK
said on 7/Oct/08
Looks more 5'11.5" to me, but whatever.
Anyway, since we now know for sure how tall Mads Mikkelsen is, this should make gauging Daniel Craig a bit more interesting...
miko
said on 7/Oct/08
Could be spot on here Rob, he looks taller than he actually is.
Could he be 6"0 dead on?
Emilie
said on 5/Feb/08
ja han er sku en god skuespiller... also about 6'ft tall, went to school with his daugher...
Robbie H
said on 12/Jan/08
he looked about 6ft in king arthur
Ellen
said on 9/Sep/07
wow first one!! Mads Mikkelsen is a great actor. I think he has got a huge potentiale - you know, he got one of the leading parts in Casino Royale, and of course, he is from Denmark! I think 182 cm is right - i once saw him in the airport. His brother (lars Mikkelsen), who also is a danish actor, is 192 cm, and standing side by side he lookes 10 cm higher than Mads. Bare fortsæt det gode arbejde Mads, for du kan virkelige det du laver!! Bare husk hvor du kommer fra!!
Mr. T
said on 18/Aug/06
Looks 5'8" now, especially in that picture.
Glenn
said on 5/Mar/06
Got him this week.5-9 tops.