Mark Smith's Height
5ft 8 ½ (174 cm)
British Actor, formerly in the UK version of Gladiators were he played RHINO. On his site he used to be listed 5ft 11, today he is at 5ft 10/200lbs although
He had nike shox that day, about 0.4 inch more than my sneakers.
The other 2 (photo by malcolm from a Collectormania event in 2007) were also in Gladiators, Scorpion and Hunter (James Crossley).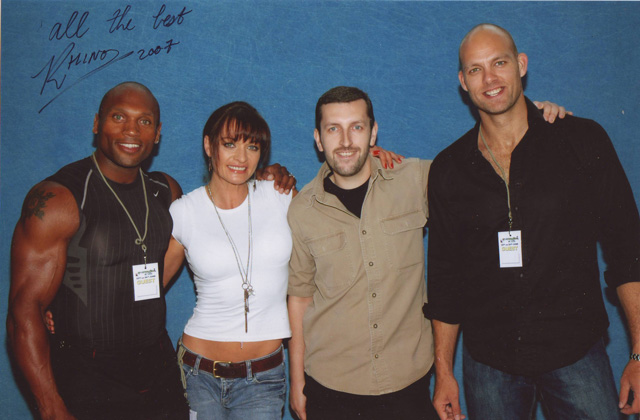 5ft 8 Rob with Rhino, Scorpion and Hunter
Add a Comment
104 comments
Average Guess (6 Votes)
5ft 8.92in (175cm)
Christian 6'5 3/8"
said on 24/May/20
Looks a bit more than 5'8.5". But I don't get why the 5'6" range girl was billed as 5'9", that's insane.
Nik
said on 17/Jun/19
@ Rob - How tall is the girl?

Editor Rob
At the most she'd have been 5ft 6.5, her old gladiator 5ft 9 listing is at least 2 inches too high.
Csimpson6ft
said on 17/Jun/18
Who's the girl Rob? wow she has a great body on her!

Editor Rob
She was called 'Scorpio' in the Gladiators 90's show, and billed as
5ft 9 142 pounds
mickey
said on 13/Mar/18
Seems accurate
lee168cm
said on 29/Jan/18
Hmmm nikki diamond who plays Scorpio and is pictured with you is listed five nine which is clearly not the case with you. Do you think she'd be about five six or seven range Rob?

Editor Rob
Yeah, she is more 5ft 6 range, never a 5ft 9er!
Rampage(-_-_-)Clover
said on 11/Nov/17
Bald guy beside Rob looks 6ft2-3
Editor Rob: that guy is James Crossley, Hunter from Gladiators.

Claims 6ft 2, I believe he had a cowboy boot on that day.
World Citizen
said on 1/Jun/17
I think he is 5 ft 8.25
Ras
said on 21/Jan/14
IMO this guy was about 265lbs peak, he was usually 240-247 when he was a gladiators, nowadays 200lbs sounds right. His height should be 5'8" IMO. Was given 172cm in the gladiators website so 5'7.75" is possible as well.
ANDREA[ITA]
said on 23/Aug/12
Rob, i found a site that gave Scorpion at 1.90 m! Maybe the 6'2 is a conversion error... Could he be 190? I mean, in this photo he looks a bit taller than 190 but he has shoe advantage. 190 flat is possible?
[Editor Rob: the sports promotion agencies are storing their value in inches and displaying the cm I'm pretty sure, I looked at 2 other guys I've met who are on that sports management site and they are displayed at their right heights.

I believe scorpion might have given them 6ft 2 as his height]
Vegas
said on 7/Feb/12
rhino is listed 172cm on the gladiators official site
Click Here
hunter is listed 190cm
Click Here
[Editor Rob: he used to have 5ft 11 on his official site before changing it to 5ft 10]
Josh B
said on 4/Jan/12
Rob, how tall would you put Scorpion and Hunter if they had their own page each?
[Editor Rob: Hunter had cowboy boots, he looked in the 6ft 3-4 range, Scorpion had a basic heeled boot I think, but I couldn't see just how big it was, but she was a bit smaller than me I felt.]
haha
said on 4/Oct/11
honestly, who are these pathetic nerds who are like 'well, he only looks 7ft 6' ... how can you tell that? and what kind of stupid statement to have is that!
Mamun
said on 1/Sep/11
He is further behind e my friend !
Regards
SUPERMUN
george555
said on 31/Aug/11
he looks only 7'6
Benji
said on 11/Dec/10
he needs to play basketball he is tallest in the world.
aram x
said on 29/Apr/09
Didn't somebody here mention that Charbib's height fluctuates considerably throughout the day? His peak height in the morning was a little over 7,9" yet in the even, at his shortest, he was only 7,6-ish" (now only 7,5 ish?). Anyways Zhang Juncai is still taller than Naseer or Charbib.
Mamun
said on 22/Apr/09
He now is a lot taller than Charib !!!!!!!!!!! Remember Charib was measured
not too long ago on Japaness T.V. and was found only 228 cm barefoot .Naseer
is 236 cm .
Regards
Mamun
aram x
said on 10/Apr/09
So I am guessing the tallest is Zhang Juncai (7,11 1/4") followed by Bao/Sun (both at 7,9"). And I don't think Macaskill is actually 7,9" (some sources say 7,4" which is much more likely because more often then not, 'giants' have their heights exaggerated).
TheTall Kid
said on 7/Apr/09
Naseer is the world's 4th tallest person. 3rd if he's taller than Charib. Anyways, my guess is that he will be the worlds tallest person because he might have grown since this picture was taken. His height is the cause of some type of Gigantism. T'm guessing Marfan's with the disproportionate long arms. He literlally does tower over everyone in Pakistan because the average height for a man there is 5 feet 4 and 4 feet 10 for a woman. The tallest people that are normarlly tall in the world are Neil Fingleton at 7 feet 7.56 and Paul Sturgess at 7 feet 7.25. Both are from the U.K. The tallest normally tall person was Angus Macaskill at 7 feet 9 also from U.K.
Anonymous
said on 16/Feb/09
i would buy 7'11 or 8ft if he straightened up, vey much like vikas uppal
aram x
said on 29/Jan/09
Lawrence...
They only measured him once and that was probably in the evening when he was at his daily lowest.
aram x
said on 4/Nov/08
whoa...losing 2-3 inches of height from spinal curvature on a daily basis? but i think that's a little extreme...if a person of normal height only typically loses about 1 inch of height from daily flaculation then i doubt a 'giant' would lose twice as much height because they are obviously nowhere near twice as tall as an average person!
Clay
said on 29/Oct/08
Well normal sized people can lose as much as an inch throughout the day, so for these tall giants losing 2.5-3 inches may happen.
Lawrence
said on 29/Oct/08
Charbib,was measured by Guinness,bear foot Ive seen the TV show were they did it,he was measured laying down standing up 4 times over the day.and to make sure they had it right they did it the next day to,the thing was he was over 7'9''in the morning but only just over 7'6''in the evening.with a vey bad curve of the spine,that is why he lost so much height over the day.so I hope this Japan show did not just measure him onece in the evening,
aram x
said on 15/Oct/08
Naseer is definitely in the high 7 foot range and between 7,8-7,9" as I mentioned before. He does look extremely thin though.
JigSaw
said on 15/Oct/08
In that vid a guy with long hair taking interview of Naseer Soomro.Any idea ppl how tall he is by juding height in video posted below.
aram x
said on 13/Sep/08
Click Here
He's a vid of Naseer Soomro standing straight, and from the looks of things he's definitely at least 7,8". More likely 7,9"...just wondering...is his height natural or because of a pituitary tumor?
aram x
said on 13/Sep/08
yeah good point, Bendy... Bao Xishun would have likely shrunken in height due to spinal curvature which is why he should be remeasured by Guinness even if he still holds the record for the tallest human being. Just to make sure that the measurements are exact.
Clay
said on 13/Sep/08
It is a sad state that a 7'6 giant like Charbib felt the need to wear lifts!
Mamun
said on 10/Sep/08
Thanks for your insight Bendy ! I was actually refering to Charbib's very
thick foot wear every time he appears in public . I have met Naseer twice
and he always seems to be wearing shoes with only 0.25 inches of soles .
I think I may be having an advantage of 0.50 to 0.75 of footwear in this
picture with Naseer . If you look at the Naseer and Charbib picture ,
you will see Charbib has thicker footwear !
Regards
Supermun
Bendy
said on 10/Sep/08
Supermun when Charbib was re-measured at 7'5.5" barefoot in 2007 his height loss was attributed to spinal curvature, he was measured by Guinness at 7'8.9" 8 years earlier (1999). He held the title of worlds tallest man until January 2005, but it is my belief that he was incorectly listed at the 7'8.9" height from 1999-2005, The 7'8.9" height was his height in 1999 but I doubt it was his height in 2000,2001 and so on, In 8 years he shrunk 8.9cm which roughly equates to a 1.1cm height loss a year, That loss wouldnt have been instant it would have been a gradual process. That brings me on to XI Shun he was listed by Guinness at 7'8.95" from 2005-2007. Now in 2008 (for the 2009 Guinness book) he has been re-listed as the worlds tallest man and is still listed at 7'8.95" but he was not re-measured by Guinness. My point is I think Guinness should make it a point to re-measure its tallest Man/Woman record holders, Even if there isnt another claimant for the title it just keeps the records more accurate.
Just my 2 cents.
Mamun
said on 4/Sep/08
My friend the year was 1999 ! Because Alam Channa had the title according
to GBR till 1998 the year of his death . Charbib may have been a lift wearer!
Because every picture I ever saw of him he had very thick soled shoes ! He
was re-measure in Japan barefoot and was found only to be 228 cm ( 7' 5" )!
Regards
Mamun
quinametzin
said on 2/Sep/08
Radhouane Charbib was the man who took the respite of the tallest living mans record in 1995 the previous tallest living was him, but there was too, Bao Xishun, he was in the world then, and what was the matter with him?, maybe in whatever side of the world is an 8 footer living there, and we know nothing about him
Mamun
said on 1/Sep/08
Now you see what I mean Clay . I also think that there is something fishy
about the way Charbib is standing or trying to stand ? And your right Clay !
Soomro may have grown since that picture because I remember his age was only
20 when that photo was taken .
Regards
Mamun
Clay
said on 31/Aug/08
Click Here
Here it is Mamun. Charbib looks taller here although we see Soomro indeed in flat shoes and he may have grown since here. He's at least 7'8/7'9 here though.
Mamun
said on 30/Aug/08
There is also another important info I would like to add . He always wore
shoes with only 0.25 heels on them and if you take a very good look at the
picture of him and the former world's tallest man Randhoune Charbib , you
will see that Charbib was wearing much thicker soled shoes . Clay if you
could post that picture here you will se my point !
Regards
Mamun
Clay
said on 29/Aug/08
If this guy told Mamun the truth when he said 7'11.5 he's the tallest guy in the world.
SuperAnonymous
said on 24/Aug/08
special: Pervez Musharaf 6 foot?? You must be joking! That is the most laughable thing I ever heard. He is not taller than 5'8". He was dwarfed by Bush who is 5'11" big time. There is no way on earth he was taller than 5'8".
special
said on 10/Aug/08
Pervez Musharraf(president of Pakistan) 6 ft 1,82 m
pk-X
said on 10/Aug/08
hi can anybody tell me the current average height of male and female in Pakistan.What is the height of Pervez Musharraf(president of Pakistan) can anybody tell me.
Clay
said on 5/Aug/08
I dont think anyone naturally finds themself 7'8-7'10. Naseer must have a form of acromology. Its amazing to see him that much taller than a 7'3'' man.
Kenny
said on 4/Aug/08
I wonder if Naseer is a natural or pituitary giant? Somebody here mentioned that Pakistani are among some of the tallest people on earth, so I am just curious if this guy could be naturally that tall?
Kenny
said on 4/Aug/08
''Even Stadnyk is taller than this guy'' ???
Stadnyk is one of the largest humans on earth and is close to 8 feet tall
One of the tallest human beings, yes. But 8,4"? I don't think so. That guy is 7,11" max, but that could still make him the tallest living man.
Buakaw
said on 2/Aug/08
the man left is 7ft 3 and naseer ahmad looks 5 inch taller than him
toppo
said on 27/Jul/08
cantstop25 says on 7/Jun/08
the boy claims to be 3'2" but is clearly only 3'1.5" becasue there is clearly a 5'9.5" difference between he and the 8'11" wadlow
LMFAO!!! So true. lol
Josephine
said on 12/Jul/08
I really feel sorry for giants like this.They have too much pain in their lives, both physical and emotional.
Mamun
said on 11/Jul/08
Thank you Arj !
Regards
Mamun
Arj
said on 11/Jul/08
Cantstop25:
I appreciated your humour, re Wadlow and his baby bother, although your joke to have been lost on our colleagues.
Mamun:
I think Naseer was exaggerating a little when he said he was 7'11.5", but for all the doubters here this guy is a genuine 7'8" - 7'9". Look at him here next to Radhouane Charbib who was measured by Guiness at 7'8.9"
Click Here
There is also a video on youtube from a Pakistani television show where Naseer is measured at 7'8.5".
I think the perspective of this photo makes Naseer seem a little shorter than he really is, but this is a very intersting image nonetheless, thanks go to Mamun :-)
Uncle Joseph
said on 5/Jul/08
Such tall men die very early.
Domo
said on 29/Jun/08
to Cantstop25: Get a life man. who cares about i little boy exageratin by half an inch, and who cares about a clear 5'9 and a 1/2" difference between them. Sad act.
Aram x
said on 27/Jun/08
well, i don't care if these contestants for the world's tallest man title are 8 feet tall because i seriously doubt any of them are going in the nba for obvious reasons. hmmh, i wonder who has the longest wingspan of any living person? or the biggest feet? maybe that 7,7-7,8" unc asheville guy kenny george?
Mamun
said on 25/Jun/08
Yes I did my friend and he said 7' 11.5" . This picture was taken only
2 months after the death of Channa and the world has not yet found the
heir to the tallest man title . I am sorry this is not a very good pic
because it was very difficult to get a 100 percent ful body shot of
someone so tall . Beleive me my friends this guy is very tall and I will
soon post a picture of him and another 7' 6.5 " tall man who was also
competing for the title .
regards
supermun
Clay
said on 25/Jun/08
My friend Mamun did you ask Naseer about his height?
Ras
said on 25/Jun/08
Konw this has been said to death but he doesn't look taller than Channa. Channa actually seems to have 2 good inches on Soomro, either Soomro is shorter or Channa is taller. Who knows...
Clay
said on 25/Jun/08
Oh yes the trust photoshopped measuring tape..the be all end all.
JT
said on 24/Jun/08
Sorry Mask, I really can
JT
said on 20/Jun/08
Mask, if you can post a full body shot of Uppal with a guy of known height (or of Uppal standing next to a guy who's also in pics with other tall guys), no problem. The camera angles would have to be fairly close to make the comparisons worthwhile.
Alex2, IIRC Wadlow was around 8'3" in that pic with his brothers.
John
said on 18/Jun/08
What a funny Pic!!! he has like 5 heads over Mamun :D
Alex2
said on 11/Jun/08
That little boy isnt standing straight though, and Wadlow was 8'11.25" I think at his peak, but I have no idea weather this was taken at his prime.
mask
said on 9/Jun/08
JT I'd like you to do a pleasure for me: could you please make a height comparison of Vikas Uppal with other giants of known height or any other person of known height because I am very interested in determining his height more precisely and I think he could have very well been a 8 feet and maybe a little over as he claimed before passing away last year.
Please let me know about it. I would be very grateful to you.
Anonymous
said on 9/Jun/08
cantstop25, the guy is below 4 ft tall how much difference does it make, i mean people are'nt exactly gonna think he's talll now he claims 0.5 of an inch more than he reallly is, go get a life
cantstop25
said on 7/Jun/08
James says on 5/Jun/08
I agree Alex I see 7ft7 in that pic. Mamun could be more 5ft8 1/2 though?
nahh hes a flat 5'8" dude, hes honest unlike this little boy
Click Here
the boy claims to be 3'2" but is clearly only 3'1.5" becasue there is clearly a 5'9.5" difference between he and the 8'11" wadlow
Mamun
said on 7/Jun/08
OK my friends I will answer all your questions !
Starting with JT . That gentle man in the picture is 100 percent an Editor
of both the WWF and wrestling world ilustrated magazines . I know because
I had corresponded with him in past and his ful name if I could remember was
gorgeous george Nepoletian or something ????? There was also a picture of
him and Big John Studds . Studds almost seemed to have 14 inches on him !
I didn't say he was only an employee of the WWF . He was a journalist for
wrestling magazines . Soomro didn't look taller to me than Channa but he
definately did more than Kareem .
This picture was taken in Abu Dhabi september of 1998 in United Arab Emirates.
The ceilings over there are like between 11 feet to 8 feet minimum as required
by law . So I think the ceiling here is 8 feet because the law requires it.
I didn't measure this ceiling by myself but it was no way as low as 7' 6" .
I hope I have answered all your questions in good faith .
Regards
Mamun
Lawrence
said on 7/Jun/08
It's hard to tell cos he is slim'but if the celing is 8feet then he is about 7'9''but he don't seem to be 2' taller than Mamun,
Christoph
said on 7/Jun/08
JT, Mamun
The side by side photos do not work for me as comparison, notice the difference in footwear, and particularly what that does to their respective knee heights. Also Giant Gonzalez photo appears to be taken at a closer distance than the Naseer photo, which would give Gonzalez an advantage in perspective. Also, I would think it would be most accurate to line up the photos at the heel, which would add to Nasser's height in the side by side comparison. One thing to note from the picture, is that Naseer seems to be very close to the ceiling (in US ~ 8', Pakistan - ???) and slouching slightly, so it would be helpful if Mamun could provide information about the ceiling height if it is known or measurable.
JT
said on 7/Jun/08
Mamun, when I found that pic with Gonzalez, it said that was Crystal with him. Since the image quality is not great, it may not be him (but it
Mamun
said on 7/Jun/08
Brother Jt , The man in the picture with Giant Gonzalez is not Billy Crystal!
His name is I beleive Gorgeous George ( a very well know editor of the WWF )
and I don't think his height was more than 5' 5" . Please look at the picture
very carefully and you will see what I mean !
Regards
Mamun
Alex2
said on 7/Jun/08
8ft is rediculous, 7'7 MAX! And most Pakistani people are short! But with the exeption of a few who are giant.
Mamun
said on 7/Jun/08
Two points here my friends ;
First Naseer can't stand fully stright because the roof is touching his
head . Second , he is behind me my friends . The comparison with Kareem
and Sid isn't a fair one because they are both standing side by side to
me . And he was also measured by Guiness at this height . I am sorry I
couldn't get a 100 percent accurate picture with this guy like I did with
all the others . You see he was soo tall that , to get his full body shot
you really really have to move very far back and then you can't really
look back and tell if this 8 footer is standing stright , or side by side
to you . Beleive me it's not aS EASY AS IT SEEMS !
regards
Supermun
Clay
said on 7/Jun/08
''Even Stadnyk is taller than this guy'' ???
Stadnyk is one of the largest humans on earth and is close to 8 feet tall.
JT
said on 7/Jun/08
Click Here
The camera angles aren
Blue Man
said on 7/Jun/08
He looks around 7'6'' or 7'7''
Anonymous
said on 6/Jun/08
by the way mamun is standing perfectly straight while soomro is relaxed, straightened out fully soomro looks like he could be 8ft. a true giant
Anonymous
said on 6/Jun/08
alex2 what the hell are you talking about?? soomro is legit 7'9 although he has claimed 7'8 for some reason, but was measured 7'9 in a pakistani hospital. pakistanis are the tallest people in the world, specifically those on the border of india, it's historically known.
CoolJ
said on 6/Jun/08
Realize the angle of the picture.. the tall dude isnt even standing up 100% straight. I can definitely imagine 2 rulers on top of Mamun's head and still not being as tall as Naseer.
JJ
said on 6/Jun/08
Rob, look at Mamun with Kareem Abdul Jabbar who is a legit 7'2", then look at Mamun with this guy and tell me if you see a 7 inch difference in height between these two big men. The answer to me is a most definate NO! This guy has 3inch max on Kareem. 7'5" is generous, 7' 4" more likely also considering Mamun is probably just under 5' 8"!
Salva11
said on 6/Jun/08
i think Soomro is 7'4 max.
Salva11
said on 6/Jun/08
i think he is shorter tha Gheorghe Muresan ( a true 7'7) an Soomro is very slim and he got very short arms for his height. Near Mamun Alam Channa who was 7'8 lokks taller and Channa was barefoot.
Alex2
said on 6/Jun/08
No way is he 7'9, Rob seriously just look at JT's pics, (nice work JT) If hes 7'9 then Sid is 6'11 with ease and Shaq is 7'6, seriously he aint 7'9.
Danimal
said on 6/Jun/08
Looks to be as tall as Manute Boll or thereabouts.
Vegas
said on 6/Jun/08
JT; i was thinking he looked 7ft 6ish by eyeing him, he looks shorter than channa even with channa barefoot
Click Here
Lego
said on 6/Jun/08
well i certainly thank god i'm not 7'9 or thereabout, while it's a miracle to behold it isnt practical at all being this tall.
i'm 5'10.5
Winner
said on 6/Jun/08
lets say 2.5 heads taller [checked in paint :p]. still looks about 235~~ definatelly taller than yao ming or bradley
CoolJ
said on 5/Jun/08
Looks 7'9 to me.
Alex
said on 5/Jun/08
That looks over 2 feet difference.
Vegas, yea its nowhere near 3 feet but you can get an impression of a 3 foot difference by looking at the picture.
Atoadaso
said on 5/Jun/08
Mamun has the tilted photo advantage and is standing much straighter. The difference would be greater otherwise.
footballed28
said on 5/Jun/08
is it just me who can see that Mamun is not with the real person but a background picture? and honestly, I dont see the dude 7'9 either...more 7'5 (Yao's height)
Anon2008
said on 5/Jun/08
Naseer is a well known lift wearer, he's really only 7'6"
Crush
said on 5/Jun/08
Jasper says on 5/Jun/08
How tall is the small dude next to him?
The "small dude" seems to be the same height difference to mamun than mamun to Naseer or even a tad less.
Mamun seems to reach Naseers breast and the small guy seems to reach mamuns upper stomache, so i'd say the small guy is about 3'5 or so.
And i don't see much more than 2 feet difference between Mamun and Naseer here so the listed 7'9 seems to be correct.
Vegas
said on 5/Jun/08
LOL at some people here seeing a 3ft gap, in reality the gap nowhere close to 3ft, he is just over 2 mamum heads taller than mamun in that photo
Catsman
said on 5/Jun/08
Someone who is 6'4 would be eight inches taller than Mamun and would come just above this guys shoulder,so he's probably no taller than 7'9. Just think Robert Wadlow would have been a head taller still.
Anonymous
said on 5/Jun/08
looks only 7ft3
Davey
said on 5/Jun/08
Looks 5`9 to me.Lifts? lol
runt
said on 5/Jun/08
Jasper says on 5/Jun/08
How tall is the small dude next to him?
The small dude next to him is 5-8 can't you read? (just kidding :D)
Alex2
said on 5/Jun/08
Humm, you really seeover 2 foot there against Mamun? Id say 7'7 just look at Mamun with Nash and you'll see what I mean, if hes 7'9 Nash is 6'10" with ease.
Jasper
said on 5/Jun/08
How tall is the small dude next to him?
Alex
said on 5/Jun/08
Pretty tall is a big understatement. He's the definition of FREAKY tall.
Anshelm
said on 5/Jun/08
The only article I've seen about him being measured had him at 7'8" (234 cm)
Winner
said on 5/Jun/08
@Lego
i though the tallest one is Leonid Stadnyk from Ukraine who stands 8ft 5,5in
Anonymous
said on 5/Jun/08
The gap between Mamun and Naseer is more than 2.5 feet more like 3ft. he is not less than 8ft. i say he is 8'0 minimum
Lego
said on 5/Jun/08
i'm not sure how they can call the other guy who is like 7'3 tallest man on earth when this one is almost 8'0 feets tall, he looks no less than 8'0 in the image so he must be 7'9 or thereabout.
King
said on 5/Jun/08
Whoa! He's a huge!