Mat Fraser's Height
5ft 11 ½ (181.6 cm)
English actor, known for appearing on American Horror Story and Loudermilk.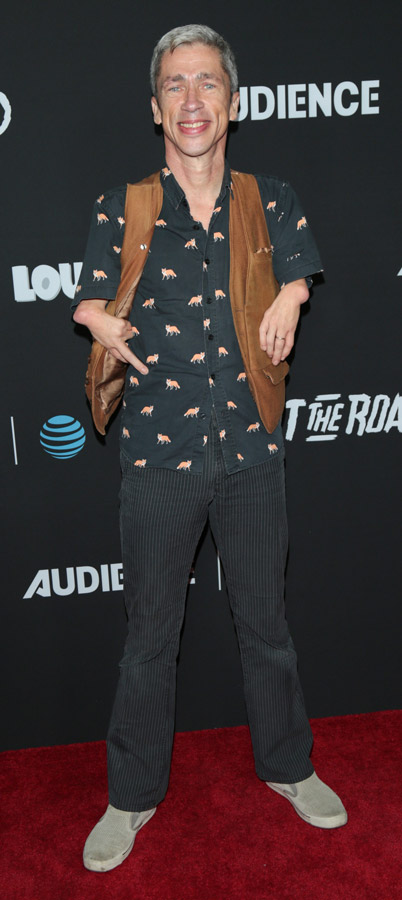 Photos by PR Photos
Add a Comment
11 comments
Average Guess (7 Votes)
5ft 11.54in (181.7cm)
Miss Sandy Cowell
said on 8/Mar/20
What a STAR! He's a musician too! XXXX
Miss Sandy Cowell
said on 6/Mar/20
I just found out that Mat Fraser turned 58 on January the 28th. As with Amazon Eve, I specially had to look for it, but now we know his Birthday! 😉
5ft11.5
Miss Sandy Cowell
said on 27/Jun/19
This brave boy just volunteered to be tied to angry Elsa's wheel and have knives thrown at him, no doubt to avoid anyone else going through the ordeal. What a hero!
No less than 5ft11.5.
Miss Sandy Cowell
said on 24/Jun/19
When I just heard his English accent, I had the idea of watching 'Sweeney Todd', which displays English London accents at their very best potency!
However, this being 'American Horror Story', my copy of 'Sweeney Todd' will have to take a back seat! This is just TOO GOOD!
I can agree with the brilliant Mat being 5ft11.5.
Watch this guys and girls. This is fantastic! 😁👍
Miss Sandy Cowell
said on 15/Jun/19
@ Rob - So it was in the LATE Fifties? Thanks for that. That makes all the more sense that I should still have seen them as children. There were quite a few round my area, so there might have been a home for them nearby. They were always being supervised, and you'd see lots of them together.
@ Connor - It's good to talk about things like this in a matter-of-fact way, as I'm sure you'll agree. Today's youngsters, like you and the many who flock to this site worried about their height, should be educated about this and the various 'deformities' that have affected people over the years, for the most surprising of reasons. This, the drug thalidomide, trumped them all.
Anyway, Connor, it's nice to see you writing on Celebheights and I wish you a very enjoyable weekend!
Cheers, Sandy xxx 😁👍
Csimpson6ft
said on 14/Jun/19
I've never heard of thalidomide Rob, so thats why his arms are so short bless him.

Editor Rob
In late 50's the drug caused thousands of babies to be born with deformities.
Click Here
.
Miss Sandy Cowell
said on 14/Jun/19
@ Junior Hernandez - Yes, there were unfortunate victims of thalidomide whose legs and arms were affected. I used to see them being pushed around in wheelchairs when I was a child. I asked my Mum about them and she just said "They're thalidomide children."
It wasn't until much later that I found out that their condition was the result of a PRESCRIPTION drug, giving rise to many innocent victims.
Junior Hernandez 1990
said on 13/Jun/19
Some people were born thalidomide have both arms and legs affect. I guess he could still consider lucky to have normal long legs and standing tall over 5'11 1/2.
Miss Sandy Cowell
said on 13/Jun/19
It is sad to hear that Mat suffered the effects of the dreadful thalidomide drug, which was prescribed to some pregnant women, I believe, in the 50's, and possibly earlier.
It is today used to treat certain cancers and leprosy.
Isn't it all the more commendable that Mat still became an actor, despite this 'handicap'? I suspected this to be the case when I saw him pictured without the tattoos he sports in AHS 'Freak Show'. What a guy! 😉👍🏆
Csimpson6ft
said on 12/Jun/19
He's got some very short arms Rob, Id say 5'11.5 is fair for him.

Editor Rob
Yeah, disability due to thalidomide. It may effect how his height is perceived, but he is definitely taller than average.
Miss Sandy Cowell
said on 10/Jun/19
Oh thank you Rob! Thank you! I love this handsome fellow, who plays Paul in AHS 'Freak Show', Season Four.
And at 5ft11.5, he is TALL. When I saw that the girl who played his girlfriend is 5ft7, I kind of figured that!
What a wonderful addition to welcome Mat Fraser along! HOORAY! 😁💐🎉

Editor Rob
He did look taller than someone evan peters on AHS.