Mathew St. Patrick's Height
5ft 11 ¼ (181 cm)
American Actor from Six Feet Under and Heist.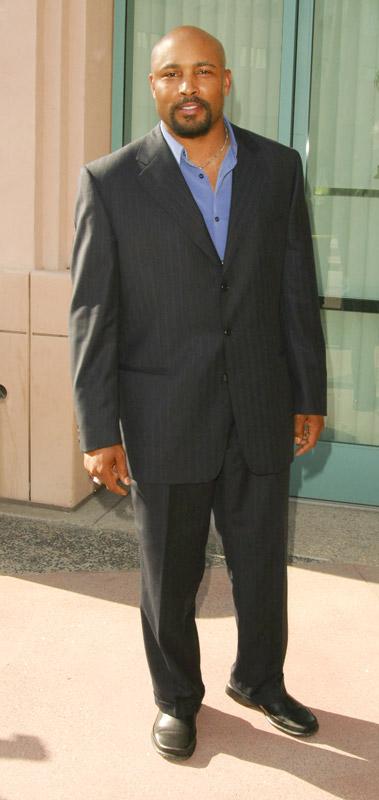 Photos by PR Photos
Add a Comment
12 comments
Average Guess (4 Votes)
5ft 11.25in (181cm)
Some Guy
said on 4/Aug/17
Rob, is a downgrade possible for him? Been watching Six Feet Under and he doesn't look taller than Michael C. Hall.
Chuck
said on 26/Jan/12
Worked with Pat Matthews (His real name) at Coca-Cola for a few years, he was a route driver, gave him plenty of rides home when his beater car wouldn't start. He's a good guy and I wish him all the success he can garner, he deserves it. Height is right on -
JD
said on 16/Jun/09
He's just not that much taller than Michael C. Hall. There's enough evidence to suggest that Michael C. Hall is 5'10ish, and there's no way Mathew St. Patrick is 1.25 iches taller than him. He's a big dude, but I don't think he's quite 5'11.
Lola
said on 18/May/08
You guys are funny on this site. Since I'm into all things Mathew St. Patrick, I have a feeling he's at least an half inch taller than Michael C. Hall, but appears larger because Mathew's chest looks like it belongs on a boxer or a defensive lineman in the NFL. The thing is, when Mathew is standing next to someone at lease 6'1" or taller, he doesn't seemed dwarfed by the taller man. He almost seems to be around the same height. Go figure...
Greg
said on 4/Feb/08
I disagree. Matthew is the same height as Hall (I'm a dedicated Six Feet Under fan). If there is a difference, it is so small not to be noticeable (1 cm ??). Thus, how can Hall be listed at 178 and Matthew be 182? Probably both are more like 179.
[Editor Rob: maybe its more I give this guy a cm or 2 too much.]
Austrian
said on 23/Sep/06
Hall is taller than him, and Hall is below 180cm
J.
said on 27/Jun/06
I meant, 'she was disappointed'in previous sentence. Also misspelled 'appearance'.
J.
said on 27/Jun/06
I agree with Mr. R. Just by watching an episode of Six Feet Under, you can see that St Patrick can appear to be shorter than co-star Michael C. Hall who is listed as 5'10.5" in some places. I also remember a female friend of mines saying that he was dissapointed that he wasn't that tall when she met him after an apperance on a talk show.
Mr. R
said on 25/Jun/06
I saw Mathew last week for the second time. This time we spoke for a few minutes, and he is about 5'10.5". Not quite 5'11".
CoolJ
said on 31/Aug/05
I take that back.. musta been a bad camera angle in the finale. He's taller than Hall. Thinking 181-182cm. Either that or Krause is slightly taller than 6'1
Nunya
said on 16/May/05
I dated him and he is at least six feet, I suspect six one.
Mr. R
said on 21/Apr/05
This is what he claims, but I see otherwise. His co-star, Michael C. Hall is listed at 5-11, and I am not sure that I see an inch between them. I saw Mathew on the Sunset Strip one night, and I would guess him to be 5-11. He has a large build, so I think he comes across taller than he seems or claims.