McKayla Maroney's Height
5ft 3 ½ (161.3 cm)
American Gymnast. In a WRTV - Indianapolis interview she said:
"I'm actually the tallest girl on the Olympic team, I'm 5'4". On like all the internet sites they have everything wrong, they have me as 5'2". I'm like 'I'm like 5'4' okay"
. On her twitter she also said she was
"almost 5'4"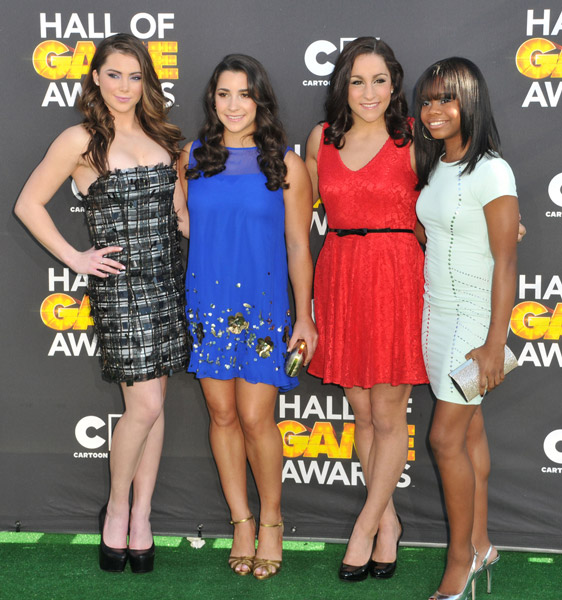 McKayla Maroney, Jordyn Wieber, Aly Raisman and Gabby Douglas
Photo by PR Photos
Add a Comment
8 comments
Average Guess (10 Votes)
5ft 3.2in (160.5cm)
CuriousPeachie
said on 29/Nov/20
Her 5'2 claim makes no sense. She's not 5'2. There is a photo of her standing next to 5'2 Jordyn Wieber and Aly Raisman, and she is at least an inch taller than both of them. I say she's a weak 5'4 like me, probably more likely 5'3 1/2, but I'm going with 5'4 because I want to boost her average.
Christian 6'5 3/8
said on 26/Oct/18
@Rob
Why do you think that so many 5'3"-5'4" women consider themselves as short, yet you rarely see 5'8"-5'9" men consider themselves as short?

Editor Rob
maybe they are taking account all women and men and have a general feeling of being short when males are included? It makes no sense because 4ft 4 is very average range in us and uk for women.
Nik
said on 24/Oct/18
@ Dad - How tall are you?
Sandy Cowell
said on 22/Oct/18
@ Dad - from October 2017:
What a fantastic name to go by!
McKayla, with the most original spelling of her name I have EVER seen, can have 5ft3.5 and some yellow flowers! 💐😀
Nik
said on 22/Jul/18
I like her way with words as in "On like all the internet sites they have everything wrong"!
At 5'3.5" McKayla is of a low average height!
Peter175
said on 20/Nov/17
Rob are these 4 short women? She's the tallest at 5'3, that's so weird
Editor Rob: a couple of them are short, the other nearer average like McKayla.

I read a lot of women who are 5ft 3 and 4 actually think they are short, it's unbelievable, it's average in many countries...
Dad
said on 8/Oct/17
She wishes she is 5'4". My daughter took a picture with her and absolutely towered over her. Now my daughter is a tall 11 year old but Mckayla was in stocking feet for some reason and was looking up from about my daughter's shoulder level because she is 5'11 and was also in flats. Mckayla was so surprised my daughter was so tall to her. I don't think she realizes how much her heels make a difference like in the picture above.
lollipop95
said on 30/Nov/14
Rob how tall do you think Aly Raisman and Jordyn Wieber are?
[Editor Rob: I'm not really familiar with them, but they don't look that much different from Mckayla does, probably within an inch of each other.]