Michael Bolton's Height
5ft 9 ½ (176.5 cm)
American Singer. He was quoted in the Daily Mail in 2013 saying:
"I'm 5ft 11ins and try to stay around 12st"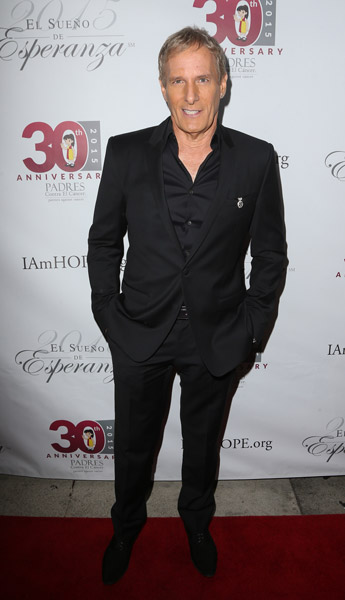 Photos by PR Photos
Add a Comment
44 comments
Average Guess (9 Votes)
5ft 9.67in (177cm)
Paul NS (6ft 0.5)
said on 10/Dec/18
It actually amazes me Kenny G's 5'2" listing stuck around on the Internet for as long as it did. Even the current 5'7" Google gives him looks too low. Look at him with Rory McIlroy:
Click Here
Click Here
berta
said on 9/Dec/18
i just saw the video Jack Sparrow with Andy samberg who is 176 cm. and andy was easy taller. Could this guy be in the barely 175 range? He really couldnt be a cm over 175 after seing that. I think he was 2 cm shorter could be close to 1 inch
Junior Hernandez 1990
said on 15/Nov/18
Kenny G should be 5'8
Click Here
Junior Hernandez 1990
said on 28/Jun/18
Rob, i think Kenny G deserved a page more than many musician here.
Joshua
said on 5/Aug/17
He looks thin and tall !!!
Sully
said on 2/Jul/17
Hi Big Rob , hope this finds you well.
Don't you want to put his current height which looks to be around 5'8.75" - 5'9" and list the 5'9.5" as his peak height?
Editor Rob: he could be due a current/peak as a half inch loss might seem likely.
Rampage(-_-_-)Clover
said on 20/Jan/17
Rob, how tall do you think Kenny G?
I've read 5ft2. Looks on the short side...
Editor Rob: he's not that much different than Bolton, certainly the idea of 5ft 2 seems impossible.
Mat
said on 5/Jun/16
Rob did you see my previous comment? I'm telling you, Samberg is taller than Bolton.
Editor Rob: yes andy is a bit taller and younger, Bolton today could look a weak 5ft 9 range.
Rampage(-_-_-)Clover
said on 3/May/16
Nearer 5ft9 flat today Rob?
Rampage(-_-_-)Clover
said on 2/May/16
I'm not surprised to see a 5ft11 claim.
Robert
said on 30/Apr/16
Nice guy. Great performer. Seen him in concert 3x, front row seats and I would say he's 5'9 and maybe 5'9 1/2 - 5'10 at his peak. He has poor posture so that doesn't help.
Kayleigh Lowe
said on 21/Nov/15
A friend of mine saw him in Sydney back in the summer and met him. She is around 5'8" and said he is only about the same height as her.
Dan
said on 15/Oct/15
He always looked 5' 9" to me.
Rampage(-_-_-)Clover
said on 4/Apr/15
Bolton at 6ft?
oh boy
Mr. R
said on 1/Mar/15
I remember when he started he was listed at 6 feet.
Rhonda
said on 17/Nov/14
On a recent episode of Two and a half men he looked 5ft10.
Editor
said on 25/Nov/13
He recently claimed to be 5ft 11
cole
said on 24/Jul/13
He is 5'9.
Dx
said on 14/May/13
Stood next to him in a restaurant in Century City once. Dude was like 5'5" with cowboy boots on.
Brad
said on 20/Aug/12
Wore big heavy metal boots when I saw his band in '79, hard to pin down but I'd say more than 5' 9.5" with ease back then. They played the same dumps Twisted Sister played in Connecticut and Westchester County N.Y..
indian factmachine
said on 18/Aug/12
he was measured for his song go the distance and was 5 ft 9 then..source pop-up videos a show on vh 1..
Bradley
said on 14/Aug/11
He was taller than Andy Samberg, so over 5´9...
Hansen
said on 10/Aug/11
i always fool by hes fame. thought he was 5ft11.
Red
said on 14/Jun/11
Agreed with the previous comment about his height being difficult to identify. Though he looks shorter than Samberg in some parts of the video, at the beginning they appear to be the same height. I would say the 5'9.5 listing is likely accurate, maybe a little shorter. He's clearly taller than 5'8" Jorma Taccone though, so any claims of that height are quashed. Given he's in his fifties he has likely lost a bit of height-was possibly close to 5'11" at peak.
Hatchet
said on 18/May/11
I find Bolton's height to be really hard to pin down. At the beginning of the Jack Sparrow short, he appears slightly shorter than Samberg, yet through the rest of the video that height difference is larger. Then I came across this photo.
Click Here
The woman he's next to, Delta Goodrem, is listed at 5'10" on CelebHeights. We cannot see her feet, but I find it hard to believe she isn't wearing heels. Does this confuse anyone else?
Quan
said on 8/May/11
In the video he just did with Thelonelyisland, he is visibly shorter than Samberg who is listed around 5'9.5/10. Granted you don't really see them standing still right next to each other, you can tell he is shorter.
Click Here
[Editor Rob: in that brief clip he did look like he was shorter than andy.]
glenn
said on 5/May/09
bolton is 5-10.possibly more morning.i see him alot.
Charlie
said on 4/May/09
Nicolette is 5' 7.5. Bolton is a 5' 9" guy.
glenn
said on 22/Dec/07
i got him again a month ago.he had converse.at least 5-10.if not a hair more.
Amy
said on 21/Dec/07
I believe he's at least 5'10. He's dating Nicolette again, and she's 5,9, and he's taller than her. I think there's some jealously on this board. His voice is beautiful. I don't think Ashley Judd or Nicolette Sheridan have a problem with it. They're both very beautiful and famous.
Anonymous
said on 9/Nov/07
I just saw him on Ellen (5'7), barely 1 inch taller than her and she was in flats! I'm sure about this, he absolutely can't be 5'10! I very strongly believe that he's exactly 5'8".
glenn
said on 18/Sep/07
how can he look 5-11,6ft in dress shoes? no smaller than 5-10.i saw him recently.and years ago in sneakers.
Paul
said on 17/Sep/07
5'8 MAX. I saw him at Lola in cleveland, he looked like a jockey.
stefan
said on 10/Aug/07
He was in one episode of "The Nanny". He's barely shorter than 6'0 Charles Shaughnessy. Michael is 5'11 (180 cm), definitely!
Cat Stevens
said on 5/May/07
No way he's more than 5'8, NO WAY!see his pics for God's sake
me
said on 23/Apr/07
He is on Oprah today... and is nearly the same exact height as oprah. I didn't get a look at oprahs heels but if she is 5'6 and lets say wearing 3 inch heels than he couldn't be more than 5'9
Glenn
said on 13/Sep/06
5-10 minimum.
John
said on 12/Sep/06
Gelnn, your way off on Bolton, there is no way in the world he is 5'11. I'd say 5'6-5'7 Look at this pic. I mean come on if he is 5'11 then Mathew Perry and Kelsey Grammer are 6'3 ..
Click Here
Click Here
[Editor Rob: Did you mean this pic..., but Guestavo Kuerten is listed 6ft 3 on his official site

actually that old pic was one that gave credence to the notion of 5ft 10 perry]
Brad
said on 15/Aug/06
5' 9" in Blackjack in Norwalk Connecticut 1979. Looked like a rabbi.
Nelson Heights
said on 3/Apr/06
I met Michael Bolton in a hotel in london about 10 years ago.I would be suprsied if he is over 5'7.I was shocked as I always thought he was a really tall guy!.
TheMan
said on 19/Jan/06
Yeah got to agree with you guys deffently over 5,9 i think.
Brett
said on 18/Jan/06
Interesting, both me and Glenn say he is more then the listed height, 5'9" is too stingy , thats for sure
[Editor Rob: hey, you both agree! Actually I can see a raise here looking at more pics...I think the tennis pic, there was another one where he didn't look quite this short...but I don't trust this guy's feetwear]
Brett
said on 16/Jan/06
I saw Michael Bolton in the Kahala Mandarin Oriental hotel in Oahu, around xmas time, and I would say that he is actually closer to 5'10" then 5'9", probably 177cm tall, it was quite amazing that people just left him alone and didnt bother him at all