Michael Kingma's Height
6ft 9 ½ (207 cm)
Aussie Basketballer, was a Wookie in Revenge of the Sith. Said '6ft 10', originally listed 207cm (6ft 9.5) by first team, then 208cm and current belgium team as 210cm.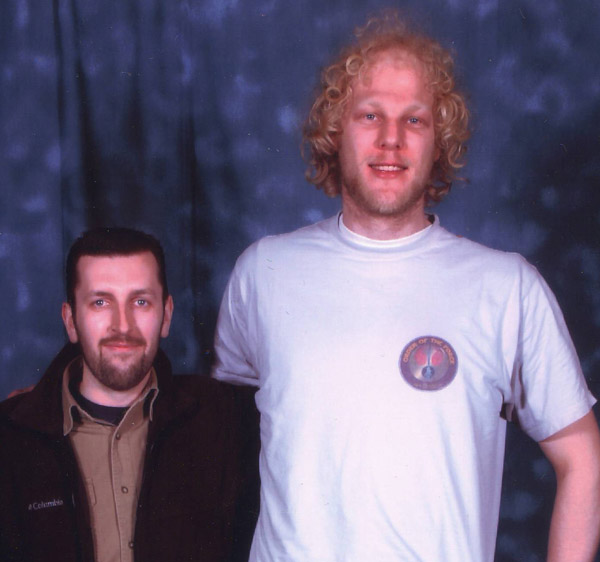 5ft 8 Rob and Michael @ MCM Comic Con Birmingham 2006
You May Be Interested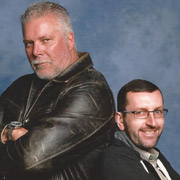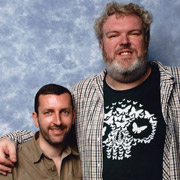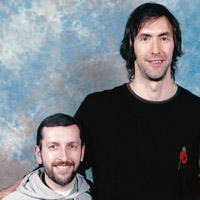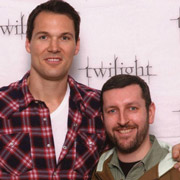 Add a Comment
78 comments
Average Guess (38 Votes)
6ft 8.82in (205.3cm)
Kan
said on 15/Jul/20
Who looks taller in your opinion him or Kevin Nash ?
By the pic seems about the same distance between your top head and the tip chin, but in the photo kingman seems to have a bigger head in comparison to Kevin, but I don't know

Editor Rob
Been over 10 years since I seen Kingma, but I'd have given him a taller impression up close....with quite big head size.
Jason Jeffers
said on 28/Mar/20
@Miss Sandy Cowell, us guys are good judges but there's some pretty good female judges as well haha. Just as a matter of interest how tall are you?
Canson
said on 26/Mar/20
@Junior: 6'9" would fit him next to Rob
Chris Junior Hernandez 1990
said on 24/Mar/20
He need a downgrade to 6'8 3/4 or 6'9. Look nothing near 207cm with perfect posture next to 5'8 1/8 Rob. I did think 205cm was the max he struggle to measure it and 6'8 1/2 be nice. I have seen real 6'9 1/2 guy standing next to 5'8 1/2 guy easily looking more than this difference above,
Nik Ashton
said on 15/Nov/19
@ Sandy Cowell - This is what mega mega mega tall and good looking looks like photographed with average and better looking!
Miss Sandy Cowell
said on 14/Nov/19
**** me! He's a tall 'un!
6ft9.5. 😉👍
Nik
said on 1/Nov/19
This is what exceptionally tall and average look like!
Nik Ashton
said on 11/Aug/19
6'9" is possible!
Miss Sandy Cowell
said on 7/Aug/19
@ Christian - I'm not by any means disagreeing with you! I think 'boys' are much better at judging height differences than 'girls', and besides, the average vote goes in your favour.
I swear that I came well below the-guy- I-went-out-with's shoulders who was 13.5" taller than me. He used to delight in putting things out of my reach just by holding them up! 😝
6ft8.75 for Michael Kingma.
Christian 6'5 3/8"
said on 6/Aug/19
@Sandy
Come on, this isn't what a 13.5" difference should look like. More like 12.5"
Andrea
said on 4/Aug/19
Would you confidently rule out under 6'9, Rob? Just going by the picture, he looks closer to 6'8.5 than 6'9.5, but then again, he certainly wouldn't be the first celebrity to appear an inch shorter than they really are, with you...

Editor Rob
6ft 9 is possible, but this encounter is now quite a long time ago.
Tunman
said on 30/Jul/19
Rob seems at least 1cm maybe even 2cm over his shoulder level.Does it represent 34cm difference?hmmm,I would have thought less,even considering his head is like 27cm.A chance for 205-6 perhaps?
Canson
said on 20/Jun/19
He doesn't look that with you, Rob. 6'9" is more fair
cmillzz
said on 8/Jun/19
This listing is too high, he's 6'8.5 range.
Miss Sandy Cowell
said on 30/May/19
So that's what 13-and-a-half inches looks like! I know the feeling, Rob! I went out with someone with that height difference!
Michael gets a mammoth 6ft9.5. 🐘
Christian 6'5 3/8
said on 23/Feb/19
@Rob
Then how about a 6'9" listing? That would be a good start, plus it's closer to the average guess of 6'8.8"

Editor Rob
I do think it is hard to pick Kingma or Nash apart, though I'd say both looked taller than Hafthor.
Christian 6'5 3/8
said on 21/Feb/19
@Rob
Sorry but I don't buy that. His posture's as good as your's, if not even better yet he still doesn't look over 6'8.5". 6'9.5" is way too high.

Editor Rob
As I've said, the further away in height, the greater increase in error. This was 13 years ago now, so it's not impossible to have over-estimated.
Jordan87
said on 19/Feb/19
He doesn't even make 6'9 by the photo with Rob. He is more 6'8-1/4.
Rob why the 6'9.5"?

Editor Rob
I think if he stretches up for a measurement he has a good chance of 6ft 9 range, taller than 6ft8-8.5
Charlie
said on 23/Jan/19
Its pretty obv in the photo he is over 6'8, his hair isnt like high fade, therefore of less importance.
Christian 6'5 3/8"
said on 15/Jan/19
He and a current Kevin Nash could be the exact same height. Both 6'8.5"
burnitdownhomies
said on 14/Jan/19
His hair is just touching the 6'10 mark. He looks more like 6'8.
Shashank-6'3 3/8
said on 13/Jan/19
@ Rob
Will i come till his eyelevel if i m 6'3 3/8

Editor Rob
I'd expect in a photo you might be close to his eyes.
Peter 179cm
said on 28/Dec/18
No more than 204cm,just a solid 6'8.
Anonymous921
said on 19/Dec/18
Rob, did he drop the height in this photo? Or is it with good posture?

Editor Rob
I think a reasonable enough stance.
Jdubbz
said on 12/Nov/18
@Christian I'd say 204-205, 6'8.5.
Christian 6'5 3/8"
said on 11/Nov/18
Looks 204cm at most
Nik
said on 28/Sep/18
The average vote of 6'8.83" could be liable!
Duffer 5ft 11
said on 22/Sep/18
Geez this dude's tall...... 6'8" barefoot, perhaps in the 205-206 cm range in the AM. I'd imagine there would not be too much between him and Brad Garrett. Exactly 1 foot taller than you Rob:)
Csimpson6ft
said on 13/Jun/18
This listing is off Rob, i see more 6ft 8 for this guy he looks no where near 6ft 9-9.5 with you, its his hair that reaches the 6ft 9 mark, no more than 6ft 8 for him but maybe 6ft 8.25 at the most.
;)
said on 27/May/18
I think perfect hight for men is 6'1.5 and for women 5'7.5
even
said on 23/Mar/18
a weak 6 foot 9
Bobby
said on 11/Feb/18
He's 6'8 by the height scale, not 6'9.5.
Height Sky
said on 7/Oct/17
His three listed makes me think after of see the photo he is a weak 6'9 or maybe... 6'9 flat but nothing more, over that maybe is clearly impossible.
Anonymous
said on 30/Sep/17
a weak 6 foot 9
Ziggie
said on 26/Aug/17
"Editor Rob: if you believe in reincarnation, there is always hope..."
nice one! this guys above no more than 6'7" according to your picture
EZH
said on 17/Aug/17
@JamesB Where's your source stating that the human body is supposed to be between 5-6 feet? Basketball players seem to be doing just fine as humans being over 6 feet.
I guarentee you most men would rather be 6'2 than 5'2.
Sandy Cowell
said on 11/Aug/17
Michael Kingma at 6ft9.5 is as King-sized as you're ever going to get! It comes as no surprise that this Michael, the tallest one on the site, turns out to be a basketball player!
even
said on 26/Jul/17
rob = strong 5'8" , him = weak 6'9"
even
said on 8/Jul/17
6 foot 9 at most
World Citizen
said on 31/May/17
Hey Rob if he is really 207 cm, why shows it as 203 cm on the height chart?
Christian-196.2cm (6ft5.25)
said on 14/Apr/17
James B said on 16/Mar/17
Anyone with a lot of common sense would not want to be 6'9.5.
The human body is mean to be between 5ft-6ft tall not between 6ft-7ft
------
You're right. I've once read an article that said the most aesthetic height for men is 5'11", and 5'6" for women.
James B
said on 16/Mar/17
Anyone with a lot of common sense would not want to be 6'9.5.
The human body is mean to be between 5ft-6ft tall not between 6ft-7ft
mrtguy
said on 3/Mar/17
Here is Kingma next to 4'6'' woman, wow Rob Kingma surely looks 7 feet in the pic easily, but most of all his head is MASSIVE.
Rob, what is your opinion of meeting Kingma in person??
Click Here
Editor Rob: compared to a shorter women who might have an 8.5 inch head at most, it certainly will look a good 2-2.5 inches bigger...plus since it's wider, that adds to his size.
melingui mvogo boris
said on 2/Mar/17
i want to be a tall man i want a high of 2.10cm long what can i do to like that
Editor Rob: if you believe in reincarnation, there is always hope...
Slon
said on 16/Sep/16
Rob, was it like meeting Andre and Big Show with Kingma??
Editor Rob: I think both peak would be taller than Kingma, although he still looked a formidably tall guy up close.
mrtguy
said on 23/May/16
Rob, it's pretty obvious this supposed 6'9'' girl can give a taller impression of Nairn and Kingma, simply because of her small head, high shoulders and relatively long arms
Click Here
Click Here
Editor Rob: yeah the smaller the head in relation to the body, the greater the illusion of height that can be given.
Guyster
said on 2/Mar/16
The way I see it is Kingma 206cm, Nash 205cm, and Nairn 204cm. This is current, IMO.
Guyster
said on 2/Mar/16
On the pic with rob, I would say 6"9 flat nothing more, he would fractionally edge out Nash in a stare down, if both stood tall, Kristian Nairn was there he would measure shorter than Kingma and Nash.
mrtguy
said on 22/Dec/15
Rob, do you think Kingma and that guy who claims 7'1'' (in fact not that tall) are similar in height?
Editor Rob: he'd be nearer kingma than 7ft 1!
mrtguy
said on 18/Dec/15
The guy is in fact in the 6'9'' range. That 7'1'' claim seems ludicrous and his cousin who says he's 5'8'' isn't, perhaps his cousin might be weak 5'7'' tops counting his sun glasses. Clearly that comparison of Rob, next to Nairn proves that Rob was clearly losing few cm.
Click Here
S.J.H
said on 22/Nov/15
205cm on the cash. Just look at his shoulder tip to rob head. Very first listing started at 6'10. Most basketball player had their listing with shoes. 6'8.75 is how he look with rob. Not even 6'9. A real 6'9 guy please refer to dwight howard or kevin durant
mrtguy
said on 6/Nov/15
Rob, who looked Bigger to you in person Kingma or Nairn?
Editor Rob: recently Nairn looked shorter, but the first time I seen him standing tall I actually would say it could be hard to tell. definitely Kingma I think had better walking posture than kristian has.
Luke 5'8.25 19 years
said on 22/Sep/15
Rob, Kevin Nash (peak) or this guy?
[Editor Rob: hard to tell, they may well measure within a fraction.]
pablo77bar(184cm)
said on 19/Sep/15
To be fair,measure by the foot to the bottom of the chin he did not look much more than 6"6.But his head is giant,like froam a 8ft guy
joe 193cm night
said on 29/Apr/15
Rob, 210cm out of bed possible, you said you guys this time lose more height
[Editor Rob: more chance of guys this height losing over 3cm, maybe 4cm compared to a 5ft 8-9 guy losing 3cm.]
Tommo
said on 8/Nov/14
Taller than Kevin Nash in person Rob?
[Editor Rob: I believe that guy would beat Nash in a staredown...]
ice
said on 24/Aug/13
met a guy who was exactly his height . huge mofo
jimmy
said on 27/Mar/13
2.10cm must have been his measured height in basketball sneakers.So 2.07 is bang-on.
Arch Stanton
said on 17/Mar/13
@Sgozz. Look at Triple's photo comparison, more chance of 6'10" than 6'8" or 6'9", he actually looks nearer Whyte's height than Cudmore in the photo comparison, although Rob said the difference was great in person.
Tall Joey
said on 10/Nov/12
I didn't expect to see anyone here on this site that was my height although this guy does have a much bigger head than I do and has a much lower shoulder level.
Lo sgozzatore
said on 19/Oct/12
Rob, you think he can't be just a good 6'8? I mean, you reach his shoulder and that's usually a foot difference. Maybe that's because he has a longer head than a "normal" person?
[Editor Rob: yeah his head is bigger than most men, so if it's 11 inches he might still be near 6ft 9. ]
Shaun
said on 2/Nov/11
Yeah Ian Whyte looks insanely huge. Kingma looks facially and height wise like a lot of Dutch/German sportspeople, there are a lot of volleyball players, basketball players, handball players etc who look like he does approaching 7'0 with the blue eyes and curly blonde hair.
Shaun
said on 31/Oct/11
What was it like meeting him Rob? Did you get a "I'm talking to a giant" impression? Would everybody stare at him do you think if he walked down the street?
[Editor Rob: I think Ian Whyte stands out as much more gigantic in person than Michael did, even though maybe 4 inches difference. But yes anybody over 6ft 8 begins to look giant from my eyes.]
Triplescrew
said on 16/Oct/11
By Request:
Daniel Cudmore (6'7") vs Michael Kingma (6'9.5") vs Ian Whyte (7'1")
Click Here
Jake T.
said on 5/Oct/11
I see a 6'9 man there in the picture, looks a little bit more than a foot difference.
LAN Jiao
said on 19/Sep/11
michael kingma head look to be 26.5cm range, rob head 24,5-25cm. kingma chin below had 4-4.5cm on rob. make it 26.5 plus 4.5 , so 31cm taller than rob. barefoot 6ft8.5 probably real height if no advantage shoe w rob.
anon
said on 21/Aug/11
"Looks 6ft 7in in your photo."
You think there is less than a foot between them? Really?
J.J.
said on 24/Jun/09
'Rob' In this picture I see about 6'7.5" If he stood straight might be 6'8.5" nothing more
Jasper
said on 23/Jul/08
Surely 6ft 9.5, but I guess more like 6ft 10.5
Derek
said on 1/Mar/08
This guy looks a lot like Chris Kaman of the Clippers. Even with Kingma's slouching, Rob is up to at best, Kingma's shoulders.
OutBenchThis
said on 22/May/07
You should see Andrew Bogut..I've met him here in Australia at a B-Ball training camp. He is massive. Listed at 7'0"-7'1" and there is no doubting that height. Kingma is big, but Bogut's build aswell of 7ft frame is crazy tall! Plus Bogut can hoop it, unlike ex-Kings benchie, Kingma.
Kelly
said on 18/May/07
I met this guy at a basketball game 1 time he was a great guy and reallyu really nice!!! Not like all the other up themselves celebrities that were there, he was a real breathe of fresh air!
morgan
said on 6/May/07
i know him he play basketball for port city power in gladstone and i m good friends with him
Markus
said on 15/Dec/06
Hmm looks like he kept the "wookie-look" from Star Wars ;)
Standing next to him even I would feel like a little kid even though I'm 6'4".
I think he's got a very long head too.
Jenny
said on 27/Apr/06
ur TALL
Jason
said on 16/Apr/06
He actually looks more 6'8'' next to you, Rob. Though it looks like he isn't even standing straight so 6'9 1/2'' sounds about right.
[Editor Rob: 208cm might not be out of the question...]
Anonymous
said on 14/Apr/06
I'm just curious but Rob, as a somewhat-shortish/average height fella, do you ever feel intimidated in a much taller guy's presence?
[Editor Rob: that's the tallest guy I've stood beside, sure feel much shorter than normal...but the full size picture is actually quite amusing...there's another guy in the pic I will add in the future...

as for intimidated, probably on some occasions yes, but more an occasional thought of what it'd be like to be 6ft 4 or so...]