Miko Hughes Height
5ft 3 (160 cm)
American actor best known for roles in Mercury Rising, New Nightmare and Pet Sematary.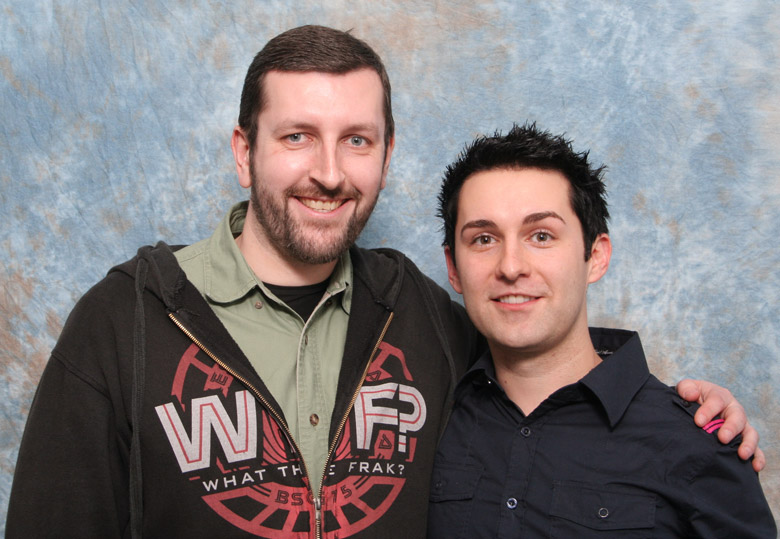 5ft 8 Rob and Miko @ Collectormania London, 2010
You May Be Interested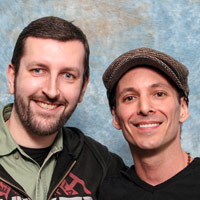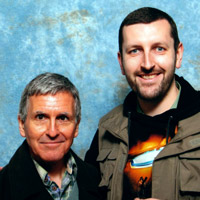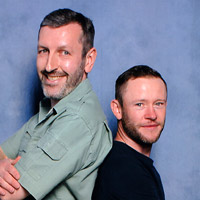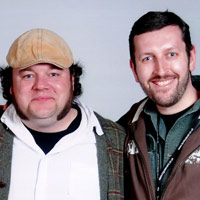 Add a Comment
19 comments
Average Guess (10 Votes)
5ft 2.93in (159.8cm)
Miss Sandy Cowell
said on 12/Oct/19
Well, fancy that? Miko, who played the little tot in 'Pet Semetary', is starring in 'Dark Places' with Charlize Theron!
5ft3.
Christian 6'5 3/8"
said on 10/Sep/19
@Bobby
Rob's eye level is more like 5'3.5" since it's more 4.5"-4.6" to the top of his head. But Rob's dropping height as you said, so in conclusion Miko's around 5'2.5", but not as low as 5'2".
Miss Sandy Cowell
said on 19/Aug/19
🐱 Correction Time! 🐱
I was going to write a Correction Time but now I realize that I don't have it necessary! 😂
Nik
said on 16/Jun/19
@ Rob - Your reply to ALEXANDRE ALVES BR on 24/Nov/17 is a smashing one and should be pinned up on billboards everywhere.
Bobby 178cm
said on 6/Feb/19
Hmm, given that Rob is a solid 5'8 and that his eye level will be on average 5'3.75, I would say that this listing is perhaps too generous. Rob looks to be seeing at least an inch over this fellow's head and he is dropping height there too by lowering his head. I would say that Miko is perhaps a more solid 5'2 than a solid 5'3 especially since Rob's nose seems to be level with his head there. I'm going to tentatively say there are 6 inches from Rob's nose to the top of his head, at least based on my nose level which is 5'4. So, this would place Rob's nose level at 5'2. So, perhaps this bloke is 5'2 after all?
Nik
said on 13/Jun/18
Slightly less than 5'3"!
Sandy Cowell
said on 13/Jun/18
Miko DID play Gage Creed in 'Pet Semetary'! I couldn't wait any longer, so I Googled him. I also found out that he played Nancy Thompson's son in a 'Nightmare on Elm Street' follow-up and he was in 'Apollo 13'!
Sandy Cowell
said on 10/Jun/18
I would simply LOVE to know what he played in 'Pet Semetary'! It must have been the baby boy, Gage, as he simply isn't old enough to have played anything else.
And I doubt he played the little girl!
Miko gets 5ft3 from me!
Ns
said on 27/Feb/18
Rob, could you see the top of his head? (or anyone of that matter who is 5'3?). At what height would you say you can't see the top of someone's head? (5'3.5? 5'4?)

Editor Rob
When they are in 5ft 3.5 range that's typically when I'm looking at the top of their hair.
This lady:
Click Here
is basically an exact 5ft 3.5 range women.
ALEXANDRE ALVES BR
said on 24/Nov/17
really too short ... how does he deal with this Rob ???
Editor Rob: by realising that time wasted worrying about it, is time better spent doing things of worth or that bring positivity.
JPDB
said on 6/Mar/15
he was a lot shorter than all the other kids in kindergarten cop, so i'm not surprised he's as short as he is now.
TJE
said on 6/Aug/14
This is what I look like with a 5'5 person. Solid 5 inches. He's 5'3 for sure.
linke
said on 14/Apr/14
@ Maximus Meridius, I bet about 75% guys are done at 16.
I was 5'9 few months prior to turning 16. Now I'm 5'10. Very rare for a guy to grow 8 inches at 16, not impossible though, just rare.
Bryan
said on 26/Mar/14
@Maximus Meridius If miko was rob's height, then Rob would be 6'1 :D
Hola
said on 10/Nov/13
The guy below me obviously thinks being tall is some kind of achievement and that being it makes him an expert on the subject. Jesus. Genetics.
5'11 barefoot
said on 1/Nov/13
I was 5'11 in 8th grade with a size 12 shoes...in 6th grade i was small like 5'3. I never grew after that and everyone though i would grow to be a freak like lebron but i smoke alot of weed and masturbated and ate a horrible diet..all i can say is eat big to get big..play big to get big...sleep big to get big....Now I'm 30 years old with a size 13 shoes...and topped out at 6 foot...ooh and i take roids now so im closer to 6'1...
Loti
said on 9/Oct/12
Not everyone grows to 6'1 Maximus Meridius.
The Exorcist
said on 9/Sep/12
Yeah, he looks about 5'3". Was he the young blond kid that played "Gage"?
Maximus Meridius
said on 31/Aug/12
Rob how come he didn't go through a major growth spurt and grow too 6ft 1in he has been 5ft 3in since he was 16 he must have stopped growing early boys who are his height at 16 usually have major growth spurt and grow too 6ft 1in im just wondering why he never had a major growth spurt.