Christopher Ryan's Height
5ft ½ in (153.7 cm)
Peak height was 5ft 1 (154.9 cm)
English actor, best known for playing Mike in 'The Young Ones', Marshall in Absolutely Fabulous and a Sontaran Warrior in Doctor Who. Officially, Christopher claimed to be
5 feet 2 inches
in the early 90's.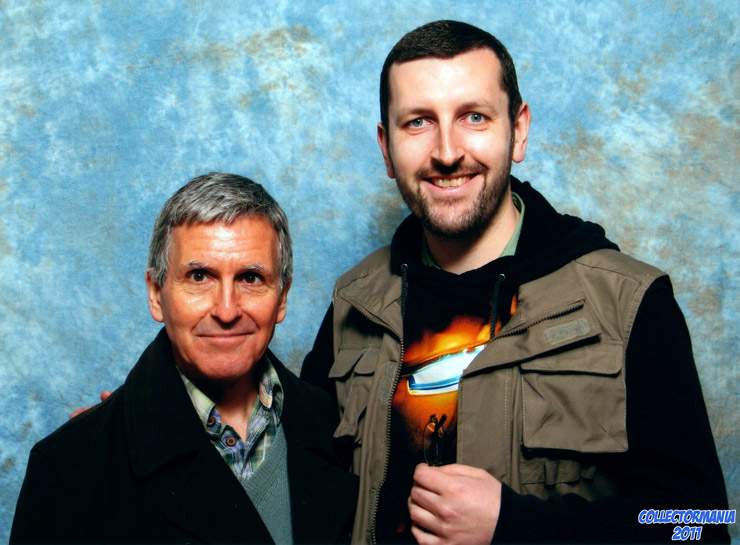 5ft 8 Rob and Christopher @ Collectormania 2011
You May Be Interested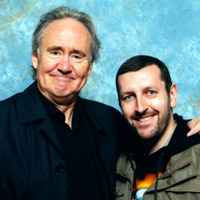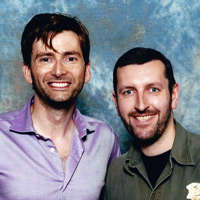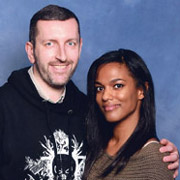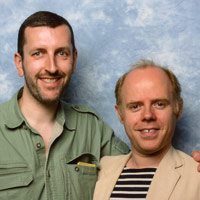 Add a Comment
72 comments
Average Guess (23 Votes)
Peak: 5ft 0.9in (154.7cm)
Current: 5ft 0.04in (152.5cm)
Andy5'91/2
said on 7/Jun/20
Isnt it great that rob looks giant here
Miss Sandy Cowell
said on 25/Jan/20
🎂 Happy 7️⃣0️⃣th Birthday Christopher! 🎂
Many happy returns to Chris Ryan, who today turns 70. I hope it's a great one....😁👍
🎂🎁🎊🎈🎂🎁🎊🎈🎂🎁🎊🎈🎂🎁🎊🎈
Nik
said on 20/Jan/20
It is very believable that he is 5'0.5" and I am delighted to give him his 70th comment!
Nik
said on 20/Jan/20
He is a great role model for short men.
Miss Sandy Cowell
said on 19/Jan/20
Hmmmm...
@ Rob - Now there's a thought. Your reply to Bobby from February 2019 made me wonder if you keep your hair short so that people find it easier to suss out the heights of the Celebs you are photographed with? Is this so, Rob? 🤔
Chris gets 5ft0.5 for today's height and 5ft1 for his peak.

Editor Rob
Yes, I always kept it reasonably short, probably a 1/4 inch shorter lengthwise than usual with Ryan.
Nik
said on 23/Sep/19
He's a cool guy!
Miss Sandy Cowell
said on 7/Apr/19
When Christopher appeared in 'Bottom' as Dave Hedgehog, Rik and Ade looked enormous!
Peak - 5ft1
Now - 5ft. He looks in pretty good nick to me!
Bobby 178cm
said on 25/Feb/19
He's 5'1 by the scale. Why is he listed 5'0.5?

Editor Rob
He does have about 1/3rd (at least) of hair, and the camera is closer to being in front of him than central. Maybe even posture...
Though remember a 5ft 1.5 girl can
look like this
beside me.
Sandy Cowell
said on 5/Feb/19
Ha ha! I have just found out that Christopher Ryan shares my Birthday, only he's 11 years older than me! 25th January, 1950.
Belated Birthday Wishes Christopher!
🎂🎂🎂🎂🎂🎂🎂🎂🎂🎂🎂🎂🎂🎂🎂🎂🎂🍻🎁
howhiami
said on 2/Feb/19
In Only Fools, he played the more menacing of the Driscoll bros alongside Roy Marsden who is about six foot four! Great inversion of the norm and a great bit of casting.
Rick1
said on 25/Dec/18
Great guy and he looks so good, especially for his age! I read somewhere his parents were greek , which makes sense as some greek/italian people are very small especially from the islands
MAD SAM
said on 2/Jul/18
Peak height perhaps 156 cm, right now he's 154 cm
even
said on 26/Dec/17
hes 5 feet tall but he looks good
movieguy
said on 6/Dec/17
Wasn't he the sort of house leader in the Young Ones. The only one Vivian never messed with. Maybe he's not that tall but has had a good career all the same.
DirectorKrennic
said on 2/Nov/17
You look like a 6 footer here Rob!
Editor Rob: Ryan typically claimed 5ft 2, but he also pushed his height a couple of times to 5ft 3...
Anonymous
said on 30/Sep/17
5 feet flat out
Finn
said on 27/May/17
152cm rough guess.
World Citizen
said on 23/May/17
He played together with Rowan Atkinson in "back to school mr.bean" I never thought he was this short, he gave a taller impression.
Mark M
said on 19/May/17
He has a great British tv comedy cv - Young Ones, Bottom, Mr Bean, Only Fools and Horses, One Foot in the Grave, AbFab, The New Statesman, and so on. He might not be a big star, but he should be proud to have appeared in so many good programmes.
John
said on 23/Mar/17
Rob, what about 4'11.75?
Editor Rob: John, he doesn't really look that short in person.
Brian browers
said on 23/Feb/17
4ft11 unless he's grown since I last saw him 6 month's ago
Sandy Cowell
said on 11/Dec/16
Oh yeah! It's the little one from 'the Young Ones' who I didn't find left much of an impression on my memories of piling home early from the pub with my mates to laugh at this programme! I liked the other three!
Having said that, I have seen Chris in 'Mr Bean' and 'Bottom' - all great comedies! He knows the people I'd love to know myself!
I couldn't help myself from laughing when I read 'peak height - 5ft1!' That's worse than me!
Editor Rob: Sandy, I never really think of Mr Ryan as a small guy...for some reason even though it was obvious if watching stuff he was in, it never clicked as much!
so
said on 4/Oct/16
I wish I was this size, then maybe I'd care less.
mrtguy
said on 7/Jul/16
Rob "The Giant" ahahaha
shl
said on 12/Apr/16
i agree tena good comment
181cm Lift Wearer
said on 15/Dec/15
Poor guy, what did he do to deserve being 154cm?
John
said on 30/Jul/15
5ft was my height at 8. I was noticeably taller than my 4ft 10 teacher and my shoesize was already a UK 6/ 38 cont, same as my father. Of coourse I was the tallest boy in my class, by about nine inches or even more. My brother too was 12 and he was at least one inch shorter.
Danimal
said on 19/May/15
He comes up to your teeth, but if you stood fully straight, he'd come up to below your mouth (which is over 8"). Imo, he's barely a flat 5'0" and most likely just under.
b-mint1994
said on 16/Mar/15
Dang Rob you're totally dwarfing this dude.
Chris
said on 18/Oct/14
He looks short but his soul is over 6ft tall
Greg (6'1'')
said on 14/Oct/14
It's interesting being around extremely short people like this because it gives you a perception of what it would feel like to be extremely tall. Rob could take the feeling of 'tallness' he experienced around this guy... in a sense, he can see what it would feel like to be 6'5''.
There's a girl I work with who's like 4'6''... so I feel like 7'4'' in a way.
diogo
said on 13/Aug/14
Rob is it possible he wss in the 5'1-5'2 range in the young ones way back in the early to mid eighties
[Editor Rob: I doubt he looked that tall. If he lost anything by age 60 I don't know.]
Emmett
said on 6/Apr/14
There are a lot of Central Americans where I live, and the average among them is 5'4 or 5'5. I see a lot of men 5'2, 5'3, and some of the shorter ones are probably this height. However, the younger generations of Central Americans that were born, or mostly raised here are average American height, or slightly shorter.
Captain Stewie
said on 16/Feb/14
Looks more like 4'11" to me... Any thoughts Rob?
[Editor Rob: nah he ain't that short]
Emmett
said on 15/Feb/14
Good looking short man!
cd
said on 30/Jan/14
5 feet to 5 ft 1 seems reasonable for him judging by the photo, so the 5 foot and half an inch listing is bang on. Never knew he was so tiny when I saw him on telly though, I always thought he was 5ft 4 or something. Just shows that good proportions and manly characteristics will give the illusion that a man is taller than he really is. And Rob, didn't you reach your adult height of 5ft 8 when you were just 14? ;)
[Editor Rob: yes at that time I stopped.]
Arch Stanton
said on 29/Jan/14
It really doesn't look right this photo, Rob really looks like a big 6'6" thug or something LOL!! He's a good looking older guy and well dressed, just a foot shorter than you'd think..
Angelaa
said on 31/Dec/13
You look 6ft7 here Rob :D
[Editor Rob: I'm still a growing lad!]
Angelaa
said on 31/Dec/13
You look 6ft7 here Rob :D
Lo sgozzatore
said on 13/Nov/13
Arch, thats gotta be only south Italy. I'm italian, i live near Milan (north Italy) and in my university it's pretty common to see 6'0-6'3 guys. I rarely see someone who is this short, actually.
Arch Stanton
said on 26/Oct/13
LOL imagine Nairn and this guy in the same photo!
Matt 184.7-186.7cm
said on 10/Oct/13
Matt 184.7-186.7cm says on 5/Oct/13
In the case of male height +-3 standard deviations would cover to the bottom 0.15% to the top 0.15%, i.e.) heights between 5ft 1.25in and 6ft 5.0in
~~~~~
I meant +3 to -3 standard deviations (99.7% of all heights) in male height is from 5ft 1.25 and 6ft 6.25*
Matt 184.7-186.7cm
said on 5/Oct/13
well in statistics I was told that a result of +3 or -3 standard deviations away from the mean is a strange or abnormal result/outlyer where +-1 standard deviation covers 68% of scores around the mean, +-2 95% of scors around the mean and +-3 covering 99.7% of scores.
In the case of male height +-3 standard deviations would cover to the bottom 0.15% to the top 0.15%, i.e.) heights between 5ft 1.25in and 6ft 5.0in
Heights outside this range occur in about 1/333 men
cd
said on 4/Oct/13
If he is in the bottom 0.03 percentile, is he still classed as "normal"? Some people I've seen on this site say that 5 5 is the first normal height for a male because it is at the 5% margin on the charts (shorter than 95% of all guys). However, some people may define 'normal' when it covers 95% of all people, others may for example use 98%. Maybe being barely a 1/2 inch over 5 ft. is just his normal?
Matt 185cm
said on 28/Sep/13
I have a male friend of this exact height. This is 3.3 standard deviations below the average, i.e.) bottom 0.03%, equally as rare as a 6foot 7 guy. Funny thing is if rob was cut out of the pic, this guys proportions make him look average hight
Scott five eleven
said on 7/Sep/13
Crazy stuff. I'm 5'11 roughly the same as Rik mayall who dwarfed him in the young ones and bottom.
Rusty
said on 22/Aug/13
LOL if chris was as tall as Rob, Rob would be about 6'4" in this photo IMO
Cameron murray
said on 27/Jul/13
I'm 5'10 i would dwarf him too and I'm only average height
Tall Jacek (Jack)__PL
said on 11/Jul/13
Standing next to him, Rob looks tall. If I were to do the same, I would come off as a giant at 6'4...
cd
said on 6/Jun/13
B says on 6/Jan/13
@c-mo
Ditto. A 5'0 man in the eyes of the majority of women is very bad but as long as he's happy to battle what society throws
---
He doesn't exactly have a choice does he?
dicksock
said on 26/Feb/13
Judging by the picture with Rob, I wouldn't be surprised is he was slightly under 5'.
Scott 5'11
said on 28/Jan/13
Haha Rob fair play you have actually dwarfed Mr. Ryan! 5'0 for him.
drk
said on 18/Jan/13
Rob, the giant.
yenz
said on 13/Jan/13
When I first saw this image, I thought Rob turned into a 6'4" guy.
Proves the power of perspective.
Ramsay
said on 11/Jan/13
Well, it is Peyman. Anything above average is also considered tall
Peyman-6ft
said on 6/Jan/13
It's interesting that some people think anything under average is short .
B
said on 6/Jan/13
@c-mo
Ditto. A 5'0 man in the eyes of the majority of women is very bad but as long as he's happy to battle what society throws
5ft10guy(Not Growing)
said on 3/Jan/13
5'8 isnt really a tower height but Rob towers this man.
FiveNine
said on 1/Jan/13
5'8 can tower not only females but proof postive 5'8 can also tower males...
Mathew
said on 31/Dec/12
Looks kind of like an older, shorter George Clooney.
Elijah
said on 30/Dec/12
Rob, you look like you have gigantism here! I don't think that any of your pictures on this site have been this close up either.
Trent
said on 29/Dec/12
Wow, he really is short. Still looks very manly though. Anyway, this listing seems right.
Anonymous
said on 9/Jun/09
David Jason is pretty short and he towers over Chris Ryan in Only Fools.
Pete
said on 2/Jun/09
I am 5 7 and a 1/4 and content with that.I figure that I can hold my own makes me that much tougher in regards to dealing with itiots and intimidating people.
Helen W
said on 6/Mar/09
I don't understand everyones fascination with height ? Talent isn't restricted to your loftiness for gods sake... If your obsessed with Height you need to seriously find something worth focusing on in life before you die of boredom.
Daii
said on 17/Oct/08
idjit90, Adrian Edmondson (Vyvyan) and Rik Mayall (Rik) are 5'10 and 5'11 actors, with Nigel Planer (Neil The Hippy) as 6'3. Just thought Id let you know their heights.
idjit90
said on 10/Sep/08
Wow, he's shorter than me! (I'm 5'3") It's hard to see exactly how much shorter he is than the other Young Ones, except when they were all lined up, as in the "Living Doll" clip on YouTube. I was guessing none of the others were much more than 6 ft tall, and Chris hardly comes up to Rik's shoulder.
Height shouldn't be a problem for a comedian -- look at Danny de Vito.
Daii
said on 16/Aug/08
Prooperoo I have to agree with you, his characters such as Dave Hedgehog in Bottom and Mike in The Young Ones wouldnt be the same if he was about 5'10. I always thought he was taller than just 5 foot, perhaps 5'3 but maybe he is just 5'0
Prooperoo
said on 24/Jul/08
Still, his height perfectly suits the characters he plays. Especially as a Sontaran in Doctor Who.
(and who put down Mike's last name as "CoolOne"? It's "TheCoolPerson"!)
daii
said on 1/Jun/08
he really is small you can see 5'11 rik mayall next to him in bottom and theres nearly a foot difference easy
Tall Guy
said on 9/Aug/06
He's really small compared to the other ones in "The Young Ones". I've always concidered him as between 5' and 5'3.
Anonymous
said on 15/Jan/06
That is short. His career never seemed to take off to the same extent as the other three. I hope it wasn't heightism.