English actor best known for playing Syrio Forel on Game of Thrones. Earlier in his career, Miltos had his height listed as
5 feet 4 inches
tall and on twitter said
"I am 5'4 thank you very much"
.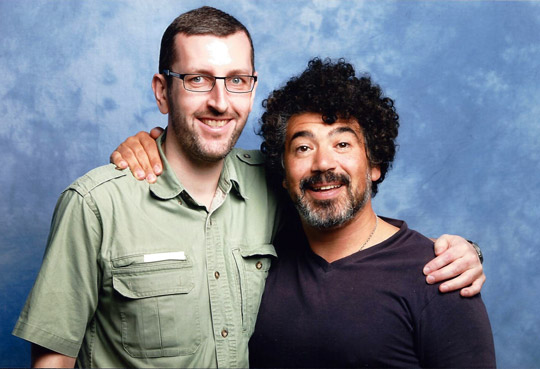 5ft 8 Rob and Miltos @ Collectormania Glasgow 2013
Sakz
said on 4/Jul/20
@Olympian He's not born in Greece though he's born in England therefore he's British/English.
Olympian
said on 1/Jul/20
Pretty sure this guy is Greek. Why not mention he's a Greek-born British actor?

Editor Rob
Well he was born in London, although as you say his parents are Greek.
truthteller25
said on 14/Dec/19
He is 5'2 or 5'3
Rick Havoc
said on 30/Jul/19
Woah, I had no idea he was that short, from what I saw in GoT. Seemed like a regular 175 something cm guy.
Nik
said on 7/Jun/18
He is nearer to 5'3" than 5'4"!
ALEXANDRE ALVES BR
said on 4/Feb/18
I always thought he was like 5'5 "at least ... he seems happy with his prime even being really short ... what did you think of him rob ??? he seems to be a nice guy ????
Christian-6'5 3/8
said on 20/Oct/17
Looks 5'3", his huge amount of hair may have fooled a lot of people.
Travis
said on 16/Sep/17
In his shots with Masie Williams he really does look 5'3" range. This listing sounds right.
120
said on 26/Jan/16
I think 5'3" flat is a better shout.
James Pilrose
said on 29/Oct/15
I honestly figured he was like 5'9 or something on "Game of Thrones". I had no idea he was like 5'3. It just makes him way more badass.
Grottesca
said on 25/Nov/13
I wish that I could shrink myself down another 3.5 inches and become his size and just give a giant middle finger to everyone I come into contact with haha.
Hola
said on 14/Nov/13
gotta say he looks closer to 5'2.
Mike T
said on 10/Nov/13
I'm gonna say closer to 5'2" without the hair.
Sam
said on 24/Oct/13
Had no idea of his height on Game of Thrones, but he obviously wasn't tall next to Maisie Williams...still bummed on the rough way he went out at the same time as Sean Bean.
Dude
said on 10/Oct/13
LOL Rob is always very happy when he stands next to guys shorter than he is

Editor Rob
I'm happy when I stand next to 90% of people.
cd
said on 6/Sep/13
Unless there is a difference in footwear that were not being told about, there's no way he's that tall. Looks 5'3 or even 5'2 and a half here.
Balrog
said on 5/Sep/13
Doesn't look over 5'3" honestly.
Bard
said on 29/Aug/13
Looks less than this listing tbh.
Arch Stanton
said on 27/Aug/13
Good grief that's an interesting range of characters (and heights) you picked up at the recent Game of Thrones event!!