Maisie Williams Height
5ft 0 (152.4 cm)
English Actress, best known for playing Arya Stark on HBO's Game Of Thrones. She mentioned (on twitter, Jan 2013)
"I'm 5ft nothing actually!"
and in 2014, said of her height:
"I'm 5'1 and Rory's 6'5"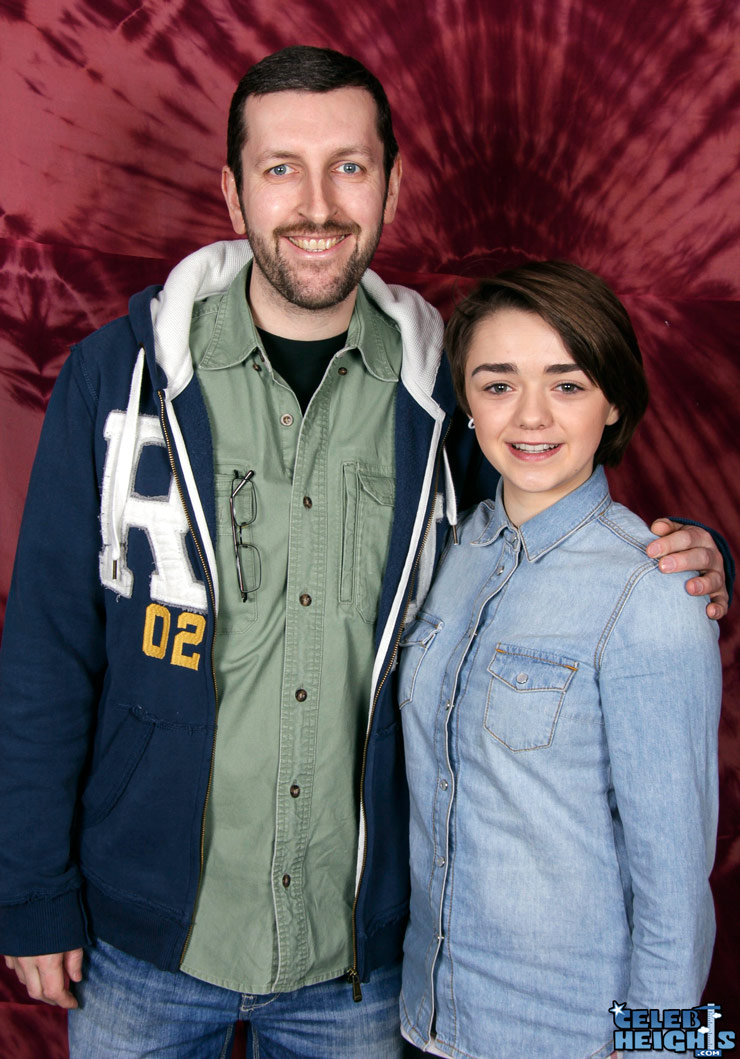 You May Be Interested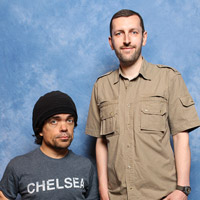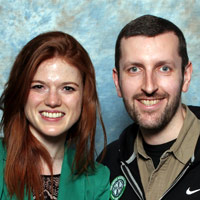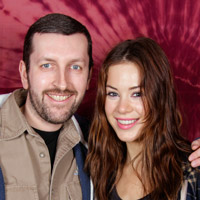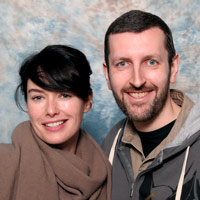 Add a Comment
114 comments
Average Guess (95 Votes)
4ft 11.39in (150.9cm)
Gh22
said on 7/Mar/20
I am still wondering how she fought with 6'3 Gwendoline.
A.d190cm
said on 7/Jan/20
Who the hell cares about her height that small women is adorable...!!!!😊😊😊😊
Estirpe Divina
said on 8/Dec/19
153 cm
Kfan8
said on 22/Nov/19
She barely, if even at all, reaches your mouth, which is probably 3.5" below your 5'3.5" eye level. I'd say 4'11.25". Maybe a little taller
Air
said on 4/Oct/19
I think you're not correct about Maisie, Rob. She looks 4'11 range.
Miss Sandy Cowell
said on 15/Aug/19
I'm watching little Maisie in the opening episode of 'Game of Thrones'. She looks TINY in comparison to Sean Bean, whose 5ft10.5" looks very tall indeed so far, but then I haven't seen him with Clive Russell yet!
Apparently, Maisie was just 13 when this medieval feast began. She definitely had more growing to do - I know I did at that age....
5ft for sweet little Maisie! I enjoyed the opening scene, in black and white, save for the eyes of a scarily ethereal woman, which were a vivid blue.
Littlelee5ft6
said on 2/Jun/19
How tall would you guess the girl hugging maisie is Rob? 5ft 6-7 range?

Editor Rob
I would have said about 5ft 6. I had a few friends also get maisie that day whose height I know and she was really 4ft 11 that day.
Nik
said on 30/May/19
@ Rob - The picture of this girl hugging Maisie is a joy to see!
Jaimer
said on 29/May/19
Are these pictures real

Editor Rob
lollipop95
said on 6/May/19
She said on her Instagram story a while ago that she was '5ft nothing'
Nik
said on 3/May/19
The average vote is currently 4'11.37" after 74 votes!
Nik
said on 2/May/19
It's great that she is currently 5th place in the list of the top 50 celebs on celebheights!
Ndomingu
said on 30/Apr/19
Rob, do you think that Maisie Williams and Bella Ramsey are the same height, like 5'0" or 5'1" at best? Apparently Bella Ramsey is age 16 on her google listing now, but she does look really young on Game of Thrones (whereas Maisie Williams is age 22 now). I would say that Maisie Williams and Bella Ramsey both look 5'0"-5'1" range when I've seen them stand next to the approximately 5'9" Sophie Turner in photos. Though of course their footwear in photos I'm not sure how much each of them is wearing, but what I said above is my estimated ranges for both of them. I got to give it to these two actresses, they were a few of the shortest/smallest ones on the show, but they played the most heroic roles in battle scenes and just being a general fighting/loyal character for their kingdom! I'm proud of them both!

Editor Rob
Bella might be in that 5ft to 5ft 1 range now at 15
Damon Blank
said on 29/Apr/19
I'll say 5 ft 0 and a half [1.53 m].
Denali
said on 22/Apr/19
People keep forgetting that Maisie was 13 when Season 1 was being filmed, and was still only 15 when she claimed to be 5'0".
She looks 5'1" now as an adult (but no more).
#FiveElevenSquad
said on 19/Apr/19
A weak 4'11
Nik
said on 16/Apr/19
@ Mimi - What you have said is truly interesting!
Nik
said on 16/Apr/19
The average vote is 4'11.32" after 68 votes!
Nik
said on 16/Apr/19
I hope that Maisie had a great Birthday yesterday!
Miss Sandy Cowell
said on 15/Apr/19
✴️🎂🎈 Happy Birthday Maisie! 🎈🎂✴️
A very Happy Birthday to little Maisie Williams, who turns 22 today!
I saw her pop up as a Random Celeb yesterday and thought to myself, "Doesn't she look young! I wonder how old she is?"
Now today, I have found out that in the above picture, Maisie was at the most 15 because today she turns 22 and she has also changed her hair colour to blonde now, so yes, she has changed quite considerably!
I won't go under 5ft for Maisie. She looks young enough in the picture to be one of the small proportion of girls to have grown after 15.
Tahani
said on 6/Apr/19
I'm 5ft and she is definitely a few inches shorter than me
James G.
said on 30/Jan/19
4'11.5" at best, could be 4'11.25".
Nik
said on 17/Jan/19
I think some commenters on this page have gone too low with their estimations!

Editor Rob
One thing I do know...a friend who is 5ft 3 was in her photo about 4 inches taller than Maisie that day, so she may well have been sub 5ft back then though hit the 5ft mark at 16.
Michael, 5'10" 178 cm
said on 3/Dec/18
I agree with some of the comments below, she looks more like 4'11" in this picture, I'm not seeing that she's the full 5 foot next to you. Maisie gives a similar impression to the 4'11ers on here, I think she might need a downgrade, Rob.
aleatorio
said on 24/Nov/18
150 cm at best.
Nik
said on 15/Nov/18
I like it that she mentioned on Twitter "I'm 5ft nothing actually!"! She is cool and so is her height!
Nik
said on 14/Nov/18
It is interesting to know that Maisie, from Bristol, took part in skydiving for charity!
She is mostly down as being 5'1" online but I have also seen a few 5'0" listings for her too!
Nik
said on 12/Nov/18
You tower over her Rob!
Sandy Cowell
said on 3/Sep/18
There are so many people in 'Game of Thrones' that it really would be worth checking out!
I can't see Maisie being near the 5ft mark even at her tallest time of day. I shall go for 4ft11.5, which I think is fair. She might peak at 4ft11 and seven eighths! 😊
Laus
said on 26/Aug/18
I think she is 152cm as said...I recognise when someone is like me...shoooort 😩😁
TheChosenOne
said on 30/Dec/17
Looks about 4'11.25-ish, I guess she could say she's 5ft. in the morning.
RickGrimes
said on 28/Dec/17
I think you should consider an upgrade, since she may have took 1 inch
MAD SAM
said on 15/Dec/17
She's nothing more than 4'10" for sure
KH
said on 20/Nov/17
Most women are certainly not 5'7 these days Anon. 5'4.5 is the average height for women in the United States which most countries outside western Europe and Scandinavia would check out as even shorter then that on average. Maisie seems more like 4'11.5 to me but Rob did meet her.
Nik
said on 22/Oct/17
Maisie is a very pretty random celeb! I think she is 4'11.5"!
Bobby
said on 5/Oct/17
Shouldn't 4'10 be at her forehead if she's 5ft?
Anonymous
said on 18/Sep/17
Imagine if a adult man was 5 foot Nothing.Most women are at least 5.7 these days.
Peter175
said on 17/Aug/17
Rob, she was only 14-15 in this pic. Is it possible that she is in the Ariana Grande range in 2017? Never saw a near 9 inch between her in sophie. Nearer just 8 inches imo. It's not impossible, my younger sister grew an inch at 16. And 2.5 since her 15th birthday
Editor Rob: yeah she was just turning 15 I believe, but I don't think she grew much after 15, I still see her around 5ft.
sumdude
said on 10/Aug/17
150cm flat is my guess, maybe 151.5cm on 8-10 hours of rest. Very cute gal.
Victor Surratt
said on 30/Jul/17
Maisie Williams is 5ft1 now, this picture is from 2012, when she had 14-15 years old.
even
said on 4/Jul/17
150 is correct
Mimi
said on 1/May/17
She's born in the same year as me. BUT I REFUSE TO SAY SHE'S THE SAME AGE.
Sandy Cowell
said on 29/Apr/17
I don't see Maisie being 5ft1! I think she is well below, at 4ft11.25 - at the most!
Ted
said on 7/Mar/17
I guessed 4'11 3/4 previously, I changed my mind to 4'11 1/4.
J World
said on 24/Jan/17
Shes 4'10 and a half. Her hair gives the illusion of her being 4'11.
mrtguy
said on 23/Jan/17
Rob, your head has to be near 11 inches with smile in the picture??
Editor Rob: my head is typically 9.5 inches, although in photos at times it will appear 10 inches.
Dwight
said on 1/Jan/17
Maisie is so small! Looks no more than 5 foot although she could have grown slightly since the photo. ...
Editor Rob: Dwight, some things are best not joked about.
Scooby
said on 24/Dec/16
Realistically Rob, Maisie needs a serious downgrade to about 148cm. There's no way she is 152cm. Her frame is consistent with someone in the 148cm range.
Lollipop95
said on 22/Dec/16
I'm surprised she's that tiny as I always thought she looked to have long legs!
Click Here
She's 3 inches smaller than me, wish my legs were like that lol
Jonah
said on 15/Nov/16
Lol why is she still saying she is 155cm (5'1)??
S.J.H
said on 8/Nov/16
151cm 4'11.5
Aza
said on 22/Oct/16
She looks possibly 4'10ish
Bard
said on 20/Oct/16
4'11 range
Sam
said on 11/Oct/16
Struggling to hold 5'0 IMO, could even be 4'11 but maybe somewhere in the middle.
king
said on 9/Oct/16
I'd say minus the hair she would be anywhere from 4'10 and 4'11
mark
said on 1/Oct/16
i love her so much she's short and so cute <3
Dan
said on 23/Sep/16
I think shes about 4'10" or 4'11". If you watch Doctor Who, she looked tiny next to Jenna Coleman who is listed as being 5'2".
Editor Rob: you could argue that Jenna looked 3 inches taller at times, but she too had some sort of heel, maybe the wedge sneakers.
Axl
said on 19/Sep/16
I think 5'0'' is a very accurate guess for her.
John
said on 28/Aug/16
Rob, if you're 5'8" and she's supposed to be 5'0", why are you very nearly a head taller than her? And I think you have a 10 inch head, right? That means she should be no more than 4'10.5" or 4'11"
172.4cm guy
said on 4/Aug/16
You know, I'd have to give Maisie an added inch these days. I've been seeing videos of her recently, and she does give a vibe slightly more than 5'0". Probably 5'1" now like she said in 2014...it was possible for her to have grown at least somewhat since your photo was taken with her, right Rob?
Editor Rob: she could have gained a bit, although generally I think she can still look around 5ft rather than 5ft 1.
mrtguy
said on 28/May/16
Rob you look 5'10'' and not counting the chart
james
said on 27/Apr/16
@avenger987: No, girls stop growing at 15 in average. She's 19. This is her final adult height.
lol
said on 26/Apr/16
lol Avenger987, I think Daniel Radcliffe has a chance of hitting 5'10" yet as well
avenger987
said on 15/Apr/16
She's only young. Will end up about 5'6 adult height. ;)
120
said on 26/Jan/16
Rob, The more i look into it, the more i kind of start seeing more 4'10" or 4'11". She's really petite. I don't think she can really pull off 5ft flat at night, i think this might need a downgrade. Plus, you're not really standing up that straight in that pic either. Since you're 5'8" and have a 9.5 inch head. That means your chin is 4ft 10.5 off the ground. If you're standing up straight, then she could be right on your chin or underneath it at worse. I just couldn't see her being up to your lips. But if she is wearing flat ballerina shoes, then i could see a bit more. My sister is 4'10", and sometimes i mistaken her as 5ft at times since she kind of gives off that 5ft impression because she's almost 5ft tall by a couple of inches.
Editor Rob: that day she was sub 5 foot, but still 15, so I thought she might have gained a bit more.

She can certainly look at most 5ft even today.
Paul
said on 14/Jan/16
If you would've stood up straight Rob, you would be a full head taller than Maisie. So she can't be more than 4ft11 (assuming that you have a 9 inch long head, which is the average length for a male's)
Editor Rob: it is 9.5 range
Elllis
said on 9/Jan/16
Do you measure each person that you meet for this??
Editor Rob: the value at the top is my estimate. Wherever possible I also mention what an actor has claimed as a reference.
Alex 6'0
said on 9/Jan/16
5'0 at the very most she'd be. 4'11.5 may seem most accurate
pablo77bar(184cm)
said on 2/Jan/16
Rob,your head is 9,5in right ?
So your chin is about 149cm
And you are leaning and his is barely past your chin
Do you really think she is more than 150cm ?
Editor Rob: I think about 5ft is fair for her, I know with some people that day she could look a bit under 5ft though.
Larry
said on 9/Dec/15
I am pretty sure she is no more than 152. I am just surprised there are still people who think she is 155cm. In some places it is even considered a fact.
Editor Rob: by 15 she didn't grow anymore from what I've seen of her.
littlesue
said on 8/Dec/15
You saying she is taller or shorter Larry?? she looks around 5ft to me, couple of inches shorter than the Doctor Who girl who is 5ft 2 on here
Larry
said on 5/Dec/15
Why are there still people who believe she is 155cm?
aner
said on 6/Oct/15
Man, height is such a weird thing.. When I see you with 196 guy, who's 23cm taller, and he's not one head taller than you and yet Maisie, who's like 21cm shorter is actually almost under your head... I'm 174cm (I was measured in school and it was 100% accurate) and I feel like most of my friends who are like 196cm(also measured in school) are almost one head taller than me..
[Editor Rob: a true 196cm will be that tall, a full head taller in photos]
TJE
said on 11/Sep/15
She could be just under the 5'0 mark, like 4'11.75.
DBBT
said on 2/Aug/15
5 feet seems spot on, nice proportions make her look her age! Great actress as well.
Emil 182-183 cm
said on 21/Jun/15
@Rob
Don't you think 4'11 is a possibility? 5'0 looks a bit generous imo
[Editor Rob: I'm not sure if she is just that small, although 4ft 11.5 range isn't impossible.]
littlesue
said on 4/May/15
Looks like a chav queing up to sign on!!
Bishop
said on 22/Dec/14
4'11". You have near a full head on her.
Concerned 181cm
said on 20/Aug/14
She looks more 4'11 here.
Ivana
said on 22/Jul/14
MarkyMark: I hope it's not considered a spoiler, but you got it wrong. Arya does not become a "great warrior" at any point, nor was she ever likely to be. She becomes something else (which is a spoiler, so I'm not going to say). And she is supposed to be tiny in the books, small and thin, even for her age - and she is just 11 in the latest books (as opposed to the show, where she's about 13-14 and played by a 17-year old actress).
Andrea
said on 21/Jul/14
Rob, you met Isaac at the last convention? Is he really 5'8 in person?
[Editor Rob: well he was doing a photo with Kristian Nairn but nowadays Nairn wants to sit on a seat, so I wasn't going to waste money. I never seen him up close.]
Rikashiku
said on 24/Jun/14
In this picture she looks about 4'11".
issa
said on 25/May/14
Rob,how tall do you think Isaac Hempstead-wright is? maybe 173 cms.
[Editor Rob: yeah he can be that range now...at 15 how much more he grows will be interesting]
MarkyMark
said on 1/May/14
Love her character in GOT ! Wonder if the stop of her growth will affect the script cause she was apparently meant to become a great warrior or something but she's too small for that now.
Pedro
said on 18/Mar/14
In this interview Maisie said that she hasn't "grown at all" since the beginning of the series:
Click Here
Which basically discredits her own recent 5'1" claim.
[Editor Rob: I think the 5ft mark is fair for her, the 5ft 1 in sneakers maybe.]
Chris 182 cm
said on 9/Feb/14
She must be under 5 feet. Just look at this picture:
Click Here
She's a whole head shorter than 5'8 Sophie Turner. So she must be around 4'8.
Mike T
said on 31/Jan/14
that looks more like 4'10/4'11
Pedro
said on 24/Jan/14
@Rob I agree that this is probably the case. Sophie's feet look more inclined than Maisie's in this picture.
[Editor Rob: About 5ft is ok for her, I'm not sure if she is near 5ft 1 as she says, I would be surprised.

]
little sue
said on 24/Jan/14
Sophie's heel are bigger, Maisie a pretty little thing
Pedro
said on 23/Jan/14
Here is a recent picture of Sophie, Isaac and Maisie. I don't know about the size of their heels, but the height difference between Sophie and Maisie looks gigantic:
Click Here
[Editor Rob: could be a bigger heel.]
pooo
said on 17/Jan/14
me and mydad
Lorne
said on 17/Jan/14
Wow they have every size on that show! From under 5 feet, to over 6 and a half feet!!! It's good training, I suppose...
Alex 6ft 0 1/8
said on 25/Dec/13
Not even 5'0 I don't see. Rob has almost a full head on her. Looks about a 9 inch difference. 4'11.25 is my guess
[Editor Rob: I think she did grow a bit more, she says 5ft 1 now, but not seen her recently]
Emily
said on 20/Dec/13
@Pedro I don't think he looks taller than Kit there. I think he's just 5'7 range. He has a small head. But he's only 14, he could still grow quite a bit.
Pedro
said on 6/Nov/13
@Emily Yeah, but Isaac is looking down in the picture and if we look closely at his legs we can see that he is not standing completely straight.
Here is also another recent picture where he is next to the 5'7.5" tall Kit Harrington. Just after comparing their shoulders and looking at the size of their necks, I think that that Isaac is clearly taller than Kit:
Click Here
So I personally think that Isaac is more likely somewhere between 5'8"-5'9". But he is 14 years old, which is the age where boys normally grow the most.
Emily
said on 3/Nov/13
Isaac looks shorter than Rob there. But we don't know their footwear. If she didn't grow anything more, Isaac looks 5'7 range.
Pedro
said on 2/Nov/13
Here is a picture of Maisie together with Isaac Hempstead Wright from her instagram, where she literary asked herself how tall he is:
Click Here
So does anyone know the answer after looking at the picture?
Matt 184.7-186.7cm
said on 30/Oct/13
rob isnt she shorter than the 4ft 11.85 girl in the height challenge page
[Editor Rob: she could have been 4ft 11.5 then, last year she said 5ft, I think it's close enough, I guess at 15 she could have got a little bit of growth.]
Sam
said on 11/Oct/13
She for sure never going to be tall...she might grow another inch or two after 16 but probably not anymore. Looks like a smidge more difference between her and Sophie Turner than there is between her and Rob.
Emily
said on 13/Aug/13
I wonder if she'll grow any taller. At her age i only grew about 1 and a half inch taller.
Girl170cm
said on 9/Aug/13
Geez, the girl is tiny. But that helps giving her the looks of a permanent child in GOT.
Editor Rob
said on 17/Feb/13
She said on 29 Jan 2013 on twitter "I'm 5ft nothing actually!"
Maureen
said on 14/Nov/12
Maisie is not as tall as Sophie Turner (Sansa) who is 5'9".
Click Here
So I'm guessing she 5'4"
balrog
said on 19/Oct/12
Looks closer to 4'11''. Her sister in Game of Thrones is quite tall, Rob did you met Sophie Turner (Sansa)? She looks taller than Jack Gleeson (Joffrey) who is listed 5'7''
[Editor Rob: never met sophie]
thorterr
said on 15/Oct/12
defo 5ft 3 but that pic will be 3 years from now,,,4ft 11 ,,,the under 5fts have it
Mathew
said on 11/Oct/12
She looks more like 9 or 10 inches shorter than Rob, not just 8.
grumpkin
said on 10/Jun/12
Was she resting heels in this pic Rob?
[Editor Rob: she just had a simple sneaker that day]
5'10guynotgrowing
said on 6/Jun/12
your tall rob
[Editor Rob: I'm a walking giant...when standing with kids ;)]
josh b
said on 6/Jun/12
Doubtful a full foot shorter, Rob doesn't have a 12 inch head. Or do you rob?
[Editor Rob: this photo is pretty recent, so she's just about 15 and I guess always a chance she could grow a bit more.

Looking straight ahead usually 9-10 in a photo for most people and many women can have 8.5-9 inch heads aswell.

If you tilted your eyelevel down an inch it would make your head appear longer to the camera, in those cases a head could appear 11 inches or 12 if it was very big to begin with.]
Dan
said on 5/Jun/12
yeah she looks more 4 feet 10-11 in
truth
said on 5/Jun/12
Looks a foot shorter @ 4'8.
Kam
said on 4/Jun/12
Really pushing 5 foot on this one Rob
little sue
said on 4/Jun/12
She looks more like 4ft 11