Missy Peregrym's Height
5ft 6 (167.6 cm)
Canadian Actress best known for roles in Stick It, The Proposal, Backcountry and TV show Heroes. On her twitter she mentioned her height, saying
"5'6 AND A HALF"
.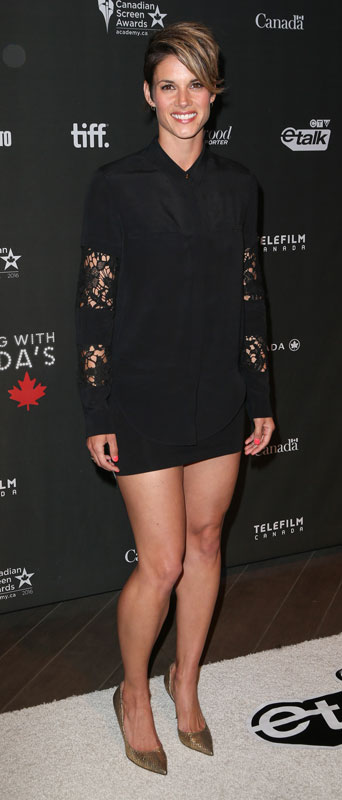 Photos by PR Photos
Add a Comment
18 comments
Average Guess (15 Votes)
5ft 6in (167.6cm)
Nik
said on 8/May/20
She may be 5'6.5" on a morning!
Nik
said on 12/Apr/20
5'6" is fine!
bev
said on 9/Apr/20
my favorite!!
Junior
said on 14/Oct/17
Shes at least a full 167cm so 5'6 sounds right
Morris
said on 25/Jul/17
She appears to be less tall than Scott Caan (which I assume to be no taller than 165cm) unless he used heels into the shoes of 10cm shoes.
Morris
said on 25/Jul/17
She appears to be less tall than Scott Caan (which I assume to be no taller than 165cm) unless he used elevated shoes.
Andrea
said on 23/Dec/15
With Kevin, who is about 6'3:
Click Here
Of course you can argue she's not standing at her tallest there but so can Kevin...
There are plenty of photos with Zach too! She appears a full head shorter than both of them, if not wearing heels! 5'5 or 5'5.5 is possible!
I'm curious, what have you seen to convince yourself she can be 5'6?
Andrea
said on 23/Dec/15
Rob, i sometimes wonder if you look at pictures of people you add or just base the listings on the claims...
I'm not even posting the photos at this point but having seen her with Tom Welling, Zach and Kevin Sorbo she does look more 5'5 range! 5'5.5 is not impossible but that's the most i'd argue!
She looks average! It seems that, whenever a celebrity comes out with a precise claim like this, they automatically get that height!
One thing is sure, she ain't 5'6.5... Then do what you want! :)

Editor Rob
I did have another look around 5ft 6 is possible.
Andrea
said on 21/Dec/15
Rob, i was gonna tell you she claimed 5'6.5 on twitter but it seems someone already did :)
Anyway, she doesn't look this tall with Zachary... She might be claiming a shoe height, i doubt she's over 5'5.5 barefoot! Of course, now you've seen more of her and she can pull off looking near her claim, right?
She also was in an episode of Smallville and, even though she was wearing heels, Tom completely dwarfed her, like near a head taller... 5'5-5'5.5 is certainly more believable!!!
Hob
said on 13/Jun/12
she don't look over 8inch shorter than zachary levi which im assume of 6'2.5 , maybe Missy Peregrym was 5'6.5 ?
???
said on 30/May/11
Maybe her height isn't updated but she's probably not that short! 
Alex
said on 22/Jun/09
I saw her in Stick It last night on TV and she easily looked 5'7.
joe II
said on 4/Oct/08
uh scott that didnt make a whole lot of sense to me, the others were short and that was the reason why she was short? you got me confused buddy
Fo Sho
said on 31/Mar/08
My friend who played a basketball game with Missy says she really is a petite thing. Missy is smaller than my friend and my friend is slightly shorter than me and myself I'm a short guy. I'm like 5' 6" to 5' 7" without shoes.
UMMMM
said on 25/Sep/07
She looks taller because she has a little head and more of a boyish build.
Leung
said on 29/Aug/07
Jeff Bridges is the only well known actor in Stick It and there isn't much debate that he is 6'1". There are plenty of scenes of Missy and Bridges standing together, and she does look to be around 5'5.5"-5'6".
M. Scott
said on 27/Aug/07
The only reason she looked short in stick it was because most of the actresses are real gymnasts who tend to be on the short side!
P. Smith
said on 26/Mar/07
You sure about that? Looked tall in "Stick It"...