Christina Hendricks Height
5ft 7 (170.2 cm)
American actress, best known for playing Joan Holloway on TV series Mad Men. In film she appears in Drive and I Don't Know How She Does It. In this convention photo Christina had about 2 inches more footwear than me.
I was a model for years, and even when I was 19 years old and 115 pounds [and 5'8"] my agency said, 'Your ankles are a little large. If you could lose 10 pounds, that would be really great'
- New York Post, 2008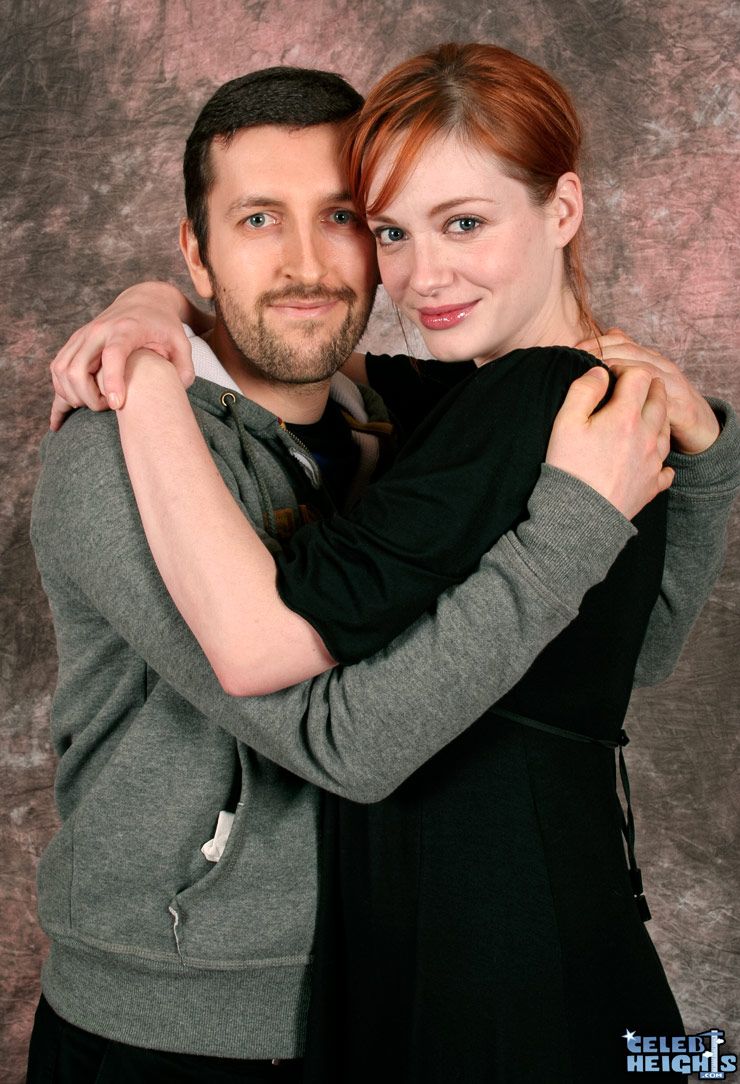 I did some runway when I was modeling, but I was always little bit short. I'm 5-8, but the girls were 5-10.
- Chicago Tribune, 2013
You May Be Interested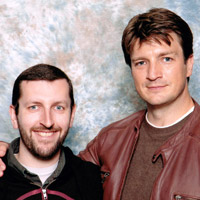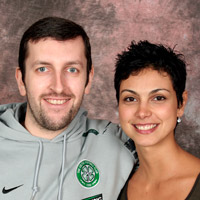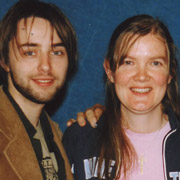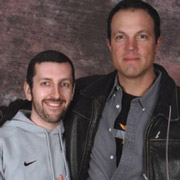 Add a Comment
126 comments
Average Guess (46 Votes)
5ft 6.85in (169.8cm)
RJT
said on 16/Aug/21
Rob is pale and she is even paler!
In that year I was merely in middle school, time sure does fly!

Editor Rob
The Sun in Scotland is only thinking of making an appearance at this stage of Mid-March
Elene
said on 5/Aug/21
169 cm
ALEXIZ/180cm
said on 19/Apr/21
169 cm
OriginalAnon
said on 27/Mar/21
To your credit, Rob, you are ageing well! It is quite funny to read the dates underneath the photos sometimes, I'm often taken by surprise. When I see one that I think is a bit older I always think maybe around 2013... time flies!

Editor Rob
if I update a photo to it's best possible quality (like this version) I will add the date it was taken...sometimes it is surprising the passage of time.
heyyyyyyyy
said on 26/Mar/21
such a lovely gal and this photo is just so aesthetic. 5'7" for her!
OriginalAnon
said on 22/Mar/21

This is one of the best Big Rob photos. Bloody hell, she looks BEAUTIFUL in this photo. My type! Height.... eh... 5'7'' seems about right I suppose!

Editor Rob
Time goes by quickly, this shot is now 14 years old! Only seems like a few years ago...
Mimi
said on 21/Oct/20
Rob you think she can be a little below 5ft7? Most people here think she's a 169-170cm

Editor Rob
very close to 5ft 7, I think more than 169cm.

She seemed a bit taller in person than say Jeri Ryan, who had decent heels on too...
JohnMoore-162cm
said on 15/Jun/20
Certainty She's weak 5ft7
Miss Sandy Cowell
said on 3/May/20
💐🎉🎂 Happy Birthday Christina! 🎂🎉💐
A Very Happy 45th Birthday to Christina Hendricks! My, she's in some good films, including 'The Neon Demon', 'Drive' and 'The Strangers: Prey At Night'.
5ft7. 😁👍🎁
💐🎉🎂🎁💐🎉🎂🎁💐🎉🎂🎁💐🎉🎂🎁
Miss Sandy Cowell
said on 18/Mar/20
A brilliant actress starring in a great range of films.
5ft7. 😁💐
khaled taban
said on 28/Dec/19
In my opinion she is 5'6.75" or 5'7" at most.
194 cm 6'4 3/8 Asian boy
said on 3/Nov/19
@Rob
Why is she taller than you?

Editor Rob
Many women wear heels in photo ops, about 80-90% a heel of some sort...
Hers
gave her at least in the 3 inch range of height, whilst I had 1 inch sneakers.
Nik Ashton
said on 26/Aug/19
I think she can pull off looking 5'7" with Rob!
Nik
said on 20/Mar/19
5'7" is very believable! What a smashing photograph!
Jakob
said on 18/Mar/19
Rob, you must have felt a bit smug during this picture. I remember watching her on Firefly and only hearing every other word of dialogue afterwards. Actually hugging her I would have fainted!

Editor Rob
I'm not one to really ask for hugs or anything, but on occasion you have to make an exception 😵
Bobby 178cm
said on 31/Jan/19
Once again Rob has snagged himself a beautiful dame ;) She looks like she might be a 5'9 range with the footwear advantage, so would appear a solid 5'8 gal. I think 5'7 flat is a good listing for her, but 5'7.25 could also be argued.
Paul Wood
said on 23/Jan/19
Used to be regularly listed as 5ft 8in. A lot of 5ft 7in women seem to get lifted to 5ft 8in in the listings.

Editor Rob
It is what Hendricks claimed to be
Sharkey
said on 5/Jan/19
Gonna say 5'6.5".
And lovely.
Sandy Cowell
said on 29/Sep/18
I knew she had to be around the 5ft7 mark from her appearance in 'Neon Demon', wherein she interviewed Elle Fanning as the model agent.
I just saw her in 'The Strangers Prey at Night' and it was really tense and worth seeing. She's only a bit smaller than her screen husband, played by Martin Henderson, but a noticeable bit nonetheless! The tallest actor was her son, Lewis Pullman, and I am trying to find out how tall he is by comparing him to the other actors.
I won't go under 5ft7 for Christina - no way!
MAD SAM
said on 14/Aug/18
Strong 5'7" or 170.5 cm
mikeys
said on 11/Aug/18
seem accurate
5ft7Accountant
said on 11/Aug/18
You're very lucky Rob! She does not do conventions anymore!

Editor Rob
That's a shame.

There's quite a few guests who attended some conventions and stopped, or did one and that was it...
Junior Hernandez 1990
said on 14/May/18
Geoffrey Arend must be under 6'3.
Robot Explosion
said on 30/Dec/17
She looks about an inch shorter than you, Rob. So she's a strong 5'7". Great looking & solid versitle actress.
robertven8
said on 30/Oct/17
In my opinion she is 169cm
Sandy Cowell
said on 1/Aug/17
Oh yes! I know this lady from the film 'Drive' - and very good she was too, even if she did come to a sticky end!
Wasn't she also the 'talent spotter' in the nasty 'Neon Demon' predatory film? Yes, I do believe she was! She has that tall, sexy redheaded look, for which any part that calls for a femme fatale of that description, she is the ideal choice! I can't think of anyone better, in fact!
I would have given Christina a minimum of 5ft7, so that's what she can have today!
(That's a damn fine picture of you Rob, with Christina! You must SO be the envy of the redblooded males out there!)
even
said on 5/Jul/17
i give her 170 but in the morning
Nik
said on 20/Nov/16
This is a really nice picture Rob, You are really lucky to have this job.
@Zarina
So according to you most men have the small man syndrome. Also most women are not between 5'5" and 5'8" because the average for women is still in the 5'4" - 5'5" range.
S.J.H
said on 12/Nov/16
Anyone, how tall is Christina Hendricks husband Geoffrey Arend?
the Slav
said on 24/Jun/16
@Rob
How much would you think she weighs? 160?

Editor Rob
she could vary from 140 up to 160 over last 10 years.
Mouse22
said on 6/Aug/15
Isn't Christina exactly 171 cm?

Editor Rob
she's smaller than that
Hypado
said on 27/Jun/15
Christina Hendricks's height is 5ft 7in (170 cm)
169 cm or 170 cm in Mad Men.
MarkyMark
said on 23/May/15
Nice picture Rob, I'm jealous !
geof
said on 16/Feb/15
what i would do to be in your place rob
truth2
said on 6/Dec/14
Geofrey Arend is 6ft2-6ft3.
Sam
said on 30/Apr/14
There's no way Arend is as low as 6'1" unless Zach Braff is like 5'10".
Mathew
said on 27/Feb/14
Ryan says on 8/Aug/13
I agree with this height, above average for a woman. Her husband Geoffrey Arend must be pretty tall! Well over 6 foot anyway.
---
Her husband is Geoffrey Arend. He's listed all over the place at 6'3" but in reality he's about 6'1".
176,2Tunman
said on 18/Feb/14
In Drive,she looked like 5.25-5.5in shorter than Gosling who is probably 6'0.25-6'0.5.5'7 is perfect.Oh,and obviously very attractive.You're really lucky to have such job,Rob.
little sue
said on 10/Feb/14
Surely attractiveness is in the face Arch so sounds a bit of a daft comment to say women in the 5ft 6 to 7 range are the most attractive anyway its a bit tall for me, 5ft 4/5 more my ideal height for women and 5ft 10/11 for men
Arch Stanton
said on 7/Feb/14
@Little Sue. Yeah 5 ft 7 for a woman is the lower end of tall I think, sort of like 6 ft for a guy. But a legit 5 ft 7 woman with heels will generally look a tall woman in public especially if long legged and skinny proportionally, it's certainly noticeably above average anyway. Women can be attractive at all shapes and sizes but I've always thought 5'6-7 is a great height for a woman and some of the most attractive women lie in that sort of range, and it seems a lot of the men women frequently cite as the most attractive tend to be 5'11-6' (Brad Pitt, David Beckham, Leo Di Caprio, Michael Fassbender,
Jude Law
, Justin Timberlake, Viggo Mortensen etc) which is the male equivalent for 5'6-7 for a woman.
lelman
said on 6/Feb/14
Insanely jealous of that photo there Rob, lol. I would peg her at about 169cm, just shy 5'7".

Editor Rob
I wish I had got another photo with her the next day now...don't think she's done another con in the UK since that one.
Emily
said on 10/Dec/13
That hairstyle really suits Jenny. She looks gorgeous there

Editor Rob
I think she had pigtails tied back there...
yeye
said on 19/Oct/13
Arend has to be taller than 6'3.
Gonna call 6'5-6, he is a lot taller, even when she's in heels.
Larc 74in
said on 28/Aug/13
Damn, she's hot as hell, and tall too.
5'7 seems right.
little sue
said on 11/Aug/13
Average for a woman!!!! not anywhere near Great Britain
Sam
said on 8/Aug/13
Arend is around 6'3"
Ryan
said on 8/Aug/13
I agree with this height, above average for a woman. Her husband Geoffrey Arend must be pretty tall! Well over 6 foot anyway.
Elijah
said on 7/Feb/13
@Peyman: lol. I feel the same man... I came her to read about her height not her looks.

Editor Rob
her height I'm pretty certain is definitely not 5ft 8, there you go, back on topic :)
Sam
said on 5/Jan/13
good job rob, she's beautiful!!
Peyman
said on 28/Dec/12
@ Arch Stanton
so that means I'm not a red blooded male, doesn't it ?!
WOW , she's a super hot
Rob I wish I were you . nice job
curvy ,a beautiful redhead, super amazing breasts .
Wows again
is it better now ??!!
I just meant it's better to more speak about her height as this page is officially made for that.
Arch Stanton
said on 4/Dec/12
peyman says on 20/Jan/12
90% of the posts were absolutely irrelevant to her height , LOL, why you show all kind of comments Rob? (anyway,in my opinion 5ft 7in seems to be right for her)
Um, if any red blooded male was stood next to her, height would not exactly be your preoccupation LOL. Surprised Rob remembered to note her height...

Editor Rob
of course height is always on my mind...but it was at the back of the queue in this case, other things were more far more pressing...and not just against my inter t-shirt...
getting_taller
said on 22/Nov/12
Rob?! why you have to hug man? feelsbadman.jpeg lol.
dong
said on 13/Oct/12
You are lucky man!She's beautiful!
peyman
said on 20/Jan/12
90% of the posts were absolutely irrelevant to her height , LOL, why you show all kind of comments Rob? (anyway,in my opinion 5ft 7in seems to be right for her)

Editor Rob
you've got the thread back onto height now...
Godred
said on 15/Dec/11
@Rob - But they might cause growth in other areas.

Editor Rob
indeed!
Godred
said on 14/Dec/11
Rob - You said you rarely ask for a hug, would be interesting to know which other celebs you asked,and which agreed and didn`t.

Editor Rob
as I said it is a rare thing, I did ask christina and an actress called emilie ullerup, and someone else called sharon taylor who was in smallville.

but I'm there trying to get photos for the site, sometimes hugs can reduce your height.
Cindy
said on 13/Nov/11
Ive never thought that redheads were pretty, but she really is! 5'7" seems about right. My mom and I got quite close to her once and she was just slightly taller than me (Im 5'6") but no taller than my 5'7" mom.
Tman
said on 7/Nov/11
did she really think she would fool anyone LOL anyway she just looks like one of those chicks that have unlikable personalities and yes she is nothing special.
Shaun
said on 16/Oct/11
Saw your post on the General height page, you just really dislike light skinned women. That's fair enough. Christina is not my usual type either but it would be very unreasonable for me to claim she was anything but attractive.
Leslie
said on 3/Oct/11
She's 5,8
she said so in an interview for some random magazine. She said she's 5,8 and don't mind wearing kick ass heels. So there's your answer. She's perfect in every way, tall and curvy :)
a guy
said on 27/Sep/11
wow natural beauty.
I love pale skinned girls
said on 20/Sep/11
CURVY girls ALWAYS win
Kostas
said on 14/Sep/11
she does look stunning
Godred
said on 14/Sep/11
Your favourite photo Rob? - You look like you`re having fun.

Editor Rob
getting to hold a woman like that, I'm still surprised I managed to ask for a hug and didn't get a 'no' :)
gabergoo
said on 11/Sep/11
Rob did you ask her out on a date??....never hurts to try...

Editor Rob
I was nervous enough just asking for a wee hug never mind a date ;)
stoodnext2
said on 8/Sep/11
Rob your a lucky man, I'm a big fan of hers, and she's incredibly Sexy
barny
said on 4/Sep/11
Cranberries - "They're so obviously real that anyone who's ever seen or touched a breast would know."
Hansen
said on 15/Aug/11
she had a big face here. 5ft7 sounds right. ;)
Mary
said on 12/Jul/11
What a foolish discussion is this: tall women - short women. Hey! Short men and women have short kids. Tall men and women have tall kids. If a tall man has a child with a short woman (or vice versa) the result is unpredictable. I am 176cm and have shoe size 38.5 which is small for my height. Feet must be proportional. Not small, not big, but proportional.
Christina is ok, a beautiful woman that does not make other women hate her.
P
said on 30/Jun/11
i think shes 5'7" too!!she seems little bit shorter cuz she has short legs!but love her hair!!
Duncan
said on 28/Jun/11
You're a very lucky man, Rob.
Getting a hug from Christina, as Gaius Baltar would say "I'm insanely jealous!"
:)

Editor Rob
I think I only ever asked about 5 women for a hug, but she was stunning looking and didn't refuse. I was tempted to blink and hope for a retake ;)
Jake T.
said on 16/Jun/11
Hendricks and January Jones are close in height but maybe Christina has Jones by 1 inch so 5'7 is fine.
Jake m
said on 12/May/11
Good height for a woman. Great body as well.
bausse
said on 30/Apr/11
@Fred Yeah, I wouldn't say 5'6 is the perfect height for ALL women that would be totally big headed and sexist but when it comes to height a woman that is 5'6 is the perfect for me. But yeah LOL I don't really notice the big faces but damn tall women have HUGE feet.
Fred
said on 25/Apr/11
Melinda - You must be very tall if you think 5'7" is little for a woman. I agree with AC. I am 6" even and I prefer my women to be 5'6" and under. Liv Tyler is a great example of a manly woman to me. Too gangling. Also, tall women tend to have big feet and big faces.
Andrew1995
said on 25/Apr/11
Well, im 6'6'' and i prefer ladies around 5'6 :p
Shaun
said on 8/Apr/11
5'7'" I think is ideal for women being 6'1.5" myself. If you are 5'7" yourself though then if they arein heels your gonna look short.
from a guy
said on 5/Apr/11
i am a guyu.standing at 1.84,and i also like women around 1.75 or even more(and small women of course,i a talking about AC now)dont give importance to him
da_truth
said on 3/Apr/11
so lucky, Rob :)
Melinda
said on 31/Mar/11
AC - If you think women over 5'4" look like men, you must come from a very short country of men. Either that or you're very short yourself, especially if Christina's little ol' 5'7" is too much for you. Besides, the height of a woman doesn't dictate how masculine she looks. Liv Tyler is 5'10" and is extremely soft, delicate, and feminine looking. I could name some short female celebs who look quite mannish but that would just be rude.
Cooper
said on 30/Mar/11
she's about 5'5.5
Click Here
, never looks that tall
AC
said on 8/Mar/11
USYD- I like my women small and feminine. I like them to look like women, not like men. For me , perfect height is not more than 165cm. Christina is pretty though, albeit a bit too tall for my liking.
indian factmachine
said on 3/Mar/11
ROB what is going on here, is this also very very rare for some reason :}
Click Here

Editor Rob
Vernon must have liked me ;)
indian factmachine
said on 2/Mar/11
ROB how many retakes did u take to get that photo-shot with such a beautiful woman all over you :}

Editor Rob
I never blinked, so it was only 1 shot. It is very very rare for me to ever ask for a hug photo, but I felt compelled to in this case for some reason :)
Zarina
said on 27/Feb/11
Shaun: I agree , men must be tall, otherwise they get the small man syndrome. For women, height is not important. The probability of the best looking women to be around 5ft5 and 5ft8 is high, as this is the height at which most women are.
Shaun
said on 16/Feb/11
In the same way SAK, a lot of women would think the hottest famous men lie between 5'9" and 6'2".
I've heard a lot of women say 6' flat is a perfect for a guy, most male models are 6'-6'2" range. A lot of women would think 6'4" or 6'5" too big.
Shaun
said on 16/Feb/11
Bit like Angelina Jolie facially and with much bigger chest. Not usually keen on red heads but this one I agree Rob is very hot. Yeah a lot of the hottest are not short or particularly tall and do seem to lie between 5'5" and 5'8". Personally I think 5'7" is perfect height for a woman from my own height perspective.
SAK
said on 14/Feb/11
She really does ooze sex appeal, and a great height; not a giant or too small with stumpy legs, just right,
The best looking women tend to be around 5ft5-5ft8 I have noticed,
Zarina
said on 11/Feb/11
I do not believe there is such a thing as ideal height. Many women are 170cm tall and this does not help them in the least. It is the proportions that count. You get perfect ladies at 155cm, at 170cm and at180cm. Height is not important at all, it is how well one is put together that counts. What nonsense, perfect height is 170cm .......
rob
said on 6/Jan/11
Thats one sexy lady
krazy krippled!
said on 1/Jan/11
Man, well done job, I bet you can die without regrets now man!!
Larc186-188cm
said on 30/Dec/10
5'7 and lovely. She's just perfect. :)
Mary
said on 23/Dec/10
She looks very small (though curvy) in Firefly reruns. Maybe its the footwear and hairstyle on that show, compared with how she looks on Mad Men. She is stunning.
teen
said on 6/Dec/10
i'm short, but i like women my height. i hate how society expects me to cater to short women. ughhh
claudia
said on 28/Nov/10
omg shes stunning..... you are so lucky to have stood next to her, and for her to hug you!!!!!!
she does look quite tall although she does have good poise which may help, personally i think she is more like 5'8 than 5'7
Anonymous
said on 29/Jun/09
nice pic rob she must be in heels i guess
orangy
said on 6/Jun/09
Lucky, lucky, lucky! She's one of my girlcrushes. A real throwback to the classic femme fatale.
Josh.J
said on 28/May/09
is it me or is she really pale? could be that rob's just got a nice tan but now i think about it, she's always been pale in firefly and madmen.
aram x
said on 25/May/09
Rob it seems like your head is significantly longer than Jenny's. Probably close to an inch longer.

Editor Rob
yes it is about that. Jenny has a higher eyelevel too, depending on tilt it will usually be 4-4.25 inch range.
Metric
said on 22/May/09
Rob is in love. (SORRY Jenny!!!!!!!) Lol.
Heightgirl
said on 22/May/09
Great picture! You make a good looking couple :D I hope she gave you her number ;) She does in fact look 5f7.
Leung
said on 21/May/09
Red hair, porcelain skin, full figured body, cleft chin; all of these physical characteristics I am not usually attracted to, yet I find her so captivating and sexy.
Joseph
said on 21/May/09
Simply stunning!
J.Lee
said on 14/Apr/09
how high were her heels Rob
Kevin
said on 14/Apr/09
I think Christina Hendricks is the most stunningly beautiful woman on TV today, and the most underrated.
rony192cm
said on 13/Apr/09
Beautiful girl, 5'7 it is. For me 5'7 to 5'10 is the best height for a girl
Alex
said on 12/Apr/09
She looks 5'7.
5'7 for a girl is like 6'0 for a guy, its easily above average but not truly tall. 5'8 for a girl and 6'1 for a guy is where its tall for each.
D. Ray Morton
said on 28/Feb/09
She's listed at different heights in different places - 5'6", 5'7"... 5'8". Her character's drivers license in MM said 5'8" (not that that means anything). Footwear in mind, I'd have to say that she actually does look close to 5'8" here. But really very hard to tell. She was a model, so I doubt she's much under 5'7".
On another note, Rob, congratulations on keeping your composure in there. I'm pretty sure I would've needed an ambulance.
Anonymous
said on 20/Jan/09
rob, do you consider 5 foot 7 for a girl, tall?

Editor Rob
5ft 7 is getting close, 5ft 8 I'd say is tall.
Anonymous
said on 20/Jan/09
Hahah, Rob
nj
said on 18/Jan/09
She looks more than 4 inches taller than Elizabeth Moss. I would guess more in the 5'8" range.
jenn
said on 28/Sep/08
I'm a girl so I can't really say that she's smokin'hot, but I like that she's curvy comparaired to all those skinny stars,good job christina! you're beautiful, talented and you're tall ( tough she was smaller)
Roger
said on 9/Aug/08
Rob, congrats on what is quite a nice pose with this gorgeous actress (though I didn't know her yet).
Jlee
said on 5/Aug/08
Another thing to that drives me crazy when I can't understand this. Do you think when someone puts on heels and is a full inch taller than you, they seem taller than someone that is an inch taller than you without the shoes? that is how i feel. I know a girl that is about 5 foot 8 or 9, though she claims to be five ten. But then she puts on these 5 inch clear heels, that don't look high by the way, and I absolutely feel dwarfed by her. But when I am around a legitimate 6 foot guy, I feel like we are close in height. Have any thoughts on this or can relate? I mean, could it be illusion that heels create with the posture and legs and such? I mean if a heel makes you 3.5 inches taller or so, why do some girls seem like 6 inches taller? A lot of people are suprised a 4 inch heel doesn't make you 4 inches taller. YET, when a girl takes off her shoe, people are shocked how tall she really is?!! Even though a shoe doesn't make you as tall as you think! Isn't this kind of hard to figure out? Being a height expert, what is your opinion on the illusion the heels can give to your height?
Jlee
said on 5/Aug/08
Editor rob, what is your opinion on heel height and how tall it makes you. You say she has 2.5 inch advantage on jenny. well if her heels are 3.25 inch, then that should make her just 1.75 inches taller. But if jenny is 1.5 inches taller, then why does she look a full inch taller than jenny? Jenny seems to stand pretty straight. Is it possible that some shoes lose less than others?

Editor Rob
the ones christina was wearing looked slightly more than this:
Here
. They'd be called 4 inch but give 3.15 actual height.
Jenny never wears heels, although I got her into a pair for
this shot
. She's a size 5uk (6us) and was just about 2.7 inches taller with the heels on, so 3.2 inches taller in that photo.
Ronaldo
said on 5/Aug/08
rob, does your gf read this site? is she interested in height as you are?

Editor Rob
she has seen some of it but not much since she herself has no Internet access, but she is happy to let me show any photos and tells people she is on my site. She's not as interested in height as me, but of course height talk comes up regularly in conversation...

see the above two photos - they were taken at a small serenity convention in Glasgow early 2007. I was there, Jenny was there but we had never met or seen each other at it - only in May 2007 did we meet and discov we're from the same town.
D. Ray Morton
said on 4/Aug/08
Rob, you lucky dog. Great photo.
J.lee
said on 4/Aug/08
editor rob, i can't seem to post any new message on my other computer. i hope i am not
Banned
and will clean up my act if i did anything wrong. anyways, how much taller in the right pic, would you say she is then Jenny? How high would you say her heels are in that pic? Let's say jenny is 1 and 1/2 inch taller. Well, with shoes that would make her 2.5 inches taller. so in order for ms hendricks to be an inch taller than jenny, she must wear shoes that make her 3.5 inches taller, which would mean she would have to be wearing 5 inch shoes. Am i correct you think?

Editor Rob
christina was wearing a very decent heel, an easy 3.25 inch, so she had a good 2 inches more than me and nearly 2.5 inches more than Jenny.
Yaspaa
said on 4/Aug/08
She was in an episode of firefly and was of course gorgeous,I wish there were more real women on TV instead of these hugless waifs.
DandyRandy
said on 24/Jul/08
She's supersexy in mad men. This woman is driving me nuts she's so sexy!! Whenever she's on screen I can't even concentrate on what's going on. It's like that scene in Wayne's World whenever Wayne sees Tia LOL.

Editor Rob
yeah that women Oozes sex appeal...
Charliemoto
said on 16/May/08
i love redheads :P
i've watched madmen and she usually appear in the 5'8-5'9 range most of the time so she must be a 5'7 not less.
id say 170-171cm
Davey
said on 13/May/08
Why are almost all sexy wowmen 5`7? weird.
ed
said on 12/May/08
God she is one beautiful woman! ow!
Yaspaa
said on 9/May/08
reeeeal woman!
Bad Radio
said on 10/Sep/07
i've seen her on firefly and i've met her. She looked about 5'6.But damn she is one smokin honey!

Editor Rob
one girl I was chatting to said 'No way am I getting a photo with her...just look at her'. She was right, this girl is pretty buxom. Anyway, her in pretty decent heels I looked an inch up at her, well I think, maybe I was too busy looking at the way she was filling out her dress ;)
Roger
said on 14/Apr/07
hi anybody have a height on Jimi Hendrix, only the greatist guitarest in the world? (LOL!) make it happen, TIA peeps