Vincent Kartheiser's Height
5ft 8 ¼ (173.4 cm)
American actor best known for roles in tv shows Mad Men and Angle. In film he can be seen in Alpha Dog and In Time. This photo is from a 2004 Starfury Convention. In an interview in Series Magazine Vinnie said
"I am a true runt! I'm 5'8" and I weigh a little less than 121 pounds. However, I have to look bigger on screen. That isn't always easy"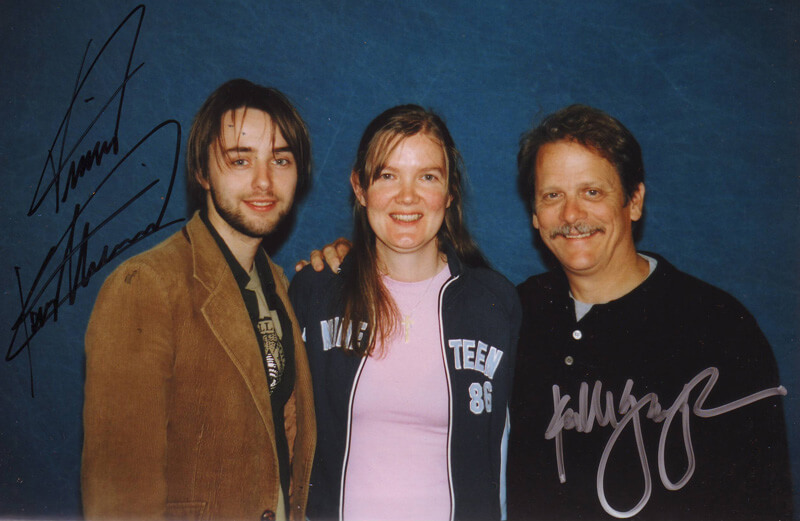 5ft 8 Rob and
You May Be Interested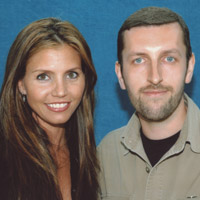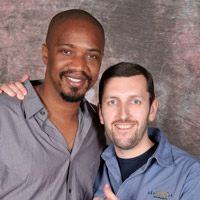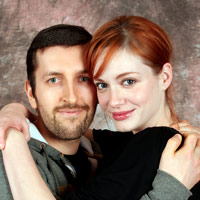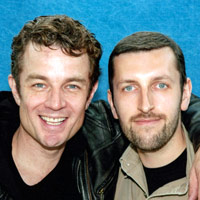 Add a Comment
52 comments
Average Guess (22 Votes)
5ft 8.78in (174.7cm)
khaled taban
said on 28/Dec/19
5'8.25" is a good listing for him and he is honest , he claimed 5'8".
I don't know why Jenny looked much shorter that day ,It could be a camera disadvantage.
Yang (5 footer 8, 172-173)
said on 16/Aug/19
In this picture, he seems taller than Jenny... like almost inch differences in height or may be he secretly wore height increase elevator shoes to create an illusion of himself being bit taller than as he is!!! This one's bit tough to guess than others somehow.. anyways, Cant believe this pic was taken way back in 2004 the year you opened this celebheight website and I was only 15 years old boy back then.
Wow, Jenny had nice long hair way back then.... Just asking this out of curiosity, does Jenny have reddish Brown hair? Some pic, she seems to have brown hair, and other pic with dark brown hair and another one with reddish hair or so...

Editor Rob
I'd call it Mousy brown, maybe a bit lighter when she was younger.
MAD SAM
said on 14/Aug/18
Maybe Jenny is in flats, 173.5 cm or 5'8.25" seems perfect
Yht
said on 10/May/18
Wow Jenny is better with long hair.
star69
said on 4/May/18
He looks at least 1" taller than Jenny. I can't see him less than 5'9.
Jay
said on 15/Oct/17
Even though he's relatively average height in the US, he's fairly short for his ancestry. He is mainly German and Scandinavian (who are some of the tallest people in the world)
Mickey
said on 8/Jun/17
honest and confident despite his smaller size... a rare gem
Mad Man
said on 14/Feb/17
The lifts he wears in Mad Men are cleverly constructed, the heels are within the inside of the shoe, and the outsides maintain the appearance of a typical dress shoe.
Revisionist
said on 1/Feb/17
A shorter actor who calls himself 1cm shorter than he actually is?! This guy is a giant in my book.
As for Google and IMDB numbers, please remember that these aren't necessarily the figures given by the actual actors. In most cases, I bet that they aren't.
Strange
said on 30/Nov/16
Why does he look over an inch taller than Jenny with relaxed posture in this pic? Maybe he wears lifts in Madmen, 'cause honestly he never looks too much more than 2 inches under John Hamm, but why would he look like a 5'9.5"-5'10" range guy here??? Seems... Suspicious. Rarely would I say this about someone claiming a height that seems low, but to be honest he seems like he'd edge you out when comparing him to Jenny vs. you to her.
Editor Rob: he's closer to the camera a few inches.
Paleman
said on 1/Mar/16
If he says he's 5'8" then he's 5'8". Why would a guy his size understate his height if he was in fact taller? Come on guys...
I agree that he looked taller than this on Mad Men but like he said, he has to look bigger on screen, so they did some tricks. He's 5'8" alright.
Dmax
said on 9/Feb/16
This looks funny as heck tho cause that dude looks near 5'10 range and is 5'8.25 and the dude shorter than jenny is 5'8.5 altho he has loose posture. But still he looks like the short dude here lol
Joe257
said on 23/Jul/15
Looks a weak 5'10" to me, like a solid 5'9.5". The MINIMUM Height for Vincent should be 5'9"! Rob, please change this listing at your earliest convenience. Thank you!
Gx791
said on 9/Jun/15
He's listed as 5'11 in this pic he barely looks 5'9 so 5'8 seems right
Alex
said on 5/Jun/15
looks at least 5'8.5
Elissa
said on 12/May/15
This guy is so hot but then I have a thing for guys I can carry around in my pocket.
Hypado
said on 22/Feb/15
Rob, in Mad Men, with Jon Hamm, both barefoot, he looks 11 cm shorter.
So:
Vincent Kartheiser - 173,5 cm / 5ft 8.25in
Jon Hamm - 184,5 cm / 6ft 0.5in
176,2Tunman
said on 19/Dec/14
Rob,have you noticed that he really looks like Kurt Cobain and even the same thin built?
[Editor Rob: in that photo he has a bit of a resemblance yeah.]
Amaze
said on 1/Nov/14
listed 180cm or 5'11? WHAAAAAAAAT
Emil 182.5 cm
said on 12/Sep/14
Looks 177 cm!
Hmm
said on 21/Apr/14
He seems like he is 5'9 to 5'10 unless he is wearing lifts
aed
said on 13/Apr/14
Looking at some shots here, he sure does look better in events than he does on mad men! He actually looks good! That hair is really not flattering on him on the show.
aed
said on 13/Apr/14
Thought he looked around 5'9'' in Mad Men. He's obviously shorter than Don, but the difference seemed smaller. It's much more his small frame and boyish face that makes him look less, aaa, manly I guess, than Slattery or Hamm. Anyway, seems like a cool dude in person.
176,2Tunman
said on 14/Mar/14
Rob,Jenny's sister looks actually nearly 2" taller(nothing Under 1.75") than her rather than 1.25",still the latter is the actual difference,I thought this would be slightly over hair level ,you are right when saying 90%of pics are deceiving,maybe the camera was slightly at Jenny's sister advantage?
Emmett
said on 6/Mar/14
He looks 5'9, and in the 140s for weight; although that can be hard to judge.
Patrick 1.75.5m
said on 10/Jan/14
Oh, i thought he is 1.80, at least. Didnt look short on mad men.
afka
said on 1/Jan/14
intersting he look like 176-178 cm in mad men
jtm
said on 10/Sep/13
5'8 or 5'8.25 is the same difference! maybe he claims 5'8 because that's his real height and he doesn't have to add 1-3 inches to his height like most celebs.
Lorne
said on 9/Sep/13
Hey you gave him the quarter inch! Between him, Hamm and Ford, your making the listings perfect! Seriously though, I guess you figured he has to measure a fraction over the mark? Well thanks, it took a year but I think this is right ;)
Lorne
said on 5/Jul/13
Thanks for the detailed response Rob, even if it took me a while to read! Yeah, your absolutely right about the pics, odd. I guess slight footwear advantage, and camaraderie advantage, not to mention posture can very much distort things. And I have been really looking at him on Mad Men, and even a few episodes of Angel, oh and in Time. There really are times he looks under 5'9. So yeah, I understand. I still say 174cm is nearer, but I can see him being 5ft8.25, he wears lifts constantly. Just goes to show even a 5ft8 guy can pull off 177cm with lifts, and you don't even have to be Tom Cruise! Anyway, thanks, I know he's not as big as a Tom or Brad, but still important to me :)
[Editor Rob: 174 isn't ruled out, it could be possible]
Leung
said on 10/May/13
his quote is understating himself, 5'8" and less than 121 pounds? I wouldn't take that quote as him being serious. Looks closer to 150lb in the above photo. He's at least 175-176cm in height.
MaskDeMasque
said on 5/May/13
He must wear big lifts in Mad Men, i presumed he was 5'9-5'10 range guy in that.
John
said on 29/Apr/13
lol 120 pounds, he doesnt look that skinny
Lorne
said on 13/Apr/13
Ron did you meet him? Or just Jenny? I know you would have noticed a 3-4cm footwear advantage. I just can't buy 5ft8 flat. As you know, to have a 1 inch footwear advantage, the shoes would have to give 2 inches of height. And he actually looks an easy inch and a half taller than Jenny, so that is 2.5in. Also, why the hell would he "admit" to being 5ft8 if he is insecure enough to wear 2-2.5in elevators to a CONVENTION!!! I also think Jenny would notice Munster heels. I'm sorry, but I just can't understand this listing. He is 174cm, looks close to 5'10 with lifts.
[Editor Rob: but maybe Jenny is further behind and he has camera advantage...I've seen him look 4 inches shorter than a 6 foot friend and 5-5.5 inches taller than a 5ft 3 guy, so 5ft 8-8.5 range, you could go with the higher one and say he rounds down if you want.
there is always room for differences between people in photos - slight difference in distances, posture changes. For instance in these 2 photos, on the left they have similar sneakers, on right they are in socks:
Click Here
. If I only saw the left photo and knew jenny was 5ft 8, would I have guessed the sister was really 3cm taller? Nope, I can't see it...but I know the photo on the right both girls were standing tall since I took the photo and Jenny's sister is measured 5ft 9.3...
]
Voiceless Dental Fricative
said on 15/Mar/13
Rob, why does Kartheiser look so much taller than 5'8 in this photo?
[Editor Rob: he is nearer the camera, maybe he has bigger shoes]
Jack
said on 24/Feb/13
tallest looking 5'8" guy I've ever seen!
Adamz
said on 8/Feb/13
68.5" (174 cm) like myself.
BigT
said on 29/Jul/12
rafa says on 19/Apr/11
I thought he was shorter, but he looks about 5'10" with Jenny
5´10"!!?? The top of Jenny´s head would be 5 cm over his eyebrows if that was the case, he looks 175-176 cm here, probably with a footwear advantage. I could just buy 174 cm, but nothing over, 173 cm most likely, he said so himself, why downgrade yourself?
Lorne
said on 13/Jun/12
No way in hell Rob! Jenny has met him; unless he was in elevators on this occasion, a flat 5'8 is impossible. I could see 5'8 1/2, maybe 5'8 1/4 even. But listing him as a flat 5'8 is insane. He has an inch and a half on jenny; unless he has an extra 4 cm footwear, then again, no way in hell!!!
Obviously he was beating the point across that he was small; he must be rounding down.
Angel and Mad Men are 2 of my favorite shows; he doesn't pull off a solid(and consistent) 177cm appearance, measuring 5'8 flat!!!
Seriously Rob, this is going to drive me crazy!!! upgrade this guy to 5ft8.25in, or even 5ft8.5in.( And do you really think your old listing was an inch and a half off??? Your the celebheight expert. No way you we're off by more than an inch.
[Editor Rob: I'm listing him at what he says]
the dude
said on 12/Feb/12
He's a strong 5'8" (maybe 5'8 3/4") like he admits himself. Look at the pic below. He's stanging next to a 5'10" John Slattery and looks about an inch shorter. In chunky footwear (dress shoes) which he often wears in Madmen, he may look about 5'10-5'11".
Click Here
linke
said on 8/Feb/12
Rob,ssup with his shoes?He looks taller than both jenny and keith.
Gracien
said on 2/Feb/12
Wow, that's unexpected. Either he's understating his own height or Hamm and the rest of the cast of Mad Men need downgrades...
Click Here
Tyler
said on 14/Dec/11
5'8"?! He's clearly taller than Jenny by at least an inch and a half. He should be listed at 5'9.5" again.
Kenneth
said on 25/Jun/11
176cm max. Towered by his co-stars on Mad Men.
rafa
said on 19/Apr/11
I thought he was shorter, but he looks about 5'10" with Jenny
James Carter
said on 24/Apr/09
he looks short in Mad Men, i allways thought he was 5ft 8
Maribel
said on 20/Mar/09
Looks 5-9 flat to me.
yeah
said on 7/Aug/08
i think he is just 5'10 even. this guy is so awsome
Ed Kline
said on 29/Jul/08
If footwear is equal, based on posture differences, I would say he is 5'10, and maybe close to 5'10.5... No way to now if he is wearing boots.
Matt
said on 29/Jul/08
Wow, that's a surprise. Always looks short on Mad Men. Would have had him at maybe 5'8.5". I guess this puts Jon Hamm at a solid six foot.
Bj25492008
said on 28/Jul/08
Yeah, it would be much better if we knew the footwear. She is probably wearing sneakers, and he is maybe wearing a boot or a shoe with a slightly larger advantage. There is about an inch between them though.
Anonymous3
said on 28/Jul/08
looks a possible 5'10 from this photo, are they all wearing sneakers?
[Editor Rob: she can't remember, but she always wears sneakers from 0.5-1 inch usually.]