J. August Richards Height
6ft 3 (190.5 cm)
American actor best known for playing Charles Gunn on tv series Angel and Deathlok on Agents of Shield. On twitter he mentioned his tall stature a couple of times, saying he walked tall at
"6'3"
.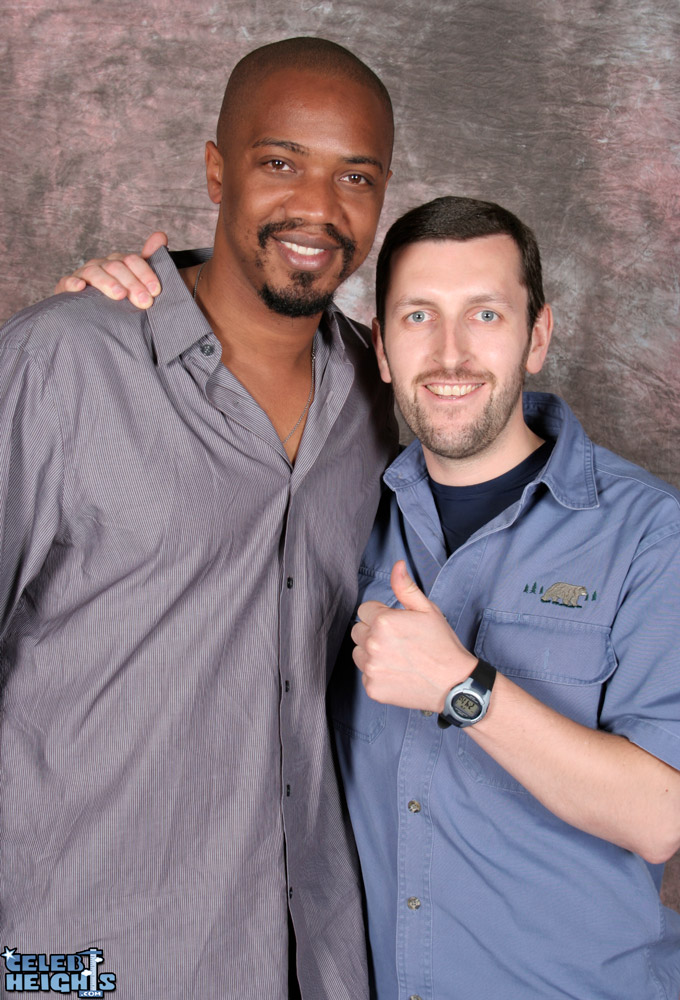 5ft 8 Rob and J @ Starfury Decalogy 2007
You May Be Interested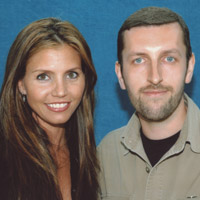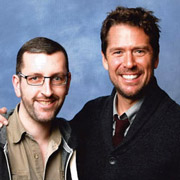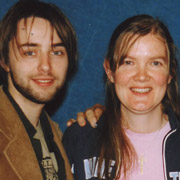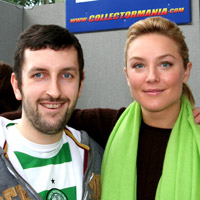 Add a Comment
64 comments
Average Guess (32 Votes)
6ft 3.05in (190.6cm)
Crane
said on 26/Jun/20
A real honest 6 foot 3. Not a weak subpar "6'3" like Chris Hemsworth.
Chris Junior Hernandez 1990
said on 21/Oct/19
I don't feel Chris Hemsworth is a match from August. Chris maybe his agency listed low 190cm and August was a guy does not fall below 6'3.
Nik Ashton
said on 7/Aug/19
It's great to give him an August comment! He looks 6'3" to me!
Dream(5'9.5
said on 11/Sep/18
Rob, did he have more footwear or less footwear?

Editor Rob
If there is 0.2 or more I would mention, but within a few mm's like here, there's nothing to mention.
Dream(5'9.5
said on 11/Sep/18
Yet, Rob confirms that J August Richards is comfortably taller than Brandon Routh by about an inch.

Editor Rob
He looks taller in person, so at least half inch but a full inch I am not so sure about that...
Westworlder
said on 15/Aug/18
I think August is 6'3 flat/on the dot. There was a video he did with Chris Pine, and Pine as a solid 6ft guy only looked about 2.25 - 2.5 inches shorter.
Dream(5'9.5")
said on 2/Aug/18
Yeah, he's taller than Tom Welling, since Rob did say J was easily taller than Brandon Routh.
Maybe Rob could give J August Richards a 6'3 1/8" listing, but there should be a specific quote or source that would support the potential listing.
Matt6'5
said on 5/Jul/18
Up close, would you say he is taller than Tom Welling?

Editor Rob
I've yet to see Tom, so couldn't say...except in person I'd estimate J as 6ft 3 range, not less than that.
Nik
said on 1/Jun/18
This is a very believable listing, in fact he may be 6 ft 3 and change!
Christian-6'5 3/8"
said on 31/May/18
Legit 6'3"
Dream(5'9.5")
said on 30/May/18
Rob, if it were up to you, probably 6'3 1/8" would be a better fit for J than 6'2 7/8".
Junior Hernandez 1990
said on 21/Apr/18
Rob, Richard could be a 6'3 1/4 guy that i doubt maybe not flat 6'3 as you listed Reed Diamond at 6'0 1/4. I can see solid 3" between them not 2.75".
Click Here
: Look 3.25" taller than 6'0.25" Reed Diamond but Richard had like 1/4 more shoe advantage.
Click Here
: check out both of their footwear here. Reed had a converse style looking about 0.8" and Richard had a 1.2" looking running shoes on.

Editor Rob
Always a chance of a little over 6ft 3 for J, Reed I think could always lose a fraction more in posture there.
ArnieDan
said on 6/Dec/17
Genuine 6ft3 if the footwear is the sameish
Editor Rob: J August in person is comfortably taller than brandon routh, possibly 3/4 of an inch...so he might be 6ft 3 and change.
Rampage(-_-_-)Clover
said on 6/Jul/17
Looks a little bit taller than Brandon Routh and Jack Coleman do w/h Rob. No reason to doubt 6ft3
Editor Rob: he really is a solid 6ft 3 guy in person...
Mark(5'9.25
said on 26/Nov/16
He's leaning and he still manages to give a taller impression than Brandon Routh.
A legit 6'3" this guy is.
Editor Rob: J is definitely taller than Routh up close.
Brandon
said on 17/Oct/16
6'2.5" with the lean
6'3" with good posture
Definitely 6'3"
Editor Rob: yes J August looks 6ft 3 in person.
philll
said on 3/Oct/16
he look 6 foot 2 and a half in this pic, but he is dropping more height than rob do id say he is 6 "3
Aza
said on 30/Jun/16
Yep genuine 75 inches
Rampage(-_-_-)Clover
said on 26/Apr/16
He looks all of 6ft3
Mathew Robinson (190 cm)
said on 24/Apr/16
Possibly more 189 - 190 cm range? 6'2.75" might be better than the full 3"
Editor Rob: I think 6ft 3 range suits him
Yaspaa
said on 4/Dec/15
He's taller than Hallett by a good inch.
seb1.91
said on 6/Oct/15
He is no more than 6 ft 2, I look taller with my 5 ft 8 but I am a legit 6 ft 3.
joe 193cm night
said on 6/May/15
6´2.75(190cm)
Lorne???
said on 21/Mar/15
J August Richards height: 6ft2.75/190cm
alex
said on 30/Nov/14
He is clearly shorter t'han 6'3 Teddy Sears in raising the bar.one of the two listings is wrong
Lorne
said on 30/Jan/14
I know you said he looked legit 6ft3, but he never looks 6-7cm taller than Alexis! I always thought he might dip a little under 6'3, I think a flat 190cm is likely now...
thorterr
said on 12/Jan/13
looks like will smiths brother and probably the same height to
Andy
said on 6/Oct/12
Legit 6'3 his big head makes him appear shorter than he really is.
Robby
said on 6/Sep/12
Currently watching Angel on Netflix. JAR had several inches on Angel and Wesley both around 6'0.5"-6'1.25" was also taller then Lorne aka as the late great Andy Hallett who is listed at 6'2". I think 6'3" for sure.
Hob
said on 28/Jul/12
by looking from tip head to tip head of J. August Richard and rob i don't see 7" different. he maybe 6'3 in real not so sure for this guy. but up here can't deny he looks a solid 6'2.5
Lenad
said on 5/Nov/11
standing properly i can buy 190cm at the lowest
Mathew
said on 1/Nov/11
LUCOSO says on 22/Sep/11
maybe 192 or even more 193
No way. 6'3" is high enough.
LUCOSO
said on 22/Sep/11
maybe 192 or even more 193
Anon
said on 11/Sep/11
At least 6'3, he's towering Rob with a slouch.
Alex
said on 4/Sep/11
Would look 6'3 if straight.
Rampage(-_-_-)Clover
said on 4/May/11
James in your earlier post you said he looks a legit 6"3 guy and you think he's not over 6"2
James
said on 2/May/11
looks bigger than 6'2.
Lenad
said on 29/Apr/11
6'2 here but if he straightend up definitly 6'3
Aaron
said on 9/Apr/11
Yeah, 6'3" flat. Kind of a small guy for his height. I agree with you, Rob; he's closer up, making his head look much larger than it actually is. If it were to ever come to the cloth measuring tape, I bet Rob's head is bigger than this guy's.
James
said on 15/Feb/11
188cm with bad posture in the pic. he looks like a legit 6'3 guy though.
57.37
said on 6/Jan/11
Matt, Rob's head is almost 2" shorter than J.A.R.'s!! isn't that right Rob?
[Editor Rob: Maybe 2cm in that photo, but you are comparing one head that might be a little bit more tilted down (thus elongating it compared to the one looking dead on)...and also one that is nearer the camera - the shadow on the right side of my head is a bit of a clue there as to whose head is nearer and blocking out some light ;)

you can see it on the christian kane photo aswell where I'm in J's position but the shadowing is on the left hand side of my face...again because Christian was nearer. One of the few celebrities I've seen who moved nearer the camera.

Unfortunately only a smaller % of shots have double lighting so it's harder for people to tell if someone's head is nearer with just a single light.

The smaller your head the easier it is to get away with being nearer a camera and nobody noticing.]
Matt
said on 8/Dec/10
@ sprint84
even in this photo robs head is only slightly smaller but richards is leaning toward the camera and leaning his head down to make it look larger than it is, i bet robs head might even be bigger
Anonymous
said on 31/Oct/10
Looks like 6'2 when he's slouching. So 6'3 should be close.
Newt
said on 28/Oct/10
Looks 6'2 if he's standing straight
Hugh 190cm
said on 22/Jun/09
No way 6ft1.5. All of 6ft3 and probably closer to 6ft4.
James
said on 3/Jun/09
6'1.5 with a slouch next to rob
Hugh 190cm
said on 3/Jun/09
Straightned up he's be closer to 6ft4. This here is what a real 6ft3 guy should look like.
Mathew
said on 31/May/09
looks like if he straightened up he'd hit near 6'3".
Anonymous
said on 29/May/09
a good 6'3 tall.
Hugh 190cm
said on 28/May/09
more likely 6ft3.5-6ft4.
Josh.J
said on 22/May/09
he's definitely was the tallest cast member in angel. he had alexis denisof by at least an inch. more like 6'3 and some change.
Emilie
said on 21/Nov/08
Definitely looks 6ft 3! Great actor ane he's good looking :)
cantstop25
said on 6/Dec/07
defintiely looks atleast 6'3" here
mofo
said on 5/Dec/07
Easily 6ft3.
infin
said on 5/Dec/07
well, taking into accoubt that he's leaning, he looks 6'4 to me.
Dave
said on 2/Dec/07
he almost looks closer to 6'4 there to be honest.
OutBenchThis
said on 2/Dec/07
He looks more 192cm (6'3.5") when you factor in the lean
saga
said on 1/Dec/07
David Boreanaz looks kinda average here:
Click Here
However the bear with the trees in the backgroung on Rob' shirt is priceless! Thumbs up. ;)
[Editor Rob: that's "walking bear" ]
AAAA
said on 1/Dec/07
Damn, all those guys on Angel were big. David Borenaz may have been on the "small side" for that show
Derek
said on 1/Dec/07
6'3" with ease.
saga
said on 30/Nov/07
He looked very tall in Angel, i thought 6'4-6'5 maybe because of his lanky frame but he's actually just about my height. He might be even 6'3.25-6'3.5 (191-191.5cm) with proper posture here with Rob, however 6'3 is pretty much accurate i guess.
Anyway I think he's more than 1" taller than Eric Balfour.
Click Here
Beebopp
said on 19/Sep/07
man, the Angel guys are TALL. ALways thought Angel was the tallest. At least Spike's ont thatm uch taller
ed
said on 5/Jun/07
I think this one is correct because he looks 1 inch taller than 6'2'' Eric Balfour.
Click Here
[Editor Rob: I met him last week actually and yes, a big guy, he can have slouchy laidback style but looked 6ft 3 range. Funny as hell and can sing. Shame he's not done much since Angel days.]
Jack
said on 26/Apr/07
I think J is 6ft 4". In the final season of Angel especially, he looks 2 inches taller than 6ft 2" Alexis Denisof.
[Editor Rob: I don't think Denisof is full 6ft 2, 6ft 1,1.5 might be closer.]