Morena Baccarin's Height
5ft 6 ¾ (169.5 cm)
Brazilian-American Actress best known for roles in Homeland, Firefly, Gotham, Stargate SG1, V and films like Deadpool and Serenity. In 'Way off Broadway' she is asked how tall she is, to which she says
"5 foot 8"
. In this photo I had about 0.6 inch more footwear than her.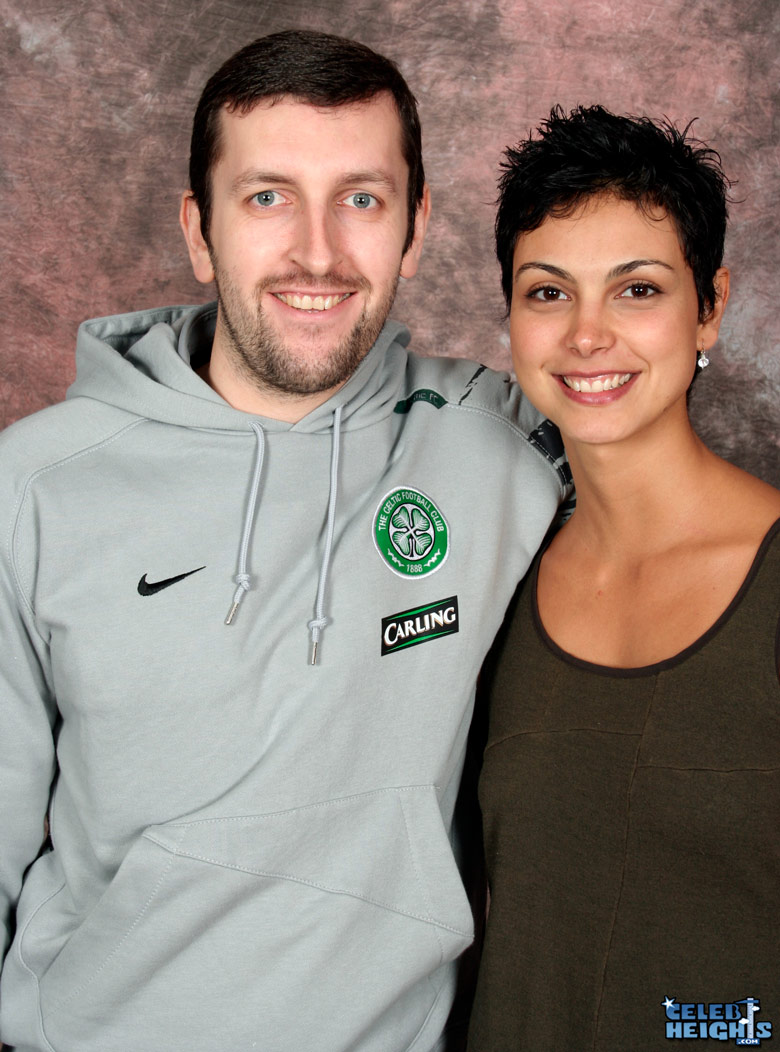 5ft 8 Rob and Morena @ 2008 Starfury Convention
You May Be Interested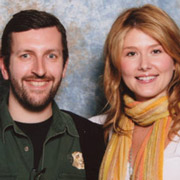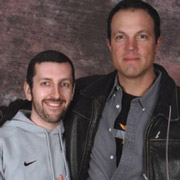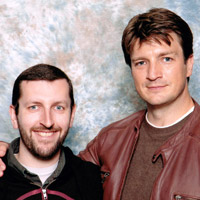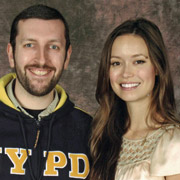 Add a Comment
124 comments
Average Guess (69 Votes)
5ft 6.3in (168.4cm)
Realist
said on 14/Nov/20
She is 5'6 even I know he has a slight shoe advantage but if she was really 5'7 then the difference between them would be 2 inches but it looks like almost 3 inches.
Jam Cherry
said on 27/Jun/20
People forget Rob is 173.5 cm and not "just 5 foot 8" judging by the photo I can say Morena is in the 169-169.5 cm range considering 173.5 cm Rob has +1.5 cm advantage over her
JakestJake
said on 23/Jun/20
She's 5'6". Rob always falls for the poofy hair fake-out.
berta
said on 30/May/20
she looked tall in deadpool but beside rob she looks mutch shorter than i imagened
JohnMoore-162cm
said on 3/Apr/20
Actually She looks flat 5ft6 ,
TheBat
said on 24/Feb/20
Weak 5'7"
Junior Hernandez 1990
said on 26/Jun/19
Rob look 6cm taller with 1.5cm footwear over her. So 4.5cm but how could she be 169.5cm rather than 168.5cm? I think shes closer to 169cm, don't think under 4cm shorter than 173cm Rob.
khaled taban
said on 17/Jun/19
5'6",but claimed 5'8".
Do you know why people call 5'8" men short? Because 5'6" and 5'7" people claim 5'8"!
MATA176
said on 5/Apr/19
Thank you for your answer
it's interesting
This photo was taken one day before my 13th birthday
I was born on November 29, 1998 :))

Editor Rob
So you were age 6 when CelebHeights was launched.

I hope the site continues a long time, it's interesting accumulating photos with celebrities, they are good also for remembering events.
MATA176
said on 4/Apr/19
Hi Rob
What was your height when you took this picture?

Editor Rob
I would have probably been 5ft 8.25 as it wasn't past mid-day from what I remember, maybe 11-11.30.
ArjunaKorale
said on 16/Mar/19
I really like her character in Gotham. In fact, my wife teases me that I only watch Gotham coz I love to perve on her! Not true as I like Robin Taylor & Ben McKenzie's characters too (though not to perve at, lol!). I also like her in the Deadpool films & Serenity. On her height, I guess she's around 5 ft 6 or half an inch taller.
Jancys
said on 23/Feb/19
On the picture with Jenny, she looks like 170 cm, but on the picture with Rob she looks like 166 cm. So, 168 cm my guess.
Miiiiiiighty_-
said on 29/Sep/18
Doesn't look 169cm to me in the pic with Rob, even accounting the footwear difference.
More like 167cm at best..
Mickie
said on 1/Aug/18
She's not under 5'6.5" and not over 5'7". Rob's got a perfect listing.
Gerry Blue
said on 3/Jul/18
I'd say 5'6", gorgeous anyhow
Sarah
said on 24/Jun/18
Possibly 5'6.5?
Christian 6'5 3/8"
said on 22/Jun/18
Taking her footwear into account, she looks 5'6" with Rob honestly.
Nik
said on 22/Jun/18
Over the average vote and under her listing!
Peter175
said on 20/Jun/18
less 5'6 with rob (barely) and 5'7 with Jenny.
Conclusion? 5'6.5
Nik
said on 6/Apr/18
I trust her listing more than the average vote!
Interval
said on 29/Mar/18
Rob you look even MORE than 2 inches taller than her in the photo. Her eyes are below your nose. Can it appear more like a 3 inch difference?

Editor Rob
I think she must have dropped a bit more height as I am not sure she was looking barely 5ft 6 when greeting her that day.
MAD SAM
said on 15/Dec/17
She's doesn't look more than 5'6" in both deadpool and homeland
Anonymous
said on 15/Nov/17
Definitely 5'5 or 5'6 you look 2.5 or 3 inches taller easily.
Canson
said on 19/Oct/17
@Rob: even taking into account footwear she still doesn't look even 5'7". Id say 5'6 1/2 all things considered . Maybe with Jenny she can but can't tell footwear there who has what. Maybe 5'6.75 is more fair
Editor Rob: it might be a better figure for her really.
Original
said on 23/Sep/17
She looks 5'7 with Jenny and 5'5.5" with you. I think she is a solid 5'6.
Christian-196.5cm (6ft5 3/8)
said on 29/Jun/17
Editor Rob: she certainly looks quite alluring in person, although not as tall as some might believe.
-----
Rob, I don't think his question had anything to do with her height. He was just asking how beautiful she was.
Editor Rob: Christian, if you pay attention, I am turning the comment back to height at the end 👍

Morris
said on 10/Jun/17
how beautiful is she Rob? :D
Editor Rob: she certainly looks quite alluring in person, although not as tall as some might believe.
Scarlett Rose
said on 21/May/17
Message to Editor Rob: There is more than an inch difference between you and Morena. The height attributed to each celebrity at the top of the page is reportedly the celeb's height "without shoes". Some people are being dishonest about their true (natural) height.
Editor Rob: Scarlett, she had definitely a thin shoe on that day so at a noticeable disadvantage...
Mike
said on 20/Feb/17
5ft 6.5 is closer to the truth, and I'm being generous...
Marquis
said on 7/Jan/17
5'6", and hot as heck. Loved her in Deadpool, has the best smile of any actress working today.
Strange
said on 30/Nov/16
Looks 5'7 and change next to Jenny, but 5'5" next to you. Care to explain? Something with footwear or angles or something??
Editor Rob: I knew her footwear was quite flat as I mentioned (about 0.6-0.7 less than mine), but wasn't sure the other day exactly what she had, but she did look taller the other day.
Bobby
said on 18/Nov/16
5'6 I'd say, you have at least two inches on her Rob, maybe even 2.5-3 inches. If she were 5'7, her head would peak out near your forehead. It's possible she's 5'5 at worst.
SS
said on 30/Oct/16
I'd say 5ft 6.5
Concerned 182 cm
said on 23/Jul/16
Her being 5'7 holds up much better when she's standing next to Jenny.
irshgrl500
said on 13/Jul/16
Rob, if you are 5'8", Morena is 5'6", at most even with the footwear, the two of you are wearing she's still a full 2 inches shorter than you. How can you honestly say she's 5'7"?
Editor Rob: I wouldn't rule out the idea of 5ft 6.5 for her, but even in Deadpool she held up not too badly beside Reynolds.
Mat
said on 4/Jun/16
that jenny woman is a weak 5'8 and she looks about 1 inch taller than morena. on the other hand she looks exactly 3 inches shorter than you, I can't see anything above 5'6 for her.
Editor Rob: jenny was still a decent 5ft 8 then, compared to last couple of years where she's lost a fraction and is more a weak 5ft 8.
Mat
said on 25/Mar/16
She looks 3 inches shorter than you Rob... Say you got almost an inch more footwear than her and it's a 2 inch difference. 5'6 is the most she can be, how do you explain that?
NBAer
said on 8/Mar/16
She didn't look that much shorter than Reynolds in Deadpool,i thought she was like 5'9-5'10 lol before coming here,but she probably wore major heels next to Ryan.She looks maybe 166 next to Rob with much less footwear,don't be fooled by her hair,so i think she's somewhere between 167-168cm barefoot honestly...She's obviously nowhere near 173...! Just going to show you that women can lie as much as men do about their height,if not more.But she's good looking though,no doubt about that!!...
heelshealheight
said on 9/Dec/15
I would agree that 5'7' is generous. I would also estimate a few inches less.
172.4cm guy
said on 14/Oct/15
Absolutly stunning woman. But in regards to her height, I don't know Rob...I think 170cm is generous. The photo gives evidence of a height difference much larger than just 3cm, even when taking your shoe advantage into account. I think she is 168-169cm more likely. Further evidence of the this claim can be seen in Gotham, when she is noticeably taller than Ben McKenzie, who looks around 171-172cm. True, he wears thick sole shoes in the shoe, and she's often in a modest heel, but I think somewhere around 5'6.75" is more likely.
Maverick
said on 5/Sep/15
Hey Rob, who do you think is taller, Morena Baccarin or Christina Hendricks? You have both of them listed at 5'7, does any of the two actresses seem taller to you than the other? As a fan of Firefly, I am really curious.
[Editor Rob: do a back-to-back with these girls and put a ruler on their heads and it might be almost level...but, I feel maybe Christina might win it by a whisker.]
Jdawg
said on 3/Aug/15
I'd put her at a 5'7.5 max. She's incredibly attractive.
Sammy Derrick
said on 11/Feb/15
5'7 impression...
And who cares 5'6...5'8...long hair...short hair...I don't care.She is gorgeous
TJE
said on 21/Jul/14
Standing 166 cm with Rob.
Rob takes arm off and she looks 167.
She straightens her posture up and she's 168.
She's at footwear disadvantage, add another 1.7 cm and she's 169.7.
Rob's exactly 173, about 3 mm above a flat 5'8; add 3 mm and she's exactly 170.
Arch Stanton
said on 13/May/14
Me too Sam, she's much more gorgeous with long hair. Very short hair doesn't do much for most women and I think long hair looks better on most, although Charlize Theron is the exception IMO.
Sam
said on 1/Apr/14
She does give a strong 5'7" impression in this photo and on screen. She's obviously gorgeous but (as usual) I prefer her looks with longer hair.
Nadia
said on 18/Jan/14
5'6" flat
Bakura
said on 27/Nov/13
It's weird, Rob's making her look 5'5" even though she only has a 3/4 inch footwear deficit, yet she looks about 5'7" with Jenny.
Matt 184.7-186.7cm
said on 26/Oct/13
5ft 7 or a touch under
J.Lee
said on 28/Aug/13
Rob is she leaning down in the pic next to you? You look about 3 inches taller. At least 2.5 inches. The most she could be would be 5 ft 6 1/2 if she's wearing flats
[Editor Rob: I'm sure she dropped more height than I remembered, because she looked taller than the photo]
Shelly
said on 28/Aug/13
5' 5"-5' 6". There's no way she's anything past 5' 6", especially in the right photo.
Kourosh 177-178cm
said on 4/Aug/13
5i see 1.5 inches difference with jeny and with rob up to 3 inches. How on earth this lady can be 5'7?
Jack
said on 3/Jun/13
I always thought she was at least 5'7"...she has a fit athletic body and very long legs
Mathew
said on 23/May/13
Rudi Bukit says on 16/Apr/13
She looks 4 inches shorter than Rob in this pic. Absolutely 4 inches! So if Rob is 5'8 (but Rob worn more 0.6 inch higher sneaker than her flats) so I think she is definitely no more than 5'5 (165 CM)!!!
---
No, that's not what 4" looks like. Granted she looks well under 5'7" even considering footware, but she's not 4" shorter in the pic either. With Jenny looks notably taller than with Rob.
Rudi Bukit
said on 16/Apr/13
She looks 4 inches shorter than Rob in this pic. Absolutely 4 inches! So if Rob is 5'8 (but Rob worn more 0.6 inch higher sneaker than her flats) so I think she is definitely no more than 5'5 (165 CM)!!!
Byron T.
said on 19/Jan/13
This beautiful woman is no more than 5'6.''
greg
said on 17/Jan/13
What others have said; she looks a good two inches (if not more) shorter than you Rob, so she can't be anything taller than about 5'6" max, probably closer to 5'5" (and she's a cutie).
Candyman
said on 10/Dec/12
Maybe 5'6.5
Silent d
said on 5/Oct/12
I think 169cm is right on.
Maximus
said on 26/Sep/12
She is not 5'7"....she looks at best 5'6"....Rob has at least a 3" advantage in the second picture.....
Johnnyfive
said on 18/Sep/12
I see 5'6 for this gorgeous woman. Maybe 5'6.5
beqa
said on 18/Aug/12
5'6 is best for her
c-mo
said on 18/Aug/12
man she is gorgeoussssss!!!!
she gives me a 168-169cm impression
Danimal
said on 28/Jul/12
Isn't 5'8" Jenny really 5'9"?
[Editor Rob: not when she dips a few mm below five eight on the stadiometer. ]
theblacklab
said on 9/Jun/12
Her tossled hair gives her a lot of height, 5'6" I think.
Adamz
said on 9/Dec/11
Lol rob she is like 3 inches shorter than you. how is she 5'7" ?
[Editor Rob: she had thinner footwear and I think at last moment did drop some more height.

although saying that, I saw her at another event a few years back in heels and she didn't look any taller than me, but it wasn't long enough.]
Candyman
said on 31/Jul/11
Psht!! I'd take her any day. Perfect height for me. Even if I was 6'5" I'd still have her at the top of my list.
Brazilian Fellow
said on 6/Jun/11
Good height, beautiful body, awesome face...but ultra-ugly short tomboyish hair.
thorterr
said on 18/May/11
are you telling me aaron that you wouldnt go with morena because shes too short for you? or you wouldnt go with angelia jolie or halle berry? think its time to get ur black and decker out
Aaron
said on 4/Apr/11
I care both that she's gorgeous (although I got her confused with Leonor Varela at first) and that she's tall. Still too short for me though. I'm 6'5" so a proportional woman would have to be at least 5'10" :P.
thorterr
said on 5/Mar/11
you should care observant this is a height site not a model site lol
Observant
said on 28/Feb/11
I think shes shorter than 5'7 but who cares shes gorgeous
Marissia
said on 5/Jan/11
Her neck looks freakishly long, not that there's anything wrong with that.
da_truth
said on 4/Jan/11
short hair, long hair...she's stunning
5'5.5" - 5'6" nothing more
krazy krippled!
said on 2/Jan/11
she looks 5'8 next to Jenny
J.Lee
said on 15/Jun/09
no olivia. more like 5 foot 4. close to five six may be the average height of a white women. but not overall. We can prove it to you if you want. the average height of a women is actually a little under 5 foot 4.
J.Lee
said on 14/Jun/09
rob y does she say 5 foot 8 when she knows 5 foot 7
[Editor Rob: some people think nothing of rounding up, or saying a height in shoes...or a morning height.]
Olivia
said on 14/Mar/09
Well, Zaq, 5 ft 2, 5 ft 3 is actually small, minimum for average is 5 ft 5 but not under, under that's small...Tallish for a woman is at least 5 ft 7. So I guess 5 ft 6 would be the exact average for a woman...
ZAQ
said on 11/Mar/09
yes i know olivia
the average height for a women as i notice everywhere is 5'2-5'3
anything over 5'5 is tallish
Olivia
said on 11/Mar/09
I don't say that 5 ft 7 is the exact average height but I guess that we can consider that between 5 ft 5 and 5 ft 7, it's the average for women...But of course, that's only my POV.
Davidoff
said on 22/Feb/09
5`7 is not average height for a woman Olivia.
Olivia
said on 15/Jan/09
Morena is an average height woman, so 5 ft 7 seems very correct.
Jlee
said on 27/Nov/08
Rob, you have 1/2 inch more footwear than jenny does. but you seem way more taller than her than Jenny does. why is that?
[Editor Rob: I'm going to go with morena having looser posture.]
Haze
said on 18/Nov/08
wow my last comment reads allot different than i intended it to. i meant that jenny "looks" short here. ive seen some of her other pics and have no doubt on her height. and i meant 3 inches not 4 with the rob pic. but posture is everything so "looks like" or "seems" dont mean much
[Editor Rob: I saw morena again - although didn't get a pic - I would still stick with the above estimate.]
Brad
said on 17/Nov/08
Morena is gorgeous.
Haze
said on 8/Nov/08
jennys looking 5'5 ish to me. i dont buy 5'8 or 5'7. if rob is 5'8 in my eyes that means a 5'5 morena, and 5'5.5 jenny. i see a almost 4 inches with rob. even with foot wear..... no way
Complex
said on 30/Oct/08
I'm not even sure who she is, she looks kinda familiar, but Rob, you look all of 5'10 in that picture...
Parker
said on 5/Aug/08
Really good photograph of the two of you Rob. Shows the significant difference heels can make aka Tom Cruise. Katie Holmes would be 6' in many photographs with Tom, which reinforces my belief he's 5'8
Yaspaa
said on 4/Aug/08
Nice to see someone with hair Jenny.
Yaspaa
said on 4/Aug/08
Thats a cracking shot of Jenny and yourself Rob,the pair of you look like you are keeping your laugh in lol.
[Editor Rob: we had a laugh when she was trying the heels mind you - never wearing them she was wobbling a bit, and I was having to hold her hand to get her into position...]
runt
said on 4/Aug/08
Then this confirms that posture is everything! Rob is .5" shorter than Jenny but looks 1" taller due to posture differences! Seriously, I'm going to have to re-evaluate every height comparison that I've ever made.
miko
said on 2/Aug/08
Rob, maybe she's pulling a "Stallone" on Jenny? ;)
Ras
said on 1/Aug/08
This is indeed the weirdest comparison I've seen in this site. How's Jenny 5'8.5? Yes she looks just about 5'8/5'8 and change but then Rob must be 5'9.75 or 5'10.
[Editor Rob: I think it's just that Jenny has looser posture than Morena, and Morena has a looser posture than me.
I mean
Jenny with Keith
, and then me with
Keith
...]
Yaspaa
said on 1/Aug/08
Boys don't cry 2
xyzblast
said on 1/Aug/08
This indeed does not make sense. Say Rob is 5'8.75, she looks 5'5.5". Jenny on the other hand even with 0.25" advantage still only a little taller than her. Thus Jenny is not 5'8.5 based on the following.
runt
said on 1/Aug/08
This doesn't make sense. Jenny's 1.5" advantage+ .25" advantage=1.75" advantage. Rob's 1" advantage+ .75" advantage=1.75". No matter how tall Morena is, there should be the same height difference in both pics.
[Editor Rob: I am pretty sure Jenny was slightly more loose with posture than Morena.]
Anonymous
said on 1/Aug/08
She looks around 5-5 to 5-6
anonymous
said on 21/Jul/08
Yeah Ras, i am forced to agree with you.
Ras
said on 17/Jun/08
Anyone else agree 5'5.5?
Ras
said on 5/Jun/08
Okay 5'4 is ridiculous, yes. Now if Rob is 173 on the line plus an inch then 175.5. If Morena is using 1/4 inch shoes, and I can see 3.5 or 3.25 inches there, then she must be 5'5.5 barefeet, 5'5.75/167cm with her shoes on. 5'5 may be a bit too low and no way is she reaching a proper 5'6. THus I conclude she is 5'5.5-5'5.75 barefeet.
runt
said on 4/Jun/08
yeah, if she were bald, rob could see over the top of her head LOL
TNTinCA
said on 3/Jun/08
I gotta agree with Davey and Ras.
Ras did a nice job lining up the images with those horizontal markers. I honestly see at least 3 inches of difference.
Davey
said on 2/Jun/08
she is no way 5'7 if rob is 5'8.She looks about 5'5
Ras
said on 1/Jun/08
How could anyone say he's got just two inches on her? I can honestly see 4. It's just the hairdo that is deceiving, it really gives her about 2.5 in
Click Here
(I maybe even marked a bit above her head). Just going by the eyeline you can see there's at least 3 inches of difference. 5'7 with heels on.
[Editor Rob: spiky hairdos can be a bit deceiving.]
Charliemoto
said on 31/May/08
173 + 1 inch = 176cm so you were 6cm taller than her and that's fine.. she's got 3/4.
i definetely see about 6-7cm difference, this mean that she's 170cm with whatever she's wearing and 167-168cm barefoot, 168 being teh max for her.
Ras
said on 30/May/08
I remember this guy Nick was good at photoshop, he could help us out here.
anonymous
said on 30/May/08
looks more like 5'5 - 5'6. she would need to be on her tip-toes to get to 5'7 even with the 3/4 inch shoe difference.
Lmeister
said on 29/May/08
She doesn't look even close to 5ft8 more like 5ft6.
dmeyer
said on 29/May/08
5 ft 7 looks right considering rob has 2 cm advantage foowear plus 1 in in height
LIL LEE
said on 29/May/08
robs probably wearing lifts here
Ras
said on 28/May/08
This estimation is WAAAAAY off, no way is she 5'6, let alone 5'7, 5'5 at best but more properly 5'4. The 5'7 listing doesn't make sense at all unless you were on a box. The top of her head (minus the big haircut) comes up to your eyebrow, it would be unreasonable to put her at a quarter over 5'5. Taking the eyes level I'd surely go with 5'4 but wouldn't discard 5'5 as a far possibility.
Winner
said on 28/May/08
she looks like 4 inches shorter than u on this photo! cant belive o.o
anonymous
said on 28/May/08
rob, you are towering her by at least 3 inches. how is she 5`7? is she bending her knees?
[Editor Rob: she has 3/4 inch less footwear, but I would need to see her again to say if she was closer to 5ft 6]
derek d
said on 28/May/08
Looks 5'5 1/2 almost 5'6 there with you rob lol.... So maybe 5'6.5 without the footwear disadvantage? I don't know about the 5'7...
Charliemoto
said on 28/May/08
lol no way 5'7 ..5'5.75 to 5'6.25 max.
Jake Is Back
said on 28/May/08
Under 5'7".
TNTinCA
said on 28/May/08
Even with the footwear disadvantage, she looks 5'6" at best to me.
runt
said on 28/May/08
Rob are you wearing cowboy boots? (still doesn't explain it but its a start)
Yaspaa
said on 28/May/08
What's with the hair?
M.P.
said on 7/May/08
She's about the same height as Claudia Black in Stargate SG-1, but a little bit shorter, maybe by an inch or so. So, 5'7 1/2" seems to be the best bet.
Xander
said on 21/Mar/08
She stands 5'8, met her at fan expo as well
BackStageJim
said on 27/Sep/07
I'd say 5'7 in flat shoes. Met her at Chicago airport.
Sandro
said on 25/Jul/07
Met her at a fan expo in Toronto and I can confirm this height. She is definitely taller than me and I stand 170 cm.
Anshelm
said on 16/Feb/06
Hm, IMDb says 172 cm; anyway, as a Brazilian it's likely that she knows her height better in metric terms. Not to say celebs would update their own IMDb entries