Molly Ringwald's Height
5ft 8 (172.7 cm)
American Actress best known for roles in Pretty in Pink, The Breakfast Club and Sixteen Candles. At age 15 she said
"I'm already taller than [my older sister Beth] - I'm 5-foot-7 and I hope to grow another inch or two"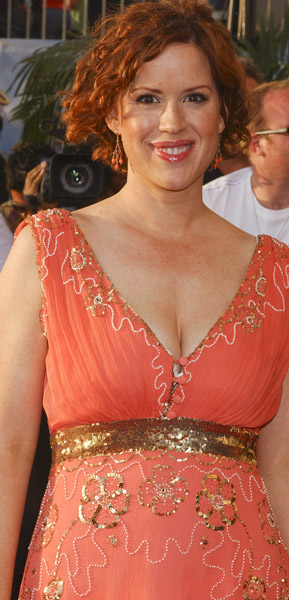 Photos by PR Photos
Add a Comment
24 comments
Average Guess (9 Votes)
5ft 8in (172.7cm)
Miss Sandy Cowell
said on 19/Feb/21
💐🎂🎈 Many Happy Returns to Molly Ringwald, who celebrated her 53rd Birthday yesterday. 🎈🎂💐
My favourite of her films is far and away Stephen King's 'The Stand', which comes in two parts. They were shown on two consecutive days when it was first on our UK TVs. I simply HAD to buy it, so that I could feast my eyes on the entire extravaganza in one go, and then one day, as well as watching 'The Stand' with my friend, we followed it up with Stephen King's elongated version of 'The Shining', also a two-parter, but one which doesn't star Miss Ringwald.
Molly looked a tall, model-girl height, so I have no qualms about giving her 5ft8.
Miss Sandy Cowell
said on 28/Nov/20
Molly is starring in an episode of 'Medium', called 'The Darkness is Light Enough.'
She plays a blind woman who is being menaced by an obsessive male neighbour, who can access her house without being seen. That's a bit strange! It's a well-known fact that the blind develop keener senses of smell and hearing to make up for their lack of sight.
Anyway, the lady Molly plays, named Kathleen Walsh, reports this stalking creep and, with the very capable help of Allison Dubois and the District Attorney, Manuel, the criminal is caught and sent to prison.
You can tell from her comments above that Molly loves being tall. It must be unimaginably awful to be trapped in a tall body and not like it. I reckon it to be worse than being short and loathing it; at least a short person can 'hide away' when she or he is feeling crappy! Yes, this has often popped into my head, and makes me thankful for small mercies. (Eek! 🐀)
The episode hails from 2006, when Molly was 38, and she looked her full 5ft8.
😉👌💐🔮
Miss Sandy Cowell
said on 18/Feb/20
💐🎂💝🎈 Happy Birthday Molly! 🎈💝🎂💐
Wishing Molly Ringwald a Very Happy 52nd Birthday today! My favourite of her films is 'The Stand'; it's virtually the only one I've seen!
5ft8. 😄👍
💐🎂💝🎈💐🎂💝🎈💐🎂💝🎈💐🎂💝🎈
Nik
said on 26/Dec/17
@ Farah M Green
Yes, I agree!
👍
Farah M Green
said on 25/Dec/17
Beautiful girl ⭐
Sandy Cowell
said on 6/Jan/17
The only thing that I have seen Molly in is 'The Stand', and in that, she looks at least 5ft8.5, so that's what I am going to put!
tk
said on 1/Jan/16
At least 1.5 inches shorter than Andrew McCarthy and Jon Cryer in Pretty In Pink. They all seemed to wear flat shoes.
5'6'' or 5'6.5'' must be closer to reality.
Fredrik Farhadian
said on 1/Dec/15
I met Molly this morning. We chatted for about a minute, and I can honestly say she's definetely not under 5ft 8in.
Alex1960
said on 7/Apr/15
she looked to be about 5ft 6in-5ft 7in in the breakfast club
GB
said on 19/Mar/15
Did she have some massive growth spurt after 16? I mean, she looked barely taller than Ally Sheedy in The Breakfast Club, but now the height difference between them is huge.
Click Here
Shamrock
said on 18/Dec/14
the previous posters must have confused molly with ally sheedy because she had an immediately noticeable 3+ inches on estevez in the movie.
must have grown a fair bit between 1984 and 86 tho because in sixteen candles she looked average yet in pretty in pink was as tall as andrew mccarthy.
Peter
said on 2/Nov/13
She really doesn't look 5'8 at all, or this means Emilio Estevez is like 5'9 because on The Breakfast Club she is his height wearing small heels
Gene
said on 17/Jul/13
How can she be 5ft. 8in. when she looks about the same height as emilio estevez and he is listed as being 5ft. 4in. ???
Evie
said on 27/Feb/11
I saw her in person, 5'8" seems correct
Legend
said on 5/Jan/11
she's 5'7
[Editor Rob: she said when she was 15 that she was 5ft 7 and hoped to grow another inch or 2]
glenn
said on 5/Mar/09
she's taller than 5-8.thats for sure.
dani
said on 3/Mar/09
This is shocking to me. Never thought Molly was this tall. Elizabeth you're right, Molly looks a solid 5'9.
mcfan
said on 5/Feb/09
Robert Downey Jr. was a hair taller than her in Pickup Artist.
Franco
said on 6/Apr/07
she's god damn hot, loved her in THE STAND.
hmm looks 5'8
[Editor Rob: in
These pics
, I met the girl molly is standing with last month, who is 171-2cm, so molly really in 5ft 8 range]
Glenn
said on 30/Jan/07
Actually I was average.I wasnt called short until 20.in fact,I never realised I was short cause all my friends were 5-7 to 5-9.
sam
said on 30/Jan/07
Glenn, just curious, were you also around average height as a kid?....
Glenn
said on 29/Jan/07
5-8? she gave me an illusion of 6ft!
sam
said on 28/Jan/07
I agree, does present a tall appearence.