Nigella Lawson's Height
5ft 7 (170.2 cm)
UK Celebrity Chef. She has been quoted saying in The Mirror:
"I'm 5ft 7ins. But I'm much more accepting about not being thin"
and on twitter said that height again
"Hardly petite! 5ft7"
.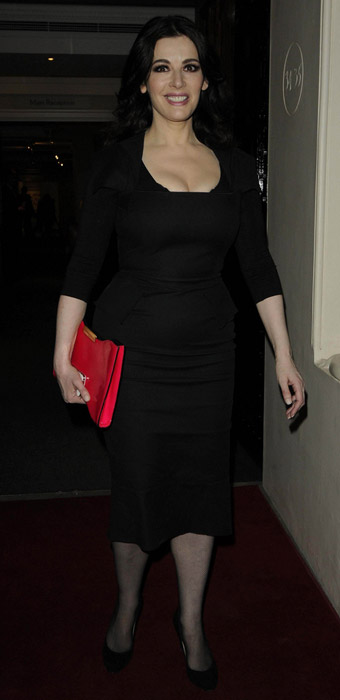 Photo by PR Photos
Add a Comment
20 comments
Average Guess (7 Votes)
5ft 7.11in (170.5cm)
Gladstone Screwer
said on 21/Dec/18
Rob, that's a scary picture. ...
Can believe 5'7" already.

Editor Rob
I'm sure she'll give you good nightmares though.
Nik
said on 19/Oct/17
5'6.75"!
Hyde
said on 2/Jun/17
5'5.5
James B
said on 12/Jun/16
Very good looking woman
Arch Stanton
said on 12/Sep/15
I think 5 ft 7 is an ideal height for a woman, not too tall but above average, can look tall in good heels. 5 ft 7 range is like 6 ft range for a guy.
Cuffy
said on 7/Jan/15
Difficult one really at times she can look 5'9 other times 5'6 plus tv can make her look taller
Josh
said on 6/Apr/14
I remember an old article from The Daily Mail (uk) in 2005 where they were comparing various celeb's BMI's. She was listed as being 5 feet 8 inches tall and 11 stone 12 pounds.Still,I'm not sure how accurate this is.Also,everywhere else I've seen her height listed it has been 5' 7 and she has even said this herself so..
Hkaz
said on 1/Feb/14
She's average height to me. Defo looks beautiful, representation to women in our generation! aged beautifully
Arch Stanton
said on 27/Jun/13
Click Here
She looks no less than 5'8" proportionally here.
Arch Stanton
said on 27/Jun/13
She always gave a tallish impression to me, can look 5'10" range in heels.I'd have guessed 5'7 or 5'8" barefoot, she's certainly above average range anyway. Poor woman, see she's moving away from Charles Saatchi, nasty man.
Joules
said on 30/Jul/11
I reckon 5'5" maybe 5'5 1/2"
JERRY
said on 28/Jul/11
it would not matter one bit if she had a couple of extra pounds, she is a doll..
Himanshu
said on 26/Aug/08
Perfect height for perfect lady!
Eric
said on 1/Jul/08
I think the only reason Nigella is 5' 7" is because the top of her head (the highest point towards the back) slopes upwards (see side profile photos of her),probably a sign of high intelligence (sic),but she definitely doesent look a regular 5' 7" to me,she doesen't have the gait and posture of someone 5' 7",more like 5' 5" until her skull slopes upwards on top giving the extra 2 inches.
BJ
said on 5/Nov/07
She is 5'7 ... standing next to Regis Philbin (supposedly 5'6) with heels, she was towering over him.
alto
said on 15/Feb/07
I've seen her on the Wogan Show and she's not that tall. I'd say 5'5 at tallest. 5'7 with heels, and 5'9 with the camera effect.
Anshelm
said on 4/Oct/06
I'd say Conan O'Brien had maybe 6
Editor Rob
said on 7/Sep/06
"I'm 5ft 7ins. But I'm much more accepting about not being thin"
Anonymous
said on 31/May/06
she is 5'7 so i believe,although ill agree that camera angles can make people look much taller.I saw her on tv once and she looked about 6 ft
Z2
said on 31/Jul/05
I stumbled upon her cooking show and I thought she had the appearance of someone much taller. I think t.v. can expand a persons height by a couple of inches. I thought she appeared to be in the category of 5'8"ish.