Noah Centineo's Height
6ft ½ in (184.2 cm)
American actor, best known for playing Jesus Adams Foster in The Fosters. He once said
"After a year of thinking that I'm almost 6'3...I just found out I'm not even 6'1....total paradigm switch 😂😂"
and in 2018 claimed
"Six-Two"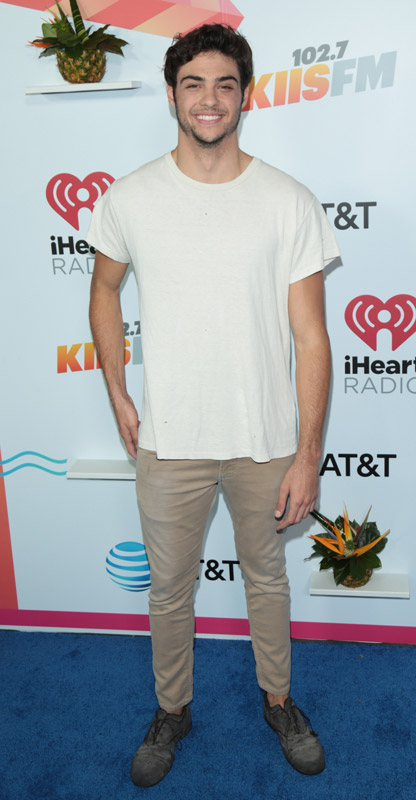 Photos by PR Photos
Add a Comment
50 comments
Average Guess (38 Votes)
6ft 0.45in (184cm)
BB9
said on 18/Feb/21
6ft 3/4 max. Im 6ft, I can see him being 6ft 1/2. 6ft 1/4 is the absolute lowest I'd have guessed. What do you think is his weight rob?
ALEXIZ/180cm
said on 6/Jan/21
183 max or 6 ft max.
BrewBMW
said on 3/Dec/20
I can relate to this. Used to think I was near 5'10 by judging on what other people claimed etc. When I measured myself i wasn't even 5'9.
Vsquad
said on 17/Oct/20
I think the real test for Noah will be the upcoming Black Adam movie. Curious to see how well he holds up next to The Rock and Aldis Hodge.
Rampage(-_-_-)Clover
said on 25/Sep/20
At least this if not more
Chaitanya Sinha
said on 22/Sep/20
He must be 6 foot and 3/4th inches flat.
Vsquad
said on 27/Mar/20
I don't know about that... Noah wears converse/vans a lot yet he still manages to look taller than so many people, even if they have footwear advantage. He's gotta be close to 6'1 IMO.
Jamestherealone
said on 24/Mar/20
He is definetely no more than 184 cm (6' 0.5) at most. Please Rob, never upgrade him, because he is clearly not 185 cm.
xo
said on 5/Mar/20
He's definitely not under 6'1 lmao
Vsquad
said on 11/Feb/20
Rob, Noah claimed 6'2 in a new WIRED video. Like I said in my previous comment, while I do think he should be upgraded to 6'1 I definitely don't think he ever touches 6'2.

Editor Rob
Well I don't think his claim of finding out he's not 6ft 1 should be ignored, it appears he probably was measured under it...but 6ft 0.5 to 0.75 could be argued, he pulls that off.
Vsquad
said on 24/Jan/20
Rob, I really think you should consider upgrading Noah to at least 6'0.75, but preferably a full 6'1.
He beat out 5'10 Finn Wolfhard by 4 inches despite having footwear disadvantage. He clearly edged out Jimmy Fallon by at least 1.5 inches in equal footwear.
He is definitely always shorter than 6'2 Ross Butler, but not to the extent of 2 inches. Or even 1.5 inches. Ross occasionally wears bigger shoes than Noah as well.
I understand that his comments when he was younger make you a bit skeptical, but perhaps he genuinely gained a couple centimetres or such since then. I'm jealous if he did lol.
Nickg
said on 30/Dec/19
What do you think his weight is?
Burhanuddin Barafwala
said on 21/Dec/19
Why is Noah looking only 3/4" shorter than butler? Is it footwear advantage?
Btw I was 176cm at April 2019 age 18 now I am 19 in Dec 2019 at 188cm, what would you say is the perfect male height?
Goat
said on 2/Dec/19
What up with this Rob
Click Here

Editor Rob
Could be on a street pavement towards higher side, compared to Ross?
Jace
said on 30/Oct/19
He is about 6'1 to 6'2, go see him with logan Paul in the movie can't take it back, they look about the same height
Ratman
said on 1/Sep/19
He seems about 6'1 beside 6'2.5 Ross Butler
Click Here
Ratman
said on 15/Aug/19
I met the guy, he's definitely lying about his height, he's about 6'2, I'm 6'1 and he's like an inch taller
Piers
said on 26/Jun/19
Rob, are you sure Noah's not at least 6'1?
There's pictures of him at so many events with so many people/celebrities, and he towers almost everyone. He's always wearing flat footwear as well. I just don't think a 6'0 guy could do that (speaking from experience), unless Noah's got a publicist advising paparazzi to only picture him with shorter people...
I just don't understand why he looks so tall with everyone. 6ft guys like Chris Evans or Henry Cavill on the other hand get dwarfed all the time by 6'3+ guys in photos.
When did he make that comment about him finding out he's "not even 6'1"? If it was in the last year or so I'll consider your listing accurate, because obviously there'd be no way he had a growth spurt since making that comment at his age (23).

Editor Rob

At age 15 he said he was 5ft 10 and hoped to reach 6ft 1.
At 17 he said he was a bit over 6ft 1, then at 18 said he wasn't 6ft 1.
SethDa6.05"
said on 16/Apr/19
Strong 6ft 183cm.
MD
said on 9/Mar/19
Tango, I've been arguing he has Cyler listed too high.
TheBat
said on 8/Mar/19
Wow what a liar. First he says he's not even 6'1" but then goes to say he's 6'2"?! If we ever do meet, he'd think I'm like 6'0" or something which is nonsense.
Tango22
said on 20/Jan/19
Rob, here Noah is with Rj Cyler whom you also have listed at 183 cm, but Noah looks much taller than him in this picture.
Link:
Click Here

Editor Rob
He can look near 6ft 1 in some photos, but since he said he found out he wasn't 6ft 1 then I think 184cm isn't exactly hard to imagine. Maybe he did get around 6ft 1/2
Discoboi
said on 20/Nov/18
I can't argue with him being around 6'1 possibly even 6'2 . He wears very flat shoes which give him no height yet he's still visibly a tall looking man. If you are familiar with the fosters he's clearly the tallest of his fellow cast mates which stand around 6'0 thenselves.
Mimi
said on 15/Oct/18
He really doesn't look over 6ft.25 with Shannon Purser who I peg at 5ft8.75
TwistAndShout
said on 29/Sep/18
He gives a tall impression. Would have guessed 6'3 by looking at his face.
Rampage(-_-_-)Clover
said on 18/Sep/18
Rob, could we add a little to this?
I could believe as much as 6ft0½. Wonder what made him bring his claim back up to 6ft2...
MAD SAM
said on 17/Sep/18
He thought he is 6'3" ? I mean 6 foot guys can max think themselves as 6'1" but how come he was thinking himself 6'3", also tbh he looks like a 182 cm guy to me
Zampo
said on 15/Sep/18
I'm convinced he is near 183 cm. 182.6-183.2 range. Rob, you should have a look at him with RJ Cyler, can't really tell them apart.

Editor Rob
It's arguable he might have measured a bit over 6ft though he seems to have done a Big G and forgotten he measured under 6ft 1 and added over an inch back to his claim!
Jay
said on 11/Sep/18
I thought he was 6'2 for the longest, but I still see him over 6'0.
Christian 6'5 3/8"
said on 10/Sep/18
What a liar. He found out that he's not even 6'1", yet later on claims 6'2".
Joe Joe
said on 8/Sep/18
@shortman. You can see on his face that when he says "6'2" even he doesnt belive himself. hell ryan seacrest probably thinks everyone over 5'11 is 6'2
Myself
said on 8/Sep/18
@Shortman
I had some hope...
Shortman
said on 5/Sep/18
He just claimed 6'2 the other day when asked by Ryan Seacrest
Click Here
Zampo
said on 5/Sep/18
@Myself,
I can't disagree with you there I guess although I never really had an idea about heights back then. I just tried to be logical (e.g. I noticed the height details of some of my household appliances, so knew that my 6'5 fridge wasn't a height I saw much in public).
Jamie
said on 4/Sep/18
It appeared that he really misjudged his height but good on him eventually being completely honest about his height. I think an 1/8 inch upgrade for him should be in order
Myself
said on 4/Sep/18
@Zampo
One that has no idea about heights, average height and doesn't know pretty much anything on the subject will obviously have no idea which height towers and percentiles of course.
Joe Joe
said on 4/Sep/18
This problem is an epidemic lol. I'm 6'1 mostly measured 185/186. I have measured 187 before. (That was in the morning shhh). I was a profesional athelete for over 5 years so I was regularly measured and still try and keep up to date with my weight and heigh. If I didn't though I would probably be one of those guys walking around thinking I was 6'3. People frequenlty think im 6'3 6'4 and they are usully shocked when I tell them i'm 6'1. Usually because their like "weird, why would you claim shorter" and also because in the case of men they have usually overestimated their own height. I've got one friend who's a good inch shorter than me but i've heard him claiming 6'2. and i over heard him describing me as 6'3 lol. I didnt bother putting him out of his misery
Zampo
said on 3/Sep/18
He has to be joking about thinking he was almost 6'3 because logically one would notice that you are not "towering" over people? At one point, I never knew my height but I estimated it to be 181-182 cm range based on comparing with other people and my visual perception (e.g. I knew I wasn't 6'2 because, I wasn't taller than 90% of people I came across). Now measured, I know that I am 182.5 cm which wasn't far off.
On Noah, not too sure on him. I don't see him over 6'0.25. I think 6'0 is fair.
Myself
said on 2/Sep/18
@Christian
That's funny, i bet it was hard for you to not laugh at his face if you didn't, I would have!
Animus
said on 2/Sep/18
@6footTom
Arm length is a giveaway. It's rare to find arms as long on a sub-6'0 guy
Christian 6'5 3/8"
said on 1/Sep/18
Just goes to show you how off most people's perception of height is. One time I've met a 5'10" 14 year old kid that legitimately thought he was 6'2".
Mimi
said on 1/Sep/18
Average guess too low. He looks like a solid 6ft
Rampage(-_-_-)Clover
said on 31/Aug/18
His claim implies near 6ft1 but not quite. I think he was joking when he said that he thought that he was near 6ft3.
A little over 6ft is likelier than under.
Myself
said on 31/Aug/18
Lmao, i am wondering how many people are gonna avoid measurements in fear of resulting less than what they think they are, after having read his quote!

Editor Rob
He might have been influenced by others around him being generous with their own claims.

I suppose his quote could also mean he is a bit over 6ft like 6ft 0.5
6footTom
said on 31/Aug/18
@Nick92 How exactly can you tell from a picture with no reference point whatsoever? He's a decently proportioned guy, but with that said, it doesn't automatically make him over 6ft.
Nik
said on 30/Aug/18
Many would say that Noah is of a very good height! 🐩!
Nick92
said on 29/Aug/18
Rob I strongly doubt he's a flat 6ft if he's gone through life believing he was 6ft3. Even just looking at him in the picture he looks close to 6ft1 than a flat 6ft. I'd say 6ft.05-6ft.075
Sandy Cowell
said on 29/Aug/18
🐅🐅🦁🦁🐎🐎🐂🐂🦊🦊🐺🐺🦍🦍🐒🐒🦄🦄🐴🐴
Noah can have 6ft and a few pairs of animals with which to start his ark!
AndrewV
said on 28/Aug/18
Legit six footer, like someone who wakes up around 184-184.5cm and is 182.5-183cm at night. He consistently gives off a tall impression based on what I've seen.
Junior Hernandez 1990
said on 28/Aug/18
His being honest to be under 6'1. 6'0 a shout.