Norm Macdonald's Height
6ft 1 ½ (186.7 cm)
Canadian stand-up comedian and actor.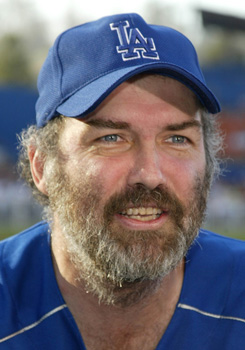 Photos by PR Photos
Add a Comment
39 comments
Average Guess (30 Votes)
6ft 1.82in (187.5cm)
Rampage(-_-_-)Clover
said on 7/Apr/21
6ft1½ up to 6ft2 can be argued for Norm. A good 3-4in on Sandler and Rock, max 2in below Kevin Nealon
Rampage(-_-_-)Clover
said on 25/Dec/20
No less than this. On SNL he looked 187-188cm range more so than 186cm let alone 185cm
berta
said on 31/Jul/20
looks legit 187 guy
Animus
said on 1/May/20
@Drew Jackson
Can you substantiate that claim with photographic evidence? There is a video of them appearing on Conan O'Brien's show, where they are doing a bit of cooking together, and they look virtually indistinguishable in height. Now, Norm seems like a guy with relaxed posture, but based on that video as well as Ramsay's height on this site I can't see him above 187cm. I think a weaker 187cm, implied by the 6'1½ listing, is quite good.
MBR
said on 2/Jan/20
Met him a few times. I towered over him at 6'5, so I thought he was only 6 feet, but looking back at it I think he's 6'1.
Mark D
said on 28/Jul/19
Ran sound for a few of his comedy shows at a local club. Met him a few times, very cool person. I would say 6'2" is possible. I'm almost 6'5" and he was roughly 3 inches shorter. I remember I had a problem in finding a mic stand high enough for him, and said "you're about 6'2" right?" and he said yeah.
Drew Jackson
said on 13/Jun/19
Quite a bit taller than Gordon Ramsey
Animus
said on 22/Dec/18
As I have commented previously I think he can look more than ½" taller than Andy Richter. Perhaps the explanation could be, exercising the greatest level of precision in our estimation, we'd find that as young men Macdonald was actually 6'1⅝ and Richter was 6'0⅞. That would yield a more believable ~2cm difference between them.
Regardless of how it would fall out I don't think it makes sense to be too precise, as the margin for error is too large. There are too many contaminating influences that could dilute the clarity of the picture we're trying to paint.
So, their respective listings seem fine, but what I wrote can perhaps illuminate inquiring minds thinking the difference between them looks bigger.
Rampage(-_-_-)Clover
said on 2/Aug/18
Practically 4in taller than Sandler (near 5ft10)
Weak 6ft2 is my bet. 6ft1 flat is probably a deliberate downplay
Animus
said on 23/Mar/18
The current average guess is too high. He is at most 187cm. His slender frame accentuates his height.
Animus
said on 20/Mar/18
I guess he was too humble to claim 6ft2, so I assume he claimed 6ft1.
6'1.5
said on 29/Dec/17
Peak: 6'1.75"-6'2"
Now: 6'1.25"-6'1.5"
Rampage(-_-_-)Clover
said on 9/Nov/17
Could be 187cm at his low...
slothee
said on 18/Oct/17
@Heightster
Agreed! 187cm is on point. Solid 6'1": Not too tall, but tall enough to be considered tall.
Animus
said on 22/Sep/17
He can look like a solid 187cm.
Heightster
said on 19/Sep/17
6' 1 1/2" perfect height, bare foot.
Rampage(-_-_-)Clover
said on 2/Sep/17
If he's near 6ft3 then Conan is close to 6ft6
JD
said on 15/Jun/17
I've seen him right between Andy and Conan so many times there's no way in hell he's under 6'2. I think he's closer to 6'3 than 6'1.5. I was just thinking about this seeing him with Gordon Ramsay and Conan. This is a tall guy. He never looks dwarfed by Conan, ever, and is always taller than Letterman and Richter. These are people we've seen way too much of, with way too many other celebrities, not to know he's at least 6'2, imo.
Canson
said on 2/May/17
Conan is strong 6'3 191cm
Sunfire
said on 25/Mar/17
Connan is not 6'6" he is SIX FOUR. Macdonald is about two inches shorter than the Irish talk show host.
Animus
said on 8/Mar/17
He typically looked more than half an inch taller than Andy Richter, when they were young men. This might be a case of Richter falling a bit shy of 6'1 and Norm being slightly closer to 6'2 than 6'1.
berta
said on 6/Feb/17
yeah this is about right i think. chevy chase was 2 inches taller
Animus
said on 2/Oct/16
Interestingly, he has a brother who is 6'6". I don't know if the brother turned out to be a lot taller than expected or Norm turned out to be a lot shorter than expected. The former seems more likely.
Rampage(-_-_-)Clover
said on 2/Oct/16
He was mainly described 6ft1 in his SNL days but could look at least 6ft2 at times. This is probably the lowest he could be...
Rampage(-_-_-)Clover
said on 27/Sep/16
Rob, how arguable is 6ft2?

Editor Rob
at times I could see a case for it.
Animus
said on 25/Sep/16
He looked noticeably taller than Letterman on his last appearance on the show, but Letterman could be about 6'0.5" today. I think it's pretty safe to say that Norm clears 6'1", but I think 6'2" is too much. He looks too similar to Gordon Ramsey to be 6'2". I don't see him below Letterman when he was at his peak height, so I think 6'1.5" is a good listing.
Goose
said on 5/Jul/16
Saw him on the sidewalk in front of a bar/club on the Upper West around 1999 or 2000 (surrounded by a bunch of hot chicks). Love the site but needs a 'serious' upgrade on this one. Norm was 6'3 1/4 to 3/4 by my best estimates. Maybe 6'2 now but was 6'3.... Any first person encounters out there to contradict or support this....
Rampage(-_-_-)Clover
said on 18/Jun/16
I'd have gone with B-C
No way.
said on 24/May/16
There is no way he's under 6'2. None.
Rampage(-_-_-)Clover
said on 5/Apr/16
Rob, which of these would you pick for Norm?
A) 189.5cm/187.5cm
B) 189cm/187cm
C) 188.5cm/186.5cm
D) 188cm/186cm
E) 187.5cm/185.5cm

Editor Rob
you could argue he can look more than E at times, so I wouldn't rule out D range
Rampage(-_-_-)Clover
said on 22/Jan/16
Rob, is 188cm out of bed possible for Norm?

Editor Rob
he can look at times in the decent 6ft 1 zone, so 188 out of bed is quite possible
Jane Doe
said on 12/Jan/16
He's gotta be at least / a little over six feet - check out his appearances on Conan. Conan is super tall, like 6'6, and when Norm stands next to him, he's only slightly shorter. Conan's probably a little hunched over when shaking hands so, add a little to him. But they're def both tall guys.
WAF
said on 14/Sep/15
@Rampage
I agree that one's first impression looking at that picture is 6'2" range. However, there are a few factors to consider: He is a little closer to the camera than Seth Meyers. That might give him a 0.25" advantage. Meyers is listed at 5'10.75" on this site but he could just as well be 5'10.5" (based in part on comparison with Will Arnett). Also, it's really not possible to discriminate between people that are separated by less than 0.5". In this way, it's possible for Norm to look 6'1.75" on the picture and thus nearly 6'2".
Let me stress that it's very difficult, if not impossible, on a systematic basis to decide the height of someone with a smaller margin of error than 0.5". Even to decide whether someone is, say, 6'1.5" or 6'2", you would need to compare them to people who are quite close in height to them. It's a bit easier to decide between different ranges such as 6'1"-6'1.5" and 6'1.5"-6'2".
I think Norm's range is probably 6'1.25"-6'1.75".
Rampage(-_-_-)Clover
said on 18/Apr/15
Click Here
He looks 6ft2 here.
Johnnyboy
said on 13/Apr/15
I always thought 185 seemed a little too low for this guy. 187 seems spot on.
Mr. R
said on 11/Apr/15
Why was he always listed at 6-4?
Rampage(-_-_-)Clover
said on 7/Apr/15
This is spot on. 185cm always looked too low
JB
said on 2/Apr/15
Sounds about right. He's pretty tall but not a giant.
Sam
said on 30/Mar/15
Thought he was a 6'1" guy for sure, don't know about the extra half inch.