Otlile is a South African professional dancer, best known for appearing on BBC TV series Strictly Come Dancing and German show Let's Dance. On her twitter she mentioned her height, saying
"1.55m I think that 5 foot 2"
, although she looks several cm's taller than her claim and in fact in 2017 mentioned on twitter
"actually I'm 5'4 not that tall as people think"
and again in 2018
"5 ft 4"
.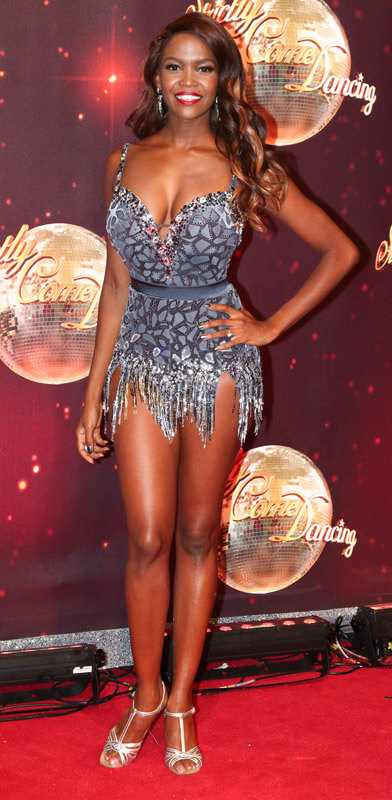 Photos by PR Photos
Live Rush
said on 11/Sep/23
I think that she could well be taller than 5'4". I've just seen Oti with Davina McCall, both are wearing trainers on a level dancefloor. Oti looks to be the slightly taller woman. Davina is supposed to be about 5'7", but is she?
Nik Ashton
said on 23/May/20
I can see why the average guess is so high (5'4.59")!
Rojina
said on 3/Nov/19
I agree with Jela and Ann here!
Jela Boothe
said on 14/Oct/19
REALLY? SHE SURE FOOLED ME-SHE'S GOT REALLY LONG LEGS. THUT SHE WAS @LEAST 5'8in".
Learn something new every day.
Nik
said on 11/Apr/19
It's also interesting that her name contains every vowel!
Nik
said on 20/Oct/18
It's interesting that she claimed to be 5'2" back in 2015!
Parker
said on 10/Sep/18
2nd left Oti, listed 5'4, next Janette listed 5'0, far right Natalie listed 5'9.5.
Click Here
Parker
said on 8/Sep/18
She has claimed 5'4, so would not wish to argue, however adjusted for heels she looked a solid inch taller than Claudia Winkleman on strictly tonight, whose listed slightly taller on here.
Personally I think she's closer to 5'5 than 5'4
Ann
said on 20/Dec/17
I knew she's not tall but looks tall because of how long her legs are..I'm 5"7 and taller than her but trust me when I heard she's 5"4 I couldn't believe it either
Parker
said on 9/Dec/17
Nah, this listing way off. Easily 2 inches taller than Alexandra Burke
M
said on 1/Dec/16
She looks much more taller.I think she is
1.70m for sure.
Christian-196.2cm (6ft5.25)
said on 30/Oct/16
Insane how she only claimed 1.55m, has she ever measured herself on a stadiometer or even with a mesauring tape? Or maybe it was just a typo, where she put 1.55 when she meant 1.65
littlesue
said on 29/Oct/16
Yes she taller than what she says she is, she looks average height on is one of the taller dancers, she looks very similar to Karen Clifton, I've read either 5ft4 or 5ft 5 for her.
michael h
said on 28/Oct/16
I new she was taller than 5 ft 2
Swish
said on 27/Sep/16
I agree she can't be only the 1.55m. Probably nearer 1.65m.