Ozzy Osbourne's Height
5ft 9 ½ (176.5 cm)
English singer-songwriter from Black Sabbath. In a 1992 NY Times article it mentioned
"His 5-foot-10-inch frame now weighs a fit 156 pounds, down from 193"
.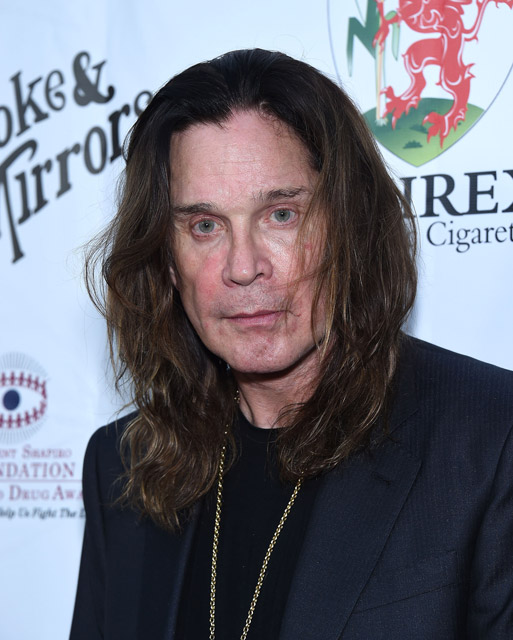 Photo by DFree/BigStock.com
Add a Comment
124 comments
Average Guess (33 Votes)
5ft 9.02in (175.3cm)
Miss Sandy Cowell
said on 29/Sep/20
@ Tayo - Hi there! There's a guy on 'The Chase' right now who plays guitar in a Black Sabbath tribute band. He looks very tall, so I thought I'd check out the real Black Sabbath guitarist's height, so I did!
I found 183cm for Tone tallying with yours and Allan's comments. Silly me - I should have known; after all, I did see them play live! 😉🎶
Ozzy gets 5ft9.5. He looked taller in Sabbath's early days. Check out the cover of 'Sabotage'.
Allan
said on 14/Aug/20
Ozzy can definitely look 5'10 in the early 70s. He looks a hair under 5'11 in the beat club performances from 1970. It's just those tricky shoes those guys used to wear that muddy the waters, but my absolute minimum for his peak would be 177cm.
Geezer was clearly the shortest of Sabbath being in the range of 5'6 maybe a quarter or half inch more. Bill ward looks to me like he's in the 5'8 vicinity, maybe slightly less.
Tony Iommi looked a solid 6 footer and he could also occasionally look 6'1. Again, hard to say with that pesky 70's footwear. My guess would be 6'0.25-6'0.75 for his peak. I think 6'2 is ridiculous for Iommi,since that would mean there's at least 10cm or more between him and Ozzy which is clearly not the case with majority of the photos of Sabbath I've seen from the 70s.
Tayo
said on 25/Jun/20
@sandy Nooooo way Is Tony Iommi a midget, I met him and was surprised by how tall he Is, he's at least 6 feet tall.....
Miss Sandy Cowell
said on 19/Jun/20
@ Arch Stanton - He does look tall, but that's because the other three members of Black Sabbath were short. When they were splitting up, (1980) and Ozzy formed The Blizzard of Oz, he mentioned in all his music press interviews that they were midgets, or words to that effect! Cheers Arch! 😁👍 XX
5ft9 🎶🍺🍻😋🎶
Arch Stanton
said on 18/Jun/20
I thought he was like 5 ft 11- 6 ft! I didn't realise Jack was only 5 ft 6!! I thought of Jack as average and Ozzy tallish! Maybe Ozzy's long hair and frame gave a taller impression.
Miss Sandy Cowell
said on 1/Jun/20
Hey, Beja 74!
Yes, I'd be most surprised indeed if Ozzy and Alice weren't the best of mates! They share the same interest in 'shock rock',🤭 and where would the world be without a bit of healthy competition?
I must say, I prefer the lyrics of Alice Cooper, though, I must admit, I bought my first Black Sabbath album on my 19th Birthday. I wasn't seriously into Alice until the was 21 and a quarter. I have Alice's 'From The Inside' on and it's about his experiences of life in a psychiatric institution. You'll notice some historical references too, if you care to listen to it. Christina Ricci made a film about Lizzie Borden, she being one of the characters mentioned in Alice's lyrics.
I agree that Alice would more than likely edge Ozzy in the height department. Both guys have been on the wagon for a long time now, but Alice has been straight for longer than Ozzy, so I think he might be a bit taller than Ozzy. I know that Johhny Depp is great friends with Alice Cooper and had played onstage with him. I don't know if that's the case with Ozzy. I've never read to that effect.
It's great that you're getting your little ones into rock 'n' roll! I'm not crazy about 50s rock 'n' roll, but anything from the Beatles, Stones and the Who - I love them all! Personally, I drifted into rock music of my own accord. I was digging progressive rock at 15 and 16. There were kids in my class who didn't understand 'where I was coming from', being used to just mere chart offerings, which, I must say, weren't bad those days. Yet I had to venture off in another direction, helped along by some rock literature.
We need more rock stars on this website, and I vote for Mike Oldfield. He is such a brilliant musician. Have you ever got into his music?
Well, I'll say bye for now, and continue listening to my Alice!
All the very best!
Sandy XXX 😁🎶🎵👍
Baja74
said on 23/May/20
@ Sandy - His new album is called "ordinary man". It came out a few months ago. And it wouldn't surprise me if this is for sure his last album. But a great piece of work after a decade of no albums from him.
I did catch Black Sabbath on their "The End" tour. That was the only time I saw them live. And it will go down as my favorite concert I have seen.
As for Alice, I did drag my daughter to his concert a few years ago. What a great live show he puts on. It's like a play and concert all together. It was at a old inner city theater that had all the old balconies and wood decor and all that. We both bought shirts and had a great time. She is a little metal head like me.
Yeah, you wonder if Ozzy and Alice are buddies or not? One might say they are competitors since they both started around 1969 and brought a whole new thing to the metal/punk music. And lots and lots of musicians tip their hats off to each man.
As for height i would give the edge to Alice right now because he tends to keep a better posture. I doubt Ozzy could stand up straight and hit the 5'9" mark anymore.
Always a pleasure Sandy!
Miss Sandy Cowell
said on 15/May/20
@ Beja74 - I'm playing Black Sabbath's 'Sabotage' and came across your very welcome comment! Alice is 72 and Ozzy 71, so yes, very much the same age, both being born in 1948, and the same height. 😋🎶🎵
I didn't know that Ozzy has a new album out, and that's something well worth looking into. I don't possess a record player anymore, so I've had to buy everything new on CD. Besides, the majority of my old albums got nicked when I was staying for a little while in London's East End. I knew who took them too, and he had to refrain from going to the Bikers' parties because I told my friend, Buttons, aka Peter Welsh, who brought the Hell's Angels movement to this country from America. He wasn't a guy to mess with, and he protected me! The American Angels used to be roadies for big bands, including the Rolling Stones. You can Google Peter (Buttons) Welsh. I read his autobiography in one night flat because it was so entertaining. I knew him long before I knew who he was!
The cover of 'Sabotage' depicts Ozzy looking very much taller than the three others. That's why I was quite surprised to find out he wasn't even 5ft11. That's the height I reckoned for him before I saw him in January 81. I used to read all four music papers, The NME, Melody Maker, Record Mirror and Sounds, from the age of 17. I came across a few articles in which Ozzy called the other three short @rses, then their arguments got out of hand and they split, with the tiny, but powerful-voiced 5ft3 singer Ronnie James Dio taking over as lead singer of Sabbath.
Great to chat with you, as always, Beja! I'll end by saying that you'd enjoy seeing an Alice Cooper concert on DVD. I've got one, and it's fantastic! I love his music; it can be scary, sure, but also very deep and moving.
Cheers Baja74!
Keep yourself and your loved ones safe,
All the Best,
Sandy XX 😄👍🎼🎧🎶🎸🎹
Ozzy gets 5ft9.5
Meltdown
said on 11/May/20
5'6.5 Elton John edges Ozzy out by 2 inches, but is also known for wearing ridiculous lifts. I'd give Ozzy a generous 5'9.25 peak and 5'7.25 current. Remember, he's nearing his mid-70s and only getting shorter at about a quarter inch every 3-4 years.
Baja74
said on 11/Apr/20
Hello Sandy! Great to see you on Ozzy's page! I also saw your post on Alice Cooper's page as well. Nice to know we share the same love in these artists. I am proud of my vinyl and CD collection of both of these musicians. One might say they are competitors. But I they stuck to their guns and have produced the very best of metal music.
I think they both were a legit 5'10" back in the day. And today would be a 5'9.5" or so. Aren't they almost the same age also?
Do you have the new Ozzy album yet? I just got in in the two disc vinyl set. Great stuff!
Hope things are well on your side of the pond! Hope you stocked up on the toilet paper like these Americans did! hahahaha
Miss Sandy Cowell
said on 17/Feb/20
There was an incredibly clever 22-year-old Cambridge student on 'The Chase' just now and he knew that Geezer Butler was a member of Black Sabbath. I was most impressed, as was Bradley Walsh. This youngster was the only one to make it through to the final and he managed to get 20 questions right. Unfortunately, he didn't beat Paul Sinha, but Paul said that he was honoured to have met the boy!
Miss Sandy Cowell
said on 4/Feb/20
Re: My Comment from 6th March '19.
Now that I think of it, the concerts could have been in January '81.
Ozzy can have 5ft9.25. 😜🦇
Miss Sandy Cowell
said on 3/Dec/19
🎈🍻🎁🎂 Happy Birthday Ozzy! 🎂🎁🍻🎈
🎶🎵🎧 Black Sabbath and Blizzard of Oz singer, not to mention reality star Ozzy Osbourne turns 71 today. 🦇🍴
Congratulations to him for that, and also for turning his life into a healthy one; with Sharon by his side, he can't go wrong. What a great woman, and mentor!
🐶🐶🐶👩🧒👧👍
5ft9.5, but taller when I saw him!
🎈🍻🎁🎂🎈🍻🎁🎂🎈🍻🎁🎂🎈🍻🎁🎂
Sandy Cowell
said on 6/Mar/19
When I saw 'Black Sabbath' at Hammersmith Odeon, 5ft3 Ronnie James Dio was the singer. Then the following day, I saw Ozzy's 'Blizzard of Oz'. He looked about 5ft9.5. (End of 1980!)
He didn't swear onstage, if I remember rightly! 🙊🎼🎵🎸🎛️
JB
said on 4/Mar/19
Ozzy is about an inch taller than Jack. Weak 5'9" now seems fair, 5'9 1/2" peak.
James G.
said on 23/Feb/19
No peak height?
TKevinC
said on 2/Jun/18
I'm 6'4" and stood right next to him and he came nowhere near my shoulder. I'd be shocked if he's more than 5"8" tops.
jbaja74
said on 29/May/18
After watching season 2 of Ozzy and Jack world detour Jack stated he himself is 5'8". And watching father and son walking side-be-side would suggest that Ozzy is about 5'8". He is NOT taller than Jack. Yes, Ozzy is slumping over a ton. But even if you straighten him out, he is nowhere close to 5'10". Maybe in the early 80's and in rocker boots he was 5'10"
David Allen Patrick Maddox III
said on 14/May/18
I AGREE THAT OZZY IS ABOUT 5'10 his son is listed as 5'10 ozzy has about 3 inches on him
Almighty Killz
said on 12/Apr/18
@ Sharon L Griffin that's an extreme stretch, I doubt he's that short. By that logic he'd be Kevin Hart status. You must have had some 5 plus inch heels or something.
Gene Loves Jezebel are trve kvlt af
said on 28/Jan/18
5'9" 1/2 is about right for the Ozz man. True, he has pretty bad posture,but it doesn't seem like he's shrunk that much.
Sharon L Griffin
said on 15/Jan/18
I'm 5'6" and when I met Ozzy, he came up to about the botom of my nose. No way is he 5'10".
David Allen Patrick Maddox III
said on 8/Dec/17
I gotta say he's on the 5'7, 5'8 line I saw a pic of him next to dimebag Darrel he's 5'9 he damn sure look 2 inches shorter
Rising - 174 cm
said on 8/Aug/17
I believe you on Ozzy, though he isn't more than about 5'8" these days. I also saw Zakk around 6'1" a dozen or so years ago, but he's closer to 6'0" without the boots. Sarzo was about my height in sneakers before going on stage a few years ago and then he seemed possibly taller after the show in his stage boots, but I'm far less sure about after the show. I have multiple photos with him and he never really looked shorter than me. I'd bet 10 grand Rudy would measure comfortably over 5'5". I thought he was about 5'8", but no way 5'5". I've also heard 5'8" for Aldridge, but Coverdale is more 5'10"-5'11" rather than 5'11"-6'. Randy Rhoads wasn't the 5'7" he claimed, but he wasn't as short as 5'3" either. 5'6", maybe as short as 5'5". He claimed 105 pounds and may have been at his thinnest, but was definitely heavier at other times. Jake E. Lee is shorter than people think - about 5'7".
Shawn -Miami
said on 18/Jun/17
Worked with the band on No More Tears or Tours 1990 (a few shows)and they were all great people. Ozzy 5'9, Zakk 6'1 wears boots a lot, Randy Castillo. (Drummer) 5'7 to5'8 RIP, Mike Inez 5'8. I've met Rudy Sarzo during the Liquor and Poker Tour (Whitesnake) Slip of the Tongue album. Know way in hell could he ever dream of being 5'8 he's like 5'5 maybe. He wears heels a lot. Adrian Vanderberg 6'7 range , Tommy Aldridge 5'8, David Coverdale 5'11 6ft, Steve Vai 6'2 and probably weighed 150 pounds then. Again this was in 1990. Now for the topic of Randy Rhoads from what I was told was about 5'3 maybe 100pounds, small like Prince but not as tiny as someone like Angus Young of ACDC whom I've also met whos gotta be like 4'10. You don't have to believe me, but I was on the inside and I know what I know.
Clare
said on 1/Jun/17
How tall was Ozzy's drummer Randy Castillo?
diavolo
said on 21/May/17
Back in the classic '70s Sabbath days, Ozzy and 5'6" Geezer Buter both wore platform boots on stage, ranging from 4 to 6 inches in heel size. 6-footer Tony Iommi usually had cowboy boots on, with 1.5" or 2" heels. 5'7.5" Bill Ward was the only one wearing flat sneakers, apparently cause it was easier to play drums in those (or simply he disliked heels).
Sandy Cowell
said on 1/May/17
I think Ozzie was a good 5ft10 in his Black Sabbath days. I saw him play at the Hammersmith Odeon the day after seeing 'Black Sabbath' play with Ronnie James Dio; they (Sabbath) were still brilliant! Ozzie was fronting his band 'Blizzard of Oz'. There is no way he looked just average height, he was slightly above actually, and I'd say 5ft10 for then - which was January 1981!
Now, of course, what with his rock star lifestyle, including a one-time penchant for alcohol, he won't be that tall anymore, so I'll go for 5ft8.25.
It's good to see that Ozzie is now a health conscious member of society, eating healthily to keep his weight down! 👍
BillisaLefty
said on 29/Apr/17
Probably 5'9''.
RisingForce
said on 31/Mar/17
I don't know how familiar Rob is with Ozzy's bandmates, but these photos may help him for Ozzy's 80's height.
Click Here
Rudy Sarzo with dark hair at the end looked about my height(5'8") in sneakers and a bit taller in stage clothes. Randy Rhoads in front of Sarzo with blonde hair was 5'6" max without those heels, maybe even 5'5" range. Don't know about Tommy Aldridge with the curly hair. I've heard 5'8", but he has 2" heels too. Here they are again dressed similarly so footwear may be the same:
Click Here
And here's Ozzy with similar footwear back to back with Zakk Wylde, who based on how tall he looked to me in big boots was 6 feet with a chance of 184 cm max:
Click Here
Ozzy looks about 2.5" shorter, but Zakk isn't standing as straight.
RisingForce
said on 17/Mar/17
Anything from 5'9" to 5'10" is debatable for Ozzy peak since his bad posture plus the 70's heels made him difficult to pinpoint, but he should be given a current height of 5'8" since he's 68 now and still active, but has looked 5'8" range for years at this point.
RisingForce
said on 17/Mar/17
Here are the heights of some of bandmates, all of whom I've met or seen up close in person except Randy Rhoads, who claimed 5'7", but was no taller than 5'6". Tony Iommi was at least a solid 6 footer, possibly near the 6'1" he claimed when young, but has shrunk below 6 feet since getting sick. Geezer Butler is about 5'6", maybe a bit taller peak. Zakk Wylde claimed 6'2", but is 6'0", possibly 184 cm max. Jake E. Lee claimed 5'9", but he's more like 5'7", maybe a bit shorter now and a bit taller peak. Rudy Sarzo is about 5'8", but can look taller in stage clothes.
mjkzero
said on 21/Jan/17
I would think 5ft10 in his prime Rob?
Editor Rob: I'm not so sure on that.
Aza
said on 26/Oct/16
Think he's less today... Walks around on stage looking like a lost pup. On another note just watched a killer vid on you tube with Jake E Lee playing suicide solution... Absolute killer... Very underrated guitarist.
David Jackson
said on 12/Jun/16
According to my tape measure, 1 metre and 78 =178cm = 5'10"
Verona Rios
said on 9/May/16
A lot taller than I thought...
Rampage(-_-_-)Clover
said on 15/Mar/16
A lot shorter than I thought...
Dong
said on 11/Apr/15
Ozzy is not 5'6".. those claims are insane
diavolo
said on 12/Oct/14
On the album cover of Sabotage, 5'7" Bill Ward in socks is standing next to Ozzy in 5-inch platform heels.
Bernardo
said on 17/Apr/14
seems 5'9 to me.
Geno
said on 30/Jan/14
He walked by me in 1984 and he was shorter than my 5' 8 buddy who was with me. I would guess around 5'6"
Gaz
said on 22/Jan/14
How tall would you say Jack is? he gets listed 5'9.5
Click Here
diavolo
said on 23/Nov/13
Take two things into consideration. Back in his Sabbath days, Ozzy wore high heels on stage, which made him appear taller than he actually was. And nowadays, at age 65, after decades of alcohol and drug abuse, he probably shrunk a lot.
truther
said on 2/Nov/13
Errr, I don't think so. He is maximum 5 ft 6 without his high-heeled boots. I've seen him in flesh on same level as me and when I say 5ft 6 I am being generous!
Scally Wag
said on 15/Aug/13
ozzy was probably once 5'9". ive seen him in concert about 20 times, and i would say that 5'9" ish is about accurate. definitly no less than 5'9" and no more than 5'10" these days however he doesnt even come close to standing up straight.
RisingForce
said on 11/Aug/13
I met Zakk about 10 years ago, and he looked at least 6'1", but he does always wear big-heeled motorcycle boots. Without factoring in his boots, he could look near his claim, but considering footwear he's probably a solid 6 footer.
Arch Stanton
said on 8/Aug/13
Click Here
Rob, Zakk Wylde claims 6'2". Pretty much impossible isn't it. He can look 6'1", what would you guess for him?
[Editor Rob: not looked at him much to say]
RisingForce
said on 20/Jul/13
5'10" is possible for his peak height, or close to it, but he's 64 now and has lost noticeable height. He's probably under 5'9" today and with his bad posture often looks like a weak 5'8".
Jack
said on 18/Jul/13
Yeah he's near 5'10 but can look 5'9 at times.
Phreestylex
said on 14/Jul/13
woah I always had the impression he's like 6'
Bryan toomes
said on 24/Jun/13
Around 5'7.75 seems right for Ozzy.
Ian
said on 13/Jun/13
No way that tall, look at the picture of him with Howard Stern and Robin Quivers.
The greatest person alive in the world today
said on 25/Jul/11
He always looked 5'9" to me. Ive seen him in concert about 20 times. I met him at a CD signing as well. He was sitiing down, but you could tell he is average size
Kev
said on 10/Apr/11
Now that I look back on the picture. Jericho at best had me by an inch. 5'11 was a bit generous he is 5'10
Kev
said on 9/Apr/11
I met Ozzy at a book signing last year and it was hard to tell how tall he was because he was hunched over writing but when he walked in from the distance he looked around 5'9.
And Chris Jericho is a legit 5'11 I met him at a Fozzy gig a few months ago I'm a solid 5'9 and in the picture of me and him he has me by at most 2 inches so if Vegas's claim to have Ozzy by 3 inches is correct Ozzy could be 5'8 at present although he always did look a solid 5'10 in his youth
guyfrommars
said on 23/Jun/09
As I said before, Ozzy frequently wore heels (3 inches) in his old Black Sabbath days in the '70s.
T.J.
said on 5/Feb/09
yeah he does. I'd say he's definatly 5'9.5"
glenn
said on 5/Feb/09
anytime tj.he can look 5-9 flat with bad posture too.
T.J.
said on 3/Feb/09
thanks glenn.
I've always wanted to meet the prince of darkness
he does look 5'9.5" in the one from '91.
Almost very close to 5'10" but seems he may have shrunk since.
glenn
said on 3/Feb/09
it was ozzys birthday in december 1991.2001 for the other.i have several with him.not since 2001 though.
T.J.
said on 2/Feb/09
glenn, what year was the one on the left taken
MikeM
said on 25/Jan/09
Ozzy was 5'10 in his prime ,not sure about today
dexter
said on 28/Dec/08
in second pic he look just the same height of Glenn
RisingForce
said on 12/Oct/08
Ozzy was atleast 5'10" peak, maybe 5'9.5" now. He has horrendous posture which can make him look 5-8ish at times.
guyfrommars
said on 11/Oct/08
Ozzy wore boots with heels during the classic days of Black Sabbath (this can be seen on the cover of the "Sabotage" album) just as the other bandmembers did. 6' Iommi wears 2-inch boots up to this date on stage. 5'6.5" Geezer Butler's footwear varied from 3-inch boots up to 6-inch platforms in the '70s.
RisingForce
said on 17/Sep/08
I think he could have been 5-11ish peak and he's 5-10 now but his poor posture can make him look 5-8 or 5-9. His posture is horrendous, he's never had good posture.
miko
said on 16/Sep/08
Now I come to think about it, Ozzy may have been on higher ground, it was near the Bullring Centre in Birmingham, where I was shopping for the day. He was opening a new HMV store in the centre, and by chance I caught him whilst he was standing by himself just outside the store. I asked how he was doing and we chat for a minute or so. I never saw any more of the Osbourne family, I think Ozzy may have been alone.
He did look taller than I expected to be fair. But he did have footwear advantage over me. I wish I had a camera, my first "real" celebrity encounter.
I think Rob's listing could be right.
RisingForce
said on 9/Sep/08
6'2" Zakk Wylde and 6'3" Yngwie Malmsteen tower over Ozzy as expected.
Interesting sighting miko, I believe Ozzy to still be no shorter than 5'10". His posture makes him look shorter sometimes.
That means Jake E. Lee is a legit 5'9" like he claimed. Jake in an interview back in the mid to late 80's listed himself as 5 ft 9 and 140 lbs.
He is almost as tall as Ozzy.
Click Here
Click Here
Glenn estimated Jake at 5'8" and I've heard 5'7" for him but I don't know, he looks like his claimed 5'9".
bloogoo
said on 6/Sep/08
Click Here
check out this video
miko
said on 6/Sep/08
WOW, managed to catch up with Ozzy over here in England just last week in Birmingham, chatted with him for a few minutes and looked 5"11, I'm 6"0 and he was barely shorter than. His shoes had a small heel, but apart from that he looked at least 5"10.5, I can't see him at 5"9.5 when he matched up to me so well.
RisingForce
said on 10/Aug/08
I have to go by each era too.
For Ozzy era it's probably Paranoid. Not just for the hits but also for great tracks like Electral Funerl and Fairies Wear Boots. Almost all of the Ozzy era albums are great but I think from start to finish Paranoid is the best. Next would be either Master Of Reality or Sabotage. The title track ot the debut album and N.I.B. are great but the overall quality of that album is not as good as the others I've mentioned IMO.
As for the Dio era that's very tough to say. Lately I'd say Dehumanizer is the best overall album. I, Too Late, TV Crimes, Computer God and Master Of Insanity are all among Sabbath's best. My 2 favorite Sabbath songs are probably Die Young and Falling Off The Edge Of The World though. My opinion changes on this subject often but as of now Dehumanizer is my favorite Sabbath album period.
I actually liked Tony Martin a lot on Headless Cross even if he does come off as a second rate Dio at times. Overall though there really are only 2 true Black Sabbath singers.
Danimal
said on 10/Aug/08
RisingForce says on 8/Aug/08
That sounds right. He's borderline for 5'10" today but with Ozzy's posture it's difficult to tell how tall he is. 5'9.5" is a good estimate for his height now but I see no reason why he wasn't atleast 5'10" at his peak.
What's your favorite Sabbath album Danimal?
It depends which era we're talking about. If we're talking about Ozzy era Sabbath, then I would have to say either Paranoid or Sabotage. I am a HUGE fan of Dio era Sabbath too. Dehumanizer was BRUTAL, while H&H and The Mob Rules was Godly in my opinion. I could not stand the Jeff Martin (way too generic and watered down). How about you?
RisingForce
said on 8/Aug/08
That sounds right. He's borderline for 5'10" today but with Ozzy's posture it's difficult to tell how tall he is. 5'9.5" is a good estimate for his height now but I see no reason why he wasn't atleast 5'10" at his peak.
What's your favorite Sabbath album Danimal?
Danimal
said on 8/Aug/08
Used to read 5'11" for him. Been a fan of Black Sabbath for 14 years. Is probably only 5'9" and change today and MAYBE can reach close to 5'10" with perfect posture.
RisingForce
said on 8/Aug/08
Rob, could you make Ozzy's peak height 5'10? You said he looked that tall in the 80's and you have to remember that his posture is horrendous. He could still be 5'10" but he wouldn't look it.
glenn
said on 2/Jun/08
im glad people agree with me that he could be 6ft.
RisingForceYJM
said on 1/Jun/08
Yeah I can see him possibly being as low as 6 foot flat considering I've heard that often for Zakk but nothing under that. I couldn't imagine any 5-11 guy claiming to look 6-2 and at times looking over that. He didn't look much shorter than 6-3 Yngwie at the Randy Rhoads Rock Walk Of Fame induction.
Lmeister
said on 27/May/08
When comparing Zakk and Dimebag you gotta remember that Zakk wears boots almost all the time and Dimebag wore converse. Boots give about 1.5 inch advantage. Zakk has always looked 6ft.
glenn
said on 22/May/08
6-2 it is,with the possiblity of 6ft.cause of what i remembered.he was so young,maybe he wasnt fully grown when i first met him.
RisingForceYJM
said on 20/May/08
On the remastered cd of No Rest For The Wicked Zakk actually looks 6'4 next to Ozzy. It's shocking but check it out. I also remember a picture of Zakk when he was really young with ozzy in a magazine the caption was something like "this picture was taken when Zakk used to shower". Strangely enough Zakk look 6'4 in that picture too. I don't think his 6'2 claim is impossible because he looked taller than that in his heeled boots when I met him.
Hooch
said on 28/Apr/08
I saw them live last summer and Zakk was doubt the tallest of them. 5'9.5 seems correct for Ozzy, Zakk 6', Blasko about 5'8 and Mike Bordin 5'7-5'8.
RisingForceYJM
said on 26/Apr/08
I don't rule out Zakk being 6 foot flat but he did appear the same height as Jerry Cantrell who is supposed to be around 6'1" and he's said he is 6'2" and 220 pounds I believe. I also saw one picture where he had 5-6 inches on Dime who was 5'8" or 5'9". I met Zakk once and he seemed atleast 6'2" but I don't remember what his footwear was.
Lmeister
said on 20/Apr/08
Randy Rhodes was a short guy around 5ft5 I think. I agree with you Glenn about Castillos height. He seemed somewhat shortish, if you look at his body portions.
glenn
said on 19/Apr/08
thats what ive been saying about zakk all along.thanks for backing me.
Bleemo
said on 19/Apr/08
Zakk Wylde is billed as 6' everywhere and there's clips on the Pantera homevideo with him and 5'8' Dime and he doesn't dwarf him at all.
glenn
said on 25/Mar/08
i never met randy.saw him on stage.he looks 5-8 to 5-10 range.more on the 5-8.
afterlife
said on 24/Mar/08
does anybody know how tall was randy castillo????? (R.I.P) the great late ozzy osbourne drummer
MK
said on 27/Feb/08
Im pretty sure hes shorter than you Sonya. Met him 2 years back 5'9'' at very most(huge heels too)
Sonya Mills
said on 27/Dec/07
5'9.5" , cool, that makes two of us
Anonymous
said on 20/Oct/07
I agree Old London, Ozzy is gotta be at least around 5'11. Maybe he might be wearing lifts.
Alexi
said on 18/Jun/07
what the f*ck is McKellen technique???
Old London
said on 30/Apr/07
Ozzy, the prince of darkness, has gotta be at least 5ft10, dosn't he?? I remember meeting him around 3 years ago at Ozzfest, he was taller than me and I'm 5ft9, And by taller I mean I was looking up to him
Anonymous
said on 13/Mar/07
I am sure Zakk is over 6 foot after meeting him in person..heels or not. I'm 5'7 1/2 maybe a full 5'8 and he towered over me. Ronnie is 5'4...he has said so and he looks 5'4 in the picture Glenn posted.
glenn
said on 11/Mar/07
i think vinny is one of the best.zakk shockingly looked short in a recent photo i saw with him and ozzy.massive heels and he didnt tower ozzy.i always thought he was tall too.now im not so sure.i always thought 6ft.maybe he is.maybe a little less.randy looked from 5-4 to 5-7.depending.yeah,jake was 5-7.i thought 5-8,but forgot the heels.
Brad
said on 11/Mar/07
Randy was impossible to judge. I saw him twice onstage and he wore 70's type of footwear with huge heels. I met Jake E. Lee, he's a f-up and 5' 7". Zakk is tall but gawd has he lost his looks...he was lean & mean with Ozzy the first year. Mike Inez is a very cool guy. 5' 7" on him. Ozzy's lost his height since the Sabbath days. I wonder what he thinks of the Dio led Sabbath '07 tour. Vinny Appice is a bore, but a weak Bill Ward isn't a cuppa tea. Dio gives 110% on every tour, every band, and is one of the nicest people to meet. He's really short.
Anonymous
said on 18/Feb/07
With Ozzy's posture and Randy wearing 2-3 inch heels he could look only 2-3 inches shorter than Ozzy at 5'5.
glenn
said on 17/Feb/07
good point abou the 105 pounds.i was 117 and skinny 19 years ago at 5-7.so 105 sounds shorter.
Anonymous
said on 15/Feb/07
Randy didn't look that short. I'd say 5'6 atleast but maybe he was shorter especially if he was really 105 pounds because I look atleast as skinny as him and I'm 5'7 1/2 and 118. I still say 5'6-5'7 he looked close enough to Ozzy who I believe was 5'10 in the 80's. Ozzy usually looks about 5'8 next to Zakk wylde now.
Glenn
said on 13/Feb/07
Rhodes Im thinking was more 5-3 to 5-5.5-3 might be too low.but he wore super heels with Sarzo and Ozzy to appear around their height.
Anonymous
said on 13/Feb/07
So I guess a lot of Ozzy's bandmates were 5'8!
Ozzy 5'10
Randy Rhoads 5'7
Tommy Aldridge 5'8
Rudy Sarzo 5'8
Don Airey 5'8
Bob Daisley 5'8
Jake E. Lee 5'8
Zakk Wylde 6'2
Mike Inez 5'8
Rob Trujillo 5'8
Glenn
said on 5/Sep/06
Inez is 5-8.
Anonymous
said on 4/Sep/06
Does any body know how tall Mike Inez is? He seems to be shorter than Ozzy back in the day.
MHouillon
said on 19/Jul/06
After seeing him beside Billy Idol, it's time to downgrade him at at least 176cm (5'9.25), if not 175cm (5'9") !!!
Glenn
said on 21/Jun/06
His posture in the last 10 years makes him look 5-8.
josh
said on 19/Jun/06
according to how to measure a celeb's height on this page, i measure him to be the exact same height as leno, with flat shoes on. so i'd say ozzy's about 5'11, give or take half an inch.
Glenn
said on 6/Jun/06
Whats fishy is that you cant tell my knees are bent and he is pushing me down.in his prime,he was 5-10.
Anonymous
said on 5/Jun/06
somethings fishy, ozzy was at equal height to apollo ono in a picture i saw, apollo is 5'8 and ozzy was equal, so glenn might not be the 5'8 he says he is, or ozzys wearing really big boots.
Tone Lok
said on 16/May/06
Saw Ozzy at the Four Seasons on Maui last week. He was wearing very flat shoes (I think Tod's or something similar)with absolutely no lift and when I stood next to him he appeared to be at least 5'10. He was pretty thin and seemed reasonably fit. Incidentally, he and his wife were absolutely sweet and loving to each other.
Anonymous
said on 19/Apr/06
Randy Rhoads was 5-7
Ozzman
said on 15/Apr/06
Does any one know how tall Randy Rhoads was?
Glenn
said on 7/Apr/06
Trujillio is 5-8.thanks!
D. Ray Morton
said on 6/Apr/06
Glenn, have you met ex-Ozzy/current Metallica bassist Rob Trujillo? If so, how tall?
Glenn
said on 20/Jan/06
iommi looks 6 feet to me.
Danimal
said on 20/Jan/06
I read some old articles on Black Sabbath (I'm a HUGE fan) and it stated that Tony Iommi was 6'2" (doesn't look it at all today) and that Ozzy was 5'11". This is going back 30-35 years ago of course. He's been listed at 5'10" for years now. I suspect he is in the 5'9" and change range today...He was short next to Conan O'brien, but not THAT short.
Glenn
said on 19/Jan/06
he use too look a little over 5-9 back in the day.now he is looking 5-8.ive read 5-11.so he probably was 5-10 in his prime.
TheMan
said on 19/Jan/06
Yeah 5,9 now
elio
said on 19/Jan/06
Sneaky S.O.B!... doing the McKellen technique.
I'd guess 5'9"
Perhaps Glenn can tell us what his impression of Ozzy's height was?
Glenn
said on 18/Jan/06
group photo with maiden coming!
Mr. Awesome
said on 18/Jan/06
glenn, you have photos with bruce dickinson?...please send them...i'd like to see them since i'm a huge iron maiden fan and i collect their memorabelia, such as a wrist-band and drum sticks both used by Nicko McBrain, signed posters, guitar picks, etc...and Rob, would you please add a page for Bruce Dickinson...he's either 5'5'' or 5'6''...let the debate begin!
Glenn
said on 10/Jan/06
Chris is right.5-5.I have 10 photos with bruce.ozzy's been looking 5-8 for a few years.
Danimal
said on 10/Jan/06
Bruce Dickinson is 5'6", not 5'5".
Chris
said on 27/Dec/05
Bruce Willis is one inch shorter than Matthew Perry. I guess Bruce is around 5'11''. Not taller...maybe 5'10'½''.
Mr. Awesome
said on 22/Jul/05
A good height to compare Ozzy to is that of Iron Maiden frontman, Bruce Dickinson, who is around 5'5''. He performed with his band directly before Ozzy did on Tuesday, and hunched over as Ozzy was, he looked no bigger than Bruce Dickinson. On the few rare occassions during the evening when he stood erect, he looked to be in the 5'8''-5'9'' range. He's definitely lost height since his younger days, there's no question about it. One thing is for certain though...Dickinson is an excellent performer, one of the best rock frontmen of all time...he's so full of energy and talent and he has the commanding stage presence of someone much larger.
Mr. Awesome
said on 21/Jul/05
I saw him in concert on Tuesday, and I was very close to the stage. These days he's REALLY hunched over, which gave him the appearance of someone 5'6'' or shorter...he's also extremely frail...he did put on a great show though...I would bet that he was a solid 5'10'' in his youth, but now it is plain to see that it is a real labor for him to stand upright... gotta give the guy credit thought...st his age he can still flat out rock! he still was kicking arse...his stooping made him significantly shorter than anyone in Sabbath that night.