Patty Duke's Height
5ft 0 (152.4 cm)
American actress best known for roles in The Patty Duke Show, The Valley of the Dolls, The Miracle Worker, Billie and My Sweet Charlie. In a 1984 Sunday-Call Chronicle article she mentioned
"I'm five feet so naturally I'm usually with people who are taller and bigger, and I eat just as much as they do"
and that she wore size 4 shoes. Also said
"my son has measured me. I'm 5' even
. In 1965 she mentioned her weight
"I'm just five feet tall and adore fattening foods. I weigh 95 pounds and want to stay there"
.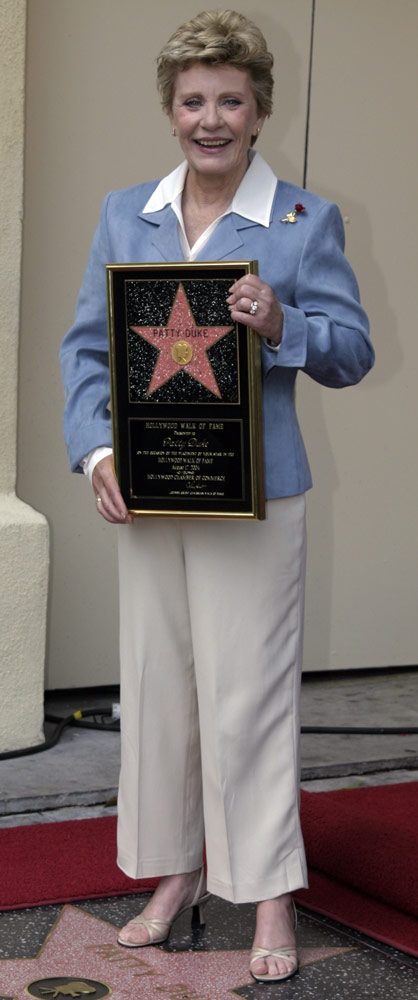 Photo By Grace Lyons-management, via Wikimedia Commons
I'm 5 feet tall. I have, from time to time, 32-26-32 measurements, occasionally 34-26-32.
-- June, 1982
Add a Comment
25 comments
Average Guess (22 Votes)
5ft 1.66in (156.6cm)
wishbone
said on 19/Dec/19
One thing I love about 5' Patty Duke was that she was truthful about her height! She was beautiful in long gowns or casual jeans and she sure had pretty legs! Although Patty only weighed 92 pounds (about the same weight 4'10" Cathy Rigby is) she kept her weight "comfortable" for her height. Patty didn't bring out exercise videos like Cathy or 5'7" Jane Fonda but they all were anorexic! Yet Patty just made you feel good! Patty convinced me to watch the "Alive And Well" segment with Cathy Rigby overcoming being anorexic and in a small way too PBA legend Nelson Burton Jr. convinced me to watch that "Alive And Well" segment by looking at Cathy as a warm loving person which she is. (Then later in 1985 when Patty appeared on Alive And Well to discuss how she overcame manic depression who convinced me to watch it? Cathy did!) Patty was wonderful and I saw her too! Love you Snuggle Bunny!
wishbone
said on 15/Oct/18
Patty Duke sure was pretty! Despite being just 5' tall,Patty was one pretty petite woman! Never weighing more than 95 pounds,Size 2 Petite Patty sure made being small pretty! Patty was manic depressive,yes,but just like 5' Cathy Rigby spoke out about being anorexic,5'1" Annette Funicello spoke out on multiple sclerosis,5'3" Sally Field spoke out on osteoporosis,and 5'1" Barbara Mandrell spoke out about wearing seat belts,sweet Patty made us aware of manic depression. (She was also anorexic.) But Patty was also a pretty singer! We tend not to look at Patty as a great singer or dancer,but she did her own singing in Billie,which kind of has "art imitating life" with me. In high school,I was butchered for wanting to take a cooking class,but thanks to a 1976 9-2 United States Supreme Court ruling banning schools from telling boys not to take cooking classes or girls from taking shop courses (we saw this in a 1965 Gidget episode when Gidget wanted to take shop courses,but she was threatened with expulsion from her high school if she took the shop course and Patty's Billie character was hit by principal Richard Deacon by expulsion if she ran on the boys track team),in Billie's own little way,it even led my 5' friend Kelly Mickolaczyk to join the girls basketball team,even though she was harassed because she was told "Basketball is too rough for short girls,"she even landed a scholarship to Ohio State University! (She quit though because she was homesick.) And Patty could wear anything from jeans to gowns and NEVER felt smothered! But because Patty was so small,she sometimes had to wear her son's clothes or "junior miss" style pantyhose under her slacks and pantsuits,Patty also had a nice soft complexion although she seldom wore much makeup. Yet even with Patty "art imitated life." Remember the old "Flu Shot Fiasco" "Patty Duke Show" episode when Cathy developed an allergic reaction to a flu shot she wrongly was given? In real life,Patty was allergic to the flu vaccine! Sure Patty's in loving hands now of the Lord,but Patty Duke will ALWAYS charm the loving "Dukees" like me,Joanie,sister Dec.14 baby Annette,Alice,and ALL her loving fans! (Sweet too The Patty Duke Show is back on TV! Now new generations of "Dukees" will love this show!)
wishbone
said on 9/Oct/18
Yes I was saddened by sweet 5' Patty Duke's death in 2016,but what impressed me most was how kind even the tabloids were to Patty after her death! Sure her battle with manic depression did get mentioned,but the press looked at tiny Patty more as a loving caring person! But it got me wondering:how to best rate Patty Duke? Now I knew she was not radical like Jane Fonda was,but was not really a true "Goody Two Shoes" type performer the way you would label 5' Cathy Rigby a "Goody Two Shoes" type performer. Yet Patty sure was a very pretty 5' tall! Yet Patty did show some "Goody Two Shoes" tendencies but I think the nice treatment Patty got after her death was that her family,fellow performers,friends,and loving "Dukees" like me,Joanie,Alice,and Patty's sister Dec.14 baby Annette Kimmett wanted it that way. Love you FOREVER,Patty!
Sandy Cowell
said on 27/Jun/18
I have just watched the opening scenes from the follow-up to 'Rosemary's Baby', called 'Look What Happened to Rosemary's Baby' in which Patty plays Rosemary Woodhouse. If I remember rightly from last time I saw it, she doesn't last long in this! Why have they chosen a 5ft actress to play the part originally taken by Mia Farrow, who I always thought was 5ft5, but is written up here as 5ft3? Even if her peak was only 5ft3, it's still a sizeable 3" difference!
Patty gets exactly 5ft. 😉
wishbone
said on 3/Dec/14
Sweet! 5' Patty Duke is just that! Maybe not a true "goody two shoes" like her sister December sweetie 5' Cathy Rigby,yet Patty is a very nice woman! Smooth and pretty in dresses,like she wore when I first saw her,or pants,like she wore later that magic day I saw her,Patty just has a nice "feel good" happy attitude and a very loving family,too. Patty's family spreads love all over her tiny 5' frame,and she loves her sweet fans,too. She's so nice and pretty and the hugs and kisses Patty and I gave each other when I saw her make her happy to have a loving fan like me. She's also happy,like Cathy Rigby,her loving fan and my Trade Winds friend (and sister Dec.14 baby) Annette Kimmett,slightly taller than Patty (5'1"),Barbara Mandrell (5'2"),Alyssa Milano (5'2"),Susan Lucci (5'2"),and Rita Moreno (5'3") to be a December baby. December babies are the nicest people there are! And Patty Duke is nice,too. Love you,Patty!
Wishbone
said on 22/Jul/14
Just like petite December babies are sweet,Patty Duke is very pretty,too,just like sister December babies Annette Kimmett,Rita Moreno,Cathy Rigby,Susan Lucci,Barbara Mandrell,ana Alyssa Milano. Not only was it nice three years ago to see Patty,but she was very pretty in the black dress she first wore,but when she changed outfits and switched to a more comfortable light blue pants suit and from black pumps to more casual,comfortable flats talking to me,I found Patty Duke to be very nice! Although not really a "goody two shoes" type like Cathy Rigby,Patty is one of the nicest performers there are.And though Patty sputtered trying to make the transition to adult actress,she calmly and comfortably made this transition.Then after giving tiny Size 4 Petite Patty a big,soft hug and big,tender kiss seeing her,she hugged and kissed me and tenderly called me a "Dukee." This means we love each other and Patty Duke is a true champion in all she does! And walking on her Hollywood Walk Of Fame star was sweet,too!
Greg Lehmann
said on 5/Jul/14
One thing I love about Patty Duke is she's NEVER lied about her height. She was 5' when she did her cute Patty Duke Show,and she STILL is 5'. She's proof small women are beautiful! And not only does Annette Kimmett at Trade Winds love petite Patty,so do my friends 5'Kelly Mickolaczyk,5'2" Kelly Brough,5' Alice Leightlightner,and 4'10" Joan Emerson. I was a little surprised Joan and Alice would love Patty Duke,but they do. (They also love 5' Cathy Rigby,who I wish you would add to Celebheights.) And Patty is a very small woman,but pretty and sweet. Just give Patty a big hug if you see her! Love you,Patty!
Greg Lehmann
said on 19/Jun/14
Petite women are sweet. December babies are sweet,too. But Patty Duke is both/a Dec.14 baby (just like my Trade Winds friend Annette Kimmet,who loves Patty,too)and a very pretty 5' blue eyed blonde. Having seen Patty and her sister December sweetheart Cathy Rigby (a pretty 5',too),you can feel the love I have for Patty.She was beautiful in the black dress I first saw her in when I saw her three years ago,but she was just as pretty when she heartwarmingly talked to me and switched to a blue pants suit. She just gives you tender love when you see her.She was cute,too,on The Patty Duke Show and she even sang a song for me. Although Patty is a great actress/singer who her fellow performers love,she told me when I saw her that her loving "Dukees" make this petite 5' what she is. And that's why I love Patty Duke like I do.
Greg Lehmann
said on 28/Feb/14
Seeing Patty Duke three years ago was a dream come true for me! It's wonderful that this petite 5' actress has comfortably scored well in what she does,but she now has a wonderful family I saw when I saw her and she is a great friend to have,too! Love you,Patty!
Wondering
said on 3/Jun/13
Any recent photos? What's Patty been doing recently?
gregory lehmann
said on 28/Sep/12
You can't help but love 5' Patty Duke! She is a great actress,a beautiful singer,and as I saw last year,a nice person. She strives to be better and has overcome anorexia and manic depression and always has nice things said about her. That's why I love Patty Duke the way I do.
gregory lehmann
said on 8/Jun/11
Sweet! You are just that,Patty. Whether wearing the beautiful black dress you "toned in" so beautifully when Vickie and I saw you May 19,or slacks when you talked just to Vickie and me,you sure have style and class! And also,Patty,when you brought your "sugary sweet" "Patty Duke show" to DVD,I was so happy that you did it with the same sweet love I've always known you to have.Maybe,too,Patty,you sometimes feel I get cocky labelling you things like "America's Sweetheart","goody-two-shoes", or "girl next door",but,Patty, they are very nice ways to describe you. Even if those happy terms seem to describe Cathy Rigby or Annette Funicello more than you,Patty,never feel I'm cocky toward you. Those terms describe you,too,Patty.You're always going to be my favorite performer,but I love Annette and Cathy,too. So feel happy,Patty,that I saw you,and don't ever feel "Snuggle Bunny" is a nickname you don't like. That describes you,too,Patty,because you're like a soft,cuddly bunny rabbit your grandchildren sometimes play with. Love you,Patty!
gregory lehmann
said on 19/May/11
I knew there would be some kind of "trick play" involved with seeing 5'Patty Duke,and I got it! Husband Michael Pearce provided the "trick play" because he was there,too. He's to Patty Duke what Tommy Mc.Coy is to Cathy Rigby/ loving husbands to their pretty wives. And Patty and Cathy blend so smoothly with me,even if their styles differ. Patty's more talkative,Cathy's shy and quiet.Yet,when Cathy tenderly and calmly explained how she overcame being anorexic in 1985 on "Alive And Well," Patty,through a picture I cut out of her a few months earlier,helped me watch it. (Likewise,when Patty appeared on "Alive And Well" later in 1985,Cathy served as my coach convincing me to see it.)Both times out,I was impressed!
gregory lehmann
said on 18/May/11
Everybody loves 5' Patty Duke! Her family loves her,she's respected by her acting/singing/dancing peers (Can't wait to see the surprise Access Abilities counselor 5'7" Joan White gently tipped me about when 5'3" stepcousin Vickie and I see her Thursday when I get an award from Patty. Maybe going on a cruise with her? Anything's possible.),but most of all,it's loving "Dukees" like me,Joan,Vickie,and Annette who make 5' Patty Duke the warm,sweet,loving 5' she is. You can just feel the sweet,warm hugs Vickie and I will tenderly give Patty Thursday! We love you,Patty! You are a "10" and a "goody two shoes",but not quite like Cathy Rigby this way,but happy to know her favorite "Dukee" is as excited to see "Snuggle Bunny" as "Snuggle Bunny" is to see me!
gregory lehmann
said on 17/May/11
Patty,you are a beautiful woman! Just can't wait to se you Thursday,"Snuggle Bunny,"because when 5'3"stepcousin Vickie and I sweetly give you a big hug,you'll feel how we love you! You're just as happy to see me as I am to see you! Annette and Joan (4'10" girlfriend Joanie,too) just love you! Just gently tickle Patty and you'll feel her sugary sweetness and "goody two shoes" image from her sweet face down to her tickly sweet toes! A champion in every sense of the word! She's a sweet woman! Love you,Patty!
gregory lehmann
said on 16/May/11
When I stood on Patty Duke's Hollywood Walk Of Fame star last summer on my trip to California,I told 5'3" stepcousin Vickie,"That must be the happiest award Patty ever landed." And Vickie told me,"It is,Greg." What I like best about that star is an Internet picture I have of 5' Patty,wearing dark blue slacks,a blue shirt jacket,a pretty "swirl" design blouse,sheer tan knee/highs,and blue sandals lovingly holding this star. Smiling in the picture,Patty is very happy! And she's so proud to see me,a loving "Dukee," even tenderly presenting me a special award. Now I'm even going to request Patty sing for me Thursday,which I'm sure she'll do. Patty,you're my favorite performer!
Gregory lehmann
said on 12/May/11
When 5'3" stepcousin Vickie and I see 5' Patty Duke next Thursday,just watch the hugs and kisses Patty will give us! I even want Patty to sing for Vickie and me,which you know she will do! There will be some flowers at the luncheon,but it shouldn't aggravate her hay fever. And when I talk to Patty,you can be assured we'll talk pleasant things about her career. She's excited to see me! I know I'm excited to see Patty! She's a sweet 5'!
gregory lehmann
said on 11/May/11
This blue eyed honey blonde 5' will get lots of hugs and a few sweet kisses from me next week,and she'll beautiful in her pants suit she'll wear,but she'll be light on makeup since too much makeup would smother her. And she'll most likely wear nice flats or sandals when I see her because like 5' Cathy Rigby,Patty stresses comfort and style in a sweet way!
gregory lehmann
said on 10/May/11
This 5' sweetheart just loves me,and I love her!
gregory lehmann
said on 10/May/11
Patty Duke is so sweet! You can bet she'll get lots of hugs from my 5'3" stepcousin Vickie and me when we see her!
gregory lehmann
said on 9/May/11
You can't help but love 5' Patty Duke! I know I have for almost 50 years,and I even had a Patty Duke doll as a boy! She's a "10" in my book,and I hope Patty gives me a present when I see her next week! And though she weighs just 92 pounds,it's "just right" for Patty!
gregory lehmann
said on 8/May/11
Smoothly proportioned for a 5'small framed woman! Small in size,but big in heart.
gregory lehmann
said on 6/May/11
Smoothly proportioned. A cute 5 footer,just like 5' Cathy Rigby. How about adding Cathy to the lineup?She can wear anything she likes,and has a soft,pretty face who loves her 5 foot height and is pretty!
gregory lehmann
said on 5/May/11
Sweet,loving Patty Duke may be just 5 feet tall,but she can wear anything she wants to/pants,dresses,pants suits/and it just tickles Patty! Since I'm going to see Patty in just two weeks,she is beautiful and she'll be pretty in her pants suit,blouse,shoes,and knee/highs she'll wear! A winning look for size 2 Petite Patty!
Claudia
said on 4/Jun/09
She was one of sharon tates friends!
Wow only 5 foot-cute! She looks in proportion though.