Pollyanna McIntosh's Height
5ft 10 (177.8 cm)
Scottish Born Model, Actress best known for The Woman. In a Mirror article from 1998 it gave her stats in an interview:
"Pollyanna McIntosh. AGE: 19. Height: 5ft 10in Bust: 36DD. Waist: 32in Hips: 42in"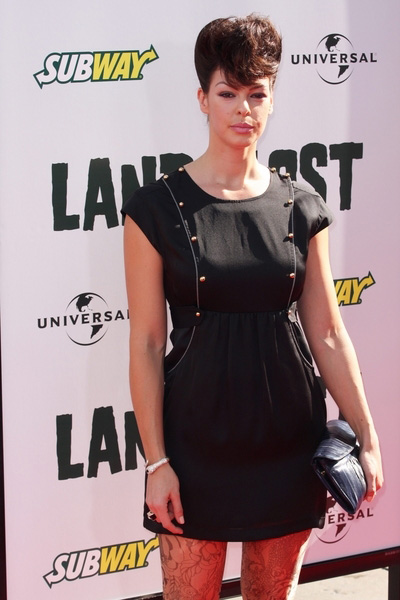 Photo by PR Photos
Add a Comment
22 comments
Average Guess (23 Votes)
5ft 10.1in (178cm)
Jason 6'6
said on 13/Jun/21
5'9 3/4
6ft6
said on 7/May/21
5'10 1/4
Miss Sandy Cowell
said on 5/Jan/21
I've seen at least three of Pollyanna's movies and they're all as tense as ever, so when I saw a film of hers (entitled Darlin') for sale, I had to pounce on a copy.
Ms McIntosh writes as well and I believe she wrote the film Darlin'. I then came across another of her movies, called Let Us Prey, read the write-up and bought that too. I'll be back on this page if one or both of the two DVDs are as good as I'm expecting them to be. 😉
5ft10.
Chris Junior Hernandez 1990
said on 27/Apr/20
I would rule out her as 178.5cm before bed and 5'11.1" out of bed. Close to 179cm in the afternoon.
Nik Ashton
said on 3/Dec/19
I'd love to see a current photograph of her with her three sisters!
Chris Junior Hernandez 1990
said on 27/Aug/19
Rob, i found this picture good for comparison with 6'5 Lucky Mckee
Click Here
both standing straight and similar flat sneakers and Pollyanna look a full 5'10 1/2. This picture shows no way shes a flat 5'10. A little upgrade is acceptable for her.
Chris Junior Hernandez 1990
said on 13/Aug/19
She def deserved a 1/4 upgrade. I wouldn't go under 178cm and this is how she look.
Sarah
said on 10/Dec/18
I saw her at a TWD convention and she looked 178 cm
Junior Hernandez 1990
said on 22/Oct/18
My thoughts on Andrew Lincoln 177.5cm maybe lowest 5'9 3/4 (177.2) and Polly is solid 178cm but no more a plus size model figure.
khaled taban
said on 5/Jul/18
She looks 5'9.75" to me
Sandy Cowell
said on 27/Jun/18
Pollyanna's performance in 'The Woman' is outstanding. If I didn't know otherwise, I'd believe I was watching and listening to a real animal, so convincing are her noises and mannerisms.
She is incredibly strong and definitely NOT to be crossed!
Pollyanna gets a super-strong, super-scary 5ft10. She could actually pass for more.
Kurtis
said on 14/Jan/18
@Crumpet No she still looked 0.5-1cm taller than Rick when they first met in twd, so I think Andrew Lincoln is 177-177.5cm and she is 178cm
Crumpet
said on 29/Dec/17
Jadis is wearing huge punk boots and Rick is barefoot so obviously, she's gonna appear taller. Looks 178cm tbh.
Anonymous
said on 26/Nov/17
I think Andrew Lincoln is shorter by a quarter inch tops
Some Guy
said on 7/Nov/17
Rob, I think you should add Walking Dead as one of her notable roles. She looks taller than Andrew Lincoln, so would an upgrade be necessary?

Editor Rob
I don't know what the ground is like with them both, but from what I've seen of McIntosh, I wouldn't have thought she looked over 5ft 10.
Junior
said on 18/Oct/17
177.8cm not enough. She must be a full 178cm.
Bennett
said on 31/Aug/17
Nah shes not anymore a plus size model. She weigh under 64kg since she filmed The Women and Let Us Prey. Not sure she's 5'10 but look to me more like 5'9.75".
Sandy Cowell
said on 5/Mar/17
I silly burk! I should have known that this Pollyanna is an actress! I've seen two of her films, and even own 'The Woman'!
Yes, you can see she is a tall actress in both of these films, and that does include the one which starts off with everybody sitting at a desk in what looks like a classroom!
Both these films are for adults only!
So I know two Pollyannas now, and three if you include the fictitious one!
Sandy Cowell
said on 5/Mar/17
The only other 'Pollyanna' I'm familiar with was 11 years old and about 4ft7! There was an enjoyable little showing on kids' TV of the children's classic when I was 13!
I've heard this Pollyanna mentioned on Channel 5's 'The Wright Stuff', but there was no mention of her being as tall as 5ft10, but that's what I am putting for her because I haven't heard any different!
@ Wide not tall - Love the name!
xdzoid
said on 20/Feb/17
Looks about right on TWD. Same height as Rick in some scenes where as others she can look taller and smaller.
Wide not tall
said on 4/Sep/11
Actually, she's more 5'9 than 5'10 or 11.
Dude2
said on 19/Dec/10
She is 5'11" as a matter of fact