Quinton Rampage Jackson's Height
5ft 11 ½ (181.6 cm)
American mixed martial artist, professional wrestler and actor best known for playing BA Baracus in the A-Team movie. On his twitter account in 2014 he mentioned his weight and stature, saying:
"I weight 240 and I'm 6'1 I'm not little"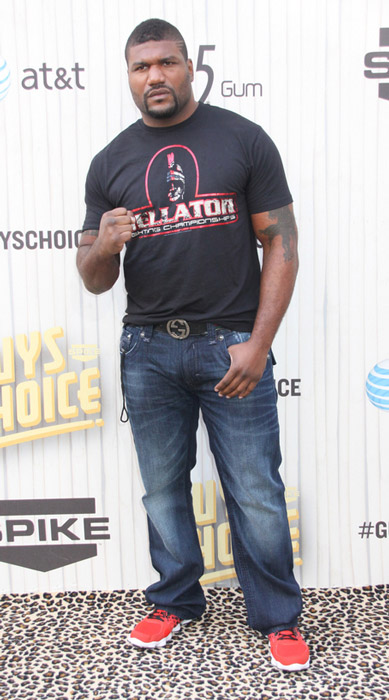 Photos by PR Photos
You May Be Interested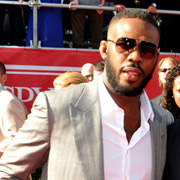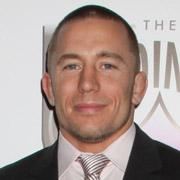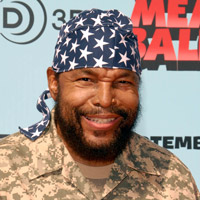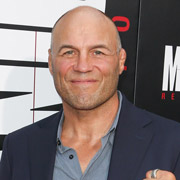 Add a Comment
36 comments
Average Guess (87 Votes)
5ft 11.52in (181.7cm)
slim 6'1
said on 16/Jan/21
I take that back, more 181cm
True 5'11"
said on 5/Dec/20
Rampage is definitely taller than 5'11. Easily 6'0. I (5'11 barefoot) took a picture with him at Gladiator Challenge (in shoes) and he's about an inch taller than me.
Jam Cherry
said on 10/Jun/20
He's definitely not what he claimed he's more like 181.5 cm
Daycringeothon
said on 20/May/20
He looked shorter next to 6'1"-6'1.5" listed Kimbo Slice on the Ultimate Fighter. 1.5" shorter.
Quentin Jackson can look above average 5'11"-5'11.5". He also seems shorter next to the interviewer Ariel .5"-1" that's probably him leaning a bit.
Cameron9982
said on 9/May/20
He seems tall when he was in the ultimate fighter
Guest66
said on 22/Dec/19
Rampage is definitely a solid 5'11" range dude, he edged out a guy like Fedor who's around 5'11" himself. He also looked this tall against 6'3" range Jon Jones.
Height Watcher
said on 18/Dec/19
I believe that he is more around 5'10 1/2 There is a video on YouTube titled "Rampage Jackson Doesn't Back Down From Calling
Joe Rogan
'Fake." Ariel Helwani is listed at the same height as Quinton. In the video they are both seen barefoot on equal ground and Ariel is quite a bit taller than him. At 11:52 into the video you can see them standing face to face from a side angle and he looks about an inch shorter than Ariel.
truthteller25
said on 14/Dec/19
I am 5'9.5 but never seen a 6'1 guy who looked mediocre in height this guy is 5'11 point blank
Annonymous
said on 12/May/19
Evans is just 5'10.5-.75
c-mo
said on 16/Feb/19
he is a little bit shorter than 181-182cm randy couture
180cm for rampage
1999
said on 10/Jan/19
Rob how tall is the guy on the right?
who has the advantage?
Click Here

Editor Rob
He might be near 5ft 11
Junior Hernandez 1990
said on 20/Oct/18
Sharlto Copley and Rampage pretty leveled in height.
185.4cm- 6'1
said on 17/Jun/18
He's the similar height as 5'11 Wanderlei Silva so 5'11 to 6'ish same height as rashad Evans who's a weak 6' at best. He's 6'1 in boots if anything
Paul NS (6ft0.5)
said on 12/Feb/18
Where was he taller than Cooper? Doesn't look to me like he was.
Click Here
Click Here
Click Here
And even ignoring Cooper he's not taller than Copley, who isn't 6ft either. He doesn't need an upgrade.
highlysuspect
said on 10/Feb/18
Was taller than cooper at A Team premier with less footwear. He's 6 foot minimum and cooper is over listed
Nik
said on 12/Dec/17
5'11.5" is correct!
Putoluloh
said on 15/Oct/17
Horrible posture.
:)
said on 7/Oct/17
6'1 :))))))))) WOW
bakk
said on 25/Jun/17
flat 6feet
Jim hopper
said on 1/Apr/17
5-11. Never ever was 6-1
5'6.5 15 year old boy, known as 5'6 14 y/o boy
said on 28/Dec/16
Yeah I regret what I said before, He is not 184cm, I think he is around 5'11.5 or 180 -182 cm , just look at him next to Liam neeson. He is one of ma fav fighters doé
Josh Jeffords
said on 4/Nov/16
Billing is spot on may have been a bit taller before his many injuries and losses.
Nobody 6 1 has to remind anyone he's not small that's funny how insecure he is.
Very over rated but has a good hook and yes I'd tell him he's not 6 1 and I would have to look up much.
Love watching axe murder launch his stupid as- out of ring in both their primes.
5'6" 14 year old boy
said on 24/Oct/16
I think he is 184 because Jon Jones did not look 5 inches taller than him at their barefoot staredown, I bet 10000 it was around 3-4 inches between them,
elephants gerald
said on 9/Oct/16
Rampage was a little shorter than me in 2005 when I ran into him at Powerhouse Gym in Mission Viejo. Im 5'11.5.
John
said on 6/May/16
this is true for rampage, he isnt 6ft 1 as hes the same height as rashad evans whos 5ft 11, always thought he was over -sized
Idk
said on 16/Dec/15
Tall as Bradley cooper in A team and in all of their press shots. And once again cooper had heels, rampage flat sneakers
Randy
said on 7/Jul/15
Guys.. Anyone feel like telling the man that he's a liar? I wouldn't recommend it.
mId
said on 4/Jun/15
Here he is with rashad evans.. who was pretty much the same height as GSP when they wrestled/sparred together. Rashad is 5'10.5 max.
Click Here
Rampage never been 6' he's max 5'11. Also, Wanderlei in this pic is wearing
Nike Shox
while rampage is barefooted.. but silva at 5'9.5-5'10 (his true height) is taller. He wouldn't be if rampage was over 5'11.
MrTBlack
said on 2/Jun/15
This looks a tad low to me. I'd Say 6'0" even.
Rampage(-_-_-)Clover
said on 31/Mar/15
"Quinton Rampage Jackson's height is 6ft 0in (183cm)"
jasperwazup
said on 26/Feb/15
Rampage is only slightly taller than Rashad Evans. Rampage 5'11'',accounting for the bigger forehead than Rashad. Rashad looks 5'10'' range almost all the time.
Joe257
said on 21/Sep/14
I'm thinking Quinton Jackson is about 6'0" FLAT barefoot, not the 6'1" that the UFC listed him as!!! Proof: Rampage was about 1.5" inches shorter than 6.1.5" Chuck Liddell during their barefoot stare down! He was barely taller than Rashad Evans (5'11") in their stare down, maybe an inch taller! Do keep in mind that Rampage/Jackson does like wearing BIG boots a lot, which might help him hit 6'1.5" or just a tad more!
Clay
said on 30/May/14
Are you kidding thats 2 inches easily.
Vegas
said on 22/May/14
staredown with kurt angle (who most pin at 5'10) last year
Click Here
Clay
said on 19/May/14
Around 6'0'' is legit.
Phantom
said on 12/Feb/14
Never looked to be a true 6'1" next to guys like Lyoto Machida.