Rebecca Hall's Height
5ft 9 ½ (176.5 cm)
British actress best known for roles in movies like Vicky Cristina Barcelona, The Town and Starter for 10. In Marie Claire she said:
"I'm 5'10". I just finished filming The Town with Ben Affleck. My whole career I've been crouching in flats. But this movie had a bunch of giants - both Ben and Jon Hamm are very tall. When the cinematographer said, "Would you mind terribly if you stood on a ladder in the next shot?", I put my arms in the air and whooped."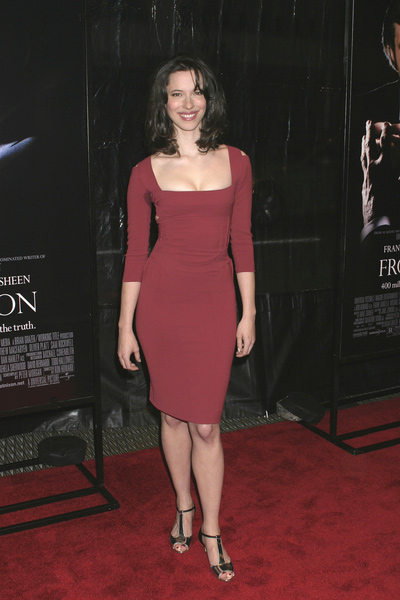 Photos by PR Photos
Add a Comment
67 comments
Average Guess (34 Votes)
5ft 9.57in (176.7cm)
Kebapsever
said on 23/Jul/20
Picture above she looks super hot and tall and I think 5'9,5 is spot on.
Mimi
said on 8/Apr/20
Is 176cm a very possible thing she could measure during the day?
Ian C.
said on 28/Nov/19
Notice that "too tall" for an actress starts at around five foot eight. Five foot eight is a perfectly acceptable height for a woman in the real world. How tall do you have to be to be too tall for an actor? Something like six foot six, which really is strikingly tall.
In the obverse, five feet zero is acceptable for an actress, providing she is young and beautiful. Too short for an actor is about five foot eight or shorter, and if you're that short you'd better be funny (Micky Rooney), cute (Rooney, again) or supremely charismatic (Humphrey Bogart).
Michael 5'10", 178 cm
said on 9/Jan/19
Wow, I thought she looked the full 5'10" in the Gift, looked a little bit shorter than Jason Bateman. If she is really a little bit under 5'10", then Jason Bateman is not nearly 5'11". He didn't look that much taller than her. Either she's taller or he's shorter.
MAD SAM
said on 9/Aug/18
She might be a full 5'10" on a good day
Nik
said on 1/Jun/18
I think that Rebecca is nearer to 5'9" than 5'10"!
MAD SAM
said on 31/May/18
She's gotta be 177 cm, she's really tall
Tall Sam
said on 15/Feb/18
At times she can look pretty close to the 5'10" mark but I think heels could fool one a bit.
Will
said on 15/Nov/17
She looks 5'9". Not quite 5'10" though. Rebecca is still a tall girl IMO.
Tunman
said on 25/Oct/17
Sounds much better.Actually I first thought she could be very close to 5'10 if not the full mark with someone like Oliver Platt but since you're saying that he's heading nearer 6'2 these days then it makes more sense.Always a chance of 5'9.25 but depends a lot on whether guys like RDJ or Pine go slightly under their listing or not.
Tunman
said on 25/Oct/17
Also look at her with 184 Chris Pine
Click Here
sounds like 8cm difference when counting heels advantage.Remember that she's also listed at 5'9.Now as I said I doubt she's a flat 5'9 but I would be very surprised if she's the same as say a Tyra Banks or an Adriana Lima.A good 176 seems honest.
Tunman
said on 25/Oct/17
Rob,I must say she smaller than that with Javier Bardem she's at best a weak 5'10 with him and that's assuming he's 181
Click Here
.
With Hamm and Affleck she also could look more strong 5'9 range.Hell even if RDJ in his special sneakers would measure 5'10 I fail to see how she could push being 3.25 to 3.5"taller in heels and measure the same barefeet
Click Here
a real downgrade imo.But still a little over a flat 5'9.
Editor Rob: 5ft 9.5 might be more likely, as even taller women can round upwards!
Peter175
said on 19/Sep/17
WTF, she's clearly below 5'10 with Affleck. Maybe 176 but no way is she taller than Gal Gadot who came closer to affleck
Junior
said on 18/Aug/17
I think she look a full inch shorter than 5'10.75 Jason Bateman. I'll throw a vote at 5'9.75". Good actress!
even
said on 25/Jul/17
a solid 5'10" , a solid 130 lbs , she cant look better than that .
Sandy Cowell
said on 15/May/17
Rebecca doesn't look as tall as 5ft10 in this picture; good figure, though!
I think that 5ft9 or just under is more realistic. She can have 5ft9, but I'd believe a fraction less!
pzogel
said on 19/Apr/17
Click Here
Pine is estimated to be around 6'0.5, with shoes on he might be 6'1-6'1.5. Hall's heels should give her roughly 2". Given that Pine and Hall are apart by about 2" one can safely conclude that Hall should be around the 5'9 mark.
Morris
said on 6/Mar/17
also to me she is 165-168 cm without shoes
S.J.H
said on 4/Nov/16
She doesn't look 6'2 with standard 4" heels during movie premiere. She might be 5'9 or 5'9.25
Arch Stanton
said on 28/Jul/16
Odd that she calls them giants, in heels, she'd be virtually the same height!
Dmeyer
said on 19/Jun/16
Rdj in elevators sneaker with à 0,8in so hé will get max 2-2,2in even with à huge lifts inside looks 1-2in smaller than hall in à big heel so lets say hé is 5ft 10,25 shoes on she dosnt even look 6ft 1 shoes on so 5ft 9,5 might be closer even if she dosnt force posture
Lee
said on 13/Jun/16
Have you not seen the film the gift? In that she is roughly the same height as Jason Bateman when she's in 3 inch heels. He's 5'11 without foot wear so 6' in them so she'd be taller than him in those heels if she was 5'10 she's 5'9 at tallest
Benny
said on 8/Jan/16
Totally absurd. She's tall like James McAvoy (perhaps one inch less)... See this photo, where she wears boots.
Click Here
She's definitely 168 cm tall, NOT 178 cm... Perhaps the journalist was wrong to write a number, or she lies.
Bruce 5'11.5
said on 25/Nov/15
At least 5'9.5
Judd ISR
said on 24/Sep/15
Arch Stanton said on 21/Aug/15
Rob, I agree with Sam on this, any chance of a downgrade to high 5'9 range?
[Editor Rob: 5ft 9.75 like Charlize might be accurate.]
i do agree rob...recently i've seen a couple of her movies and i still think 5'10" is too high for her, but she might be a bit taller than a flat 5'9" if measured...
5'9.5" or 5'9.75" are for sure better than 5'10"!
[Editor Rob: 5ft 9.5 is quite arguable for her, but 5ft 9 flat seems like too low. ]
Arch Stanton
said on 21/Aug/15
Rob, I agree with Sam on this, any chance of a downgrade to high 5'9 range?
[Editor Rob: 5ft 9.75 like Charlize might be accurate.]
Sam
said on 19/Aug/15
Hmm, she does look similar compared to Jason Bateman as did Charlize Theron did on Arrested Development...it's possible Hall is more 5'9.5"-5'9.75".
mariam1
said on 13/Aug/15
She lies about height, adds 1-1.5 inch like everyone else does..She needs to downgrade, looks like 174-175cm
veracity
said on 11/Aug/15
There are a few photos of her with Shane Black (he's listed as 1.78m). Even though she's in high heels and standing in from of him (he's slouching), they still look the same height. That said, she's probably in the 1.72-1.74m range. Nothing more than that.
grizz
said on 30/Apr/15
If she's only 5ft9, then Joshua Jackson is 6ft tops. In film Lay the Favorite, she's walking next to Jackson- he had around an inch on Hall who just wore some cowboy boots.
Judd
said on 12/Oct/14
does look 5'9" to me
Realist
said on 2/May/14
How tall do you think Chris Messina is? 171-172. The guy who plays Doug in Vicky Christina Barcelona and has a role in Argo.
Sam
said on 25/Mar/14
She's being a tad generous calling Affleck and Hamm "giants". Rebecca's quite attractive in Vicky Cristina Barcelona as were the other two leading ladies, although I thought the film itself was pretty dull. I also think she pulled off 5'9.5" at least next to Bardem, its hard to judge since she certainly towers over ScarJo there.
Lorne
said on 25/Mar/14
I agree with 177cm Arch, look at her with Hamm, she makes him look a big 6'1! But I wouldn't go 5'9 flat...
Arch Stanton
said on 22/Mar/14
I dunno, other times she can look similar and barely an inch shorter than Bardem. She has to be close to 5 ft 10, but I think 177 is quite possible.
Arch Stanton
said on 22/Mar/14
Rob do you think 5'9.5" might be nearer? Honestly Bardem looked about 2 inches taller in Vicky Christina.
[Editor Rob: it is possible, if they had same footwear?]
Arch Stanton
said on 22/Mar/14
I guessed 5 ft 9. She looks tall next to Javier Bardem in Vicky Christina Barcelona but she looks a few inches shorter.
J.Lee
said on 4/Mar/14
Rob, she is listed at 5 ft 9 in many sources. How did you come up with 5 ft 10?
[Editor Rob: I've went with her own claim, I'm not sure she'd just be 5ft 9 flat.]
Angelaaaaa
said on 16/Nov/13
It says 175 cm everywhere else.
Lorne
said on 9/Oct/13
The big G? And I actually don't think sge's a full 5'10, doesn't look it with Hamm or Affleck, certainly wouldn't have needed a ladder. If I recall, Rob had her at 5ft9, so 5ft9.5 could be closer, I need to take a better look at her. ;)
hurricane brat
said on 6/Oct/13
one of the few ones that the big G (not glenn, the website) has actually downgraded at 5'9
Ardo
said on 4/Sep/13
Yes she is tall. It looks in her film like parade ends, prestige, dorian in which she is almost the same with male whose height up to 180cm. In often her appeal on public entertainment she is outstanding tall even compare to some males.
cole
said on 28/Aug/13
I would say more 5'9 range. From 5'9 flat to 5'9.5.
Lorne
said on 3/Jul/13
Rob if she's 5'10, Jon Hamm is nearer 6'1. In the town you can clearly see they're the feet in the first scene(no ladder!) and Hamm looks AT LEAST 3 inches taller. I remember thinking "hmm, she looks near enough 5'9" but too find she is 5'10, well Hanm really needs an upgrade, he simply always looks taller than a 184cm guy like David Boreanez would!
Jack
said on 15/Jun/13
Very tall and very beautiful woman. She might be trying to under report her height because everywhere else on the internet it says 5'9" not 5'10"
jimbo
said on 30/Apr/13
Sounds right she looked quite tall in Iron Man 3.. Downey was below her even with the lifts.
Aaron
said on 9/Apr/11
Ben Affleck is also wearing some lifts in that picture, Moke, so I'd say over 5'11" is a likelihood when she wakes up (I'm 6'4.8", 6'6" right when I wake up). Very tall girl! An equally tall man would be my height at least.
Moke
said on 15/Nov/10
Yeah definitely looks that height, if not near 5'11. Ben Affleck looks over to her as if he wonders whether she has grown since he last met her :) I don't think the heels give more than 3-4 inches and she looks 6'2 in them.
Click Here
Aaron
said on 10/May/09
I bumped in to Dave in an elevator in Toronto back in 2006. He was in town for a show promoting his new album "On an Island". He was taller than me. So I had to find out exactly how tall he was. I thought he might have been 6'2". I was lost for words when I bumped in to him. However he handled in pretty well.
Big T
said on 7/Feb/09
yikes, one poster saying she "towered Bardem" in VCB, another saying they were eye to eye
In reality, it varied between scenes but he's gotta be a good 2 inches taller overall
Chris
said on 24/Jan/09
I dragged out my pictures from university. Sadly I don't have a picture of Rebecca and me, but I do have one of Rebecca standing next to a friend, and another of that friend standing next to me. Rebecca and I look the same height in the pictures, but she is standing straight while I'm leaning over hugging a girl who's much shorter than me. I'd say I'm losing an inch of height because I'm leaning, but it could be more. Apart from the fact that I'm leaning, they're good pictures for judging height. I'm 5'9.5", so that would make Rebecca about 5'8.5". I'd believe anything from 5'8" to 5'9", but not 5'10". At least not back then in 2002, and I doubt she's grown. She looks like she's going to be a big success as an actress anyway. Good luck to her!
Zach #2
said on 23/Jan/09
just saw VCB, and she looks like a solid 5ft 10", eye to eye with a 5'10" Bardem
Paul
said on 23/Jan/09
She's under 5'10'' I think. She was only 1.5-2 inches shorter than Bardem in Barcelona.
Chris
said on 18/Jan/09
This is about right. I met her a few times at university and would say she's 5'8" to 5'9". Tall but not exceptionally tall. Listings vary a lot for her, though. I've seen 5'6" to 5'11" and she definitely isn't either of those.
bettestreep
said on 29/Dec/08
I just saw Vicky Cristina Barcelona and don't believe Rebecca is only 175cm.
She literally towered over both Bardem and her husband in the film (forgot his name) - and she wasn't wearing heels!
Either Javier is 175cm - or Rebecca is 185 cm.
Samuel
said on 13/Nov/08
I always thought 5ft11 for him.
sally
said on 26/Oct/08
i think she is taller around 5ft 10 she towers over penelope cruz even in flats
Mr. T
said on 29/Mar/07
Click Here
I think he could have been 6' back then...
Brad
said on 15/Aug/06
Kinda shocking how chubby he is now compared to '77 when I saw him at Madison Square Garden. They were bombing the piggy with cherry bombs at those shows.
Mr. T
said on 23/Apr/06
>>He did look 6'1" when he was young and could've shrunk when he got old. Or maybe he was might look shorter these days because he's been getting chubby.<<
He's had a bit of a frame since the late 70s, though it's been more appearant in his middle age. After some extra looking, I would say he's 5'11" now and probably 6'1"-ish at his peak. If Rick Wright is indeed 5'10" or a bit less now aged 62 as Glenn is guessing, he was probably 5'11" or close to it back in the day.
But I'm still not sure on Waters. Looking at his picture with Glenn, he does seem 6'3" now (he looked 6'1" at first glance, but then I notice his neck hunch again and that he is leaning more than Glenn), but in this picture with the original Piper-era line-up, he certainly doesn't seem to have 5 or even 4 inches on Wright (
Click Here
). Then again, he is doing his trademark neck thing in that photo, and it's a bit hard to tell with the hair (plus you can't see their footwear), so maybe he really is 6'4" in that photo.
As for Barrett, he looks 5'11" there. He does seem to have an inch on Wright, but Wright is a little further back than he is and his posture isn't so good (which also helps Waters' 6'4" case).
I guess Mason's 5'9"-ish.
Tall Guy
said on 14/Apr/06
6 feet to 6'1 in his early days. I think he's around 5'11 now!
Anonymous
said on 13/Apr/06
He did look 6'1" when he was young and could've shrunk when he got old. Or maybe he was might look shorter these days because he's been getting chubby.
Glenn
said on 13/Apr/06
They both were bombarded by autograph dealers for week,and they were irratated.
Glenn
said on 11/Apr/06
Rick appeared 5-10.maybe a little under.wouldnt pose.
[Editor Rob: sometimes you gotta wonder why some celebs rarely pose. Is it a fear they'll end up on celebheights, a photo phobia that they'll look 'normal' without airbrushing or special lighting?, does flash annoy them...does Glenn scare some away ;-)
]
PinkFloydFan
said on 11/Apr/06
Rob, you should probably change his name to "David" Gilmour. Gilmour hates being called "Dave" for some reason. I have no clue why but you'll never see "Dave Gilmour" anywhere. Only "David Gilmour". This is generally well known by Floyd fans... not that I'm trying to sound anal here or anything.
and 5ft11 seems accurate height.
What about Nick Mason and Rick Wright?
[Editor Rob: hmm, yeah I'll change that...

reminds me of a guy who got ignored for an auto with Ralph Fiennes because he called him Ralph, wants to be addressed RAFE...]
Anonymous
said on 10/Apr/06
Weren't fans on Water's postings saying he's 6'1"?
Mr. T
said on 10/Apr/06
He does have a heavy frame nowadays and is 60. Could have been as tall as 6' back in the day, which might put Waters as indeed 6'3"-ish in his Floyd days.