Rex Smith's Height
6ft 0 (182.9 cm)
American actor and singer, best known for starring in 80's TV show Street Hawk.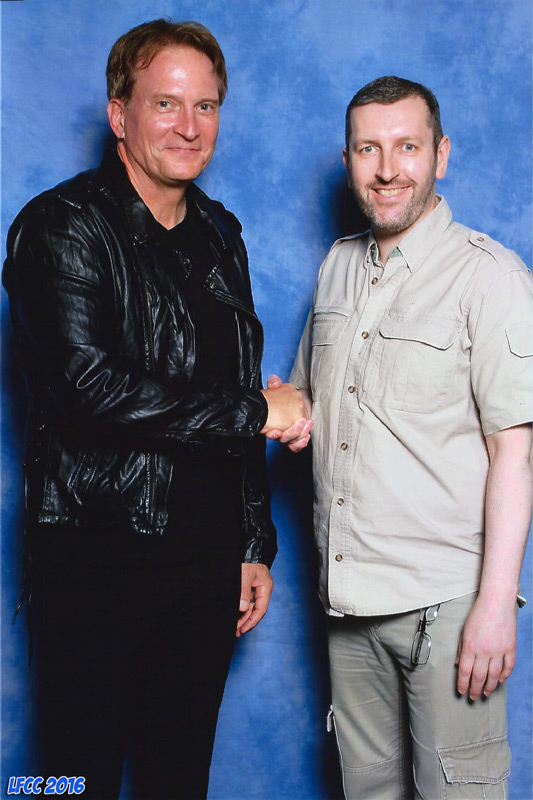 5ft 8 Rob and Rex @ LFCC 2016
Add a Comment
12 comments
Average Guess (7 Votes)
5ft 11.86in (182.5cm)
Lawson
said on 27/Mar/19
Thats weird, looks 5'11 to me. Rob is 1" above his eyebrow. Thats 3" difference
Lawson
said on 27/Mar/19
Yeh but Rob tell that to the majority of women. Don't think for a minute that women would respect or be faithful to a shorter man as opposed to a real big tall man..they say it's "their nature"..oh jeez.
But thanks Rob for the advice, I do understand what you're saying but trust me if you know howthatst women really could be, they make our life hard for a lifetime just because of height we gotta try harder be more accomplished yada yada for a lifetime just to live up to a bigger taller effortless chap that plays on his height to get women...uggghhh
Don't think life is anything more than having the possibilty and backup of being able to date/mate with the general consensus of women..that is their truth..they would make our lives hard because the other guy stands more dominant than us. In your case u r ok because you have a gf. But imagine having a hard time getting respect simply because I have a little boy's height..its annoying and frustrating, in part and large part by society's judgment that's cut in stone. That's were my frustrations came in and what lead me to discover/analyze peoples heights and join blogs about height. Thanks Rob tho for advice and point of view.

Editor Rob
There's still a big proportion of women who will look at height as a major quality.
Lawson
said on 26/Mar/19
Rob, I am literally exactly your height 5'8 -5'8 1/8". Don't you feel like punching out these guys that are constantly taller(even if its by an inch taller than me)...i been feeling that alot lately. God bless me please

Editor Rob
It's a shame you have feelings like that.

People come in a variety of looks, including a huge variety of heights. I'm simply trying to figure them out, to help visitors and get out trivia on the web that overall might be seen as believable.

For me, true measure of a person is in their accomplishments, how they treat others and what they give back to society. I think we all have the capacity to grow in that respect.
Lawson
said on 26/Mar/19
@Bobby.
He looks so much bigger than Rob becauuse Rex has a head/temple girth the size of a f****** watermelon. Bet if Rob had same head size wouldnt look that big of a difference. Diffrences is shapes play big on illusion
Bobby 5'10
said on 1/Nov/18
He looks so much bigger than Rob.
Nik
said on 24/Sep/18
@ Zampo -Yes, he could be 5'11.75", but no less!
Zampo
said on 21/Sep/18
Possibly 5'11.75.
mikes
said on 5/Aug/18
seems accurate
MAD SAM
said on 5/Jul/18
Ideal 6 footer at 183 cm, no point downgrading his height 😐
World Citizen
said on 7/Mar/18
Looks 181 182 cm
Rampage(-_-_-)Clover
said on 20/Jan/18
Maybe a weak 6ft today and a strong 6ft peak Rob?

Editor Rob
It's possible, I think physically he still looked close to 6ft in person, but possibly a little bit under it now.
Christian-6'5 3/8
said on 27/Sep/17
He's standing a bit closer to the camera than Rob, I think he's a weak 6'0" rather than a solid one.
Editor Rob: I would say he lost a fraction from his Street Hawk days a weak 6ft today.