Rick Springfield's Height
6ft 2 (188 cm)
Australian Actor and Singer. He did claim in a Globe interview:
"I'm 6-foot-2"
.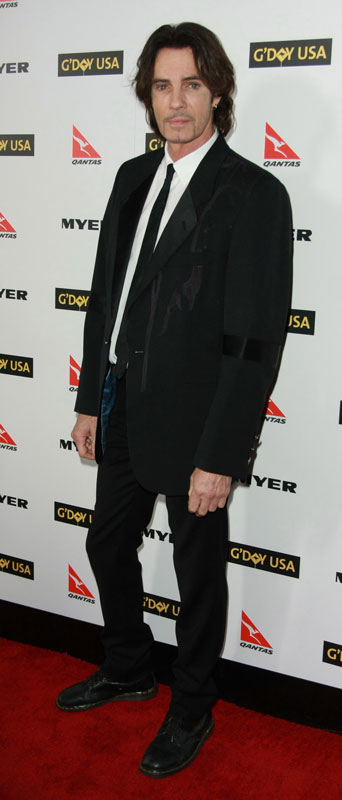 Photos by PR Photos
Add a Comment
54 comments
Average Guess (7 Votes)
6ft 1.54in (186.8cm)
Rampage(-_-_-)Clover
said on 29/Aug/20
Rob, could he be a bit under this today?
Looked a solid 188cm guy in his prime

Editor Rob
half inch less by now is likely, as much as an inch though?
Mark D
said on 25/Aug/18
Met him years ago after a show for an autograph. Well, I got one by reaching over the crowd since I am 6'5", it was funny, he reached over and signed it. I'd estimate 6'2" peak height, maybe a bit less now.
Maneka
said on 12/May/18
I think there's quite a bit of Irish, Scottish and Welsh in there too.
Maneka
said on 12/May/18
Definitely 6'2" or 6'3". I stood next to him on my cousin's interview show, I'm 6'0" and he is taller than me.
Rampage(-_-_-)Clover
said on 29/Mar/18
Good shout....this definitely looks closer
King
said on 4/Dec/17
Rick is an Australian of English decent.
Rampage(-_-_-)Clover
said on 22/Feb/17
Peak: 6ft2(187.96cm)
Today: 6ft1½(186.69cm)
berta
said on 22/Feb/17
he looks pretty tall i think he can be in the 187-188 range or was
Rey
said on 13/Feb/16
@ Editor Rob from the "8,000 listings" -"Howdy" from the Lone State of Texas. Nice to meet you.
Rampage(-_-_-)Clover
said on 3/Feb/16
"Peak height was 6ft 2in (188cm)"
Might still be that.
Rey
said on 31/Jan/16
@Karey-Anne Foster I have been telling this board for years. Finally, they gave Rick another 1/2 ". I gave Rob kudos. But, I have never had a response from him. I think he knows there are some people better at judging heights than he. That is fine with me. Sly Stallone is a great man an artist, but is a short man. Nothing close to his listing.
Editor Rob: with over 8,000 listings it's a lot to keep track of, but listings change a lot...still doesn't mean it is correct or incorrect. A guess is still that - an estimate of height, which becomes right or wrong when a valid measurement is taken. Even then, you'd still get discussion over whether the measurement was valid :)
Karey-Anne Foster
said on 13/Jan/16
I think if anyone knows its Rick Springfield himself. Why would he say "I'm 6'2" " if it were false. I'm 5'11" barefoot and was wearing three inch heels on 09/05/15 when I saw RS in concert. The heels make me 6'1" and when I hugged him (!!!) Rick was taller than me by an inch or so. He's a tall lanky well built man of 66 years. So....
Rey
said on 14/Mar/15
6'2" was spot on in his prime. Could still be very close.
Rampage(-_-_-)Clover
said on 13/Oct/14
Rob, is it possible that he was 6ft2 in the 80s?
[Editor Rob: it is a chance of course. ]
Brad
said on 10/Jun/14
6' 2" right next to me. Bank it.
Rey
said on 23/Apr/14
Another accurate upgrade! Good work!
Rampage(-_-_-)Clover
said on 12/Dec/13
187-188cm, Rob?
George
said on 2/Oct/13
Hi Rob just watched a documentary with Rick Springfield and Dave Grohl. He had about 1.5 inches on Dave Grohl. If you image search Dave Grohl and Rick Springfield you can see he is 1 inch taller even with the lean. I would estimate him to be in the 186 maybe even 187 range.
Rey
said on 9/Aug/13
Appeared about 1.25 -1.75" taller than Dr.(6'1") Oz which aired today.
NotSoTall
said on 6/Aug/13
You've definitely got Rick's height wrong. Something between 6ft 1.5in to 6ft 2in would be more appropriate.
Rey
said on 20/Jul/13
He is a tall man. Met him in Austin 1984--Corey Hart opened for him. Very big guy not some skinny guitar player. Big boned must be close to 6'2" --which he claimed on his show "High Tide"
Rampage(-_-_-)Clover
said on 7/Sep/12
True, but do you think you might have this guy a little low?
Rampage(-_-_-)Clover
said on 2/Sep/12
Rob could this be a rare occasion where you may have a height listing off by an inch?
[Editor Rob: nothing is impossible in the world of height...well, except G being 5ft 8 ;)
]
Rampage(-_-_-)Clover
said on 8/Aug/12
Rick Springfield is about 6ft2
lenoige
said on 8/Jun/12
can we get some new pics for Rick.
Hugh 190cm
said on 30/Mar/09
6ft1.5-6ft2 MINIMUM.
glenn
said on 16/Mar/09
i only have one.then again i only saw him twice.he had 10 year old girls to 60 year old women waiting for him in his hotel lobby.never saw anything like that before.teens,and 30,40 year olds,you name it.not one guy.i think i was his fan club actually.and i think it was his birthday.
Brad
said on 16/Mar/09
I got one, I'm owning him by 4". I ain't putting it up, I don't know how anyway. He freaking rocks and has the best looking chicks ever at a show.
Clark
said on 14/Mar/09
How about some new pics for Rick!!
T.J.
said on 15/Feb/09
A definite 6'2"
B
said on 23/Jan/09
Did you see him on Lyrics tonight? He looks a little taller than an inch over the six-foot Brady.
Hugh
said on 10/Jan/09
By guess 6ft2-3?
Brad
said on 7/Jul/08
Why does it still say 6' 1"?
Kate
said on 4/May/08
I've stood nest to him, and he's at least six feet two. He's also much better looking now!
Clark
said on 29/Mar/08
Ok..the time has come to upgrade Rick!!
Sabrina
said on 5/Feb/08
He is DEFINITELY 6'2. I've gotten a hug from the guy so I know from sight and experience :)
clark
said on 7/Jan/08
Not that it makes that difference, but the RS link about Rick's height "Australia made you--America has you"!!! Is NOT by Christie, but by me. Yours truly....Clark
glenn
said on 5/Jan/08
yeah rob.anthony is right.6-2 strong at that still till this day.i see him often.
Anthony
said on 4/Jan/08
This guy seriously needs an upgrade. Springfield is a very solid 6'2 and has never looked less.
clark
said on 4/Jan/08
During a Christmas event in NYC, two years ago. Al Roker told Rick, 'you are one tall elf.' Upgrade Rick!!!!He may be 6'2 1/2 inches. Go Rick!!
clark
said on 3/Jan/08
I had the opportunity to work with Rick one summer, and he IS a tall Aussie. My aunt waited on him back in the early '70's, and she is 5'9" in flat feet, but she said she was wearing 3 inch heels, and that he was about 6'2". many of his "meet and greet" pictures do not show his true height because the event becomes very tiring, and Rick does some major slouching. Also, if you have never seen him perform live--you have missed one the best concerts, ever. He is a great guy!! Stand tall and be proud Richard Lewis Springthorpe a.k.a. Rick Springfield. Australia made you--America has you!!!
Christy
said on 23/Oct/07
Rick, according to Rick, is 6'2". I asked him one time when I met him because I'm 5'11" and he seemed so much taller than me. He is such a GREAT man. So fan friendly. And really wonderful to children. My daughter is almost 14 now and has adored him since she was 5! She, too, has met Rick on more than one ocassion and he's always so sweet to her! He is a far bigger man than his 6'2" frame! Upgrade him Rob!
Radka
said on 7/Oct/07
I think he looks younger than 58. He is a great guy. And great musician who writes amazing music! Luv it(his music).
BTW: Hey guys!Don`t envy him. He just lives healthily! And that`s why he looks so good!
glenn
said on 23/Jul/07
he is 6-2.had no clue he was that tall.
tallchick
said on 22/Jul/07
I just met him ealrier this month. I am 6' and I didn't think he was that much taller until I got the pictures back, he is a solid 6'2".
Mr. R
said on 9/Jul/07
During his General Hospital years, he was listed at 6-2.
Franco
said on 5/Jul/07
the hell?
he surely looks old! i dont remember him like that at all, what a surprise, he still writes great music though.
he definetly looks no less than 6'0
185cm seems reasonable.
Anonymous
said on 31/May/07
Kind of awkward story. Ran into this guy in the bathroom at one of his shows (wife's a huge fan). Finished washing my hands, turned around and he was walking in. I'm 5'11", and he seemed a solid 6'2" I would've guessed 6'3" he's a big guy, very lean, gives a taller appearance than he is I suppose.
Derek
said on 4/Feb/07
Everyone is saying 6'2". I think he needs to be upgraded Rob.
Anthony
said on 28/Jan/07
Yeah, he always looked 6'2 to me.
Viper
said on 27/Jan/07
I thought he was more 6-2.
footballed28
said on 25/Jan/07
this guy is definitely close to 6'2...I would say 6'1 1/2 to 6'2...bumped into him some 3 years ago in New York
Derek
said on 24/Jan/07
Definitely more than 6'1". I think you need to upgrade him Rob.
Brad
said on 24/Aug/06
6' 2". I just stood by him last week. Doesn't look 57. Sings & plays like 1981.