Rob Riggle's Height
6ft 2 (188 cm)
American actor and comedian best known for roles in The Hangover, The Other Guys, Let's Be Cops and 21 and 22 Jump Street. He claims to be 6ft 3.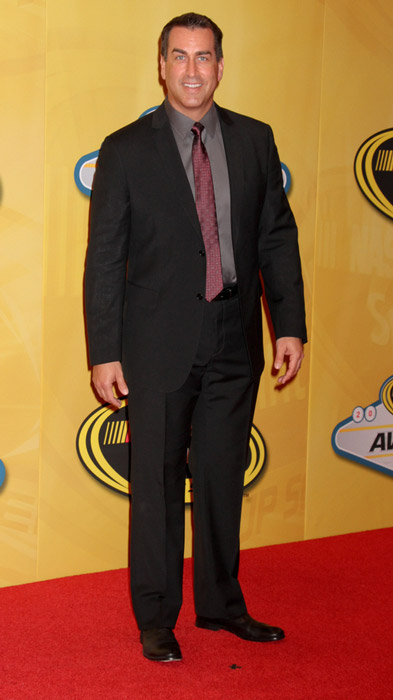 Photo by PR Photos
Add a Comment
37 comments
Average Guess (22 Votes)
6ft 2.09in (188.2cm)
berta
said on 10/Feb/21
i think ryan reynolds would edge this guy out with a tiny fraction. this guy is probably the listed height. he can sometimes pull of very legit 6´2.
Miss Sandy Cowell
said on 21/Apr/20
🎈🎊🎁🎂 Happy BIG 5️⃣0️⃣ Rob! 🎂🎁🎊🎈
Congratulations to Rob Riggle on his half-century Birthday! Have a great day; let your hair down and CELEBRATE!
6ft2 for Rob on his Big Day! 😁👍🎈
🎁🎂5️⃣0️⃣🎁🎂5️⃣0️⃣🎁🎂5️⃣0️⃣🎁🎂5️⃣0️⃣
BT
said on 5/Apr/20
@Rob: Would you guess Rob Huebel over or under 6'1?
Click Here
Click Here
Click Here
Click Here
Click Here
Click Here
Click Here
Click Here

Editor Rob
He can look over six feet
ND.IV
said on 16/Aug/19
Has a solid 3 cms or at least 1.25 inch over Steve Austin
My name
said on 15/May/19
Hey Rob, doesn't Link look the same as Rob in this video, but he claims 6ft?
Click Here

Editor Rob
He seemed at most 6ft 2 and at times could look a bit under
Preston Trotman
said on 16/Mar/19
Looks like a weak 6'2 6'1.5 at night 6'2 in the morning
Ian555
said on 19/Jan/19
I could actually believe he is 6' 3". Seems like a pretty tall guy.
Sandy Cowell
said on 5/Sep/18
Is that his real name? Rob Riggle, whose name did indeed afford me a giggle, star of 'The Hangover' and other things, can have 6ft2.
If I was called Sandy Riggle, I think I'd probably be nursing a fair few hangovers myself, and even more so on realising that it simply doesn't have the same ring to it as Rob Riggle!
😵🍹
Junior Hernandez 1990
said on 2/Sep/18
High eye level around 4.5 inch makes him a little above 6'2 sometimes.
Nik
said on 26/Feb/18
6'2" is buyable, I don't think he's any more though!
JordanG
said on 24/Feb/18
"S.J.H said on 10/Feb/17"
That's interesting. Around 6'2 with shoes on.
Mason Minor
said on 26/Nov/17
He's like 6'1 or 6'2 because he's shorter than Will Ferrell, who is 6'3.
berta
said on 14/May/17
yeah this can be about right he is either this height ore the height he was listed before. looks like a strong 188 guy to me that sometimes can passs dor 189 .... almost
S.J.H
said on 10/Feb/17
@Rampage
His not even over 6'2
Click Here
6'2 mugshot let alone his 6'3 claim and measure with shoes or not is a myth
Rampage(-_-_-)Clover
said on 24/Jan/17
He does look 189cm zone w/h Tatum though…
berta
said on 23/Jan/17
hm he wasnt really mutch taller than channing tatum. maybe 4,5 cm taller listing is good in the 189 range but not taller could be shorter
S.J.H
said on 11/Nov/16
People can check out Riggle mugshot on instagram more like 6'2 flat even people comments it
Phil
said on 2/Oct/16
Rob: Who do you think would be taller side by side between Rob Riggle and Patrick Warburton?
Editor Rob: that would be a hard one to pick actually!
Rampage(-_-_-)Clover
said on 4/Mar/16
If he was a strong 6ft2, he'd be close enough to Ferrell's height (weak 6ft3) and he NEVER does. Always looks 1in shorter
Rampage(-_-_-)Clover
said on 28/Jan/16
He looks similar to Carrey in that photo and maybe a hair shorter than Daniels.
"Rob Riggle's height is 6ft 2in (187.96cm)"
Celebheights 6'1.75/187 CM
said on 10/Sep/15
By Jim Carrey (who was 6'1.25"-6'1.5" in person) and Jeff Daniels:
Click Here
He looks to be about 187-188 CM there.
Mike T
said on 1/Mar/15
He's at least 6'2". He's got at least 2 inches on 6'0" Channing Tatum.
S.J.H
said on 1/Feb/15
John C ReiLly atually claim to be 6'2 and Riggle look more like 0.5 edge out J.C.R
Celebheights 6'1.5"-6'2"
said on 31/Jan/15
John C. Reilly is 6'1.5", and Rob Riggle appeared the same (maybe .25" taller). 6'1.5"-6'1.75" is better).
Rampage(-_-_-)Clover
said on 27/Dec/14
Also looked 6ft1½-6ft2 in Step Brothers. Easily 1in below Will Ferrell and roughly the same as John C. Relly
5ft10guy
said on 13/Dec/14
This guy is big on screen I always knew he was at least 6ft2 best height
Sam
said on 14/Nov/14
I also just saw a couple of scenes with him and Ty Burrell and he doesn't look more than 2 inches higher.
Rampage(-_-_-)Clover
said on 13/Nov/14
Riggle looks 6ft1-6ft1½ tops beside John Oliver and he's closer to the camera.
Rob, is 6ft2 flat possible?
[Editor Rob: couldn't rule it out]
Sam
said on 10/Nov/14
Yeah, he's dropping a bit of height but doesn't look more than 6'2" near 5'11.5" listed John Oliver.
Click Here
Rampage(-_-_-)Clover
said on 7/Nov/14
Listed exactly as I thought
Sam
said on 7/Nov/14
Yeah, in photos the guy can look scarcely over 6'2" at times.
MrTBlack
said on 6/Nov/14
I think he would measure higher than Ryan Reynolds so I wouldn't rule out 6'3" but probably at least 6'2.5".
Andrea
said on 6/Nov/14
Ok, i've seen the episode of "NTSF:SD:SUV" where Lance and Rob played together and they actually looked very similar in height, anywhere between 6'2 and 6'2.5 is possible for both this guy and Lance! 6'2.25 is a good compromise ;)
cole
said on 6/Nov/14
Between 6'2 and 6'2.5 is what I have thought for him in the past. Nearer 6'2 flat or 6'2.25, like listed, is fine.
Andrea
said on 6/Nov/14
Rob, here he is with Lance:
Click Here
Too bad there's just this picture because Lance is closer to the camera but they probably would be similar range...
Arch Stanton
said on 6/Nov/14
189 looks spot on, good call.
Sam
said on 6/Nov/14
Like I said, this guy looks very similar to Ashton Kutcher in pictures, a tad under Zachary Levi & Will Ferrell. He could be 6'2.5".
Liked him back on The Daily Show but his one-note big boorish guy whose constantly shouting routine is kind of annoying now. He might be interesting in a more serious military-related role, since in real-life he is a decorated Marine who I read saw a lot of combat in Afghanistan.