Robbie Coltrane's Height
6ft 0 (182.9 cm)
Peak height was 6ft 1 (185.4 cm)
Scottish Actor best known for playing the giant Hagrid in the Harry Potter series of movies. Other roles have included the tv show Cracker, Nuns on the Run, From Hell, Mona Lisa and Goldeneye.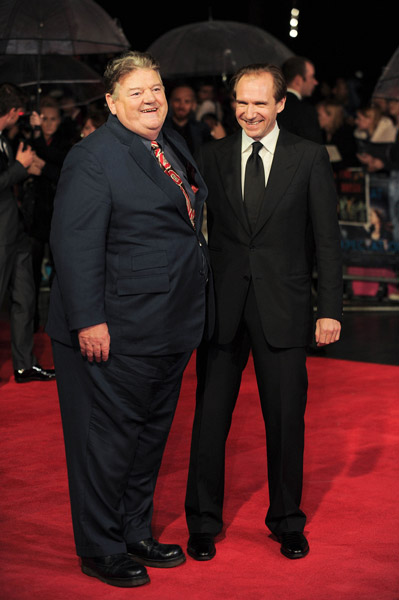 In real life, I'm 6'1" -- each way pretty well, north and south and east and west, unfortunately.

In the movie, the official height [of Hagrid] is 8'6". And I asked Jo Rowling why not 9 feet and she said "Well, I think 8 foot 6 is a more interesting height." And I think she's right, in a funny way.
-- MSNBC.com chat, 2004
You May Be Interested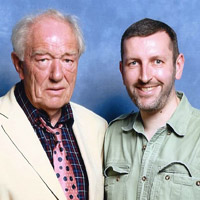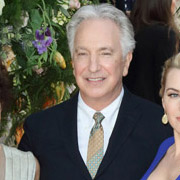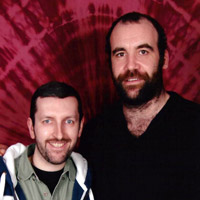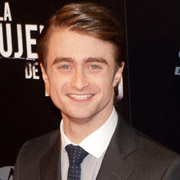 Add a Comment
89 comments
Average Guess (26 Votes)
Peak: 6ft 1.38in (186.4cm)
Current: 6ft 0.51in (184.2cm)
Almost 180cm guy
said on 23/Feb/21
Hey Rob! Here's another photo of Robbie with Lenny Henry from 1991:
Click Here
I really can't see two inches between them. Rob, what about 186 cm for Robbie in his prime?

Editor Rob
a strong 6ft 1 is always a good possibility
Miss Sandy Cowell
said on 15/Feb/21
Robbie's so funny, yet brilliant, in 'Cracker', which I've been watching attentively for the past few days.
The episode 'To Be A Somebody' contains a scene in which the Police are making suppositions as to the character profile of the killer they're searching for. Officer DS Jimmy Beck says "*ollocks!" to everything the others are coming up with, and it gets on Fitz's nerves so much that he tells him he should get himself a thesaurus! 😂👌
The following day, Jane (Panhandle) Penhaligan, comes round to Fitz's house with DS Jimmy Beck, and says to the Cracker of Crime Extraordinaire, "Jimmy has something to say to you."
Fitz replies, with the funniest expression on his cherubic face, "Bo**ocks?"
Wonderful stuff!
Irish actor Lorcan Cranitch is written up as 5ft10. I was sizing him up over the weekend, and that's the most I'd have given him.
Robbie Coltrane gets 6ft1.5 for his peak and 6ft0.5 for today. Perhaps I'm biased because I like him so much, but he really does look larger than life and could often pass for as tall as 6ft2 when in his mid-forties. 😍😉👍
If he hasn't been already, Robbie deserves to be knighted for services to the British TV and film industry.
Rampage(-_-_-)Clover
said on 27/Jan/21
I'd probably give Costner a slight edge over Coltrane....I've seen that movie and yeah they don't share any scenes.
Coltrane could've began to a bit earlier though due to his weight
Jtm
said on 8/Dec/20
He was in message in a bottle with Kevin Costner. They don't really have a scene together but he's much closer to illeana Douglas's height in heels compare to how tall Costner looked with Douglas.
Almost 180cm guy
said on 6/Sep/20
Robbie was probably strong 6ft 1 and 186 cm as his peak height could be better. Here is a photo of Robbie with David Jason from 1988:
Click Here
Robbie looked at least 8 inches taller than Jason who was 5ft 5.25. Another argument for the 6ft 1.25 is photos from 1991 of Robbie alongside Lenny Henry:
Click Here
Click Here
Click Here
Robbie definitely didn't look like a two inch shorter than Henry, I can see at most a 1.5 inch difference between them there. Rob, I think you should consider giving Robbie's peak height upgrade.
Miss Sandy Cowell
said on 23/Aug/20
@ Rob - If that happened to me, I'd mope about for at least a fortnight! ☹️
Miss Sandy Cowell
said on 22/Aug/20
Hey Rob! Being a fellow Scotsman, have you ever met Robbie?

Editor Rob
Unfortunately not, he was going to be a guest at this years's London convention, but the pandemic scuppered that chance!
Miss Sandy Cowell
said on 22/Aug/20
I watched the fantastic 'Cracker' episode 'To Be A Somebody' the other night, and witnessed Robbie at his most brilliant. I totally agree with Rampage Clover - it's his best work by far.
It wasn't just 'Blackadder' actor Hugh ('House') Laurie who went on to bigger things after the number one comedy show. Robbie, who played the writer of the dictionary Samuel Johnson in 'Blackadder', starred as Fitz in 'Cracker', a guy who has the most insightful of minds as the psychologist who really does know how people tick. Like Hugh's Doctor House, he's not without his own set of problems, having a penchant for gambling and alcohol.
I couldn't help but notice during my watching of the 'Cracker' episode how Robbie towers over nearly everybody, the only guy coming close to him being Christopher Ecclestone. His sharp mind in this Jimmy McGovern-penned series actually makes for a very attractive man.
He was described as six foot one in one of the episodes, so that's what he gets for his peak height. I remember thinking when I first heard that height, "Is that all?"
Robbie does tend to play larger-than-life characters, and if anyone befits these roles, it's Mr Coltrane.
I'm taking three quarters of an inch from his peak height for his stature today. I'd have thought he was nearer 6ft2 before I heard his description.
Rampage(-_-_-)Clover
said on 20/Aug/20
Rob, is it possible he's under 6ft today?
He's got arthritis and needs a cane to get around.

Editor Rob
Probably has lost an inch or so now.
Rampage(-_-_-)Clover
said on 20/Aug/20
Looked a solid 6ft1 in Cracker (his best work by a mile, fantastic) sometimes 186-187cm
Miss Sandy Cowell
said on 30/Mar/20
🎂🎁 Happy 7️⃣0️⃣th Birthday Robbie! 🎁🎂
A Very Happy Big 7️⃣-0️⃣ to the brilliant, adaptable actor that is Robbie Coltrane! Loved him in 'Cracker' and as Samuel Johnson in 'Blackadder'.
6ft1 peak and an inch less today.😉🎉🎈
🎂🎁🎉🎈🎂🎁🎉🎈🎂🎁🎉🎈🎂🎁🎉🎈
Ben
said on 29/Jul/19
I remember watching watching the bts disc of HP3 where they interviewed the cast and Robbie claimed 183cm.
K.A 188
said on 24/Jul/19
Ehehe...? I was expecting this guy to be atleast 6ft3 he definitely wore some big heels to look as big as Hagrid the giant looked in H.P. Between he is even wearing some big ass platform shoes in the picture above.
tree
said on 28/May/19
Looked 6ft10 with 6ft2 Bill Kazmaier
Click Here
tree
said on 27/May/19
With 6ft10 Martyn Bayfield who was his double
Click Here
The costume was much taller then Martyn
Click Here
Sandy Cowell
said on 15/Feb/19
Ha! Speaking so jokingly about himself, and I quote "In real life I'm 6'1" - each way pretty well, north and south and east and west, unfortunately", turns Robbie instantly into someone approachable, not to mention worthy of a great big hug! 🐻
I started becoming a fan of his very quickly; the first time I watched 'Cracker', in fact, my interest was aroused. He was funny, brilliant at his work as a Police psychologist/college lecturer, and drew his conclusions from common sense and a thorough understanding of the human mind. What made him extra likeable was that he was akin to a naughty schoolboy, with vices galore, but he loves those two kids of his and though not totally faithful to her, he loves his wife. They have a mutual understanding of one another, the sort that takes years to develop, and it's as if they can read each other's minds.
I don't think it would make one iota of difference if he was slim in 'Cracker'. The audience falls in love with his character because it's flawed but genuine; I think many a guy can relate to him too. He has love for his female work partner Penhaligan, affectionately calling her 'Panhandle', as well as his wife, and he's there for Panhandle when she is raped by a beastly colleague, who later takes his own life.
I watched the American version, and they used a slim actor, but I much preferred the Robbie Coltrane treatment. He gives so much more credibility to the chain-smoking, whiskey-loving gambler who drives his wife to distraction, yet their love cannot be broken. Very often, he has you in stitches as soon as he opens his mouth and he's hilarious with his daughter. In one scene, they go round (I think) a family member's house and he farts as he rings the doorbell. The little girl retorts, "Daaaaad!" 😂😂😂
Last night, I watched 'Ink and Incapability', from 'Blackadder III', and his performance was as smashing as he was perfectly picked for the part! When you think what each and every member of what I term 'The Blackadder Team' has gone on to achieve, it just goes to show that a bunch of youngsters, some a trifle older, but young nonetheless, can go on to achieve. 'Blackadder' was voted the number one sitcom of all time, and for good reason. I find myself pausing many an episode to find out about the characters historically, and yesterday in that very episode, I suspected that at least two of the poets, Lord Byron, born in 1788, and Percy Shelley, born in 1792, were far too young to be there! Doctor Samuel Johnson, born in 1709 and dying in 1784, was not! Yes, it inspires the viewer to find out what's fact and what's fiction too, and if I had ever been a teacher, 'Blackadder' would have been an enjoyable way to encourage an interest in history and to teach the kids good English, because the English used in 'Blackadder' is absolutely faultless.
Thank you, Rob, for adding Robbie to the 'Blackadder' page! I am over the moon to see him here!
😁👍🍺❤️
🌛

Editor Rob
He was great in Cracker. In the 90's he still looked 6ft 1 range, though I do think by 50's had began to lose half inch or so.
Sandy Cowell
said on 11/Feb/19
🤡 Non, non, non! Blackadder was generous to a fault at the start of the Christmas special, but all that was to change...
Sandy Cowell
said on 10/Feb/19
Rob - How about adding Robbie Coltrane to the 'Blackadder' page? Not only did he play Dr Samuel Johnson in the dictionary-burning episode in 'Blackadder III', he also starred as a very flamboyant Spirit to haunt the mean and Scrooge-like Blackadder in 'Blackadder's Christmas Carol'.
Neither were minor parts at all and that Robbie showed up in the series came as no surprise to me. That lot were 📖'His Gang'📖 from youth onwards!
I loved him in 'Cracker', 'Mona Lisa', 'From Hell' and so it goes on. This guy really is la crème de la crème! 🍶😋
Peak - 6ft1 - I heard it said in 'Cracker' and I thought he was more!
Now - 6ft0.5.
Hang on a minute....
Robbie was 46+ during the making of 'Cracker', so his peak shall shoot up to 6ft1.5!
Christian-6'5 3/8
said on 3/Jan/18
Robbie's footwear look like platform shoes.
Sandy Cowell
said on 2/Jan/18
While I was watching the tail end of 'Who's Doing the Dishes?' this morning, a certain contestant said that Robbie was 6ft8!
Editor Rob: now that's an exaggeration and a half.
JJAK
said on 28/Oct/17
Wow yeah he got stung by the ice cream pizza bee between 1995 1999 he changed a lot.
In geye he looked weak 6 1 actually pretty strong but pierce had him lifts or no.
By the horrific world not enough he looked rounder and 6 foot ish still big but less tall.
Cool voice good actor hope he gets help that will shorten his lifespan
Matthew Robinson
said on 19/Jul/17
400 lbs seems too high honestly. I can't see him being that heavy.
Rampage(-_-_-)Clover
said on 18/Jul/17
Rob, how likely is 400lbs?
Editor Rob: high 300's could be possible now.
even
said on 18/Jul/17
right now hes 6 feet tall and 400 pounds .
even
said on 7/Jul/17
hes six foot one and at least over 400 pounds
Mark(5'9.25")
said on 19/Apr/17
186 cm peak, but I feel bad for him.
Rampage(-_-_-)Clover
said on 31/Jan/17
Hate to say it but he's obese...
James B
said on 29/Dec/16
He's one intimidating guy
travis
said on 11/Dec/16
he definitely look 6'1 indeed
Rampage(-_-_-)Clover
said on 21/Nov/16
Today he definitely looks more 6ft flat than 6ft1. But I can see an argument for 186cm peak.
Rampage(-_-_-)Clover
said on 1/Nov/16
Described as 6ft4 in this article from 2002
Click Here
Rampage(-_-_-)Clover
said on 1/Nov/16
Rob, could "just over" 6ft1 be arguable peak?
I spotted him in Krull (1983) and he did not look much shorter than Neeson who many argue was just over 6ft4. I would have guessed 186-187cm if Liam was say 193-194cm.
Editor Rob: it may well be a possibility...I think a guy like Robbie might have been losing height in his mid 40's compared to his early 20's. Always was a big bulky guy, but that may well have accelerated earlier slightly losses.
Rampage(-_-_-)Clover
said on 29/Oct/16
Rob, which of these at peak?
A) 188cm/186cm
B) 187.5cm/185.5cm
C) 187cm/185cm
D) 186.5cm/184.5cm
E) 186cm/184cm
Editor Rob: in the Guardian the other month there the journalist had written he stood "just over" 6ft 1...that may well be a kind of claim, seems awfully specific to mention it. You may well make a B argument for him in the 70's and 80's.

Although I think he's lost height for sure by now.
Sandy Cowell
said on 12/Oct/16
One lovely, funny actor of distinction! I knew he was 6ft1 from an episode of 'Cracker', a deadly serious, disturbing series which he brought comedy to and gave his character 'Cracker' the likeability factor in a way only he knows how. I loved his characters in 'Blackadder III' and 'Blackadder's Christmas Carol' as well. If I am honest, I thought he was at least an inch or two taller. His large stature certainly didn't make him look shorter to me, as is so often the case!
nick kanellakis
said on 7/Sep/16
ye robbie coltrane looks 6'1 alright but hes also wearing high looking shoes too so it makes sense if he could be 6 ft without shoes and the extra inch and a half with shoes,
Rampage(-_-_-)Clover
said on 15/Aug/16
Looks a solid 6ft1 w/h Ralph Fiennes
Rampage(-_-_-)Clover
said on 6/Apr/16
His body double is a 6ft10 former rugby player
monkey3
said on 18/Jan/16
I just watched philosophers stone and was wondering how tall he is in real life.
Rampage(-_-_-)Clover
said on 28/Sep/15
Those are some big ass shoes yet he still struggles to look 2in taller than Fiennes.
Mimi
said on 18/Jul/15
I first thought that Robbie Coltrane was a giant in Harry potter series but no he is not he is a bit tall and in the movie the want him to be a giant
Baby Knight
said on 5/Feb/15
Yeah love that one but it so embarassing!!
Arch Stanton
said on 21/Jan/15
Rob can you squeeze in Mona Lisa? Looks huge next to Bob Hoskins!
nicole
said on 3/Jan/15
about 6 foot
mike
said on 26/Sep/14
Probably heading to 5ft 11.5 now but definitely legit 185 peak can look shorter because of his weight.
Halb
said on 8/Jan/14
Rob didn't look only two inches shorter than Richard E Grant in the penultimate episode of Frasier.
teej
said on 30/Dec/13
6'0/6'1?! Oh my god I'm taller than hagrid! Lol, Wow I know he wasn't a giant in real life but I though he was a 6'5/6'4 guy atleast. Looks can be decieving!
Rampage(-_-_-)Clover
said on 27/Jul/13
If he was 6ft1/185cm in Goldeneye and The World is Not Enough,
Brosnan was 188-189cm!
lunaflyy
said on 1/Apr/13
Robbie Coltrane is one of my fav`s from the Happy Potter series..And yes, i thought the gental giant was boarderlining at least 6`4 but he`s only 6 feet1 ..wow..amazing what camaras can do..
Lalaaaa
said on 28/Feb/13
I thought he was huge but not really wow
Arch Stanton
said on 19/Dec/12
He looks 1-1.5 inches shorter than Brosnan in World is Not Enough. Looks 6ft maybe 184 range. If he was 6'1" in 1999 Brosnan is an easy legit 6'2".
Arch Stanton
said on 30/Nov/12
Nowhere near as tall as I'd thought.
Click Here
Even Craig Ferguson is a questionable 188cm. He looks struggling to reach a flat 6' nowadays.
Arch Stanton
said on 30/Nov/12
Yeah, I mean he looks a really big guy, I'd have guessed 6 ft 2 and near 350 pounds at heaviest. I believe he's lost quite a lot of weight since the 90s but still looks 300 odd.
Sweet Bear
said on 23/Nov/12
He does seem so much taller than what he is in real life, amazing what they can do in the movie industry. i must say it must b soooo hard walking in those shoes they get him to wear :).
Adam
said on 8/Jun/12
When I saw him he seemed well over 6 foot
Grannyx18
said on 8/Jun/12
Okay I knew that Hagrid's height was enhanced by playing with the cameras...heck look how small they made John Rhys Davies (the Dwarf in Lord Of The Rings series) he's naturally 6'1" tall as well....
EK
said on 5/Feb/12
In Chamber of Secrets, 6' 10" Martin Bayfield was used in longer shots to emphasize Hagrid's height. Just thought I'd share that. :]
Shaun
said on 28/Jan/12
Yeah I'd have guessed he was a little over 6'. He can seem bigger because of his girth of course.
abeera
said on 25/Dec/11
great actor i must say...i thought he'll be really tall but i'm shocked a bit..nice job robbie :P
Torey
said on 24/Dec/11
Okay, listen people. He's not actually a half-giant, you know. So he's not going to be 7 feet tall, or anything like that. In fact, the only person I do know of that is naturally that tall is Shaquille O'Neal. The actually give Robbie built-up shoes to walk in, so that makes him LOOK taller. And I know Em already said that, but I've known that for awhile. That's what happens when you get bored, and you have computer. Lol.
em
said on 22/Dec/11
just been to HP exhibition - he stands on built-up shoes, he's costume was extremely tall and his shoes used in the movie are about 10-15 cm at the front
abhinav
said on 20/Dec/11
i cant believe he is 6'1.he'd be atleast 7 feet tall,from the way that he looks in harry potter
Koda
said on 8/Dec/11
youre really only 6'1? man, are u on stilts in the harry potter movies or what. you look bigger than my friends dad. and hes 6'3 or something in that general areae
Hagrids Best Friend :)
said on 19/Nov/11
Hagrid is the best person ever!! Who cares what heigjht he is in real life!?! :)
xcraz3d
said on 14/Nov/11
its true what they say being on camera makes ya taller thats showbiz for ya lol
lovehpandhatetwillight
said on 12/Oct/11
wowwwwwwww..... only 6'1? he seems soooo soooo SOOOOOOO much taller...still,great acting :D
Read,please
said on 24/Aug/11
Robbie Coltrane provides the voice and face for Hagrid. Another actor stands in place for him in wide shots. In Hagrids hut they have him stand in a much smaller version, with tiny furniture and other things. Then they have the trio stand in a giant size version. Also: They don't use a lot of special effects in HP. Chris Columbus (the first director) preferred to build and use physical things rather than the computer generated.
hpfan
said on 1/Aug/11
platform shoes
urmom
said on 24/Jul/11
how can he be 6'1 when hes like 10 ft tall in harry potter
no way
said on 10/Jul/11
this guy is like 5'9" 5'10" tops, in goldeneye 007 he is so short compared to 6'1" bond in the game and all of their heights are correct inside, 6'1" claim thanks harry
Matt
said on 1/Jul/11
Dude's as big as a house
Rampage(-_-_-)Clover
said on 26/May/11
I was very aware of the special effects in the Harry Potter movies that made Robbie Coltrane appear mammoth like and that in reality he wasn't that gigantic, but I never would have guessed him as being low as 6"1. I was assuming that in person he'd be 6"4 and up
EW
said on 30/Jan/11
He seems WAY taller as Hagrid than he actually is
Anonymous
said on 30/Dec/10
Hugh Laurie has 2-3 inches, perhaps 2 and a half on him in Blackadder. Make of that what you will.
Erie
said on 5/Dec/10
I was sad when I saw the real picture of him... he looks nothing like Hagrid! =
shelma White
said on 13/Nov/10
My brother is 6'7'. I figured you were much, much taller.
I am glad you are 6'1. it makes it a lot easier to buy close! ;-)
Lenad
said on 28/Jun/09
Definitly not taller than 6'1 today
Cj
said on 1/Jan/09
Looked smaller than 5 ft 11.25 in Rowan Atkinson in a Blackadder episode that i seen.
Hugh
said on 11/Dec/08
Looks about 182-183cm these days.
Demo
said on 5/Jan/08
In Harry Potter, they have a seperate body double for Coltrane, he is a rugby player called Martin Bayfield who is about 6'10" or 6'11".
Antron
said on 18/Dec/07
they use a lot of low-tech things too, like putting him on a box; shooting up at him and down on who he is talking to; shooting over his shoulder downwards; putting him on boxes...same goes for LOTR to tell you the truth
G-MANN
said on 30/Nov/07
In Harry Potter he plays an 8 foot giant for God sake, of course he's nowhere near that tall in real life, they use techno-trickery just like in Lord of the Rings.
Rupert Grintz girlfriend
said on 22/Nov/07
Carla, they use computers
carla
said on 15/Oct/07
So how do they make him taller on screen? I am hopeless at these things.
John.
said on 25/May/07
Well i met robbie coltrane and im 5"2 and he is not that much bigger than me, and i think he's around 5"8
LOL OK then. ;-)
[Editor Rob: he's probably never standing to his height with his sheer girth, very likely he's lost height.]
lifts
said on 11/May/07
dont u think he uses lifts to make himself that 8 foot thing?
RJ
said on 18/Dec/06
Nearly bumped into him in a Soho street some years ago and he was definitely a couple of inches taller than me, which makes 6'1" about right.
Anonymous
said on 9/Sep/06
Melissa, are you sure you met the right Robbie Coltrane? He must 6ft or a little over.
Melissa
said on 16/Jul/06
Well i met robbie coltrane and im 5"2 and he is not that much bigger than me, and i think he's around 5"8
Gonzalo
said on 3/May/06
He looks huge in Harry Potter. Much taller than 6`1. Rob, you should upgrade him. Just kidding
[Editor Rob: yeah easy 8ft 2, UPGRADING!!!]